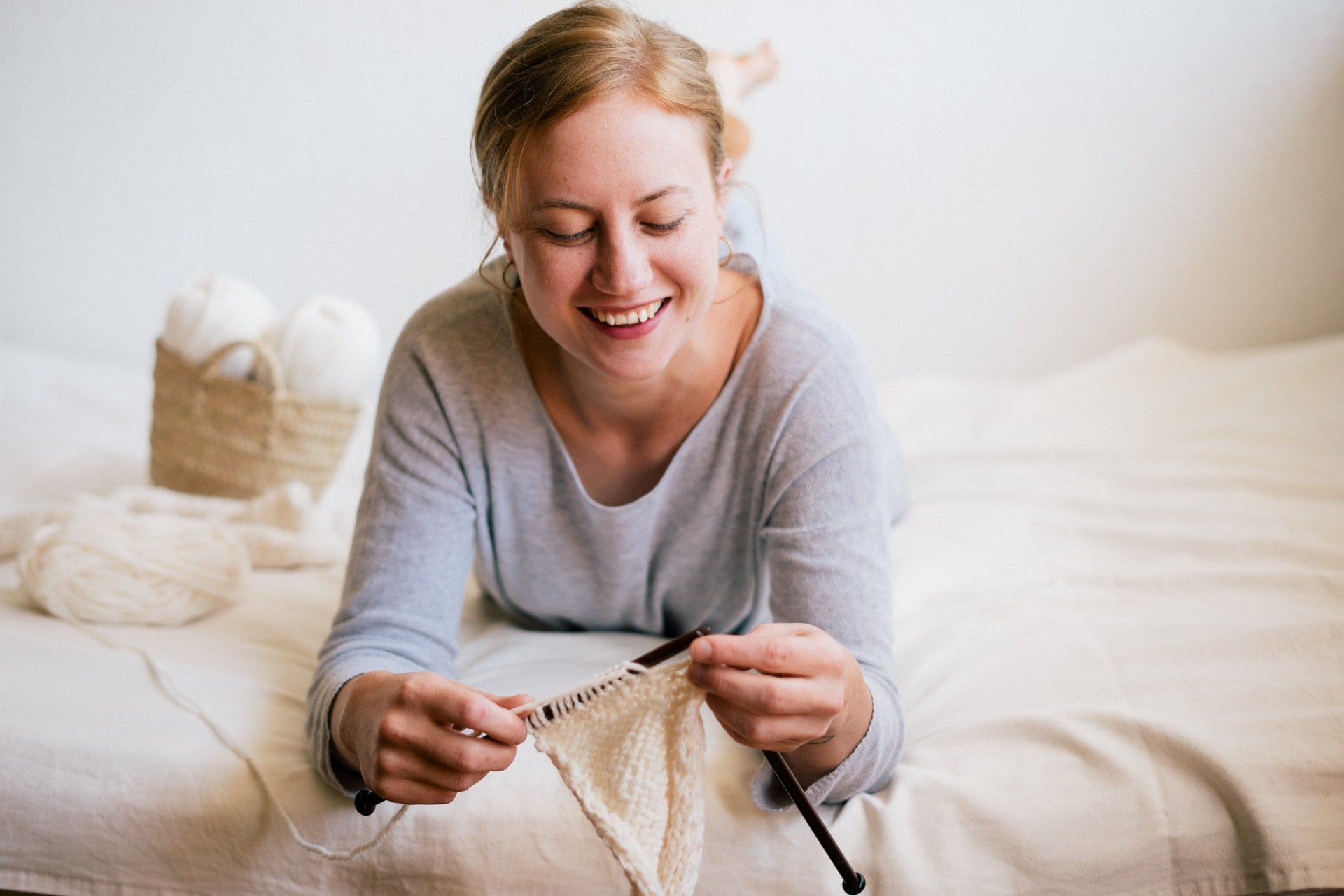 As you age, the brain tends to accumulate plaques around its synapses. These plaques buildup can trigger the development of Alzheimer's disease. This condition when left untreated can trigger Dementia.
Once a person has developed dementia, he or she loses most of his or her cognitive abilities. This can then lead to memory loss, thinking, and language skills. The symptoms of dementia may start too subtle for you to notice.
As these symptoms progress, it may soon develop into irreversible effects. Some manifestations of dementia can happen before the age of 65. In most dementia patients, their symptoms occurred after the age of 65.
Is there a way to prevent dementia? Many health practitioners believe that this condition is preventable. If you keep your brain active and healthy, symptoms are unlikely to develop.
Some activities can delay the onset of this condition. One way to avoid dementia from developing is through knitting. Yes, this hobby has many benefits among those who experience the symptoms of dementia.
In a study of the Mayo Clinic in Minnesota, knitting helps dementia patients. This yarn crafting can slow down the progression of dementia by almost 50 percent. Learning a skill like knitting helps your brain cells to stay active.
This is the reason why elderly care homes encourage patients to do knitting. The activity does not need strenuous physical movements.
What Are The Symptoms Of Dementia?
Dementia does not always start with memory loss. Some symptoms are unnoticeable which often leads to the progression of the disease. The following are some of the symptoms of dementia that you have to watch out for.
Unable to cope well with changes

Some dementia patients are not able to cope well on schedule and environment changes. Some become irritable when faced with a sudden shift in their usual activities.

Becoming forgetful of minor things

You must be aware that not all instances that you forgot something are fine. If you or your loved one can recall events from years ago, but you forgot what you had for breakfast. If this happens for quite some time, make sure to consult a doctor.

Difficulty to get the right words

When you or anyone you know finds it difficult to associate words with their ideas, it could be a symptom. If this happens often, make sure to seek medical help.

Becoming repetitive

If you or someone you know does something several times in a day, it could be a red flag. Another sign is when you ask the same questions many times during a conversation.

Losing a sense of direction

When familiar places become foreign to you, then you might be showing symptoms. Another instance is when you forget your usual driving routes. You feel like it was your first time traveling that area.

Difficulty understanding storylines

If someone cannot understand storylines and descriptions. This could be a sign that he or she is showing symptoms of dementia.

Mood swing

People with dementia experience sudden changes in their mood. Depression, anger, and frustrations are common.

Losing interest

This is another red flag. If someone you know lost interest in their usual activities or hobbies, then it could be a symptom.

Confusion

Persons with dementia have difficulty remembering names, places, and events. Everything seems new to them.

Difficulty doing everyday activities

Some persons with dementia find it difficult to do usual tasks like brushing teeth or taking a bath.
Does Knitting Prevent Dementia?
There are many reasons why a person develops Alzheimer's and dementia. But one thing is for sure with these conditions, the brain starts to lose its cognitive functions. One way to delay the development of these conditions is to learn a skill.
Learning and doing a new skill will help dementia patients to keep their brain active. Since most dementia patients are aging, strenuous activities are not advisable. This is why knitting is a more suitable activity for them.
If you know someone who is in their prime years, you may want to encourage them to learn knitting. This hobby allows you to focus on your work, pattern, and stitches. This lets you be mindful of the activity and keeps your mind engaged.
Knitting also provides good therapy to keep your eyes and hand coordination. Such activity is helpful among dementia patients. You see, the symptoms of this condition may start with simple forgetfulness. But when left unchecked, it could lead to total memory and thinking deterioration.
Some patients with severe dementia are not able to do simple everyday activities. This happens because their brain function has deteriorated over time.
Although knitting does provide invaluable benefits, you must not rely on it per se. Dementia and Alzheimer's disease are complex conditions. There is no quick fix approach to cure them.
What Are The Stages Of Dementia?
Dementia develops over time. It starts with simple symptoms which are sometimes unnoticeable. To help you determine whether you or someone you know shows symptoms, here are its stages.
Before a person develops dementia, he or she may experience Mild Cognitive Impairment (MCI). This phase is not yet considered dementia. But the symptoms in this phase can lead to mild dementia.
The common manifestations of MCI are forgetfulness, short-term memory loss, and word associations.
If you or some you know shows these symptoms, it is best to seek medical help. This is to prevent its progression to dementia.
Mild dementia
Some individuals with mild dementia are still able to function on their own. But, there are evident changes in their behaviors. Here are the symptoms.
Frequent short-term memory problems
Mood swings such as depression and anger
Constant misplacing things
Difficulty in doing complex tasks
Trouble in expressing ideas or emotions
Moderate dementia
Persons at this stage, need assistance from a relative or care provider. Dementia is now interfering with their usual daily routines. The symptoms are the following.
Difficulty making decision
Frequent frustrations and confusion
Memory loss becomes more evident and serious
Needs help doing simple tasks like bathing
Significant changes in mood and behavior
Severe dementia
Persons at this stage of dementia experience a decline in mental and physical capabilities. The symptoms are the following.
Inability to walk, swallow, and other bodily movements
Urinary incontinence or inability to control the bladder
Difficulty communicating
Need full assistance from somebody else
Becomes high-risk to infection
Is Knitting Good For Your Brain?
Knitting and other crafting hobbies keep your brain active and keen. In some studies, knitting is good therapy for the elderly. Here are some benefits of knitting to your brain.
Working on your knitting project is enjoyable and relaxing. This hobby allows you to focus on your work and forget your anxieties.
Knitting helps delay the onset or progression of Dementia and Alzheimer's disease. Since you use your brain cells to read and follow your pattern, your brain remains active. As you knit your stitches, you count and check them allowing your brain to stay sharp.
This hobby helps reduce depression and grief. When you knit, you see your progress and the colors of your yarn. Being mindful of your work gives you a positive feeling.
Knitting gives you a sense of control. This is important for those who have mobility problems and dementia. Having the ability to choose colors and patterns gives them that sense of control.
Knitting lets them feel that they can do something on their own. This allows them to boost their esteem and have that feeling of accomplishment.
What Are The Other Benefits Of Knitting?
Aside from the mental benefits of knitting, here are its other advantages.
Knitting promotes good sleep. When you knit for quite some time, you will tend to fall asleep mindlessly.
Knitting provides hands and fingers exercise to fine-tune motor skills. This is helpful among the elderly and those with hand mobility problems
This activity helps you regain your creativity. This serves as a therapeutic activity for those with depression and dementia symptoms.
Knitting promotes social interaction. When you knit around other knitters, you will have the confidence to talk to them. This interaction will lessen your feeling of loneliness or isolation.
Crafting skills like knitting are beneficial to those experiencing chronic pain. It becomes a distraction from the pain they feel. Since they become busy knitting their projects, they forget about the pain.
Also check:
Why Is Knitting Good For The Elderly?
Knitting offers several physical, emotional, and mental benefits to the elderly. Aside from expressing their creativity, knitting gives them something to look forward to.
Earlier, you have learned the benefits of knitting to one's mental health. At this point, you will know the advantages of this hobby among the elderly.
Knitting lowers blood pressure and heart rate. Unlike other hobbies, knitting is a bit passive. You don't need to perform strenuous movements to complete your work. Because you feel calm and relaxed as you knit, you don't increase your heart rate. This in return will result in low blood pressure. When you knit, your body decreases its cortisol levels. This will result in low cardiovascular indicators.
Knitting provides good hand and finger exercises. Since you are aging, your hands tend to lose their dexterity. When you knit, you will regain the precise and delicate movements of your fingers. Knitting gives you the chance to exercise your hands and fingers as you work on your stitches. This movement is also helpful to lessen the effects of arthritis on your fingers. Make sure you take regular breaks on your knitting. This is to avoid carpal tunnel or repetitive strain injury.
It keeps your Math skills in check.Knitting involves counting, dividing, and measuring. As you knit, you need to count your stitches. You also need to measure your yarns to make sure you have enough for your projects. All these computing serve as an exercise for your Mathematical skills.
It relieves depression, stress, and anxiety. Knitting keeps you relaxed and mindful of your project. As you progress, you tend to forget your worries which puts you in a meditative state. This will, later on, bring down your cortisol level and give you a feeling of peace.Knitting and crocheting are both helpful to people experiencing depression.
Knitting enhances memory. When you knit, you have to rely on your memory now and then. This is because you must remember the colors to use, the pattern, and the stitches. You also need to recall the number of rows, and when to make your knit and purl stitches.Doing all this ensures that your mind is getting a boost.
Knitting helps with pain management.If you experience any kind of pain, knitting distracts you from the pain. You become more attentive on your stitches and work and so, you forget the pain that bothers you.
It provides great entertainment.The elderly always have so much free time. If they don't have anything to make them busy, it can lead to boredom. This is where knitting takes place.Through this hobby, aging individuals have something to keep them occupied.
Knitting prevents binge eating.Knitting is a great way to prevent you from binge eating. Unlike watching television or reading, knitting is less likely to trigger binge eating. You are busy and attentive to your work, so mindless eating is not your priority.
Knitting gives you a sense of achievement and self-esteem.Knitting allows you to use your creativity, time, and effort. This means completing your project will give you a feeling of achievement. It will also give your self-esteem a boost because finishing the project gives a lift in your pride.
As you age, the more you should take care of your mind and body. Aging reduces your body's ability to ward off the effects of age-related diseases. This is why, start to develop a skill or hobby that can boost your mental, emotional, and physical health.
Knitting is one way to prevent age-related diseases like Alzheimer's and dementia. This activity is non-strenuous, so you are likely to develop an injury. You only need to do it in moderation and have breaks during the process.
If you experience depression or stress, start knitting. If someone you know shows symptoms of dementia, encourage them to knit. This hobby helps promote good mental health and well-being.