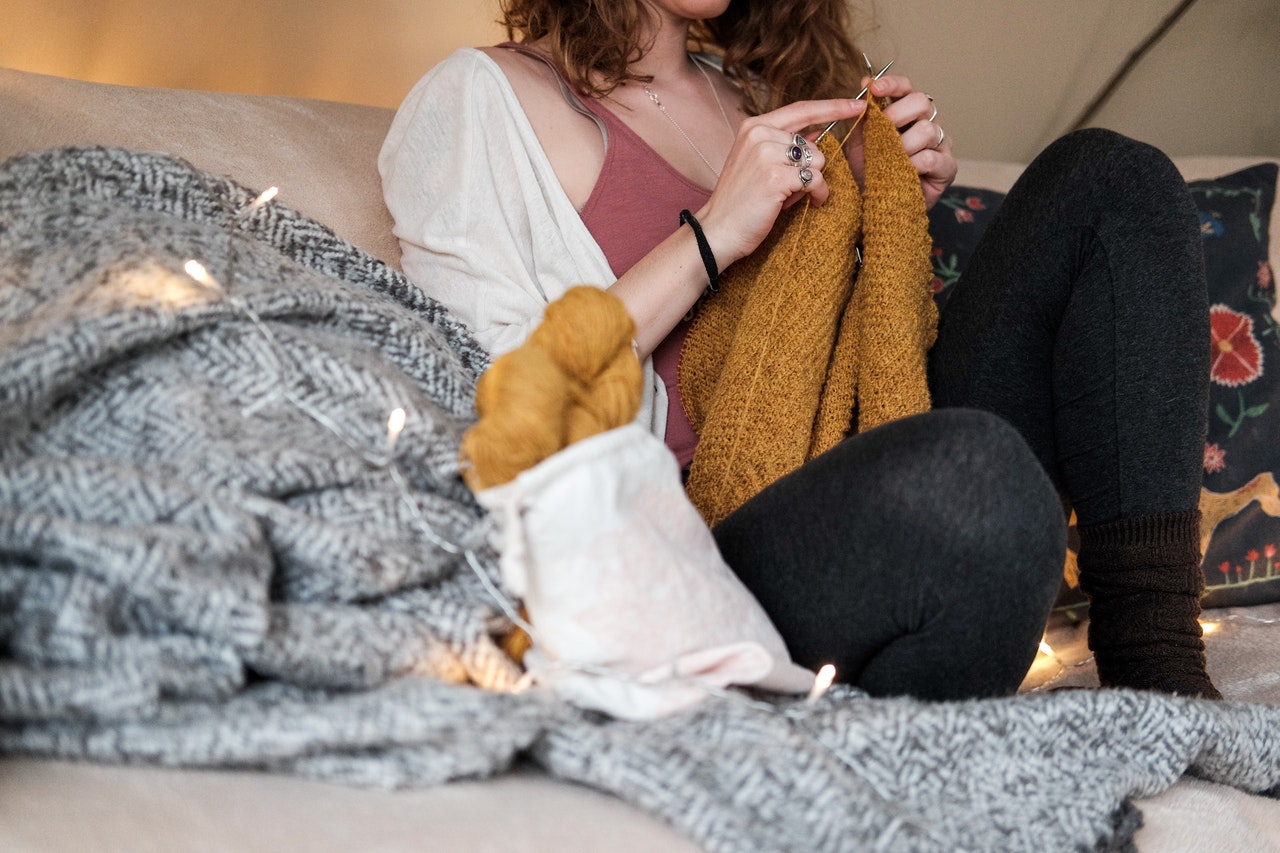 It is common for beginners in knitting to commit mistakes when doing their projects. Sometimes, you will find your knitted scarf too long for its wearer. But, do not worry because, yes, you can shorten your finished knitted scarf!
Using a different yarn weight or needle size will sometimes mess up your gauge and affect your finished project. Even if you precisely follow the pattern instructions, you will still have a different result because of your gauge.
When your gauge is different from the pattern, your project's size will be different too. It may be shorter or longer than it should be, maybe making it less desirable.
But, do not worry, because most of the time, there is a way out. In this post, I will share a simple guide on how to shorten your finished knitted scarf.
How to shorten a knitted scarf?
It is fairly simple to shorten from the cast-off end. You need to cut the cast-on edge off and unravel it until you get to a row before where you want to finish your piece. Then, pop the stitches out one at a time and reinsert your needle. You can finally bind the stitches!
But, if you want to save time, you could also be creative about shortening your scarf. You can fold up both ends and seam the sides to make pockets with it. It depends on how thin or thick your scarf is because it probably would not work on lighter-weight yarns.
How to cut a knitted scarf in half?
You can also do this method if your scarf is too long, and shortening it from the cast-off end will take much time. Whatever your reason is, cutting your scarf in half is not too difficult, and you can do it relatively quickly. Follow this short guide to cut a knitted scarf in half:
Fold your scarf in half, then lay it on a flat surface. Count down two rows from the center and mark it.
Take your scissors and carefully snip the first stitch on the second row above the center row. Work the stitches loose until you have a 2-3-inch strand of yarn to pull.
Pull the loose strand to unravel the row. As it unravels, you need to slip each one of the individual stitches onto your knitting needle. Doing so will keep them in place and allow you to stitch the ends easily. Leave the attached, unraveled yarn to bind off your work.
Lay aside the needle, then take the top section and pull on the freed strand. Work across the row until you see the stitches form with the second row. Slip them onto another needle as you work across the row. Leave the unraveled yarn connected again.
Bind off the row using the unraveled yarn from the first section to create a new edge. After doing so, work in the loose strand back into your knitting with a needle and trim.
Repeat step five on the top half's bottom. You should have a clean, neat edge resembling a vertical line of knit stitches after doing so.
Can you unpick knitting from the bottom?
Unpicking your knitting from the bottom or the cast-on edge is one of the ways to shorten your pieces. So, yes, you can unpick knitting from the bottom. Follow this simple guide to know how to unpick knitting from the bottom:
First, you need to decide on your project's length. Measure the project and place a pin or a locking stitch marker to mark your desired length.
– Undo the seams if your work has them. Do this step until you reach a spot a few rows above the marker.
– If you plan to add a band at the bottom, you also need to measure the band's length. Then, place another marker so you can easily see it. Make it your primary marker and remove the other marker to avoid confusion later.
– But, if you plan to add length to your project, you need to mark its first row instead.
Next, place your project on a flat surface, so your cast-on edge is at the top. But, you might need to turn your piece upside down if you worked from the bottom up.
Take your scissors and snip the yarn in the marked row one stitch away from your work's right side.
Undo the yarn from the first stitches on your work's right side. Then, take a knitting needle and pick up those stitches from back to front. Continue unraveling the yarn stitch by stitch and pick up the stitches until you have them all on your needle.
a. If the unraveled yarn becomes too long to manage on your needle, you can cut it to make things easier for you.
Remove the marker, then attach the working yarn to the yarn tail.
– The yarn tail will be either at your work's left or right side, depending on the row you cut through.
– If the tail is at the right, you need to take another needle in your left hand. Then, slip all the stitches from your right needle to the left needle.
– You can also slide the work to the other needle tip if you used a double-pointed or circular needle.
Finally, finish off the project by adding a bottom band, binding it off, or making it longer.
How to extend a knitted scarf?
If you find that your scarf is too short, you can just extend it. Follow these two simple tips on how to extend a knitted scarf:
If you have the same yarn you used, it is best to undo your project's finishing. Then, take out the bind off after doing so. You can simply add more rows and refinish as you did before when you reach your desired length.
If you do not mind a small line showing, you can also skip the unraveling of your scarf's finishing. You could use a crochet hook to pull the yarn through the last row's stitches. Put the loops on a needle, then continue knitting until you reach your desired length.
What is the best length for a knitted scarf?
Scarves do not have to be a particular length to be beautiful and useful. They are versatile, and you can make them as long or short as you want. So, the best length for a knitted scarf depends on its wearer and purpose.
If you are a beginner, you can try knitting your first scarf until you run out of yarn or get tired of knitting garter stitches. Traditionally, scarves go tip to tip. If you want to make it traditional, you can try making it as long as your wingspan.
What is the best width for a knitted scarf?
Like the length, the best width for a knitted scarf depends on personal preference. Scarves can be skinny – a fun and enjoyable accessory when the weather is not too cold. They can also be wide to keep you warm during winter.
When determining your scarf's width, you need to remember the type of stitch pattern you are using. You need to consider all the pattern details, as they will affect your scarf's dimensions.
Knitting a gauge swatch before you start your project is the best way to go! It will help you see what your pattern looks like using your yarn and whether it looks too wide or narrow. You can try other stitch pattern options if you find that you do not like your first choice.
How to knit a scarf?
Knitting a scarf is probably one of the easiest projects that are knitting-friendly. If you are a beginner, you will find that anyone can easily knit a scarf, especially if you use a simple guide. So, here is one for you! Follow this short checklist to know how to knit a scarf:
First, you need to cast on twelve stitches. It will give you a scarf that is around five inches in width. You can alter the number if you want to make it narrower or wider, according to your preference.
a. If you did not know, there are many ways to cast on. But you can try a simple wrap cast on or long-tail cast on for this project to keep things simple.
Knit every stitch and every row using the garter stitch until you have only about a yard left. Or you can also continue until you reach your desired length for your scarf. You can also add a new ball of yarn to add another color or add a new ball of yarn to add length.
Cut your yarn, then leave a tail of about six inches to bind off your project.
Finally, weave in the ends at the top and the bottom. Block your piece to shape any uneven stitches neatly.
a. You also need to weave in any extra ends if you added another ball of yarn.
More pages: 
What size yarn should I use for a scarf?
If you are a beginner in knitting and want to work on a scarf, it is ideal to use DK weight yarn, worsted weight yarn, or bulky weight yarn.
These three weights of yarn are heavy and thick enough to provide warmth. But, they are not too thick that you will feel suffocated when wearing your scarf. Choosing among the three depends on your preferences and your environment. So go for the one you like the most!