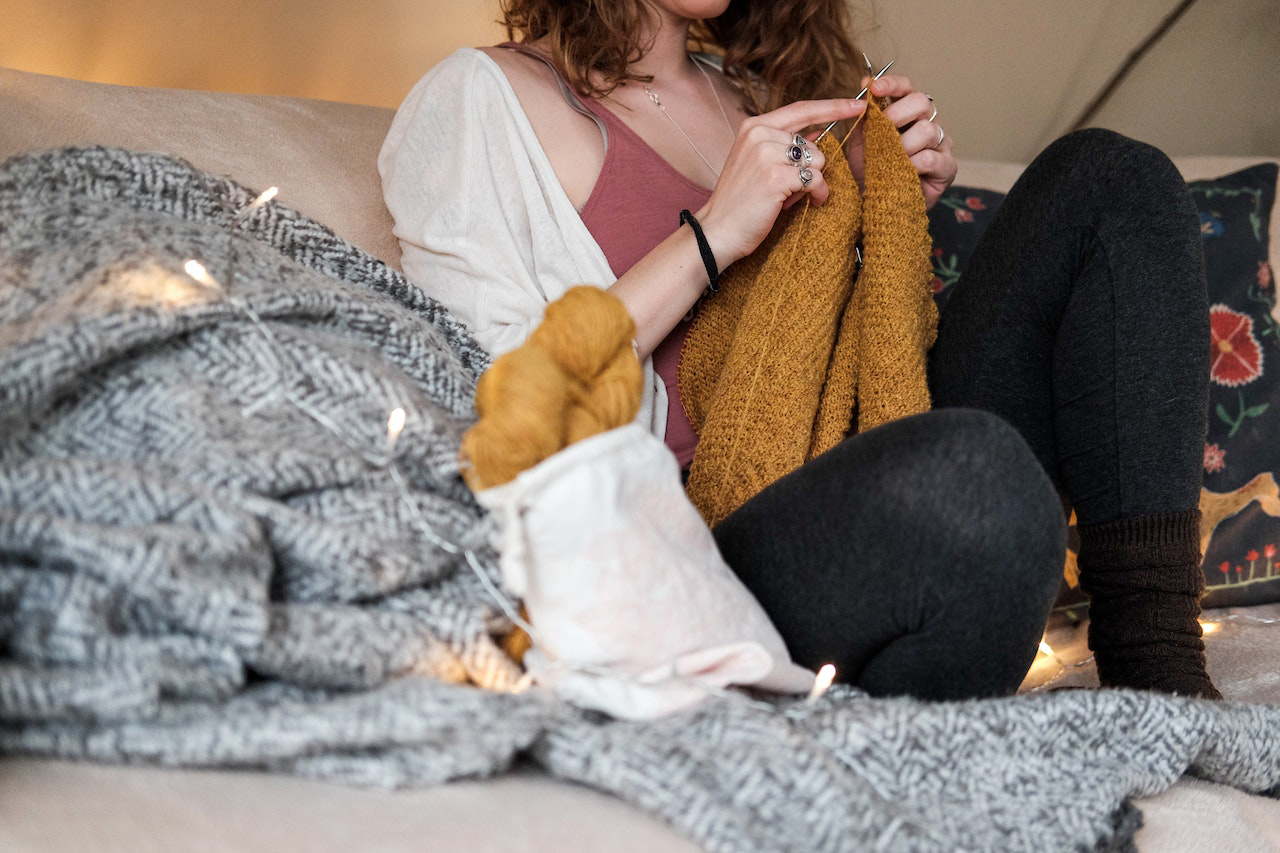 You can knit a 3ply pattern with 4ply wool by converting the pattern to accommodate 4ply wool. There are ways to substitute the yarn weight of your 3ply pattern, but you need to make a swatch first using your desired yarn weight, in this case, a 4ply wool.
It would be best to make a test piece or swatch using your substitute yarn before you proceed with the pattern. The standard size of a swatch that you can make is 4in x 4 in (10cm x 10cm) to know the number of stitches and rows per inch.
If your knitting project has a complex design or texture, make sure that your swatch contains at least one pattern repeat and add extra on the sides so that your swatch will not look distorted.
By making a gauge swatch, you can determine the difference in the size of the 3ply yarn weight swatch indicated in the pattern and your 4ply swatch and make some adjustments in the measurements.
When substituting your yarn, you will not be able to get the exact size as suggested in the pattern. If an item you are knitting does not need to fit like a glove, you can make the substitute yarn work. Such as, when you are knitting a shawl, it does not have to achieve the exact size, as long as it is soft and loose.
You can knit a few rows and see if the length works for you. You can add more stitches if necessary since you have not gone far with your project.
Sometimes, choosing the yarn weight fit for your knitting project can be very daunting. It will help if you have pockets of knowledge on what the different yarn thicknesses are and what projects they are most fit to use.
3ply Pattern with 4ply Wool – What is the difference between 3ply and 4ply?
A 4ply is a fingering weight yarn, while a 3ply is a light fingering weight yarn. If you knit the 3ply yarn with the same number of stitches as the 4ply yarn, your knitting will come out slightly smaller.
If you are working with shawls, it will not usually make a difference since they have no fit. Both 3ply and 4ply are middle-weight yarns, so it is possible that if you use the same needle size, your finished item should almost look the same size.
Knowing your chosen yarn's weight before starting a knitting project is essential. The yarn weight will determine how your knitting will turn out when you finish your project.
The term yarn weight may be misleading as it does not refer to the actual weight of the yarn. It defines the yarn more based on its thickness. Thick yarns are described as heavy yarns, while thin yarns are light.
Usually, the thickness of the yarn is the most popular way that differentiates between the different types of yarn. You can find the yarn weight on the ball band, and the suggested needle size is appropriate for the yarn weight.
Knitting patterns commonly indicate the yarn weight to get the best results for your knitting project.
You must be aware that there are different ways that these yarn weights are called depending on the country using them. The US uses numbers to identify yarn weights that the Craft Yarn Council of America has formalized.
Below is a list of the US Yarn Weight Categories and Standards and their comparison to other yarn weight categories used by other countries.
Lace Weight

The lace weight yarn is the lightest yarn weight used for knitting. Yarns belonging to this category include thread, soft fingering yarn, cobweb yarn, etc. You can use these lightweight yarns for lace knitting.

Lace weight is delicate and prone to breakage and tangling. It is usually used for knitting doilies, bibs, and other small and fragile items. It is usually not the type of yarn you would want to use when starting with knitting. You can use 1.5mm to 2.25mm needles on a lacey thread. The lace weight yarn is 1 – 3ply in the UK, AUS, and NZ.

Super Fine

The next category is superfine or fingering weight which is still a delicate type of yarn. It is equivalent to the 4ply threads in UK and Australia. The superfine wool looks almost similar to lace weight, so you can also use it to knit delicate and fragile items like baby clothes, socks, and shawls.

You can knit superfine yarns using 1, 2, or 3 US needles. If you substitute this type of yarn for lace weight, use the suitable needle sizes to achieve the right feel for your finished knitting.

Super Fine yarns are also called "sock weight" or "baby weight yarns," as socks and baby apparel is the most common knitting done using this type of yarn.

Fine/Sport Weight Yarn

The Sport Weight or Fine yarn belongs to category 2 in the US. It does not have an equivalent in the UK, but it is almost the same as 5ply.

Fine yarn is also called "baby" in some countries as it can produce fabric great for baby clothes, socks, and thicker lace patterns. It uses US size 3-5 needles.

For some knitters, it is better to knit lace because it works faster and gives a better design definition.

DK/Light Weight

Double Knit or Lightweight yarn is one of the most common yarn weights. It is pretty similar to sport weight yarn but slightly heavier. It is an ideal material for knitting scarves, hats, sweaters, dresses, etc.

It is almost the same yarn weight of 8ply in Australia and New Zealand. You can use two threads of DK yarns together as an alternative for worsted weight yarn.

The DK yarn works quickly and is not so fragile, so it is an ideal yarn material for newbie knitters. You can use a US-size six needle for the DK yarn.

Worsted/Aran

Worsted or medium weight yarn is the most popular and mainly used yarn weight in knitting. This medium-weight yarn is called Aran in the UK.

Worsted weight yarn uses US size 6-9 needles. It is a versatile yarn as it is not too delicate yet not too heavy also. You can knit different items with medium-weight yarn, such as hats, scarves, sweaters, and blankets.

Worsted weight yarn is slightly thinner than the UK Aran yarn. But both are similar to the 10ply yarns of Australia and New Zealand.

The Worsted yarn is a favorite among newbies and expert knitters because it gives excellent stitch definition and works quickly.

Bulky

Bulky yarns are called Chunky in the UK and 12ply in Australia. The ply in the name does not necessarily mean the number of strands combined to form the thread. It only designates the category level of the yarn.

Bulky yarns are perfect for newbie knitters as it needs big and wide needles to create large and loose stitches. As a beginner, it is the perfect alternative when knitting without standard wool. Bulky yarns produce knitting projects that are thick and warm, like blankets, hats, and scarves.

Bulky and Chunky yarn can differ a lot in thickness, so it can be tricky to substitute a bulky yarn in a pattern. Sometimes, it is tough to identify the bulky yarns as some yarn companies brand all the yarns heavier than worsted as Bulky weight yarns. It would still be safer to knit a swatch to confirm if your yarn can replace.

Super Bulky

Super Bulky weight yarns are thicker than Bulky and use the US size 11 needles or bigger. They are known as Super Chunky in the UK and 14ply in Australia and New Zealand.

Category 6 yarns are quick to finish and create super warm, big blankets, sweaters, rugs, and hats.

Jumbo
The Jumbo or Roving Weight Yarn is the thickest yarn weight you can find. It is usually used to knit giant rugs, blankets, and other arm knitting projects.
The Jumbo yarn also requires larger needles, such as the US size 17 needles or larger.
The different categories have different names and can be confusing because there are no "official" yarn categories. Here is a table comparing the different yarn weights and various knitting projects you can make.
US
UK
AU
Common Names Used
Needle Size
Possible Knitting Projects
0 Lace
1 ply
2 ply
Thread, Cobweb,

Fingering

1.25 – 3 mm
Delicate lace, baby garments
1 Super   Fine
2 ply
3 ply
Fingering, Sock,

Baby

1.25 – 3.5 mm
2 Fine
4 ply
5 ply
Sport,

Baby

3.25 – 4mm
Baby clothes, heavier socks, lightweight tops
3 Light
DK
8 ply
Jumper, Light,

Worsted

4 – 5mm
Ideal for most garments
4 Medium
Aran
10 ply
Worsted, Afghan
4.5 – 6 mm
Outdoor and warm clothing, fishermen's jumpers
5 Bulky
Chunky
12 -14 ply
Heavy, Worsted,

Craft,

Rug

5mm – 8mm
Outdoor wear, winter jumpers, oversized garments
6 Super Bulky
Super Chunky
16 ply
Roving
8mm – 12mm
Furnishings, jackets, blankets
7 Jumbo
Super Chunky
20 ply
Roving
12mm+
Eye-catching scarves, coats, cozy cushions and throw pillow cases
How do I convert knitting patterns to different weight yarns?
The best way to convert a knitting pattern to a different yarn weight is by knitting tension squares. It would be best if you got the same tension as the pattern to get the exact dimensions stated in the design.
If you intend to use yarn with a different weight than what is suggested in the pattern, you will not be able to achieve the exact measurements of the knitting or the project simply by following the printed instructions.
Try knitting plenty of tension squares to consider the finished effect. Use your substitute yarn to make a swatch or knit using the tension you want for your finished project.
It would be best to divide the old stitch count by the old tension to get the new stitch counts. Multiply the result by the new tension for every single row.
Look at the pattern schematic for the primary measurements of your knitting that should stay the same regardless of tension. Check the width at different parts of the design to know that you are on the right track using your chosen yarn with varying weights.
Check the width of your knitting at specific points, especially when making a garment. The fixed measurements on the pattern schematic should also reflect your knitting, even if you use your substitute yarn. This step may not be as crucial when making a shawl or blanket.
Related: What Happens If You Use Large Knitting Needles?