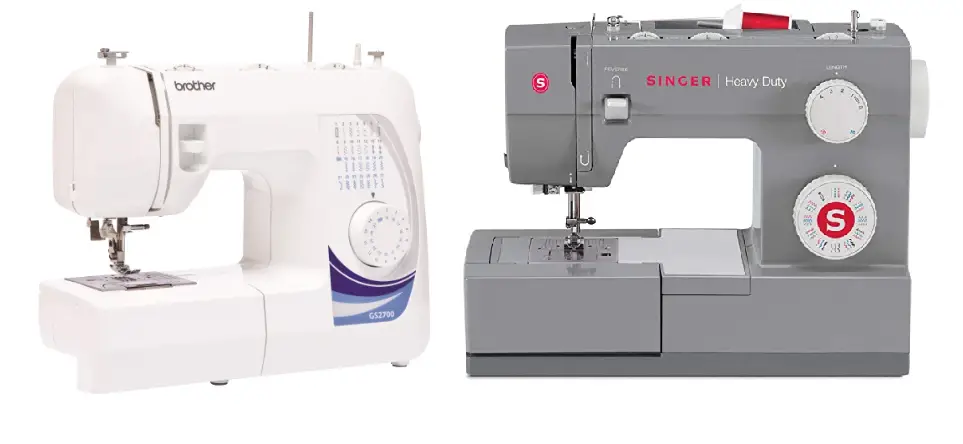 The Brother GS2700 is a traditional sewing machine with a wide variety of stitches perfect for home sewing tasks such as clothing repairs, dressmaking, and home décor projects. It is a versatile sewing machine that can handle varied sewing projects.
The Singer 4432 is a heavy-duty sewing machine with the innovative features that any level of sewist would want on a sewing machine to create a wide range of projects from various materials. The best benefit you can get from this Singer model is that it can handle thick and multiple layers of fabrics.
Both sewing machines are beginner-friendly, but if you want more value for your dollars, you would be better off owning the Singer 4432. It can course you from being a sewing newbie to knowing advanced techniques and handling difficult types of fabric.
Brother GS2700 Main Features
27 Built-in Stitches
The Brother GS2700 has 27 varied stitches, various options to meet the wide range of variety of your sewing projects.
Sewing Speed
The maximum sewing speed of the Brother GS2700 is 800 stitches per minute which is an adequate speed for traditional home sewing machines. This speed is capable of handling everyday sewing tasks such as mending clothing, dressmaking and home decors.
Singer 4432 Main features
32 Built-in Stitches
The Singer 4432 is a heavy-duty, full-size mechanical machine with 32 built-in stitches. The stitches include six essential basic stitches, seven stretch stitches, and 18 decorative stitches varied enough to sew different projects.
High Speed and Strong Motor
The Singer Heavy Duty 4432 operates at high-speed of 1100 stitches per minute. It is also equipped with a 60% stronger motor than the standard sewing machines making it easy to stitch through thick and multiple layer fabrics.
Pressure Adjustment Feature
The Singer Heavy Duty 4432 has a special feature that makes it possible to sew lightweight and heavy fabrics. The adjustable presser foot pressure controls the amount of tension you can place on the fabric, meaning you can lift the pressure foot as needed to work on quilts, denim and other thick fabrics or lower it when working with lightweight fabrics.
Accessories
The Singer 4432 is a ready-to-sew machine, but it has extra accessories that can help achieve the specific designs you want on your sewing projects. Accessories included in the package are four presser feet to enhance the capability to perform different techniques, an extra spool pin, extra bobbins, a set of needles, a lint brush, a screwdriver, and a spool pin felt. The kit also includes a power cord, a printed instruction manual and a stitch guide.
Similarities and Differences
The Brother GS2700 and Singer 4432 are full-size mechanical sewing machines, so they have more similar features than unalike. But one machine will always have special features that will weigh more to a sewist depending on the skill set and the sewing projects.
Similar Features
The Brother GS2700 and Singer 4432 sewing machines are equipped with different presser feet to increase the sewing machines' capabilities to perform various sewing techniques.
Both machines have a top drop-in bobbin loading system for quick re-threading of the sewing machine. It also helps that the bobbin has a clear cover to monitor easily if the thread supply needs to be reloaded.
The Brother GS2700 and the Singer 4432 have the drop feed option, a sewing feature useful for free-motion sewing.
You can remove the free arm cover from both sewing machines, making it easier to sew cuffs, sleeves, and small items. The removable cover can also act as small storage for extra bobbins, needles, extra presser feet, and other small sewing items.
The one-step buttonhole feature present in both machines makes it simple to create a perfectly sized buttonhole for your buttons.
Different Features
Number of Built-in Stitches
The Singer 4432 has a larger number of built-in stitches than the Brother GS2700. The Singer brand has five more stitches than the Brother sewing machine. The Singer 4432 can give a wider variety of stitches for sewing experts to try on their sewing projects, but for newbies, a few basic stitches will be enough.
High-Speed and Motor Power
The Singer 4432 can sew at 1100 stitches per minute, while the Brother GS2700 at 800 stitches per minute. The powerful motor and the high speed of the Singer sewing machine's high speed is the unique selling point of the Singer 44 series allowing these machines to handle heavy-duty fabrics.
The motor speed of the GS2700 is sufficient for home sewings such as repairs, home furnishing, and dressmaking.
The heavy-duty Singer 4432 is backed by a 25-year limited warranty, while the Brother GS2700 has one year or three-year Warranty depending on the store or area where you bought it.
Price and availability
The Brother GS2700 sewing machine's price range is around $231 to $280, while you can purchase the Singer 4432 at around $190.
The Singer 4432 and the Brother GS2700 are carried by some craft shops online, but only the Singer 4432 is available on Amazon.
Conclusion
The Brother GS2700 and Singer 4432 sewing machines can handle the basics of sewing by being equipped with the common features of full-size mechanical sewing machines. Both machines are equally user-friendly and can cater to both sewing newbies and experts.
Comparing the machines in terms of features and functionality, you can say that you can get more value for your money from the Singer 4432. It is a heavy-duty sewing machine which you can get for a fraction of the price of the Brother GS2700. The Singer 4432 is also an easier sewing machine model to find online.
Customer Reviews and Recommendations
Brother GS2700
– I bought brother GS2700 a few months back online. It is in good working condition. I am not a beginner in sewing. I knew only the basics of sewing before getting this. Now I developed my sewing skills very much using this. I could sew all types of fabrics in that till now. Really it was worth it.
– It's a nice-looking machine. Sounds great. Very smooth. Lightweight but stable. The good instruction manual and video disc were very helpful. However, straight out of the box and the light doesn't work. What a disappointment.
– I got this baby a few months ago, and my my… I have been sewing every day since. It is a beginner-friendly machine with many good features. I thought the price was excellent for a not-so-basic sewing machine yet an invaluable machine for a beginner like me. I started using it right away, making A-line skirts, simple summer dresses and shawls.
– I bought Brother GS2700 sewing machine a few months back. Really worth it. It is not only suitable for beginners but very helpful for those who are interested in developing their existing sewing and embroidery skills along with quilting. I improved my sewing skills with this and am trying to develop quilting and designing things. It's really helpful. I will recommend this to anyone.
Singer 4432
– I don't know how I sewed this long without this machine. It is a workhorse and a half. I chose this model based on the heavy-duty description, as I really do sew for hours a day. Other reviews complained a little about the noise, but it is whisper quiet compared to my old tank. I love the clear bobbin window so I can keep track of my thread. The buttonhole option is easy to use and makes beautiful buttonholes. I'm looking forward to exploring the various stitch options. I am extremely happy with this machine and recommend it to any sewist looking for a good, dependable machine.
– It does the job at an affordable price. I like the machine. It's decent enough to get through thick layers, but the needle may break if it's too thick. It has happened before, especially if you go too fast. Aside from that, I have made the most out of this machine. I created everything from pants, hoody's, and t-shirts of all types of fabric. For a low-cost machine, it's pretty quick and very easy to use/maintain. Great machine for someone who isn't trying to spend too much on a machine but needs the durability of an "industrial machine." I do intend on getting an industrial machine, but for now, I am quite satisfied with this bad boy.
– I was a little nervous picking out a sewing machine because I'm a beginner. I wanted something simple yet strong, something that will last me years and years. It works fantastically! Very even stitches no matter the speed I go. Very easy to thread and to operate. It comes with an excellent instruction book that's been helpful to me. It gives instruction on the basic machine functions along with some beginner sewing tips like which type of stitch, fabric, thread combinations are best. Or how to do a basic hem. I went with the heavy-duty. I thought it might last longer because I don't want to feel limited to light fabrics. I have some ideas for some projects with canvas, and I don't think there will be any issues. I'm well pleased with this machine. I've only been tinkering with it for a few days, but so far, no issues of any kind. I love this thing already!
– I am so happy with this purchase! This machine is not fancy. It is simple, straightforward, to the point and most definitely able to handle heavy duty jobs. The price was perfect, and the quality is fantastic. I was worried about reviews saying there was really only one speed, but like any machine, this is easily controlled with the presser foot and the amount of pressure used with it. This would be an excellent machine for any beginner and reminds me of my mother's 34-year-old Singer machine which this was the replacement for. I definitely recommend this for beginners and pros alike!
Related: 
People Also Ask
Q: I've been wanting to make a quilt out of old jeans. Is Brother GS2700 strong enough to sew through the layers?
A: Yes, it should be fine. I find the space between the needle and the side of the machine is tight when quilting everything together, so it's not the best machine for that. And can get a bit wobbly on very thick parts but should be ok.
Q: Does Brother GS2700 have a designated stretch stitch function?
A: It does have a stretch stitch function. On the dial, you simply turn it to SS.
Q: Does the Brother GS2700 sew denim or other heavy fabric?
A: I've done a thin denim with no issues. I think you're supposed to get another needle for thicker fabrics.
Q: Can you use twin needles with the Brother GS2700?
A: The Brother GS2700 sewing machine can use a twin needle for two-color stitching.
Q: Is the Singer 4432 a good machine for a beginner?
A: Yes, definitely. I never sewed before in my life, and this is the first machine I ever bought, and I found it to be very easy to use and very versatile and very powerful.
Q: Does the Singer 4432 have the automatic needle down position when you stop sewing?
A: No, it does not have a needle-down feature.
Q: What is the difference between the Singer 4432 and the Singer 5542?
A: The main difference between these two models is that the SINGER 4452 includes a set of bonus heavy-duty accessories, as follows: Even Feed/Walking Foot, Non-Stick Foot, Clearance Plate and Heavy-Duty Needles (size 16).
Q: Does the Singer 4432 have a box feed or the traditional arc feed?
A: The Singer 4432 has a box feed, meaning the feed dogs do not move up and down in an arc. They move the fabric with a continuous pressure on the fabric. This is important when the fabric is thick and when it is very thin. It has an adjustable feed which gives you the amount of pressure.