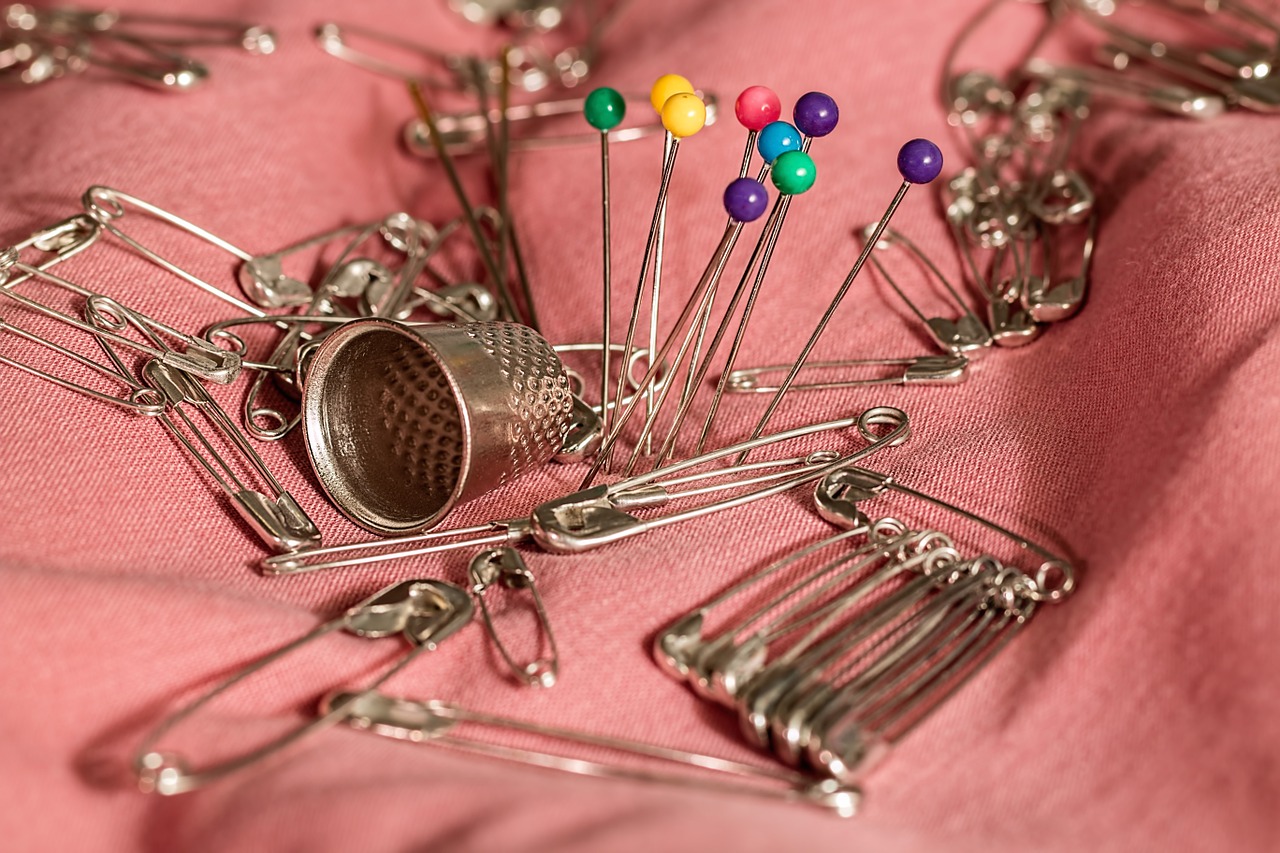 It is essential to have pins in sewing to hold the pattern to the fabric or hold two fabrics together. You use pins if you want to make a straight seam when joining two fabrics together.
Some sewists can get away without pinning the fabrics together, but beginners find it crucial to pin the fabrics together to not move about.
Whether you are a sewing newbie or have been sewing for a while now, this article will clear out your doubts on sewing with pins in the fabric or not.
Can you sew with pins in the fabric?
Yes, you can sew with pins in the fabric. You can sew with your pins in the fabric, but there is no guarantee that you will be 100% successful in evading them. So, there is an ongoing debate between people who say that you can sew with pins on the fabric and those who say it is a big NO-NO.
Here are some pros and cons when sewing with pins on the fabric.
Pros when you keep pins while sewing on a machine:
You can create a straight seam because your fabric pieces will stay in place.
You can finish your sewing faster because there is no need to stop the machine from taking out the pins.
You can produce a smooth line of stitches because you can stitch longer without stopping.
Cons when you keep pins while sewing on a machine:
Your sewing machine needle can hit a pin while sewing, which may cause damage to the needle or the machine itself.
Hitting a pin while sewing may cause an error in your machine's timing and can cost repairs.
When your sewing machine needle hits a pin, it may cause a stitch or stitches to go off course.
When thinking about keeping your pins on the fabric as you sew, bear in mind what you have to lose; a bit of your time or a big chip on your savings.
Is it bad to sew over pins?
Sewing over pins may seem like a great idea because it can save you time by not slowing down as you remove each pin one by one. Sewers have a divided view on this topic as some people can do it while others refuse to do it.
People who do not like the idea of sewing over pins are afraid of hurting themselves from shards of the pin or the needle. Sewing over pins may also damage the sewing machine, hurting the pocket because of a costly service bill.
If you think it is not good to sew over the pins, here are some recommendations that would work equally well to keep your fabrics in place as you sew.
Insert pins horizontally with the pinhead pointing to the edge of the fabric.Hold your fabrics together by inserting pins horizontally. Using this method, insert your pins with the pinheads facing right, the side where you will stitch your seam.Keep a pin cushion or a box where you can discard your pins after removing them from your cloth.When you get to about an inch from a pin, remove it and stitch to the pincushion or flip it over to the box to the right of your needle. You will not waste too much time with this method, and there will be no fear of needles or pin parts hitting your eyes.
Insert your pins parallel to the edge with the pinheads facing the bottom of the fabric.Insert your pins in a vertical position or parallel to the edge of the fabric. You can place your pins at approximately the stitch line where you will sew. Vertically inserting your pins can also serve as your stitch guide. Note that the bigger part of your fabric must be on the left side of the needle for a wider workspace.When inserting your pins, make sure that the pinheads are facing the bottom of the fabric. It will be easier to pull them out as you go along with your sewing. Pull out the pin when your needle is about an inch from it. Have a pin cushion or box ready to the right of the needle to place the used pins.
Try hand basting to hold the fabrics together.What if the situation calls for the pins to stay on the fabrics to hold them together as you sew, such as a curved seam or slippery fabrics? You have the option not to keep them pinned. You can hand baste your fabrics instead.Using a simple running stitch, you can do hand basting before you sew your fabrics. It is a quick and easy procedure and can even be a safer way to hold your fabric. You can also choose to use clips instead of pins to baste your fabric.
Place your pins beyond your stitch line.You can also place your pins way beyond the seam allowance or stitch line so that there is no way that your needle can reach the pins. You can hold your fabrics together this way, but you may find pinholes on the fabric area where you should not see them.It is still a personal decision whether to sew over pins in the fabric or not. It also depends on the sewing skills to pull off sewing with pins on the fabric without the needle hitting it.Even if you have been sewing for quite some time now, your needle hitting a pin is still a huge possibility. If it happens, unfortunately, your sewing downtime will be longer than if you removed your pins from the fabric one by one. And do not forget that it will cost you a new machine needle or, in a worse situation, a huge amount for the service fee.When sewing with pins in the fabric, keep in mind that it is better to be safe than sorry. Hitting one pin a single time is enough to ruin your machine.
Why should you not sew over pins?
Aside from your machine needle bending and bits of the pin hitting you in the face, there are a lot more reasons why you should avoid sewing over pins.
Possibly the mildest that can happen if your needle slides on a pin while sewing is to hear a ticking sound. Needle sliding on the pin can also cause the needle to snag the fabric as you go through it with each stitch. When this happens, cash out for a new needle.
When the needle goes head-on collision with the pin, the needle may break. The pin may hurl tiny bits and pieces at you or fall on the floor and hurt your feet or whoever visits you barefoot.
If your needle breaks or bends when it hit the pin, a new needle may not pick up the thread from the bobbin. It would help if you had the machine timing adjusted, and with it comes a service fee.
When a machine needle hits a fine pin, it is more probable that the pin would bend than break. A situation like this can get the bent pin and fabric to get wedged through the throat plate. Bits and pieces of the needle and pins may get caught in the throat plate, causing your machine to jam.
When you are used to sewing with pins on the fabric and sewed using a serger, you will cut the pin if you do not remove it before it passes the knife. A pin is easy to replace, but a ruined serger knife will cost you much.
What can I use instead of pins for sewing?
Pins have been used in sewing for ages. It is one of the most commonly used sewing tools and is quite effective with its purpose when used safely and properly.
But times are changing, and there is a wide range of ages of sewing enthusiasts these days. People are getting more innovative and critical about the tools of the trade.
There is also so much information you can gather online to help you perform better with your crafts. In the case of sewing, you can find better and safer options than sewing pins. Sewing tools that you can use instead of pins are basting tape, masking tape, scotch tape, washable glue, or sewing clips.
Related: 
Are clips or pins better for sewing?
Clips and pins have the same purpose in sewing. But which one is better? Are clips better to use by beginners than pins? To know the benefits you will get by using clips instead of pins, read on below.
Clips can hold multiple layers of fabrics, even thicker ones. Pins can only hold together around two pieces of thin fabrics.
Sewing clips are easy to use; you only slide them under the edge of the fabrics to hold them together. They are perfect tools, especially when teaching children how to sew.
Using sewing clips does not distort the fabric.
Sewing clips do not leave holes, especially on fabrics that where pinholes do not disappear easily.
Sewing clips do not snag fabrics which may cause runs.
You will not get stabbed with a sewing clip and hurt less than stepping on a pin.
Sewing pins do not bend, especially on thicker fabrics.
Sewing clips can help flatten edges of fabrics such as cotton fabrics.
When using a serger, it is harder to sew over a clip than a tiny pin accidentally.
Sewing clips have markings for different seam allowances. The typical clip sizes are 3/16 inch, ¼ inch, and 3/8 inch.
Although there are many advantages to using sewing clips over pins, there are also some disadvantages.
Sewing clips are bulkier than pins and can weigh down your fabric as you feed it into the sewing machine.
You also need to remove the sewing clips before you let the fabric go through the presser foot, which can cause the fabric to shift.
Sewing clips cannot be placed on fabric as accurately as sewing pins. They are mostly used on the edges.
It may be nice to have sewing clips in your sewing tools stash, but pins can be the more practical choice if you are new to sewing. Pins are cheaper and may prove to be more useful than sewing clips. But still, if you want a great sewing experience, choose the best tool you think would serve you best.
Is it stitching or sewing? Find out here.