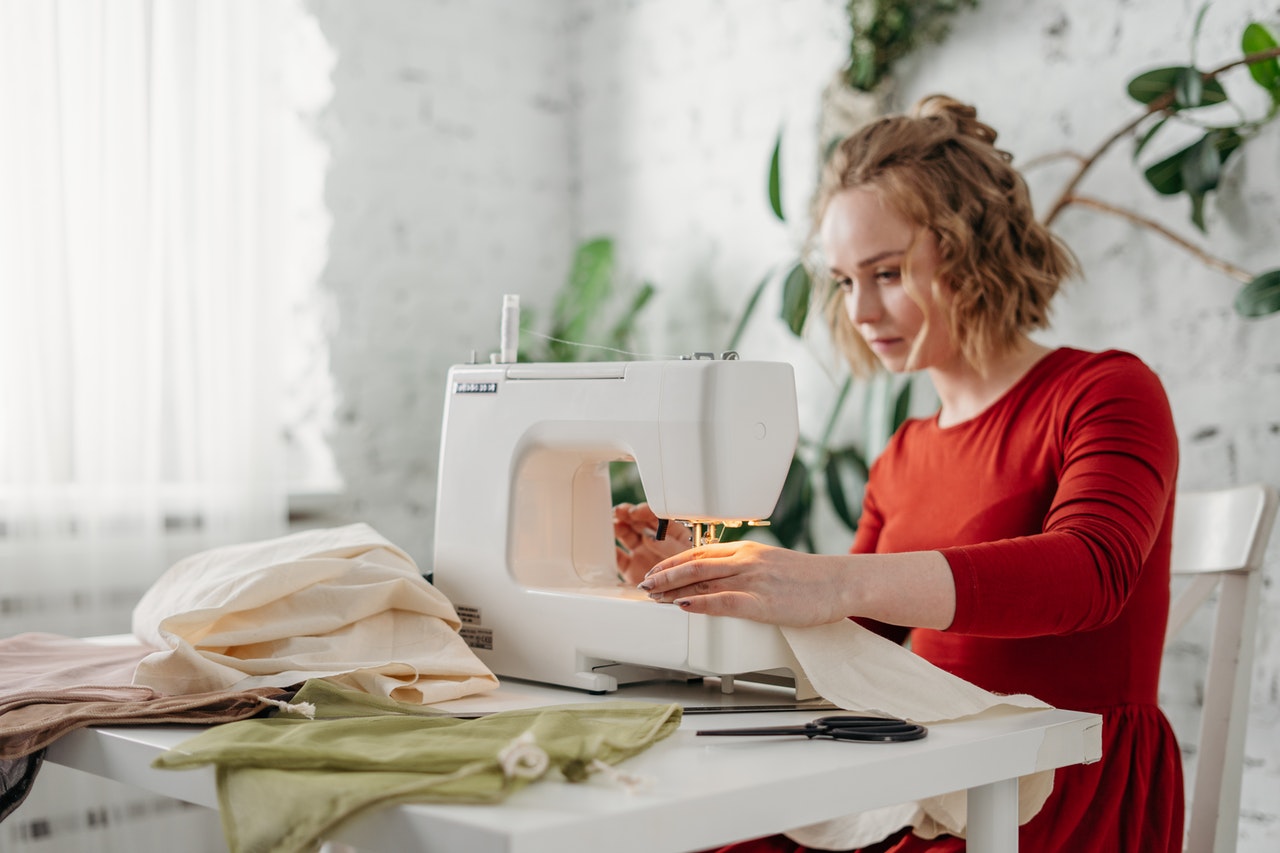 Backstitching with a twin needle is possible. But it is not something sewists advise. Find out in this article what you can do instead.
Can you backstitch with a twin needle?
Backstitching can be done with a twin needle, although sewists do not recommend it. When sewing with a twin needle, multiple threads may get tangled in the process. Jumbling threads is one thing to avoid, especially when sewing.
Sewing experts suggest using a lockstitch machine. Instead of backstitching, you can pull the threads through the underside of the fabric and tie them off manually. You are better off tying the threads as an alternative to backstitching to secure your stitches.
It is more common that you sew in a loop when using a twin needle. When you are sewing in a loop with a twin needle, you can sew past the start of your stitches, making them overlap to secure them.
When you are not sewing in a loop and cannot overlap your stitches, you can tie your threads to secure them. You can pull on the bobbin thread and the needle threads to go under the fabric. When all the thread tails are under the fabric, you can tie them together in a knot.
What is a twin needle used for?
Twin needles are used to create parallel and decorative stitches on different types of fabrics. They are usually used to hem jersey and knit fabrics and make them look very professionally finished.
You can achieve two neat, parallel rows of stitching similar to the hems produced by a cover stitch machine only by using your regular domestic sewing machine and a twin needle. You can also use a twin needle for sewing elastic on hems of legs or neckline on stretchy clothing.
A twin needle, also called double-needle, creates two parallel stitches on the top fabric. At the bottom, it makes zigzag-looking interlocked stitches. A twin needle is just two needles joined together by a shank at the top.
There are various types of twin needles available nowadays specific to certain types of fabrics or stitches.
If you haven't heard some of them yet, familiarize yourself with the types of twin needles that may come in handy for your next sewing project.
The universal twin needle is the most common type of double-needle that sewists use. They are called general-purpose needles because they are used to sew mostly woven fabrics and some knits. The universal twin needle has a slightly rounded tip to slip through the weave of knits easily but is sharp enough to pierce through woven fabrics.
Stretch twin needles are used to sew stretchy knit fabrics. The stretch twin needle has a more rounded tip as compared to the universal twin needle. The rounded tip needle is also called a ballpoint. The advantage of having a rounded tip needle is that it cannot pierce the fabric. Instead, it spreads the fibers to the sides without tearing them. Stretch twin needles have a width of 2.5mm or 4mm and a size of 75, which is thinner than the general-purpose twin needle.
The embroidery twin needle's unique feature is the enlarged groove and eye, making it ideal for decorative stitches. Embroidery is usually sewn at a higher speed than regular sewing. The larger eye of the embroidery twin needle allows smooth flow of the threads at a fast speed. You can use various embroidery threads such as cotton, polyester, and rayon on the embroidery twin needle.
Thick fabrics such as denim need a sharp, pointed needle. The size of the denim twin needle is 100, thick enough to penetrate multiple layers of fabric. The denim twin needle is ideal for stitching thick material such as denim and perfect for topstitching woven fabrics.
You can distinguish metallic twin needles from the others because of the large, specially-coated eye. It also has a large groove in the shaft, preventing the thread from breaking. The normal size of the needle's eye is 2mm.
Double Hemstitch Twin Needle
The most interesting twin needle is the double hemstitch twin needle. It is composed of one regular needle and one wing needle on a crossbar from a single shaft. This particular needle is used for decorative stitching on tightly woven fabrics.
Twin needles are made in different sizes. And like a regular needle, the size of a twin needle is also based on the thickness of the shaft. The twin needle used for knit fabrics is size 75 and is the thinnest you can find. Size 80 is usually used with metallic thread. For thick fabrics such as denim, the double-needle used is a size 100. The general-purpose twin needles are sizes 80, 90, and 100.
The distance between the two needles of a twin needle also varies. The common widths between the needles you can find are 1.6, 2, 2.5, 3, and 4 mm. You can also find them at 6 and 8mm.
If you examine a pack of twin needles, you will see these two numbers that indicate the size of the needles. A size 80/4mm indicates that the twin needle is made of two sizes 80 needles 4mm apart.
When choosing your twin needle, you must keep the purpose of your sewing project in mind. Match the strength of your needle to the other sewing supplies you are using, such as threads and fabrics. If you are not critical of the twin needles you use, you may have to replace them every so often when it breaks or get bent.
What Stitch do you use for twin needle?
Twin needles use straight, zigzag, and many other decorative stitches. Two straight parallel stitches are commonly used for hemming knit and jersey items. Using modern sewing machines, you can stitch some decorative stitches built in these machines using twin needles. Even a stitch as simple as the zigzag stitch can provide a decorative element to your garments if you use two different thread colors.
Using twin needles, you can stitch two rows simultaneously, creating a decorative effect on your fabric. Twin needles come with different widths between the two needles. The difference in the distance between the needles can change the appearance of the decorative stitches on the fabric. If you are more into using twin needles as a decorative tool, it would be a great idea to have different types of double needles in your sewing stash.
More pages: 
Can you use a twin needle on any machine?
Most modern domestic sewing machines can sew using a twin needle. Some of these sewing machines include a twin needle in the package along with the regular needles and other accessories.
Now, you don't need a special machine to make your garment hem look like a professional made it.
All you need is a twin needle that you can attach to your ordinary sewing machine.
Sewing with a twin needle on your sewing machine is as easy as sewing with a single needle. You only need to thread two needles consecutively. To start sewing with your twin needle using the regular sewing machine, here are a few easy steps to guide you.
Lower the presser foot.

Start by lowering the presser foot lever to lower the presser foot. Your machine may come with a safety button that you can press to lock all keys and buttons while installing the needle. Press this safety button with your presser feet lowered.

Install your twin needle.

Insert the shank of your twin needle into your machine in a similar way you insert a single needle. Make sure that the flat part of your twin needle shank is facing the back. Tighten the screw at the side to hold your twin needle in place.

Thread the left needle eye.

Manually thread the left needle eye with one of the upper threads. Threading the twin needle must be done manually. Using the automatic needle threader may damage the machine. Follow the thread guides from the thread spool until you reach the left needle. Pass the thread through the left needle eye from the front to the back.

Thread the right needle eye.

Before threading the right needle eye, you need to look for another spool pin on your machine for the second upper thread. Sewists have many creative suggestions on where you can place the second spool of thread if your machine doesn't have one. You can use the bobbin winder shaft or tape a stick on your machine. Some suggest putting your thread spool in an empty mug or buy a spool holder you can place at the side of your machine. You can also use two bobbins for your two upper threads stacked on the single spool pin of your sewing machine.
Thread your right needle using the same process as the left needle.

Attach a zigzag foot.

When working with a twin needle, the best foot to use is the zigzag or "J" foot. It has a wide gap that can accommodate the twin needle's two parallel rows of stitches.

Turn the machine on and select a stitch.

Refer to the Stitch Setting Chart on the operation manual to select the appropriate stitches that can be sewn using a twin needle. Some modern sewing machines can also display the stitches that you can use with a twin needle on the touch screen. Make sure to choose the right stitches to avoid breaking the needle or damaging the machine.

Select the Twin Needle Setting.

Turn on the Twin Needle mode on the settings screen. Ensure your machine is set on the Twin Needle setting to prevent damaging the needle or your machine.

Start sewing with your twin needle.
Create two parallel rows of stitches with your twin needle. You can now cleanly hem your elastic fabrics and create parallel decorative stitches on your woven fabrics. You can use different-colored threads for your upper threads for aesthetic purposes. Just make sure that your upper threads have the same thickness and quality.