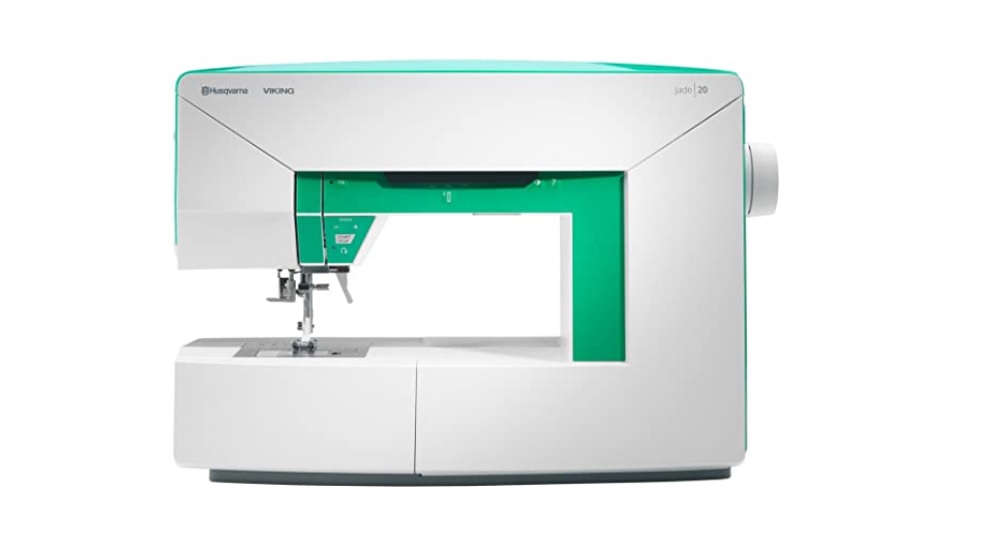 If you are looking for the best sewing machine and could not find it in the common brands available in the market, you may want to try out a Pfaff or a Husqvarna Viking sewing machine.
It can be quite challenging to pronounce their names, but these machines are tried and tested for premium quality. Scroll down below if you want your hands on innovative and superior quality sewing machines.
Are Pfaff sewing machines good?
Pfaff machines are not just good machines; they are excellent. The Pfaff brand is known to be one of the strongest brands in the market today.
Pfaff is a German company founded in 1872 has been successful in sewing machine production for 150 years. The brand produced sewing machines only for industrial use until 1931, when it released its first Pfaff home sewing machine.
The company has manufactured various types of machines from domestic, embroidery, quilting sewing machines to sergers through the years.
The unique feature of a Pfaff is the IDT (Integrated Dual Transportation) added to selected Pfaff models in 1979, allowing home sewists to handle thick layers of fabric. With the exclusive IDT feature on a Pfaff sewing machine, you do not need a walking foot because you can feed your fabric through the feed dogs from both the top and the bottom simultaneously.
The Pfaff brand of sewing machines has become a popular and trusted quality brand of sewing and embroidery machines in the market since 1980.
If you are looking for the precision, accuracy, and durability of a powerful German sewing machine, check out these five best Pfaff sewing machines.
Pfaff Passport 2

The Pfaff Passport 2 is a computerized sewing machine that is ideal for newbies and even intermediate sewists. It is easy to use and has great portability. It is a great machine to take if you plan on sewing some on your vacation or bring to your sewing classes.

It comes with the Pfaff significant feature IDT which offers a perfect fabric feed from the top and bottom.

The computerized sewing machine provides excellent performance and is fully packed with features. You can try out 70 built-in stitches and several amazing features like the start-stop button, speed slider, external feed dog drop, etc. Look for computerized Pfaff sewing machines here.

Pfaff Creative 1.5

The Pfaff Creative 1.5 is a simple sewing machine but can perform embroidery functions that a newbie embroiderer would need. It comes with 150 built-in stitches and 101 built-in embroidery stitches to bring out your full creativity in your sewing and embroidery works. It has a USB port to help you access the newest embroidery designs.

Another huge advantage of Pfaff Creative is its ability to sew through multiple layers of fabric and thick fabrics like denim or leather. Check the availability of this versatile Pfaff machine on this link.

Pfaff Creative 3

The Pfaff Creative 3 is a combination machine for sewing and embroidery. It offers 254 built-in stitches and 157 designs. It has the Exclusive Stitch Creator feature, which allows endless creativity.

A huge advantage of this superior sewing machine is its large embroidery area and its huge sewing area. The machine also comes with two embroidery hoops.

This advanced sewing machine is also equipped with upper and lower thread sensors that make it impossible to run out of thread. It also has the signature feature IDT of Pfaff, the Patchwork Program, and other sewing and embroidery features to help you create more designs than you can imagine. You also get plenty of memory to store combinations and designs.

With its many advanced features, this machine may be complicated to maneuver for newbies and expensive. If you want to know more about Pfaff combination machines, check out this link.

Pfaff Creative Icon
If you want the top-of-the-line Pfaff sewing machine, then you have to check the Pfaff Creative Icon. It is the most advanced sewing and embroidery Pfaff model. The machine has the latest technological features you would want in a combination sewing machine. The sleek and minimalist design and color make the machine look high tech.
It has 800 built-in stitches, including new and exclusive radiant stitches. It also offers 812 built-in designs for embroidery. You can access the stitches using a big, tablet-like screen and enjoy a huge and bright working area.
Expect to shell out a huge amount for a state-of-the-art sewing machine. Find out more about the Icon here.
Is Viking the best sewing machine?
The Viking is not the best sewing machine there is, but because of its quality, durability and several amazing features, it can be pitted against the most popular and finest sewing machines in the market today.
The Husqvarna sewing machine company has been a top-quality sewing machine for 134 years. It originated in Sweden and was founded as a royal arms factory in 1689. The company remained a firearms manufacturer for 183 years before it shifted to making sewing machines in 1872 and became a world leader in sewing machines ever since.
It is no wonder that the Husqvarna Viking brand has belonged to the most trusted brands in sewing machines running for more than a century. This brand is known for offering innovative design, excellent capability, and first-rate engineering.
Husqvarna Viking sewing machines have these noteworthy features that make this brand one of the best in the market.
The Husqvarna Viking has the unique feature Sewing Advisor, which automatically calculates and applies settings like stitch width and length, thread tension, presser foot pressure, and sewing speed based on the sewing technique, weight, and type of fabric.
The machine also has a special feature, the Sensor System technology, which mechanically senses any fabric thickness to feed the fabric without a hitch.
Only the Husqvarna Viking has the exclusive Stitch System feature, which feeds the needle thread in two ways. It also selects the best stitch automatically to improve the tension and balance between the top thread and the bobbin thread.
It also has the Thread Portioning feature, which helps feed the right amount of thread for every stitch regardless of the fabric type or fabric thickness you use for sewing or embroidering.
These significant features of Husqvarna Viking sewing machines allow them to deliver the best quality of stitches, instilling more than a century of consistency and reliability to sewists.
You can choose from 24 different Husqvarna Viking sewing machines to suit your needs and skill level. Machine types range from regular sewing machines with outstanding features to machines built for embroidery, quilting, and sergers.
Below are five of the best-loved Husqvarna Viking sewing machines available in the market.
Husqvarna Viking Emerald 118

The HV Emerald 118 is a beginner-friendly sewing machine. It comes with 18 stitches, adjustable width and length. Included stitches are utility stitches which can be used for sewing and repairs, decorative stitches for creative projects, and tri-motion stitches for knits.

You can find convenient features such as a simple dial for stitch selection, a built-in needle threader, adjustable speed settings, an up and down needle button, adjustable presser foot pressure, and many more.

If you are a newbie looking for an affordable sewing machine, the HV Emerald 118 is a great option. It is light and portable that you can easily bring to your sewing classes. You can always expect quality stitching on this durable starter sewing machine. Look for this beginner Viking here.

Husqvarna Viking Jade 20

The Husqvarna Viking Jade 20 has a striking modern design that is both sleek and purposeful. Your various sewing projects can benefit most from its 8-inch sewing space, a start/stop button, an adjustable five-speed control, an LED display with presser foot recommendation, and a built-in needle threader, to name a few.

This computerized sewing machine also comes with 80 different stitches, including utility, quilting, decorative stitches, and five buttonhole designs.

The machine is easy to operate, but it suits all skill levels with its many excellent features. You can check out Husqvarna Viking Jade 20 on Amazon.

Husqvarna Viking Sapphire 930

Take your sewing to the next level with this versatile machine that may have the technological features you want. It has Husqvarna Viking's signature features such as Sewing Advisor and Sensor System technology to make your sewing experience faster and easier.

It has all the trappings of all the other Husqvarna Viking sewing machines. It has a large 10-inch sewing surface perfect for sewing large and bulky items such as quilts. Choose from more than 200 stitches and four font styles. You also have the option of saving your customized stitch settings.

The Sapphire 930 is a bit heavy and pricey, but the superior stitch quality and the professional finish that you get for your sewing projects will be worth it. Check this link to know more about this versatile Viking sewing machine.

Husqvarna Viking Designer Diamond

If you lean more into embroidery, the Husqvarna Viking Designer Diamond is a sewing machine specially made with an embroiderer in mind. The machine comes with 1200 stitches with different styles to choose from. Included are 26-dimensional stitches so that you can add a dimensional effect to your work by using fabric applique or pop-ups.

The combination sewing and embroidery machine have the exclusive Sewing Advisor and Embroidery Advisor feature, which automatically recommends changing your needle, adding a stabilizer, and tips for embroidering using specialty fabrics and threads. Search here to know more about the Viking
embroidery machine.

Husqvarna Viking Platinum 16 Sewing Machine
The Husqvarna Viking Platinum 16 is a sewing machine geared towards quilters. The machine has a huge, 16-inch throat space that can give you a lot of space to move your quilt during sewing. It offers a speed of 1500 stitches per minute for fast and easy quilting.
The modern computerized sewing and quilting machine has a touch screen to choose the stitches you want to see on your quilts. It also has several LED lights that will keep your work area well lighted.
The combination HV machine is a big investment, but if you want the best equipment for quilting, this machine will deliver more. Check out the Viking combination sewing and embroidery sewing machines.
Related article: 
Are Pfaff and Husqvarna the same?
You can see some similarities between Pfaff and Husqvarna machines. Husqvarna Viking and Pfaff belong now to the same company, so they share designs between them.
In 2006, the Kohlberg and Company, LLC, which also owns the Singer Company, acquired the VSM Group, composed of Viking and Pfaff. The Husqvarna Viking, Pfaff, and Singer merged into the group SVP Worldwide, where SVP stands for the brand names Singer, Viking, and Pfaff.
These two top-notch brands may not share the same significant features, but they were tried and tested for many years, more than a century even. Pfaff and Husqvarna Viking belong to an expensive lot of sewing machines due to their specialized features and advanced technology. They are the preferred sewing machines for advanced seamstress.
Choosing which brand is best between two top-notch brands will be challenging. Deciding on which brand to get will depend on the kind of sewing you want, the amount you are willing to part with for your machine, and the sewing machine features you consider vital for your work.