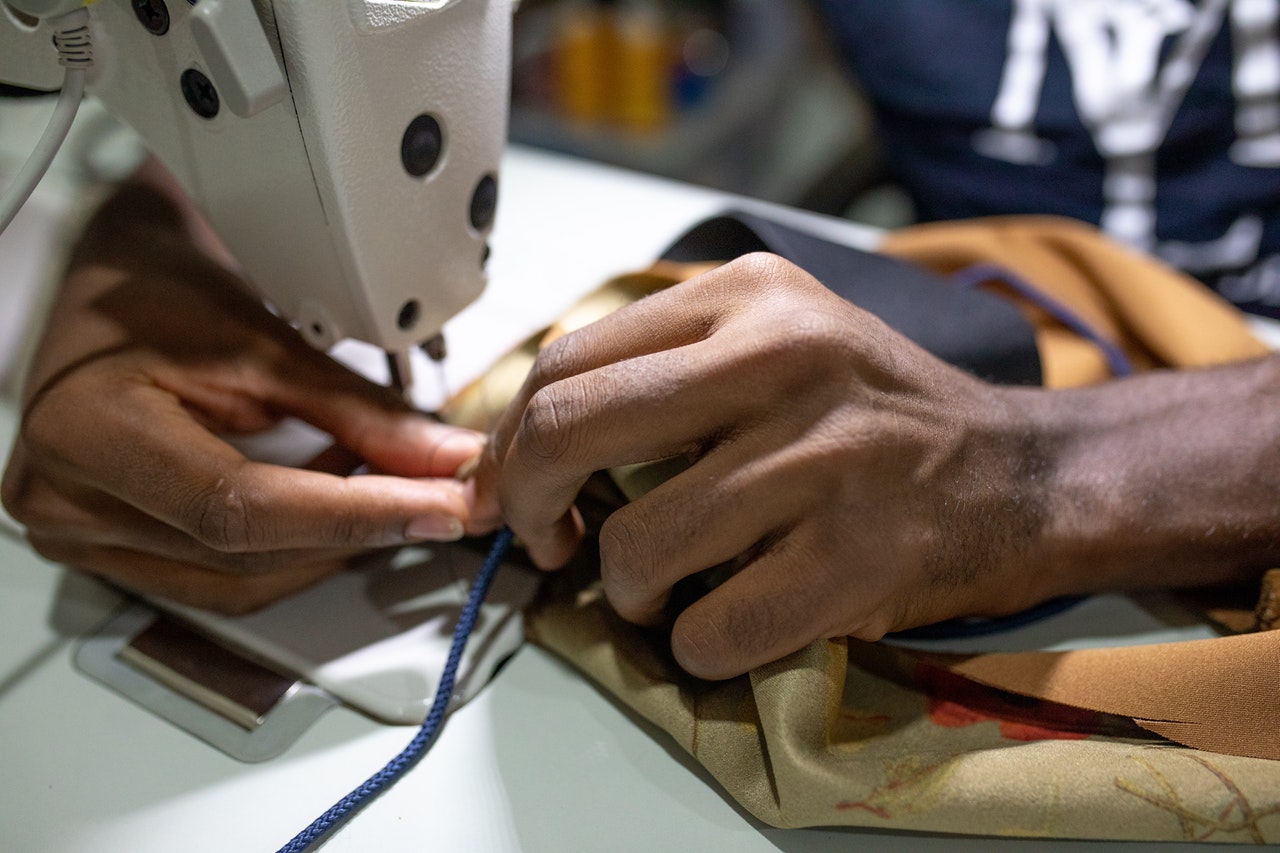 Sewing and stitching are two words that are almost always interchangeably used in writing or speaking. However, the two terms are very closely related in meaning and use, so people sometimes use one in place of the other.
What is the difference between stitching and sewing?
Sewing is the craft of joining or attaching objects with the help of a needle and thread, while stitching is the process of looping thread or yarn. Thus, stitching is a component of sewing and other needlecrafts, which requires a loop of yarn or thread for attaching the stitches.
To understand further how sewing and stitching differ and how they are alike, please read on for more descriptions.
Sewing
Sewing is defined as the process of making, mending, or joining two pieces of materials such as fabrics together. You can also describe sewing as the movement of a threaded needle through the fabric.
Sewing is one of the oldest crafts and is the groundwork of other needlecrafts such as quilting, embroidery, etc.
Sewing has been practiced since the Paleolithic Era, where our ancestors sewed using antlers, ivory, and bones as needles. The fabrics used then were animal skins and hides. Ancient people made threads using catgut, sinew, and the veins of animals.
Sewing involves joining up pieces of fabric to construct something. These may be clothing, shoes, accessories, and a lot of other useful or decorative things. Sewing utilizes stitches to hold edges and materials together so that the finished item can function how you envisioned it to.
You can also use sewing for patching and mending things frayed or torn.
Sewing is mostly used for clothing, but other manufacturing processes benefit from it. Examples of such are shoe production, bookbinding, upholstery, etc.
Sewing can be done by hand and also by machine.
Sewing can be categorized into three types: plain, fancy, and heirloom sewing.
Plain Sewing
Plain sewing is described as the making and mending of clothes and linen. A sample task to identify plain sewing is the sewing of seams using simple and common stitches.
Fancy Sewing
Making decorative works on clothing are done with fancy mode sewing. Fancy sewing is usually done using decorative techniques like embroidery, smocking, and shirring.
Heirloom Sewing
Fine hand sewing defines heirloom sewing. It is a long-drawn process as it requires a lot of labor and effort at the same time. It is also defined as fine hand sewing and fancywork using a sewing machine and trimmings.
Stitching
Stitching is a basic sewing component. Other types of needlecrafts which use stitches are quilting, embroidery, knitting.
Stitching can be done using the hand or a sewing machine. Before, stitching used to take so much time, but the invention of the sewing machine reduced the time spent on stitching.
But before the machine came into use, knowing how to stitch by hand was a practical and useful sewing skill that anyone could learn. Up to this day, knowing how to stitch by hand is still highly valued.
Stitching by hand is often used when you have to make highly detailed work. The sewing machine is mostly used when you need to work fast and make uniform stitches.
What is stitching in garment?
Stitching in a garment means the row of stitches sewn on clothing. Stitches are essential elements for sewing garments and other needlecrafts, which can be done by hand or by a sewing machine.
Stitches can be done by hand but can require more time to finish than having them done on the machine. Most of the sewing patterns are designed to be sewn by sewing machines. But the more detailed form of sewings such as embroidery and applique are best done by hand. Clothing repair and mending are also best done by hand stitching.
Learning the basics of sewing by learning the different stitches is still as important today as it was then. Knowing how to stitch was essential, even more so when there were no machines yet to do the work faster and easier. Here are some of the most commonly used stitches.
1. Running Stitch
The running stitch is probably the main stitch that is used in sewing. It is also called a straight stitch. The others follow suit. The straight stitch is the first stitch you will have to learn and use for repairing clothing or thinking of going serious into sewing. This stitch is commonly used for mending, tucking, and gathering.
2. Basting Stitch
Also called Tacking stitch, the Basting stitch looks similar to the Running stitch. The difference is that it has longer stitches that are between ¼ and ½ inches. Its main uses are for tacking and holding seam. It can also be used as a temporary stitch.
Stitches are worked by slanting stitches from left to right or from top to bottom. Basting is usually done on both lightweight or heavyweight fabrics.
3. Cross Stitch
The cross stitch in sewing is used to finish hems with non-fraying fabrics. It is mostly used for sewing hems, seam allowances, and as lining for garments. You can identify it as crosses on the wrong side of the fabric and as small stitches on the right side of the fabric.
But when cross stitch is used as a design element on the fabric, you must stitch them on the right side of the fabric.
4. Whipstitch
The whipstitch is a simple and easy stitch used in sewing and crochet. It is done by sewing together two different fabrics at flat edges. You can use this stitch for piecing and binding quilts or applique making.
5. Backstitch
The Backstitch is one of the strongest among the hand stitches. Before sewing machines were invented, the Backstitch was the most reliable stitch when sewing clothing. The Backstitch is commonly used to join fabrics, write texts, and make outline shapes for embroidery designs.
6. Buttonhole Stitch
The Buttonhole stitch is called such for the apparent reason that it is the stitch that is used to create buttonholes on your garments. It can help enclose the frayed edges of the fabric. The Buttonhole Stitch is also called Blanket Stitch as it is also used for finishing edges of blankets. On some occasions, the Blanket Stitch also serves as a decorative stitch.
7. Slip Stitch
The Slip Stitch is useful when you are trying to sew hems on fabrics without seeing the stitches. This stitch is ideal for patchwork.
8. Standard Forward/Backward Stitch
The first stitch you need to learn when learning the sewing machine is the forward/backward stitch. This stitch is usually used at the start of stitching and
9. Zigzag Stitchv
The zigzag stitch is one of the basic stitches of a sewing machine. It is a great stitch to use on seams to prevent fraying. The zigzag stitch is also ideal when you are sewing on elastic or on flexible fabrics. You can also use the zigzag stitch to make buttonholes.
10. Blind Hem Stitch
The Blind Hem Stitch is a mix of straight stitches and zigzag stitches. The stitch is perfect for hemming and mending as it is almost invisible. You can use this stitch to sew two pieces of fabric together or fold one fabric together.
What are the basic sewing skills?
A lot more people are becoming more interested in learning new skills and DIY crafts. Sewing is one of the crafts that have become trendier through time as it is useful. It is attracting a wider range of ages of sewists interested to learn this needlecraft.
Sewing is a skill that has so many benefits than drawbacks. You can save money by learning to sew items on your own. Sewing is also a marketable skill that might come in handy in the future.
Before you take your sewing to the next level, read on first for some basic sewing skills before taking on harder sewing tasks.
1. Know the sewing terms.
Your sewing journey would be easier if you first learn the terminologies in sewing. You can find many sewing articles and video tutorials online to familiarize yourself with sewing terms. Learning them is essential to growing your sewing knowledge and skills.
2. Know your threads and needles.
The two most basic tools you need for sewing are a thread and needle. It would be best to know which needles and threads you need to use for which types of fabrics. You must also know the difference between the threads and needles used in a sewing machine and the ones you can sew with your hand.
3. Thread a needle.
One of the first and vital skills you need as a sewist is to thread a needle. It may take you a few times to thread your needle before you master this skill. You also don't need perfect vision to do it. You can use a manual needle threader to assist you. In addition, some sewing machines are equipped with automatic needle threaders to help you do this task in a flash.
4. Sew a straight stitch.
Learning to sew a straight stitch is the first and most vital lesson you have to know. You have to sew a straight stitch before you can master any stitches that you plan to use on any of your sewing projects.
5. Sew a button.
Sewing a button is also one of the basic skills that you must learn in sewing. You will need it when making garments, home decors, and many other sewing projects. In your sewing journey, you will inevitably need buttons as joining components or design elements.
6. Read a sewing pattern.
Reading a sewing pattern is a skill in itself. However, it is highly important to know and understand a pattern before successfully creating your own garment.