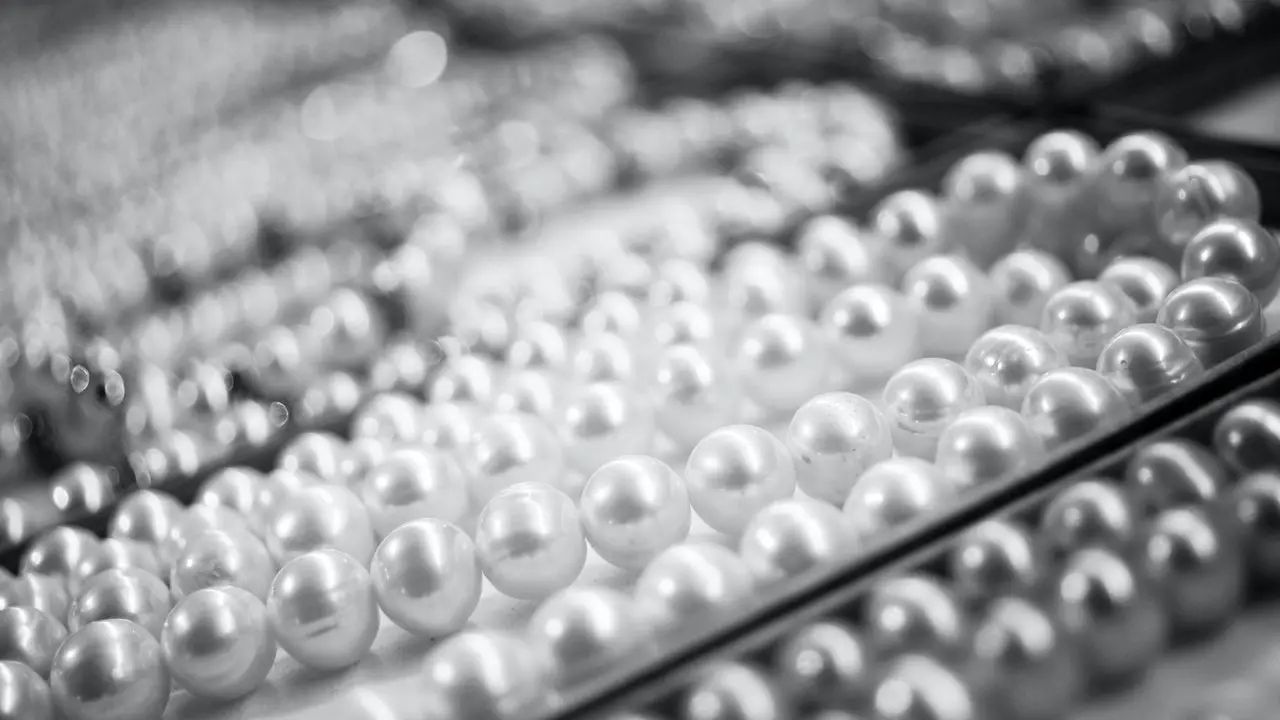 Did you know that pearls are the only gemstone formed within a living creature? Pearls have a stunning celestial glow. It is why throughout history, pearls have been symbolizing wealth and sophistication.
Many consider pearls as one of the most valuable gemstones, primarily because they do not need processing. They come out from water showing full gloss and luster. If you want to work with freshwater pearls for your jewelry, I suggest you start by learning more about them.
Most jewelry makers and wearers prefer freshwater pearls because of their variety in shape, size, and color. The most significant difference between these two types is their formation process.
The formation of freshwater pearls is somehow complicated. But essentially, shellfish grow these gemstones over time through a process called nucleation. Irritants or injected glass seeds stimulate the release of nacre.
The oysters or mussels cover the irritants with nacre to protect themselves. This substance has a unique natural luster and various colors. As the shellfish lives, it continues to produce nacre. As it increases in size, it eventually creates the lustrous pearl that jewelry makers use.
But, with the widespread cultivation of freshwater pearls, you need to know which ones are authentic. It is good to know how to determine whether pearls are counterfeit to ensure your jewelry's quality.
Buying from reputable sources is the best and most common way to ensure that your pearls are genuine. But there is another way if you do not know any sources. You can test your pearls by rubbing them against the front of your tooth against the pearl. Genuine pearls should feel gritty!
Besides knowing how to identify authentic pearls, you should also know which ones are high-quality. But, different companies have different standards for pearl grading. It is impossible to compare pearls among suppliers only based on the letters they assign!
The best way to ensure that you only buy high-quality pearls is to observe them yourself carefully. Here is a simple guide according to the Chinese pearl grading standard:
A Grade Pearls look well-shaped and very white. A-grade pearls also have high luster and minimal surface blemishes.
B Grade Pearls also look well-shaped, but their color varies from white to light cream. B-grade pearls also have high luster and minor surface blemishes.
Unlike A- and B-grade pearls, C Grade Pearls – have irregular shapes and have an off-white color. They have a medium luster that may be non-uniform and uneven surfaces.
D Grade Pearls – these pearls may look like C-grade pearls but with one or more excessively unpleasant characteristics. Some may have no luster or wrinkled surfaces.
F Grade Pearls – unlike all the rest, F-grade pearls are only for promotional purposes. They are not suitable for jewelry. Instead, most of these pearls can be helpful in cosmetics, as ground pearl powder.
Like other gemstones, you should also know how to take care of your pearls properly. Pearls contain calcareous crystals that are chemical and acid-sensitive. They are relatively delicate and need special care. Pearls are also relatively soft, so that they can be susceptible to scratches.
Here are some ways to keep your pearls in excellent condition:
Apply any perfume or any other cosmetics before wearing your pearls.
Avoid using skin care products and lotions that contain citrus oils.
Always remove your pearls before doing any physical activity that involves sweating. Remember that sweat can dull your pearls' luster.
Wipe your pearls with a soft, damp cloth after wearing to remove any residue.
Store them separately away ay hard items to prevent scratching.
It is also best to restring your pearls periodically if they silk-strung.
One last thing you need to know is how to restring them. Even people who do not make jewelry should know how to restring their pearls to maintain their condition.
I recommend restringing your pearls about once a year and using silk thread. For extra security, you can knot the thread between each pearl. It will prevent the pearls from falling off and stop them from rubbing against each other.
Now that you know this essential information about freshwater pearls, here is the best part of this post. I will share some of the best freshwater pearls for jewelry-making on Amazon!
1: TACOOL Cultured Freshwater Pearls (4-6mm)
If you want to know Amazon's Choice for freshwater pearls, here it is! These Tacool pearls are beautiful for their cost and will look amazing on your DIY jewelry pieces! I can say that they look better than what you may find in craft stores!
They have the desired luster of natural pearls. You can also tell that these are well-made pearls compared to what you might find in other shops. Tacool sells them by strands with about sixty pearls each strand, so you get enough for your projects!
But, you need to consider its price. Some pearls have odd shapes and have drilled holes on the wrong angles. Some also have inconsistent but beautiful colors. These pearls are perfect if you are on a budget because they look stunning for their price!
[lasso ref="tacool-natural-genuine-freshwater-cultured-pearl-4-6mm-free-size-jewelry-making-loose-beads" id="2909″ link_id="624″]
2: AITELEI Natural Freshwater Loose Pearls (7-10mm)
This beautiful Aitelei pearls package is another Amazon's Choice for loose freshwater pearls! They are excellent for creating beautiful jewelry and decoration! You can also use these pearls as vase fillers and for other crafts.
The package comes with 100 grams of pearls that look stunning and lustrous! But, you note that these pearls have flat bottoms, which some may not want for their jewelry. The pearls also do not have holes, so you will need to drill the holes yourself.
There may also be some irregularities in the pearls' colors and sizes. Some may also have blemishes, which are all part of the pearls' natural beauty. These qualities are what set genuine pearls from fakes!
Other than those factors, these pearls are of excellent quality for B-grade pearls. If you are a beginner in jewelry-making, these pearls are a perfect starting point.
[lasso ref="100g-natural-freshwater-pearl-oysters-loose-beads-for-vase-fillers-party-wedding-decor-diy-craft-jewelry-making-no-holes-7-10mm" id="2910″ link_id="625″]
3: TACOOL Natural Freshwater White Pearls (9-10mm)
These Tacool large-holed pearls are perfect for your DIY jewelry! They are genuine freshwater pearls that will fit most jewelry strings. You can also easily tell that these are B-grade pearls, which are excellent for their price.
The pearls have 3mm holes, which can be challenging to find in genuine pearls. They look beautiful and have the perfect size to use for jewelry and decoration projects. But, note that some may differ in size. And the pearls may not be as many as you expect.
[lasso ref="natural-freshwater-3mm-large-hole-white-pearl-fit-leather-cords-for-diy-gemstone-beads-bracelet-jewlry-making-8-inches-white-9-10mm-3mm-hole" id="2911″ link_id="626″]
4: RUI LONG Natural Freshwater Oval Rice Pearls (8-9mm)
Another amazing Amazon shop to buy your pearls is Rui Long. Their freshwater pearls have the perfect size and hole size for DIY jewelry-making projects! They also look beautiful and lustrous, which will make your jewelry designs more elegant.
Although the pearls have uniques differences, they remain stunning and look very natural. Another excellent thing about these pearls is their shape. Not all look perfectly round and bead-looking, making them look more genuine.
[lasso ref="ruilong-aa-oval-rice-shape-natural-freshwater-pearl-beads-for-jewelry-making-8-9mm" id="2912″ link_id="627″]
5: RUI LONG Natural Freshwater Screw Thread Rice Pearls (9-10mm)
Here is another pearl set from Rui Long that looks amazingly beautiful! These pearls are 9-10mm, with around 1-1.2mm hole sizes – perfect for jewelry making!
Unlike most pearl beads from other Amazon stores, these Rui Long pearls look unique. They have ring lines on the surface, exactly as pictured.
Note that, like most freshwater pearls, they might also have a few imperfections. But, do not worry because these appearances make the pearls look more genuine!
[lasso ref="ruilong-screw-thread-rice-beads-natural-freshwater-pearl-loose-beads-for-jewelry-making-9-10mm" id="2913″ link_id="628″]
6: ZOTOONE Cultured Freshwater Pearls (7-8mm)
If you are looking for beautiful pearls in other colors than white, this is one of the best choices! These Zotoone natural freshwater pearls have a unique warm beige to light pink color. You can use them for your DIY jewelry pieces or decorations and other crafts.
Note that every natural pearl looks unique and may vary from pictures shown on product listings. The sizes may also vary, depending on the size range of the product.
[lasso ref="natural-pearl-freshwater-cultured-pearl-beads-for-jewelry-making-punch-loose-beads-handmake-diy-for-jewelry-making-diy-women-necklace-bracelet-7-8-mm-color-purple-14-inches" id="2914″ link_id="629″]
7: SR BGSJ Freshwater Freeform Pearls (7-9mm)
Another Amazon shop that offers beautifully-colored pearls is SR BGSJ. If you want to make your pearl jewelry designs more fun, this set is perfect for you! You can choose between many colors and even get a gift with each order.
The pearls are 7-9mm freeform baroque – perfect style and size for your DIY jewelry pieces! You can also use these beautiful pearls for creating other crafts, like decorations.
[lasso ref="sr-bgsj-jewelry-making-natural-7-9mm-freeform-baroque-potato-shape-freshwater-pearl-spacer-beads-strand-15″ id="2915″ link_id="630″]