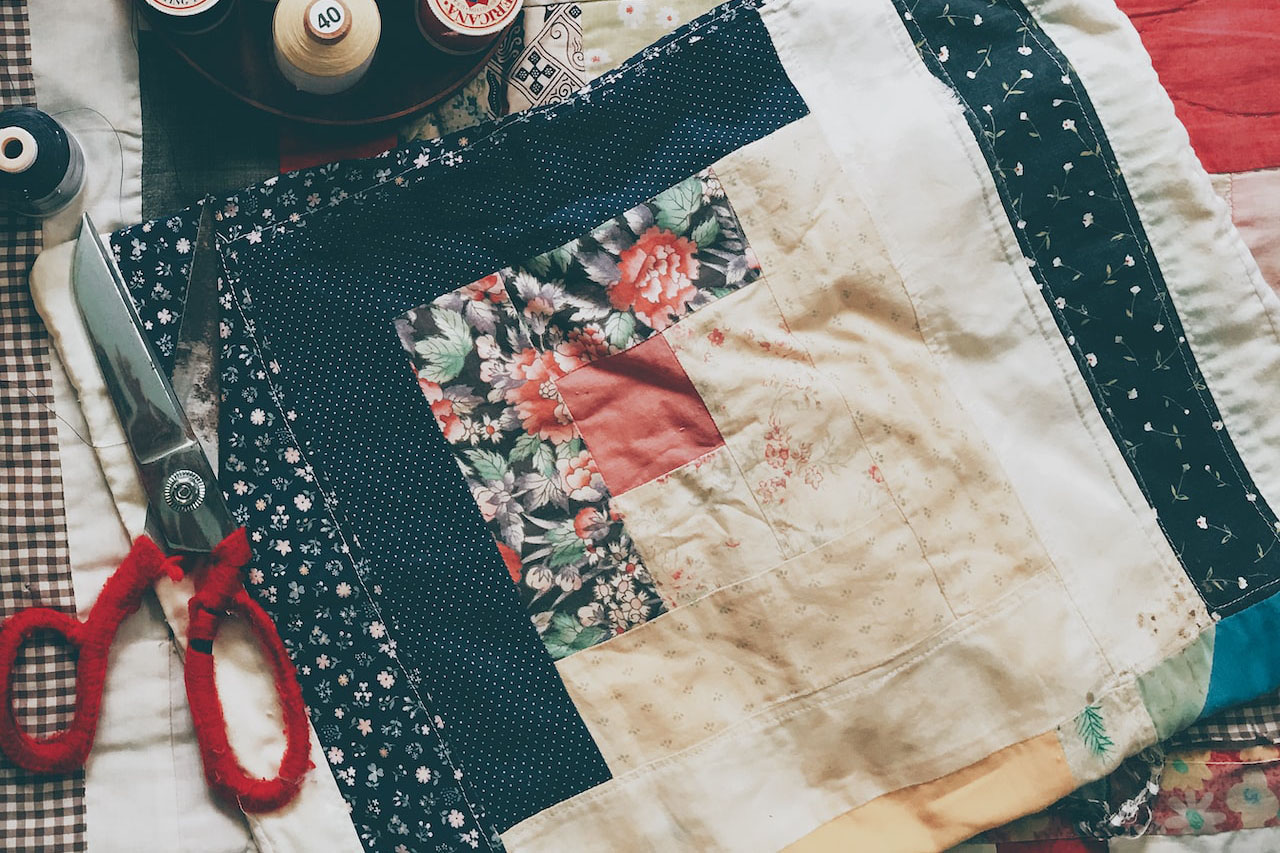 A jelly roll quilt is a type of quilt made from pre-cut jelly roll fabrics. Jelly roll quilts can be simple or complex, classic or traditional, depending on the pattern.
A jelly roll quilt is one of the simplest and quickest quilts to make, which also looks great at the same time.
Precut bundles of fabric are essential in making a jelly roll quilt as they can save time on the preparation of materials and gives more time for sewing and quilting.
Strips in a jelly roll are cut ahead of time to help you save on hours of measuring and cutting. It is also a fantastic way to inspire people who find it challenging to cut fabrics to continue quilting because there is a way to avoid the long process of cutting.
Newbie quilters can benefit from using jelly rolls as there is no need to measure and cut fabrics, but they can go straightaway to piecing and quilting. Experienced quilters can finish a quilt in a flash.
The basic steps of making a jelly roll quilt are just the same as making any quilt. The jelly roll quilt is different because you can easily piece together your quilt top using pre-cut fabrics. There are many patterns of quick-to-make jelly roll quilts to choose from.
Below are the basic steps in making a jelly roll quilt.
1. Select your pattern
You can choose from many variations of the jelly roll quilt patterns, but most of them are easy to make. Jelly roll quilts are perfect for beginner quilters looking for easy projects and experienced quilters who want quilts that are quick to finish.
Quilt patterns range from a simple patchwork of strips, such as the jelly roll race quilt, to complicated designs like the Double Wedding Ring pattern. Jelly rolls are very versatile quilting materials.
2. Choose your jelly roll
These bundled-up rolls of pre-cut strips of cotton fabrics are available in most craft and sewing stores in brick-and-mortar and online shops.
Precut fabric strips may be called other names than jelly roll, such as roll up, design roll, Rolie Polie, etc. With a jelly roll, you can be sure that you will be quilting a collection of well-coordinated fabrics.
3. Piece your quilt top
You can jump to the next step of sewing your quilt top with jelly rolls.
Open your jelly rolls. The strips in a jelly roll are usually arranged by color while in a roll. You can choose to sew the strips together in the order they are in, or you can go through the stack and separate the colors as you want them to appear on your quilt.
If you separate the colors, you will create a more random color pattern. If you leave the arrangement of strips as they came in the bundle, you will create a blocky color look.
Lay out your pre-cut fabric strips according to your chosen pattern, then sew the pre-cut fabric strips together.
4. Bring your quilt together
Assemble your quilt's three layers: your quilt top, batting, and backing fabrics.
Place your quilt top right side down, meaning the colorful prints of the jelly roll should be facing down. Smooth out the quilt top. Measure your quilt top to have the basis of measurements for your batting and backing material.
After measuring and cutting the batting and backing, create the sandwich of the three layers of your jelly roll quilt. Using safety pins, secure the layers of your quilt together.
5. Quilt through the layers of your jelly roll quilt
You can use a walking foot to sew through your quilt's layers easily. With a free-motion foot, you can add designs to your quilt using straight, zigzag, or squiggly stitches.
6. Finish your quilt by trimming and binding it
Trim the edges of your quilt top, batting, and backing so they are smooth and even. Sew the binding around the edges as the final touch to your jelly roll quilt.
The quilting process for a jelly roll quilt is similar to sewing a regular patchwork quilt, but the big difference is that the pre-cut fabric strips save a lot of preparation time.
What is a jelly roll used for when quilting?
You use a jelly roll for piecing together fabrics for quick and easy sewing projects. A jelly roll is ideal for quilting blankets, throw pillows, bags, table runners, and other fast and easy quilting projects.
A jelly roll usually consists of 10 to 40 strips measuring 2.5 inches wide and 44 to 45 inches long. The strips come in various coordinated colors and prints, perfect for making quilts, patches, cushions, and other home projects.
Jelly roll strips are commonly packaged as a rolled-up bundle. The material is high-quality quilting cotton, making it extra durable yet soft. And the fabric bundle looks like a cinnamon roll or doughnut, which gave it its name.
Making a large quilt would be easy if you used a jelly roll to create one. The fabrics are pre-cut, so you can quickly sew them together.
A jelly roll is also excellent for making small quilting projects such as throws, baby quilts, placemats, etc.
If you are a newbie at quilting, a jelly roll quilt is an ideal first project for you. A quilting expert will appreciate making a jelly roll quilt because it is one of the fastest and easiest quilt tops to complete.
Quilters prefer pre-cut fabrics over the laborious measuring and cutting of materials for these reasons:
1. Variety of Fabrics
There are usually 40 fabric strips in a jelly roll in various coordinating colors and prints. A good thing about using a jelly roll is that the strips come from the same fabric line, so mixing and matching the different fabrics is easy.
2. Quick Piecing
Quilting using a jelly roll is ideal for quilters who find cutting fabrics time-consuming or for those who find difficulty in cutting fabrics. The strips of fabric in a jelly roll are pre-cut, so it will save you time to cut individual fabric pieces yourself. The strips are also cut in the exact sizes, so sewing them together will be a breeze.
3. Faster Quilting
With jelly rolls, you will skip the step of cutting the fabrics yourself and go straight to piecing your quilt top. Precut fabrics in jelly rolls provide more time to sew rather than spend time measuring and cutting materials.
4. Helps with Accuracy
Buying a pre-cut jelly roll will provide you with the correct sizes of blocks that you will need for your different quilt patterns. For instance, for a specific project, you can determine how many 12-inch blocks are needed for your queen-sized quilt. It will give you better accuracy in the process.
How many strips of fabric are in a jelly roll?
A jelly roll bundle of fabric typically has 40 strips, but the number can also vary. Other fabric companies might sell jelly rolls with fewer or more strips per bundle.
Moda Fabrics coined the term "jelly roll" to refer to a rolled-up bundle of fabric strips. The jelly roll from Moda fabrics has 40 pre-cut fabric strips in various coordinating colors and prints.
The jelly rolls are packaged in a rolled-up bundle that looks like a jelly roll pastry, and many quilters like sweets, thus the name.
The pre-cut fabric strips are made of high-quality quilting cotton and are 2.5 inches wide. The strips are mostly cut from standard-size bolts, measuring around 44 – 45 inches long.
Most jelly rolls produced have 40 strips in a bundle, but they are also available in a pile of 20 strips called Junior Jelly Roll. Fabrics used for the Junior Jelly Rolls are the ones with minimal collections and many of the Bella Solids.
A single jelly roll with 40 strips has 2.75 yards of fabric. But if you lay the strips from end to end, you will get approximately 46.5 yards long of cloth.
Different fabric companies, aside from Moda Fabrics, such as Free Spirit, Robert Kaufman Fabrics, Riley Blake, Island Batik, Hoffman Fabrics, and Wilmington Prints, sell jelly rolls. These fabric companies also use different terms to call their pre-cut fabric bundles. Design Roll, Roll Up, Rolie Polie, Strip Sets, Bali Pop, and 40 Karat Gems, respectively.
While Moda Fabrics has 40 strips in each Jelly Roll, some manufacturers may include fewer or more strips in a bundle. When making a quilt, you must consider the intricacy of your design, as it may need more strips than what is included in your jelly roll.
Can I make a quilt with one jelly roll?
You can make a simple lap quilt using one jelly roll with 40 fabric strips. But the number of jelly rolls you will need to make different sizes of quilts depends on the design, the size of the quilt, and the number of strips in each bundle.
Many quilters find great value in using jelly rolls for quilting as you can eliminate the tedious step of measuring and cutting fabrics. Precut fabrics make way to sewing your pieces the soonest time possible.
Below is a simple guide for making different sizes of quilts from jelly rolls. The numbers are based on bundles containing 40 fabric strips.
| | | |
| --- | --- | --- |
| Quilt Type | Quilt Size (in inches) | No. of Jelly Rolls |
| Baby | 33 x 50 | One roll |
| Lap | 50 x 64 | One roll |
| Twin | 64 x 88 | Two rolls |
| Queen | 86 x 93 | Three rolls |
| King | 104 x 93 | Three rolls |
| California King Quilt | 108 x 90 | Four rolls |
Some of the quilt types indicated above may need only half-rolls, such as the baby quilt, which may need only 20 strips. Since jelly rolls are only sold in one whole bundle, you will have half a jelly roll left that you can stash away or use for other quilting projects.
A queen-size quilt may only need 106 fabric strips, equal to a little more than 2.5 rolls of fabric strips. So, the number of rolls is rounded to three, as you cannot buy a half jelly roll.
It would also be safer to have extra strips of fabric because you may need more for more complex patterns. You will also be lucky to have an additional fabric stash for future projects.