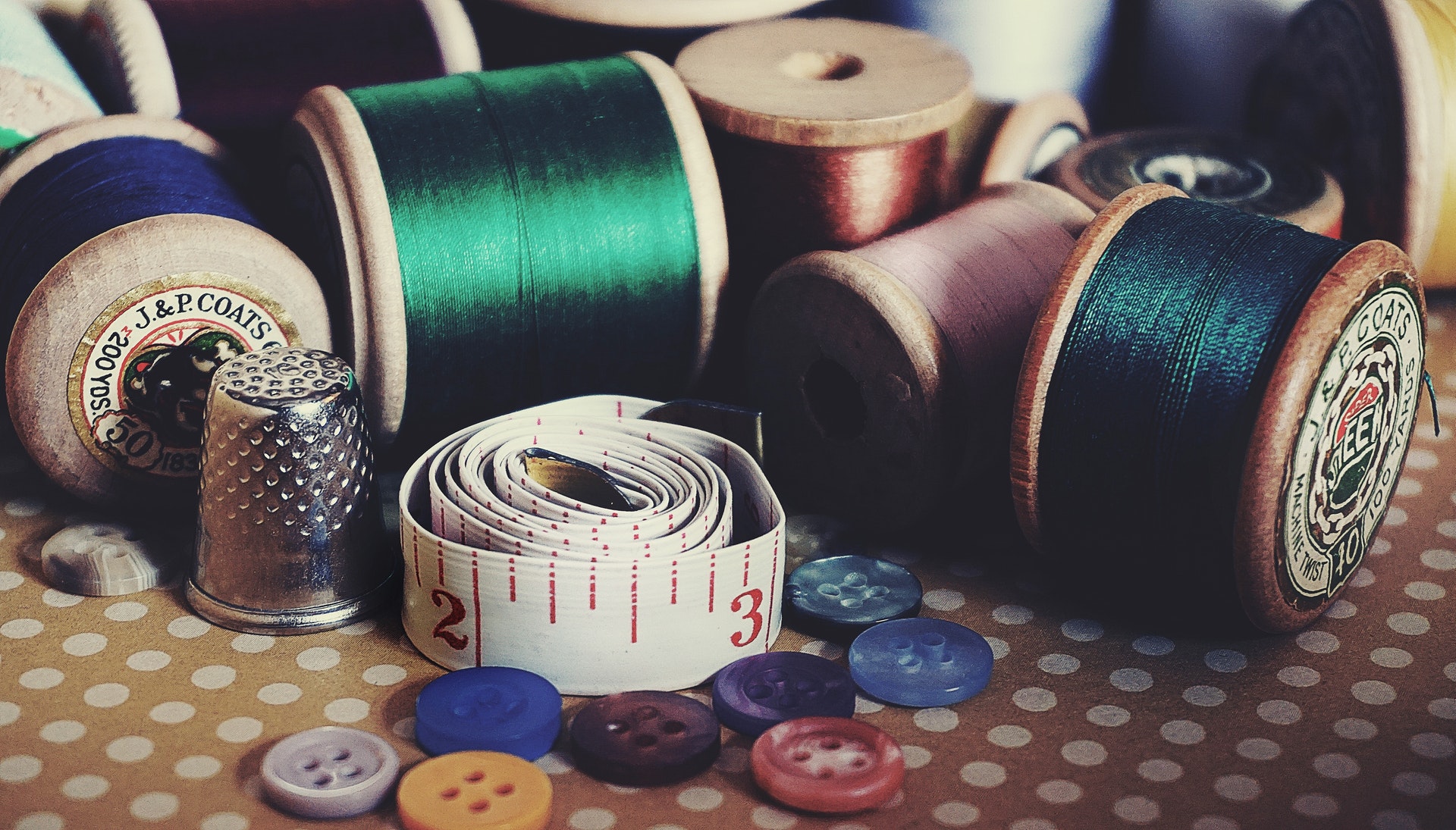 The best thread to use for Janome sewing machines is 100% polyester thread, commonly called the all-purpose thread. Almost 95% of household sewing machines use this thread type. The all-purpose thread is used for a wide variety of sewing projects.
Among the many types of threads that you can use with a sewing machine, the all-purpose thread may be the most versatile. All-purpose thread is suitable for most fabrics and is available in a wide array of colors.
The all-purpose thread is not only well-suited to use for machine sewing but is also great for hand sewing.
What is the best thread for sewing machines?
Most household sewing machines use all-purpose thread for most sewing projects. The all-purpose thread then is hands down the best thread used for sewing machines.
To come up with the best thread to use for the sewing machine, seamstresses, tailors and sewing enthusiasts considered a few factors. Here are a few essential things you must know to guide you.
Type of fabric you are using
The type of fabric you will sew is an essential factor to consider when choosing a sewing thread. If you are going to stitch heavy materials, you will need thicker and tougher threads. Nylon and polyester are examples of heavy-duty threads.
For light and soft fabrics, silk and cotton threads are more appropriate to use.
Type of sewing machine you are using
If you are using a standard household sewing machine, you can use a thin or thick thread. But if you are using overlock and Serger machines, you will need more delicate threads.
Type of stitch you are making
If you are making regular stitches, you can use either thick or thin threads. If you are making decorative stitches, such as in embroidery, you can use thin and smooth threads. These types of threads are best to use since they will not be undergoing too much tension.
The thread color
It is essential to know what color of thread you are using. Some sewing projects would need a single-color thread to maintain uniformity. You may also need multi-colored threads when you need to sew fabrics of different colors, such as when repairing clothing.
The thread strength
The amount of force that a thread can take before it snaps is called its tensile strength. Different materials used to make threads differ in tensile strength. Among the thread fiber types, nylon has the highest tensile strength. If you are sewing thick and heavy fabrics like leather, you will need a high tensile strength thread.
Samples of threads with lower tensile strength are silk and cotton threads. These thread types are perfect for sewing light and thin fabrics.
The spool size
Before you buy thread, determine first how much thread you need for your sewing project. Threads come in varied spool sizes. You must know the approximate amount of thread for sewing to decide what spool thread size to get.
What kind of thread is used for sewing machines?
Sewing with a machine is not as simple as picking any thread in your stash that matches your fabric's color. As mentioned before, there are many factors you have to consider in choosing the kind of thread to use for your sewing machine.
There are many types of sewing machine threads you can choose from to match the fabric you will sew in your machine. Check out how these sewing machine threads differ and which ones you can apply to your current work.
All-Purpose Thread
As the name suggests, this thread does it all. You might even use this thread for most of your sewing projects. All-purpose thread is made of polyester or cotton. It is suitable for both hand and machine sewing and is compatible with nearly all fabric, whether lightweight or heavyweight. It is usually the cheaper thread option that makes the work done.
The all-purpose thread is the best thread to use on your machine to stitch edges, construct seams, quilt, and make buttonholes. But it may not do well on very light fabric or very heavy denim or canvas fabrics.
Jeans Thread
Jeans thread is a little bit thicker than all-purpose thread. It is made of a polyester core wrapped in cotton and is designed explicitly for sewing denim. You must use Jeans thread with a Jeans needle. Jeans thread comes in classic gold or blue-grey colors that contrast or blend in nicely with the denim fabric.
Heavy Duty Thread
Heavy-duty thread is manufactured with a heavyweight fabric that can withstand high stress and tension in mind. Heavy-duty thread is available in varied weights and finishes depending on what it is meant to sew. Sewing heavyweight fabrics like canvas and duck cloth require heavy-duty thread for stitching.
Examples of sewing projects using heavy-duty thread are sports equipment, camping gear, and luggage. Heavy-duty outdoor thread used for these products is usually thick, water-resistant, and UV-resistant. These items are expected to encounter a lot of wear and tear. It is also an ideal thread to sew seams on work trousers as they can be under a lot of strain.
Industrial Thread
Industrial thread is the type of thread made for industrial sewing machines. Industrial threads either describe the strength of thread or the spool size. An industrial thread can mean the thread used to sew rock climbing gear, parachutes, and firefighters' jackets. Kevlar thread is an example.
An industrial thread can also mean the threads used with industrial machines, which run for many hours a day. They may look like 5 lbs spool of thread.
Upholstery Thread
The upholstery thread is used when covering furniture. It is usually made from nylon, cotton, polyester, and silk. It is more durable and stronger than all-purpose thread. Nylon is most commonly used for upholstery thread because it has some "give," which means it will not give way when someone sits on your furniture.
Embroidery Thread
You can use embroidery threads for machine sewing or hand sewing. Embroidery threads are made from different fibers such as polyester, rayon, cotton, and silk. Among the four, rayon is the most popular thread for embroidery because it has a high sheen and is reasonably-priced.
Polyester is a better embroidery thread than rayon. It is also stronger and is colorfast. A heavier fabric will need a polyester embroidery thread. Rayon and silk embroidery threads are best used on lightweight and medium-weight fabrics.
Clear Thread
If you want your stitches to be invisible, use a clear thread for your sewing machine. Clear thread is also called Monofilament and Continuous Filament thread. The clear thread looks like a very fine fishing line made of nylon. It is the reason why it has excellent tensile strength. This type of thread has many uses and is typically seen on quilting or upholstery.
The light monofilament threads are used for blind hems and invisible sewing. The heavier clear threads are used in a rolled stitch to support ruffled edges.
Metallic Thread
Metallic thread is used for embroidery and decorative topstitching, mostly for aesthetic purposes. Metallic thread is not a strong thread and breaks easily. It is manufactured using a polyester core and wrapped with slivers of metal foil or tinsel.
Quilting Thread
Quilting thread can be used in machine sewing as well as hand sewing. It is typically made of cotton, polyester, or a blend of both. Quilting thread is mercerized to increase strength and colorfastness. Quilting also undergoes gassing to reduce lint and is made to pass through fabric smoothly without damaging it.
Serger Thread
Finishing some raw edges of clothing needs a different type of machine. A serger machine produces a strong, durable, and flexible seam from multiple serger threads. A spool of serger threads usually has about 2000 to 3000 yards of thread because so much thread is used to create a seam.
There are other types of threads with specific uses. The ones mentioned above are the typical threads used with household and industrial sewing machines.
Also check: 
Can you interchange your sewing machine feet?
Is it better to sew with cotton or polyester thread?
The type of thread to use depends on the fabric you are going to sew. Both cotton and polyester threads are known to be excellent thread fiber materials. A general rule in choosing thread is to use the same thread type as the fabric. There are also other factors determining what type of thread to use other than the type of fabric you are going to sew.
To know what type of thread fiber to use on the fabric you are sewing, have a quick look at this short guide to help you.
Polyester
A polyester thread is a human-made thread. It is a relatively inexpensive, durable, long-lasting, and low maintenance fiber type. It is the perfect material to make the all-purpose thread. Polyester can withstand moderate heat, will not shrink, and has minimal "give." But it is more abrasive than cotton and silk, so it is not acceptable to sew on light fabrics like silk chiffon.
Cotton
Cotton thread comes from natural fiber. It is soft, warm, absorbent, and dyes well. But it has a few drawbacks such as shrinking with high heat, has no "give," and deteriorates over time. Cotton thread is best to sew on other plant-based fabric like rayon, silk, and linen. It is not compatible to use with stretch fabric because it can break under high tension.
Rayon
Rayon is another plant-based thread fiber. It is famous for its sheen and bright colors. It is highly absorbent and colorfast. Rayon is mostly used for embroidering, topstitching, or monogramming.
Rayon is relatively inexpensive as compared to other threads. But it is also not as strong as polyester, so it is not advisable to use it when sewing seams on fabrics.
Nylon
Nylon is a synthetic thread that is easy to use and is relatively cheaper. It has good elasticity, does not shrink but can melt easily with high heat. Bonded nylon is a powerful thread that is used for utility-type projects like camping and sports gear. Properties of nylon depend on the type of "finish."
Silk
Silk is an animal-based fiber known for producing long-lasting and vibrant color threads. It is a fine, flexible, and strong thread with good elasticity. These qualities make it quite expensive among other thread options.
Silk is most often used in fine tailoring, delicate embroidery, sewing on buttons, and finishing edges of buttonholes. It is ideal to use on soft fabrics because it does not create visible holes with stitches.
Wool
Wool is the thread made from the fleece of sheep. While a wool thread is commonly used for hand needlework, you can also use specially-designed fine wool threads in sewing machines. Wool thread adds texture to embroidery designs.
Wool is a soft, warm, and durable thread that can wick away moisture. But when the wool thread is saturated with water, it loses much of its strength. Like silk, wool also dyes well and has deep, rich colors making it quite an expensive choice.
Do I need a special thread for a sewing machine?
No, the sewing machine does not need a special thread. The all-purpose thread is the go-to thread for 95% of household sewing machines. Its best advantage is that it works well on almost all fabric types. It is also a cheaper option that is suitable for most sewing projects.
But if you are working with a slightly different fabric, like a delicate or a heavyweight fabric, it would be best to use the same thread type as the fabric you are working on.