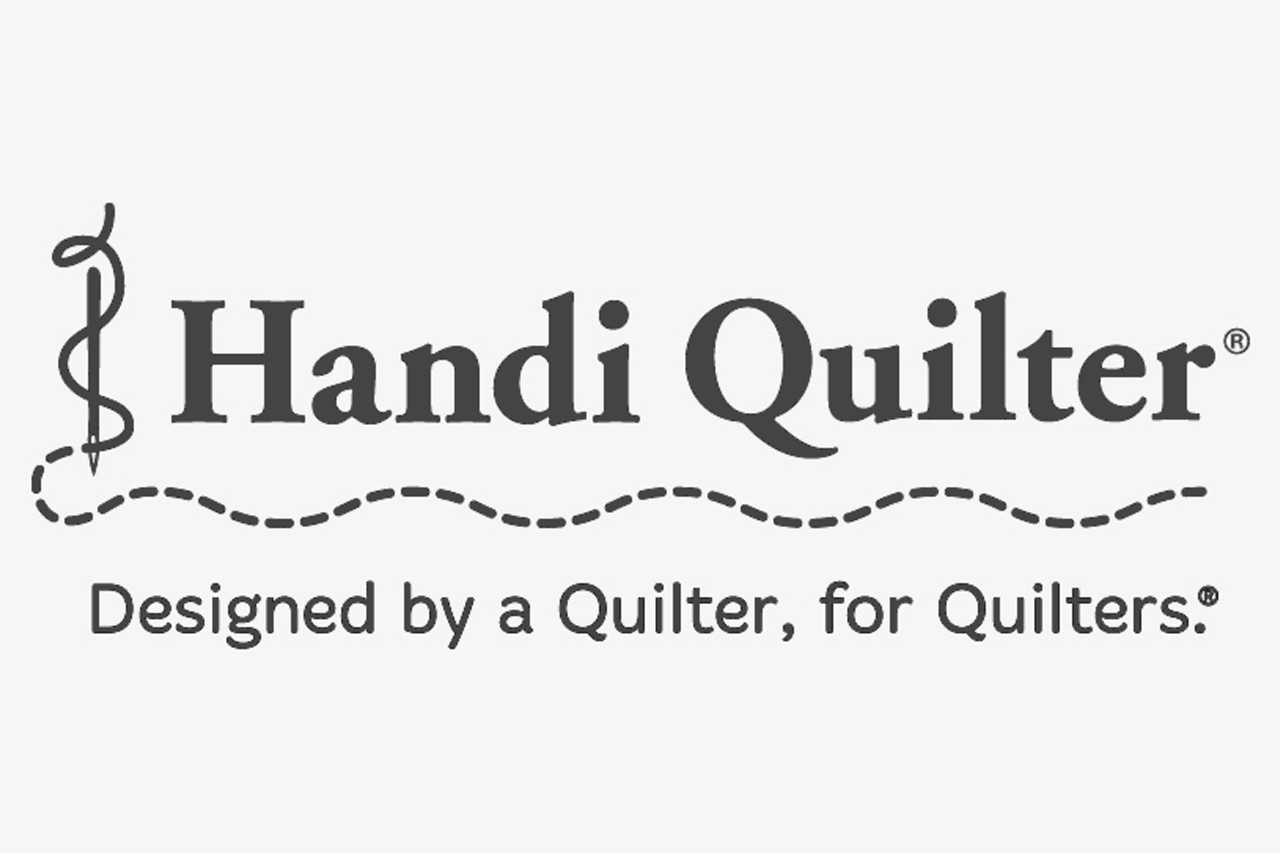 Handi Quilter sewing machines are manufactured by Handi Quilter, Inc., a leading maker of branded mid-arm and long-arm quilting machines, accessories, portable frames, and tables for small-business and home quilters.
Handi Quilter is a quilting company founded in 1999 by an avid quilter, Laurel Barrus, who recognized the need for a portable machine quilting frame. She could not find anything in the market that fits her needs, so; she made something that she could use with her home sewing machine. She created a small and light frame to carry in her car but is adjustable to accommodate small or large quilts.
Friends became interested in the portable, adjustable frame, and the rest is history; the Handi Quilter was born. Laurel Barrus brought a prototype to the International Quilt Festival in Houston in October 1999, where quilters placed enough orders to keep the suppliers and fabricators busy until Christmas.
She started with the HQ Sixteen quilting machine with adjustable frames to support it. The business grew and evolved into other products still involving home machine quilting, focusing on affordable but high-quality home quilting products. The founder also hired her own electronic and mechanical engineers and support staff to build a manufacturing infrastructure.
HQ Sixteen became the Handi Quilter's centerpiece for its line of products. Up to the present, Handi Quilter is still leading in the quilting industry, always abiding by the founder's vision – "Designed by a Quilter, for Quilters."
Handi Quilter has a dedicated engineering team that works with quilters to create and innovate products. Handi Quilter has 30 field educators who share their talents, knowledge, and love for quilting worldwide.
Another thing that Handi Quilter is known for is giving great importance to Customer Relations and providing Technical Solutions to quilters' daily needs. The production team of Handi Quilter is focused on making the best quality quilting machines in the market. Its retail partners are given proper training and certified in the HQ way.
Where are Handi Quilter machines made?
Handi Quilter machines are manufactured and produced in a 70,000 square-foot facility, including corporate offices in North Salt Lake, Utah. It also has a 10,000 square foot education studio situated in the same area as its quilting machine factories.
Handi Quilter's focus on education is shown by having 30 field educators in the HQ studio and many parts of the world imparting knowledge, talents, and a love of quilting. The considerable production facility has a dedicated engineering team that collaborates with quilters for innovating quilting tools and products.
With 900 independent retail locations across 55 countries around the globe, Handi Quilter is indeed the leading choice for longarm machines for both stand-up and sit-down quilting.
What to look for in a longarm quilting machine?
Knowing what to look for in a longarm quilting machine is vital. You need to know some essential characteristics of a long arm quilting machine: the ease of use, the amount of space it needs to occupy, the frequency of use, and the size of quilt it can handle are just a few of them.
You will find different models, sizes, and brands of longarm quilting machines available in the market, and it will be quite hard to choose. So, below is a list of a few things you can consider when looking for your first longarm quilting machine.
Price

The price is usually the first thing to consider when buying any sewing equipment. The longarm quilting machine is an upgrade to the domestic sewing machine in sewing quilts so expect a higher asking price. Longarm quilters who use longarm sewing machines consider them an investment, so the price is not an issue as long as you eventually get back what you invested.

Longarm quilting machines typically range from $5000 to almost as high as $40,000, depending on the machine's size, brand, and complexity.

Easy to operate and learn

If you are new to quilting, a longarm machine may not be the most straightforward machine to operate or learn. But once you get to know how to handle the device, everything will be just a breeze. Your machine will be working for you to make your quilting experience faster and easier.

Make sure to choose the longarm quilting machine that you are comfortable using and easy to learn. Quilting can be both a hobby and a business that you should enjoy.

Space occupied

Quilting machines are expectedly bigger than the domestic sewing machine, so if you are considering buying one, you must consider the working space you are allotting for it because you will be working with a quilting frame.

The longarm frames can range from 4 to 4.5m or more which can take up a lot of space in a room.

Maintenance and repair

A longarm quilting machine is considered a considerable investment, especially when starting your quilting journey. It would be best if you could opt for a brand with good customer service that can also repair and service your quilting machine locally so you will not have to travel far when the need arises.

Functionality and quilt size

If you are sewing quilts as a hobby or as gifts for family and friends, you can make do with a small sewing and quilting machine. But if the purpose for your quilting is to earn from it, you might need a large quilting frame to accommodate different quilt sizes as your client requires.

Frequency of use

It would help to consider how often you would use your machine. If you only need it occasionally, you may need a smaller machine that will not take too much of your space. But if it is for daily use, a more prominent and programmable longarm quilting machine may be better.

Upgradable and Accessories Available

If you are interested in getting more from your longarm machine, get an upgradeable one that also comes with many accessories. With an upgradeable machine, you will have access to more stitching patterns to elevate your creativity. Also, if your device comes with many accessories and features, you can perform various sewing and quilting tasks.

Weight of the machine
When choosing a longarm quilting machine, the machine's weight is also essential to consider. A heavy machine can cause neck, back, and muscle pains even for a few minutes of use. A good longarm machine weight for serious quilters must not be more than 65 pounds.
Now that the criteria for choosing the suitable longarm quilting machine are listed, you now have an idea of how to select the longarm machine that would be most effective to achieve your quilting goals.
Which longarm quilting machine is best?
The best longarm quilting machine is the one that would work best for you and your sewing projects. The best fit would be the machine that would most effectively make your quilts, whether for a hobby or business.
Below are some of the longarm quilting machines Handi Quilter is most famous for:
HQ Sweet Sixteen

Handi Quilter is the ideal quilting machine for quilters looking for a sit-down machine. It has a powerful motor that can stitch up to 1800spm. It comes with a table with a smooth top allowing your quilt projects to glide through the needle to create smooth and even stitches.

HQ Moxie

The HQ Moxie is everything you will need to start with quilting. The machine comes with an 8-foot HQ loft frame which can be easily upgraded to a 10-foot length with the 2-foot extension kit if the quilt you are making needs an expanded structure. If space is necessary, you can also use the HQ Moxie can also be used with the 5-foot HQ Little Foot frame.

The basic longarm quilting machine has most of the features a newbie or an expert quilter needs to be comfortable and successful in quilting simple to intricate pieces. It has a USB port to access software updates easily a built-in LED lighting to brighten your quilting space.

The HQ Moxie can make 1800 stitches per minute and 4 to 18 stitches per inch. The quilting machine is also compatible with all interchangeable Handi Feet accessories.

HQ Capri

The HQ Capri is described as a big machine made for small spaces. It makes free-motion quilting the easiest to do and creates perfect stitches with the HQ InSight Table along with its built-in stitch regulation feature.

HQ Amara

The HQ Amara is a 20-inch longarm quilting machine with HQ Studio2 Frame where you can choose from a 10-foot or 12-foot frame. It also includes the Little Foot 5-inch frame. The machine is perfect if you make a wide variety of quilts, from baby to king-size quilts.

The HQ Amara is a dependable and low-maintenance quilting machine perfect for any quilting style. You would also be glad about its robust stand-alone bobbin winder.

HQ Stitch 710

HQ Stitch 710 is a quilting machine that can bring your quilting creativity to the next notch. It has 170 built-in stitches, which you can adjust up to 9 mm wide. Stitch at a speed of up to 1000 stitches per minute with 11 inches of space to the right of the needle and has an ergonomic knee lift. It has all the features you need as an avid quilter, whether an expert or a newbie.

HQ Stitch 510

The HQ Stitch 510 is your perfect option if you need a high-speed longarm quilter. It stitches at a high speed of 1600 stitches per minute, an almost 9″ by 6″ workspace, an automatic thread cutter, a needle threader, and an ergonomic knee presser-foot lift.

HQ Forte

For a serious quilter, you would appreciate this 24-inch longarm quilting machine with everything you need for free-motion quilting. It comes with the HQ Gallery2 Frame, wherein you can choose between the 10-foot and 12-foot frames and a powerful stand-alone bobbin winder.

It has many features you would want to find in your ideal longarm quilting machines, such as a stitching speed of 2500spm, consistently smooth and straight stitches of 4 to 24 stitches per inch, programmable handlebar buttons, 24 inches of brightly-lit throat space, and a lot more.

HQ Infinity Longarm
If you need a more advanced longarm machine for your quilting business, the HQ Infinity longarm is true to its name, giving you infinite creative possibilities.
The HQ Infinity is the quilting machine that can grow with you with customizable and programmable settings. Handi Quilters' Infinity Longarm has innovative features such as handlebars that you can customize according to your way of quilting. Stitching speed can reach up to 3100 stitches per minute with consistent and precise stitches.
Handi Quilter is undoubtedly the leading brand in manufacturing mid-arm and longarm quilting machines, frames, and accessories fit for home and small-business quilters. Throughout the years, the products they have been producing were innovations to meet the various needs of different quilters, definitely machines developed by quilters for quilters.