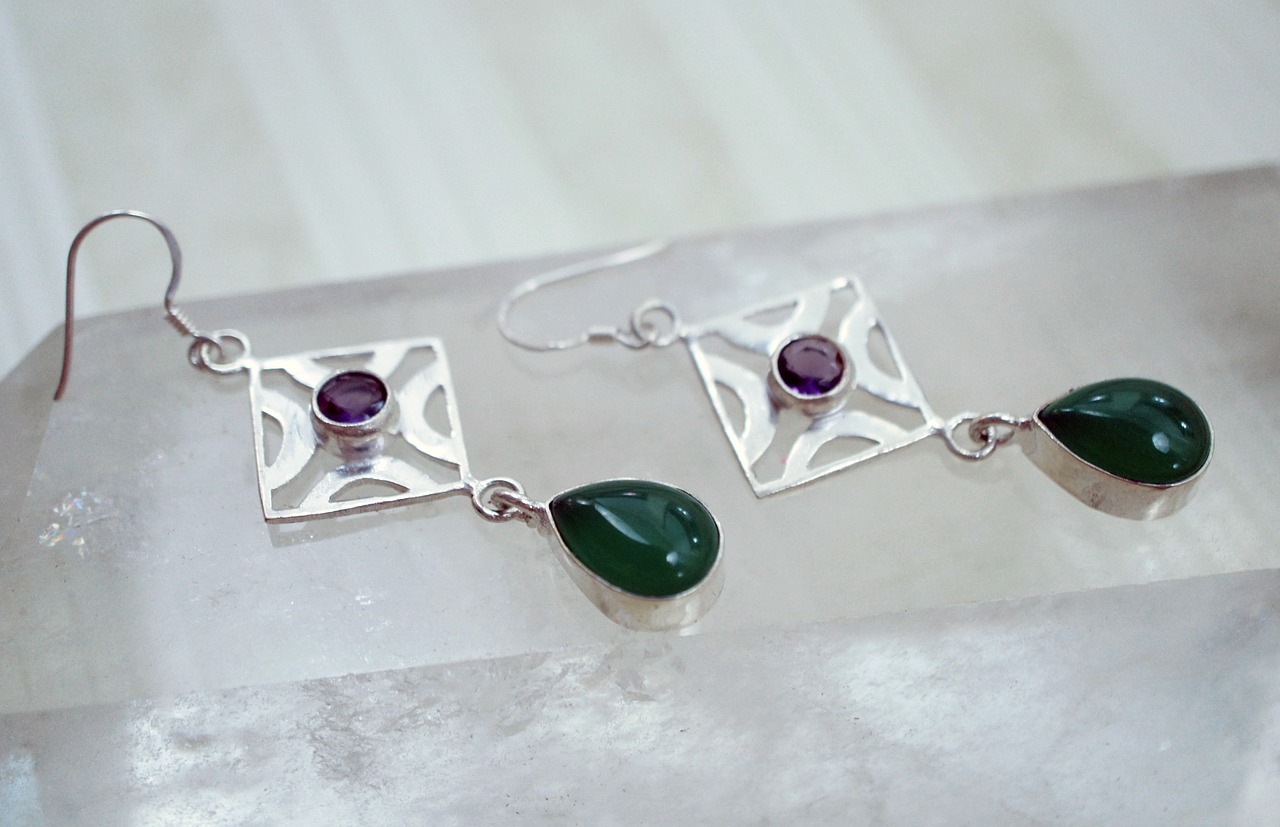 Did you ever wish you can turn pictures into pendants? You can with customized glass cabochons! Turn simple shapes into charms that show off your style and even the things you love. Follow this guide to learn how to glue images to glass cabochons in five easy steps:
1. Gather your materials.
Like any other jewelry-making crafts, you first need to gather your supplies. Gather the following materials to glue your images to glass cabochons:
Glass domes
Chosen image
Mod Podge
Pencil
Small paintbrush
Scissors
As you can see, you only need a few things for this project. The process I will show you here is also reasonably straightforward. Anyone can do it! All you have to do is follow the steps to glue your images to cabochons.
2. Choose your image and seal it.
After gathering your materials, you will choose the image you want to glue to the cabochon. It is best to find an image that matches the size of your cabochon. You can also resize the picture on your computer and print it if it does not fit your cabochon.
Then, you will apply a layer of Mod Podge to seal your printed image. Doing this extra step will help you protect your image once you glue it to the cabochon. Do not forget to leave it for fifteen minutes to let it dry.
Note that there may be tiny air bubbles when you apply the Mod Podge. It is best to remove them by popping the bubbles with your paintbrush.
3. Cut out the print.
Place your cabochon on top of your images, then trace its outline. Then, you will cut out the image within the line you traced. Note that you want your image to be a bit smaller than your cabochon.
Leaving a small space between your image and your cabochon ensures that they fit well together. It also helps you to create a more professional-looking piece. But, make sure that you do not leave a space that is too large that leaves empty spaces in your cabochon.
4. Attach your image.
Cover the image and cabochon's surfaces with Mod Podge. Make sure only to apply enough to cover the surfaces entirely. Using too much might make your materials bulky, which can make things more challenging for you.
Then, you will attach your image to the cabochon's backside while the Mod Podge is still fluid. Make sure to smooth it out and wipe away any excess medium that comes out of the sides.
5. Dry, seal, then clean your pendant.
After attaching your image to the cabochon, you will turn the cabochon over and leave it dry. After a few minutes, you will see that the Mod Podge will dry clear.
Finally, you will cover your image's backside with a layer of Mod Podge to seal it. Remember to let it dry first before using a wet towel to remove any excess Mod Podge.
What are cabochons?
Cabochons are common jewelry-making materials, but only a few people know about them. A cabochon, also known as a cab, is a gemstone shaped and polished instead of faceted. They have one flat side and another domed side.
A cabochon's shape varies and is available in different cuts and materials, like glass and porcelain. The shape does not make a cabochon what it is. But its flat side, which you can attach to jewelry, makes it distinct.
If you love making jewelry, then cabochons will be an excellent addition to your supplies collection. They make beautiful focal points for jewelry pieces, mainly for rings and necklaces.
Most often, you will see cabochons in an oval shape. But as I mentioned, there are many different shapes. The rarer the form is, the more desirable the cabochon will be! One of the rarest shapes is the sugarloaf cabochon, which has four sides, a rounded tip, and a flat base.
If you wish for a cut that highlights your gemstone's color, then cabochon is perfect for you! You can beautifully showcase your gem with the different variations of cabochons. But your stone must be at least seven on the Mohs scale, or else it will receive damages.
Related: 
How to make a cabochon?
Making cabochons is pretty straightforward. Manufacturers make cabochons by cutting gemstone slices or other materials. They usually use calibrated stencil templates or freeform shapes. Then, they ground it into shape using coated belts or disks.
But, you can also try making cabochons on your own! Follow this step-by-step guide to learn how to make a cabochon:
Choose a material.

Remember that not all stones are equal. They have a various hardness that affects what process you use. Learning about it will help you produce the best results. So, it is best if you familiarize yourself with the Mohs scale first before choosing a material.

Note that you will most likely buy slabs of rock material for your project. Try choosing slabs without fractures, cracks, and pits. These flaws can cause your stone to split up during the process and ruin your piece.

Prepare your stone.

As I mentioned, all cabochons have a flat side, as well as a domed side. You must identify a section of your slab to display as the cabochon's top, domed side. It is best if it has the most beautiful details, colors, and patterns!

It also helps to consider whether you will use the slab for many cabochons before marking the outline. You must leave some space between the shapes if you want to make many cabochons. Doing so will give you enough room to trim and grind each one.

Using a gemstone template, draw the cabochon's shape outline that you want to create. I recommend starting with basic shapes if you are a beginner. You can start with circles and ovals, so they will not be too challenging to make.

Trim your cabochon.

After marking your outline with a fine marker, you will cut out your cabochon's shape. Cut close to your template line using a trim saw. Make sure to cut straight lines only, avoiding cutting curves that can ruin your piece.

Leave about 1/16" space around your template line, which you can remove during grinding. This small space will serve as your guide, so try to keep it visible after trimming.

Try to trim excess material in a manner that maximizes the remaining rough stone. You can use it for other projects or make more cabochons. So, it is best not to discard it immediately. Do not forget to wash your trimmed cabochon in warm, soapy water to remove dirt or oils.

You can also try the dopping method to get easier control over your cabochon while grinding and polishing. It will help you secure the stone to a stick using a special dop wax as the adhesive. Dopping also saves your fingers from harm.

The dopping method is best for polishing smaller and more delicate cabs. But, note that it is an optional step. You can skip it if you do not have the necessary materials. Remember to take extra precautions to ensure your safety if you are not doing the dopping method.

Rough grind your cabochon.

Next, you will rough grind your cabochon to remove any excess material left from the trim saw. It will also help you get rid of irregularities in the stone to smooth and polish it quickly.

Rough grinding also helps in shaping your cabochon, which prepares it for the next step. But, you must know more about grit before you move to the next step.

Grit refers to the size of particles embedded in abrasive materials. Note that the larger the number is, the smaller the particles are. In cabbing, these particles are diamonds. The more refined diamonds are for surface finishing, while larger diamonds are for shaping.

Use a coarse wheel to do an initial, rough grind. Make sure to thoroughly grind the stone's surface using the wheel's lower quarter. You must also use the whole width of the wheel to ensure even wear.

Avoid grinding too close to your template line to avoid removing too much material. Dry your cabochon with a paper towel or clean rag to reveal the scratches. Doing so will help you inspect your cabochon and see what part needs more grinding.

Finely grind your cabochon.

After the initial, rough grinding, you will now perform fine grinding. Do this step using a wheel with a higher grit like a #220 diamond grinding wheel. It will help you continue shaping your cabochon and remove scratches from it.

Like in rough grinding, it is best to grind the stone's surface thoroughly. Do not forget to dry your cabochon and inspect it after grinding. Make sure that it is symmetrical, has the proper curvature, and has no coarse scratches left.

Note that making sure that there are no more coarse scratches is a vital step. You will have to restart or settle for a low-quality polish finish if you do not get rid of all the scratches.

Smooth out your cabochon.

Diamond resin wheels are the best tools for this step. These wheels will help you sand and smooth out flat spots, scratches, and tiny bumps. This essential step will give you a pre-polished cabochon and prepare your stone for its final polishing.

Make sure to thoroughly wash your hands and the stone before starting the step. Any excess grit will produce deep scratches in your cabochon, which are impossible to polish out.

Note that you must do this step gradually, starting from the coarsest diamond resin wheel. Make sure to thoroughly sand and smooth the entire surface of the stone on each wheel. Always dry your cabochon and inspect the scratches after each wheel.

Polish your cabochon.

After you finish with the diamond wheels, you must check if there are no visible scratches. If you see any, you need to redo the previous step and make sure that there are no scratches at all.

If you are unfamiliar with different polishing agents and methods, you can start with a universal kit. These are materials that work for most materials, which are beginner-friendly too!

You can try using polishing agents like tin oxide, cerium oxide, and diamond paste. Apply them to canvas pads, leather pads, or felt pads to polish your cabochon.

First, you will apply the paste in a series of tiny dots using your fingers. Put them randomly on the pad starting from the center, moving towards the outer edge. Then, smear the small dots into the pad.

Polish your stone's entire surface until you reach your desired finish. You may eventually notice that your pad is no longer polishing. Apply more paste to the pad if it happens.

Note that some cabochon materials can overheat. So, if you are polishing heat-sensitive materials, they will most likely overheat. Use a small amount of water to keep it cool and prevent overheating.