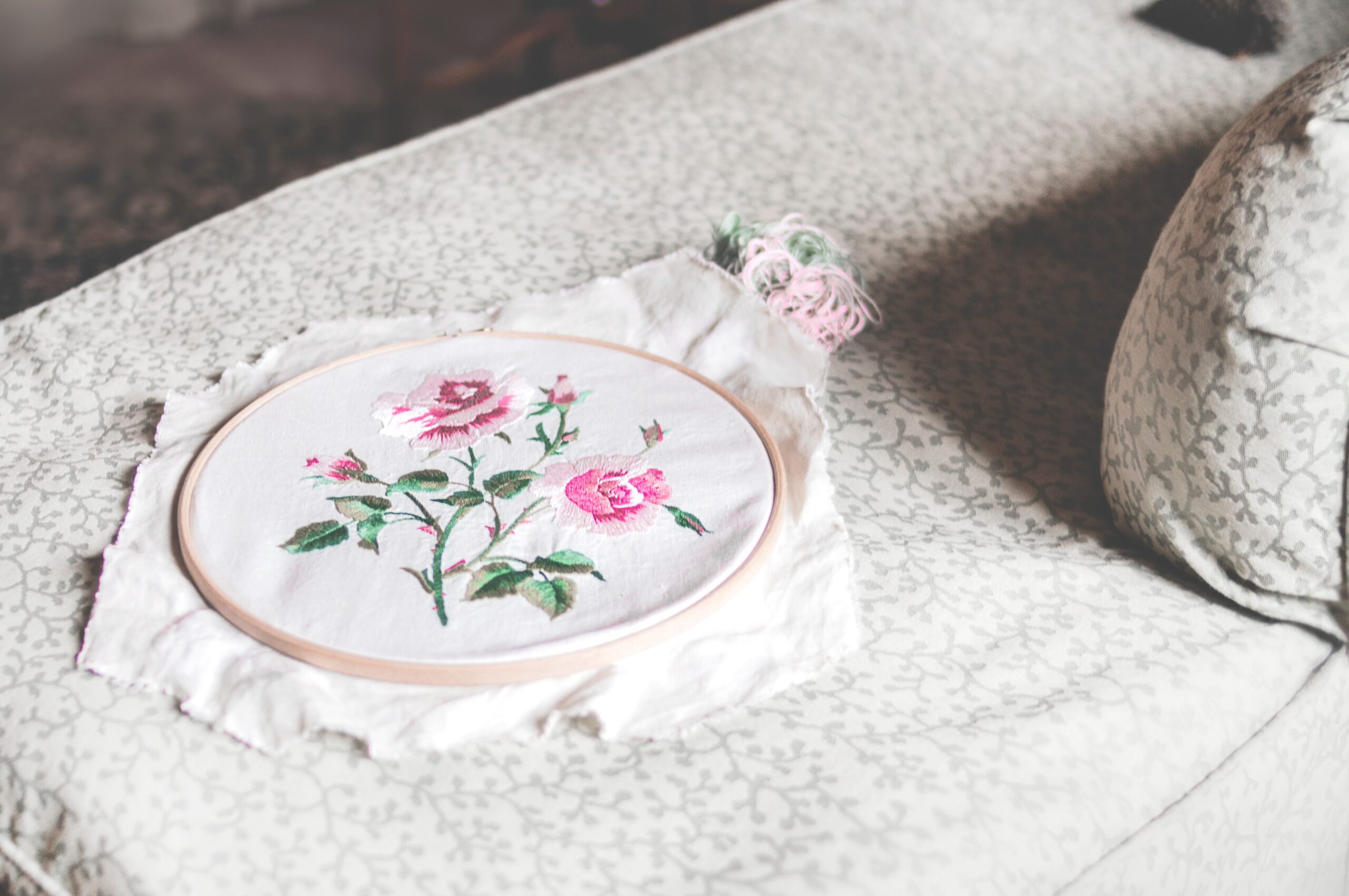 Some embroidery machines only embroider, and they do not do what regular sewing machines do. But other embroidery machines also sew! These machines usually have a removable embroidery unit, which suits various needs.
Although embroidery sewing machines are on the higher end of the market, they can do so much more than regular machines. Please continue reading to know more about embroidery machines and how to use them!
What is an embroidery machine?
If you love adding decorative stitches onto your fabric, then these machines are perfect for you. An embroidery machine allows you to decorate, personalize, and embellish your fabrics. So, these machines add details and beauty to any of your sewing projects.
You can get many various features from these machines, depending on how much you spend. Note that the amount you invest in an embroidery machine is a huge variable, costing $300 to $8,000. So, it is best to examine your needs first before you buy one.
As I mentioned, not all embroidery machines are "embroidery only" machines. Some devices at the higher end of the market can provide what regular sewing machines do. But, it is best to know what you are specifically looking for before you go shopping.
An embroidery machine comes with a hoop that attaches to it. You use this tool for hooping, which keeps your fabric taut while working. But, it is best to know how to do it properly, or else your cloth will look stretched.
How to hoop for machine embroidery?
Although hooping may seem simple, it is common for embroiderers to make mistakes. These common mistakes can cause hoop burn, making the fabric look worn. Follow this simple guide to hooping:
1. Prepare your fabric and hoop.
First, you will get your fabric, fold it in half, and give it a bit of pressure. Doing so will provide you with a measurement of how thick your material will be when folded.
Also, it gives you a visual guideline showing how to pre-adjust the space between each hoop half. So, when you pre-adjust your hoop to the right size, you can reduce the chances of hoop burn.
Next, you will take your hoop, pull it to set it up properly on the corner with the adjustable knob, and loosen or tighten it. Doing so will make the separation between each hoop piece roughly the same size as the folded fabric.
2. Hoop your fabric. .
You will now place the bottom half of your hoop on a table. Doing so, you should see that the adjustable corner with the knob is the furthest from you. Next, you will lay your fabric and stabilizer on top of the bottom hoop half.
Then, you will take the top hoop half and push it forward and down into the bottom half in one swift motion. You will see that there is a bit of resistance if you pre-adjusted your materials properly. But, be careful not to fight the resistance as you press the hoop half in place.
Note that it is best to avoid tightening the hoop by turning the knob afterward. Instead, you can grab the material sticking out of the hoop and pull it gently. Then, you will pick up the hoop and push the corners in slightly, making it tighter and machine-ready.
Besides hoops, it is also ideal to use stabilizers when working with an embroidery machine. The machine's darning foot and lack of feed dogs do not keep the fabric in place. So, your device will need a stabilizer to stiffen and hold your material.
Many beginners commit a common mistake of not using stabilizers. But, please remember that stabilizers are your embroidery's foundation. Besides keeping your fabric taut, it will help with the proper design registration. Also, it is best to get quality ones because they can make or break your stitches.
Part of choosing your stabilizer is deciding which type would be best for your machine. You have three choices: tear-away, wash-away, or cut-away.
3. Tear-Away.
You can use this type of stabilizer for any stable woven fabric that does not stretch. When tearing these stabilizers away, ensure that your fingers are on the stitches. Also, it is best to remove them starting from the stitches instead of toward them.
Tear-away stabilizers come in various weights. You can use heavy stabilizers with thicker fabrics and higher stitch count designs. Also, it is best to use lightweight stabilizers with lighter materials and lower stitch count designs.
4. Wash-Away.
This type of stabilizer is best for sheer fabrics and freestanding lace, 3D, and cutwork designs. After embroidering, you can trim away the excess stabilizer and rinse the design with warm water.
Note that there are different water types, and there are some that are harder than the others. You can test yours by putting the stabilizer under running water. If the stabilizer does not immediately disappear, you can add a bit of fabric softener.
5. Cut-Away.
Out of the three, cut-away stabilizers are the most stable and permanent type. They will support your stitches for the life of the project. Also, they are an excellent option for any project that you will wear and wash regularly.
Like tear-away stabilizers, most cut-away stabilizers also come in various weights. Note that the heavier your stabilizer is, the more stitches it can support. But, it is best to avoid adding a heavy stabilizer to an already heavy design.
Digitizing is the process of turning an image into something that your machine can use with the help of a software program. Once you digitize your design, your machine can quickly stitch it onto the fabric. But, note that you will need practice and patience to get things right.
What do embroidery machines do?
Although they primarily create decorative stitches, embroidery machines have more to offer! As embroiderers push their machines to new limits, new ways to use these incredible devices are increasing. Here are some of the things embroidery machines do: .
Create decorative stitches and personalize fabrics.
Customize store-bought clothes and apparel.
Machine quilting.
Make personalized items like zippered bags and accessory cases.
Create quilt blocks in the hoop.
Embroider perfectly-stitched appliques.
Create themed fabrics.
How to use an embroidery machine?
Learning how to use an embroidery machine is fun, but it can also be a daunting task for beginners. Although many machines now are automatic, it is best if you know how to set it up properly. Follow these steps to learn how to use an embroidery machine:
1. Prepare your materials.
Like in learning any other crafts, first, you will need to prepare all your materials and tools. When earning how to use an embroidery machine, this step includes gathering the following:
Thread
Bobbin
Fabric
Needles
Embroidery computer software
Stabilizer
Hoop
Embroidery machine
It is best to use the best materials that are suitable for your machine. By doing so, you are reducing the risk of getting unpleasant results and inconveniences. Also, make sure to read your machine's instructions beforehand to have proper guidance.
2. Choose the right needle.
As I mentioned, it is always best to use materials that are suitable for your machine. So, it is also ideal to use a type of needle appropriate for your embroidery machine. Ensuring this factor will help you prevent thread breakage while embroidering.
Note that the needle size will depend on your fabric's weight. Plus, it would also help to remember that the larger the number on your needle is, the larger its eye. But, generally, the smaller your needle is, the more accurate it will operate with the machine.
Most commercial or computerized embroidery machines use needles with a round shank. But, most domestic embroidery machines use flat-sided shank needles. So, it is best to go with the needle that your machine's manual recommends.
3. Choose the right thread.
Note that there are two types of threads your embroidery machine uses. The embroidery thread is thinner and usually more durable than normal sewing threads. But, the bobbin thread makes the back of your design lighter than the front.
There are various types of fibers you can choose for your embroidery machine threads. Note that each fiber has its pros and cons. So, it is best to stick to what your machine calls for or what you prefer for your design.
4. Set up your machine.
You might need to adjust some parts if you are using a combination machine. It is best to ensure that your device is off before you set it up. Next, switch out the presser foot to a darning or freehand embroidery foot.
If you are not using a combination machine, you can attach the foot and lower the feed dogs. But, if you are using computerized embroidery, it is best to get a frame of various sizes. Note that the larger your design is, the larger frame your machine needs.
After adjusting some parts, you can now plug in your embroidery machine. If applicable, connect your device to a computer using a USB cable and port. Then, open the pre-installed software program to choose your design.
5. Thread the bobbin.
Note that every machine has a different build and settings. So, it is best to thread your bobbin according to your embroidery machine's instructions.
After threading your bobbin correctly, there should not be any threads on the fabric's side. But, if you see the bobbin thread on both sides of the material, it means you thread it wrong. It is best to fix it before you start embroidering because it can cause your needle to break.
Then, before embroidering, you will set up your fabric in the frame. Hoop your machine according to its instructions, or follow the guide I mentioned in this post.
6. Choose a design and embroider.
After loading your fabric and hooping your machine, you will choose your design. There is a wide range of designs that you can use for your embroidery. So, you can either get it from the software or your USB drive.
Most embroidery machines will let you make alterations to the design. So, it is best to experiment with the size and positioning of the design. Plus, you can choose the colors according to the threads you already have to preview the finished result.