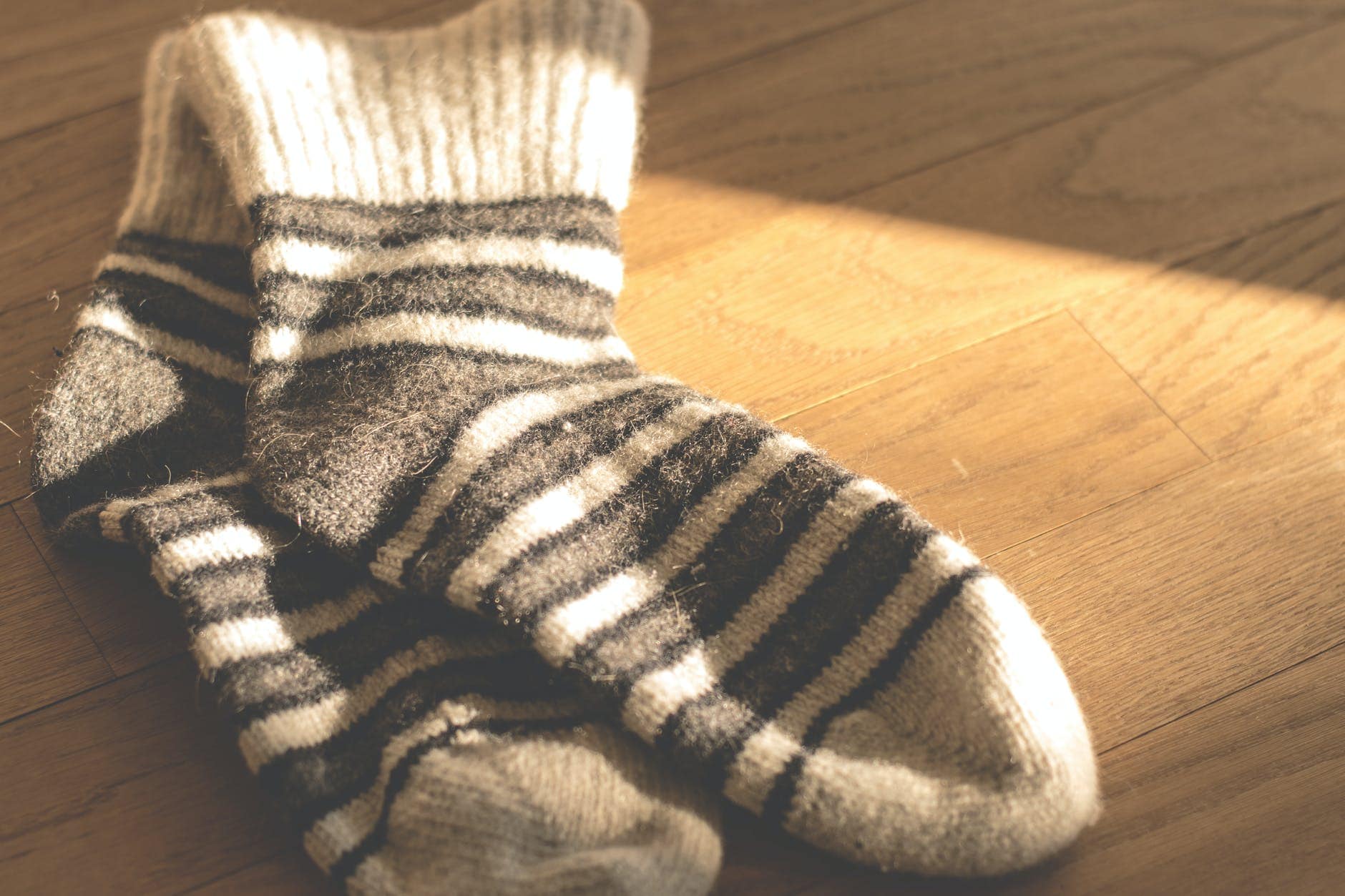 There is no exact number of days or hours to finish a pair of socks. It all depends on your skills, your needle size, and the yarn you use. Some knitters can finish a pair of socks in eight hours, while others in two days. But regardless of your speed, knitting socks is an enjoyable process.
Is It Easy to Knit Socks?
Knitting your first pair of socks with the worsted yarn is fun and fulfilling. It's not difficult at all. Although it may look challenging, knitting is habit-forming – it's addictive. This is especially true once you get the hang of it, and be able to create your first pair of socks.
For beginners, it is safe to start with basic socks patterns. Read on, so you will learn all the basics for your first socks knitting project.
How Much Yarn Does It Take To Make A Pair Of Socks?
The amount of yarn you use for knitting a pair of socks depends on the size and length you want. Yet, there is a precise way to determine this. You need to do a little Math here.
First, to get the total number of feet needed for your pattern. You need to multiply the number of skeins needed for the pattern by the number of feet per skein.
Second, to get the number of skeins needed for the project. You divide the total number of feet by the feet per skein of your yarn.
Can You Knit Socks On Straight Needles?
The straight needle is the basics of knitting. Yes, you can knit socks using straight needles. Some experienced knitters still use straight needles for their projects. It's easier to knit with them than double-pointed needles.
So if you're a newbie, don't get intimidated. You can make beautiful socks using straight needles.
Tips to Knit Socks for Beginners
Don't overwhelm yourself with complicated patterns and needles. You can start with the basics and move your way up to more intricate projects as you progress. Here are some handy tips to guide you as you knit your first pair of socks.
Start with a small or child-size pair. Treat this as your training stage. Knitting child's socks or small size socks means you can finish them soon. This will give you a boost to move on to your next pair of socks.
Choose a plain or single color pattern. Since you are in the starting phase, better learn the basics. Do not work on patterns with designs or varying colors. At this, stage your aim is to get familiar with the stitches and the needles.
Read and study the pattern. Do not start yet, until you understand the details. This will avoid mistakes and wasting of your materials.
Knitting socks is like knitting a tube but with shape – the heel, gusset, and toes. This means that you will make short rows for the body and simple decreasing stitches for the shape.
When you cast on, better use one (DPN) double-pointed needle. Cast on or create the needed number of stitches. Then you need to separate your stitches in three (DPN) double-pointed needles. Slip the stitches one at a time. You do it like the purl stitch.
Divide the stitches into three needles. Then you must bind off the last stitch to your first stitch This will allow you to knit in rounds.
Keep in mind that to make the heel, the gusset, and the toes of your socks, you need to use short rows. Try to master this one. It's easy to do the slip and wrap technique, once you get used to it.
Once you are working on the toe part of your socks, graft the tube to make a seamless edge.
How Do You Knit Socks To Fit?
Before you start knitting socks, it's important to get the right measurements. This allows you to create socks that fit perfectly on your feet. Here are the steps to do this.
Using a tape measure, get the circumference of both feet.
Next, is to measure your foot length. This is from heel to the end of your tallest toe.
Then, record your desired cuff height.
Finally, measure your desired length. This is from your heel up to the edge of your cuff. Note that your cuff height is part of the total height of your socks.
Once you have all the details, you need a little adjustment to make sure your socks will fit perfectly. You can do this through negative ease. This simply means that the size of the socks is a little smaller than the actual measurement. A widely accepted rule is 5% negative ease. You get this by multiplying your measurement by 0.95. For example, your foot length is 9 inches or 22.86 centimeters. You multiply this by 0.95, you get 8.55 inches or 21.717 centimeters. This 8.55 inch or 21.717 centimeters is your negative ease measurement.
Understanding Needles
Do not confuse yourself with which needle is best for knitting socks. As you develop your skills, you will find one that suits you best. The following will help you decide which knitting needle to use.
a.Single-pointed needle or Single Needle
This is the commonly used needle in knitting. You can use it in any kind of knitting project. You often buy or use them in pairs.
b. Straight Double-Pointed Needle Or Double-Pointed Needles (DPNS)
They are the oldest types of knitting needles. They are usually used in sets of four or five. They are best for working on circular knittings such as socks, sleeves, and collars.
b.1. Three Needles – Three needles are useful for binding off fabrics.
b.2. Four Needles – Knitting socks using four needles creates a seamless piece. This is helpful in parts that are too small for circular needles to work on. Most knitters use these for baby socks and mittens. When you knit socks using four needles, two needles are active. Whereas the other needles hold the remaining stitches.
b.3. Five Needles – Knitting your socks with five needles is similar to that of the four. You use the two needles while the three hold the remaining stitches.
How Do You Knit Socks Fast?
Just before you get too excited to start knitting your socks, note these tips to improve your skill.
Select a simple yet beautiful pattern to start
Choose a good yarn. A wool alpaca yarn is great for socks.
Take time and practice your knitting stitches before you start knitting socks.
You can watch video tutorials for additional guidance.
No one ever started a pro. Through constant practice, you'll learn to knit faster and learn more techniques.
How Do You Knit A Sock With Two Straight Needles?
At this point, you probably want to level up your knitting skill, hence you want to use two straight needles. So get your materials ready, and let's start.
Start with casting on 56 stitches. Then, on the right-side rows, make two inches or 5.08 centimeters of ribbing. Use the knit-two-purl-two sequence.
Work on around four (4) inches or 10.16 centimeters using stockinette stitch. Then, you bind off 14 stitches, then knit another 28 stitches, and then bind off the last 14 stitches. Finally, cut the yarn.
Attach the yarn again and start working again. Continue until 28 stitches left on the needle in your stockinette stitch. Work on around 7 inches or 17.78 centimeters using stockinette stitch. Now, you have created the top of your sock.
To start shaping the toe part, you need to decrease 1 stitch at the beginning. Make another 1 stitch at the end of each row on the right side. Do this until you only have 14 inches or 35.56 centimeters on your needle. Make sure to purl across the stitches on the opposite (wrong) sides.
Start increasing until you get 28 stitches on your needle. Again, purl into the stitch on the wrong or opposite side rows.
To create the bottom part of the sock, start working using stockinette stitches. Continue this until it becomes as long as the top part of the sock.
Then, work on decreasing in the first and the last stitch of each side row on the right. Do this until you only have 14 stitches on your needle. This forms the heel of your sock.
Start increases by knitting on the front as well as the back of the first and last stitch of each side row on the right. Continue this until you only have 28 stitches on your needle.
Bind off the stitches left. You need to break the yarn and pull the end through the last loop to fasten it.
Put the ribbed edges together to create the cuff, and then sew the back of the sock. Finally, sew the top part of the heel to the bottom part of the cuff.
How Do You Knit a Sock Heel?
Knitting your socks is fun, yet challenging. This is true, especially when you are working on the heel part. Don't get discouraged, you will soon get the hang of it. Check out the following steps, so you can knit the heels of your socks.
Assuming that you are knitting your socks, and you get to this part. So, here how it goes.
Start working on the row up to the final double stitch. Then, turn and create a double stitch before you continue working on the row.
Continue doing this until you have created the needed double stitches. Then, purl the double stitches together. Once done, continue following your pattern until you finish the heel part.
Continue knitting to create the cuff, the body down to the toe area of your socks. Remember that you are making short rows, so there is no need to create the gusset or the heel flap.
What is a knitting loom?
The loom is a versatile knitting tool. This is great for knitting socks, hats, hanging crafts, and more. They are different sizes, but the round loom is best for knitting socks. It may look intimidating, but once you get used to it, knitting projects become easier.
If you're ready to knit socks using a loom, get your materials ready. The procedure is divided into four parts – Casting, Making Knit Stitch, Making Purl Stitch, and Binding Off.
1. Casting on your Foundation Row
If you are knitting clockwise, wrap the yarn in a counter-clockwise position.
If you are knitting counter-clockwise, wrap your yarn clockwise.
In loom knitting, you will use Purl and Knit stitches.
2. Knit Stitch
Put in the loom hook into the lower loop. Get the loom hook and put its tip under the lower loop of a peg. Then, the hooked portion must catch on the yarn so it won't slip.
Then, pull the lower loop up over the loop on top. Take the hook and move it over the top of the peg. It should bring the lower loop over the loop on top of the same peg.
Continue this knit stitch for your next peg or as indicated in your pattern.
Then, push down the stitches to create room on the pegs. After you have knitted the first row on the loom, push the stitches down to the base of the loom.
3. Making the Purl Stitch
Bring your working yarn in front and then below the loop of a peg.
Put the hook into the loop toward your working yarn below.
Turn the loom hook to catch your working yarn. Then, bring that up.
Take out the purl stitch. Then, slide the loop toward the peg.
4. Binding Off
Trim the yarn but leave a 2 feet or (61 centimeters) tail. Then, thread it into a needle.
Put in the needle under the loop of a peg.
Get the threaded needle into the loop. Then, pull it off.
Bind off each loop around your loom.
Pull and get the fabric to fasten it.
Finally, you can trim the tail and entwine it to the ends.
Related: 
Bottom Line
Knitting socks is a plain and easy project. You don't need to be a professional knitter to create a beautiful pair. There are few things to remember – short rows, knit and purl stitches, and binding off. Once you master these, you can make gorgeous pairs of socks and more beautiful projects soon.
Want to learn more knitting techniques? Check out this link and get easy to do knitting techniques.