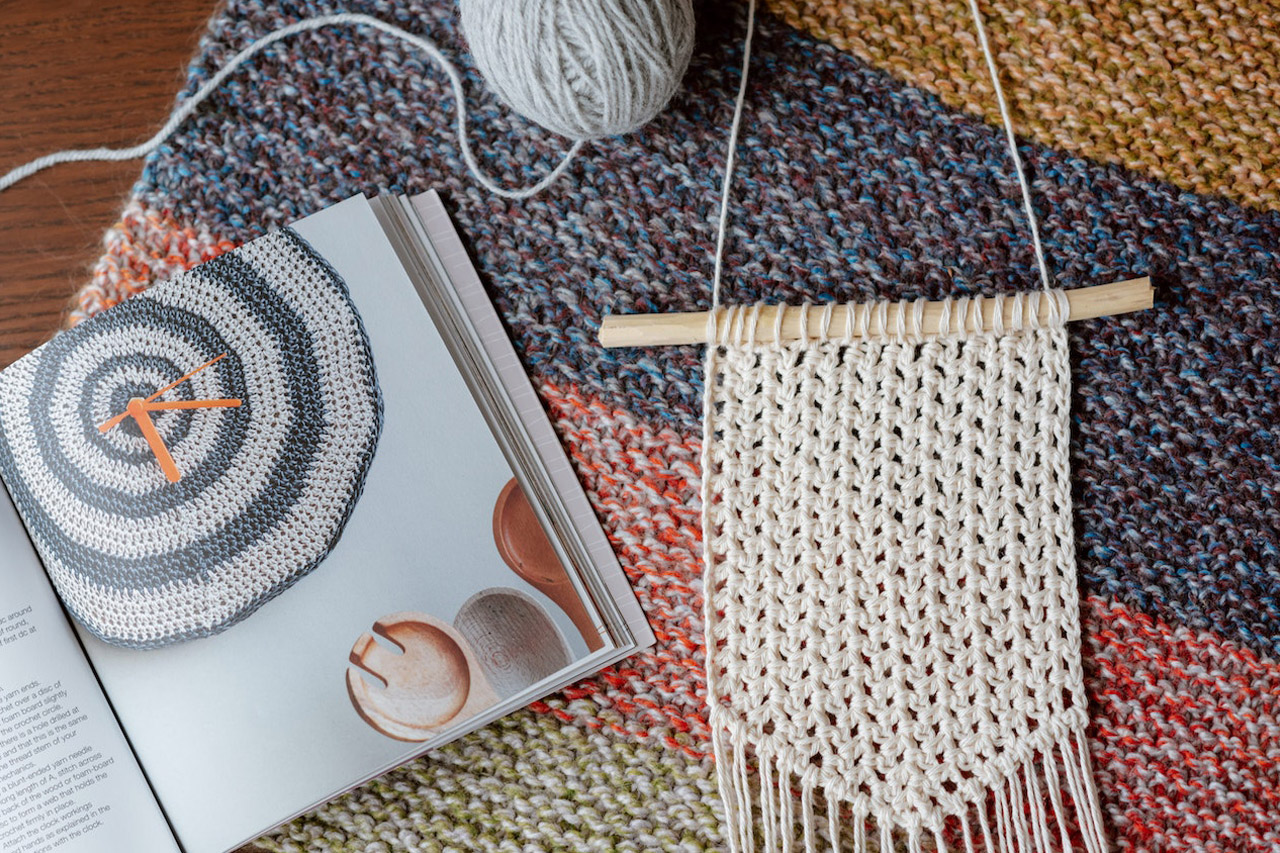 Macrame needs only two basic tools; some cords and scissors. These two are the only tools you need to start a macramé project.
Macrame is a crafting technique involving knotting cords or strings to form intricate patterns and create decorative items. Getting your tools right can help you be more creative and finish your macrame pieces quicker.
Here are the standard tools used in macrame and why you need them.
Macrame cord or string
A macrame cord or string is the primary material used in a macrame. You can make macrame from cotton, jute, hemp, or nylon.
Macrame cords are available in various colors, thicknesses, and styles. You can easily buy them either in physical or online stores.
You must check first the requirements of your macrame project before buying your cord. The size or thickness of your rope should be proportionate to the macrame project you are making.
You will need thicker cords for bigger macrame projects like wall hangings than for tinier ones like jewelry.
Scissors
It would be best to have scissors when creating a macrame. Sharp scissors are essential for cutting the cord to the desired length.
Sharp scissors are also helpful in neatly cutting the ends of your strings or cords. A sharp and sturdy pair of scissors is a good investment if you need to cut different types of yarns for your various projects.
Tape Measure
A measuring tape is essential to measure the lengths of strings you need for the project. You also need this tool to measure the wall space for your macrame wall hangings.
With a measuring tool on hand, you will be sure that you can make the knots in your macrame equal in size.
Metal Comb or Brush
If your macrame project has feather designs and fringes, you will need a metal comb to remove tangles and comb out the cords to achieve your design. A metal brush is the best option to separate the ropes of your macrame to create a lovely fringe or tail.
You can also use a pet comb which is equally sturdy as a metal comb, to untangle your cords. Just make sure it is an unused one.
S-Hooks
Using an S-hook when making a hanging macrame will make your work easier. S-hooks are excellent tools for macrame as they allow you to hang your project as you work on it. Creating neat and well-ordered knots can be tricky if your project is flat.
S-hooks are great to use when working on large macrame projects. These simple tools are cheap and easy to find. You may even have some at home.
Macrame Board
A wooden macrame board is a piece of an essential tool if you are making small macrame items like keyrings or jewelry. A macrame board has slits around the edges that can hold the strings as you make knots or place beads on your project.
You can place the macrame board on your lap for an even and sturdy surface to work on your macrame piece.
Pins or Clips
You will need pins or clips to hold your cords or strings in place and prevent your macrame piece from unraveling.
T-pins and U-pins are available at sewing and notions stores. These pins can hold heavy cords on your macrame board excellently.
Embellishments
Want to be more creative with your macrame? You can embellish them with decorative items like beads or feathers.
You can also add hoops or wooden dowels to hang your macrame differently. You can find plastic, glass, metal, or wooden rings. You can paint your hoops or beads according to your color motif or leave the color as is to create a rustic look.
Wooden dowels create a sturdy base to start knotting, making it easy to hang your finished piece on the wall. It is typical for wooden dowels used for wall hangings to have beads on each end to prevent the cords from slipping off the sides. A tree branch is a great option to hang your macrame for a more rustic feel.
The tools you need for macrame are easy to find, so you can start doing this craft right away. Most items are regular household items, and others are usually available in big box stores or craft shops, making it an easy craft or hobby for newbies and experts alike.
Is macrame a cheap hobby?
Macrame is a very cheap hobby. You need very few things so you can start. Once you learn the skills, you can make functional and decorative items.
Macrame is a cost-effective hobby that does not need too many supplies, just the macrame cord and a creative mind.
Macrame is a craft that is easy on the budget because you can use any string around you, especially if you are starting and trying out the different kinds of knots. You can use any thread or yarn available at home.
When it's time to look for macrame cords, you will be happy to find these materials readily available at notions or any craft supplies shop at very reasonable prices.
You can choose from various materials, which are primarily natural such as hemp, cotton, or jute. You can also pick from synthetic materials for your macrame, like propylene and nylon.
Apart from being an inexpensive hobby, you get more from this hobby by accomplishing finished projects like wall hangings, baskets, bags, plant holders, and even jewelry.
Similar to any craftwork that involves the use of hands, macrame also has health benefits. It is therapeutic because it can loosen your joints and strengthen your hands. It also helps to calm the mind.
You can make macrame more affordable by selling your completed macrame projects. By selling your projects, you can save money to fund your hobby. You can even make it your lucrative small business.
Do you need a needle for macrame?
You do not necessarily need a needle or hook for macrame. You can create macrame with your two hands and a bit of creativity.
You only need to learn to knot your cords and be creative as much as possible. You will only need tools like an embroidery needle or crochet hook when your macrame pattern requires some fine detailing to finish off.
Do you need a special string for macrame?
You can use any cord for macrame, but most fiber artists suggest and prefer working with high-quality cotton macrame cords.
For you to achieve the look and finish of a traditional macrame, it would be best to use a standard macrame cord. A good tip in making macrame is to be mindful of how your rope or string's finish, texture, and feel will affect your project.
If you are making macrame that you can wear, using yarn or knitting wool would be best to give you comfort and softness because you will wear it next to the skin.
You can use embroidery thread or crochet cotton for macrame bracelets, which are ideal for creating intricate designs. These solid and sturdy fibers can be excellent materials for bracelets you can wear daily.
One of the fun things about macramé is that there is no limitation regarding the choice of yarn to use.
You can even use t-shirt yarn for a one-of-a-kind wall hanging or crochet thread for home decor.
All types of strings are possible but expect only some to look like the traditional and bohemian macrame look.
What are the five basic knots in macrame?
Five of the basic macrame knots are Lark's Head knot, Square knot, Spiral stitch, Overhand knot, and Wrapping knot.
Macrame is an easy craft because you only need to learn a few knots to create a macrame piece.
You need to know a few basic macrame terms to get started.
Cord
The cord is the material that you use to make macrame knots. Cotton, jute, or hemp are the fibers for making a cord.
Working cord
The working cord is the rope or set of strings that you use to make the actual knots.
Filler Cord
The filler cord is the string or the set of ropes your knots wrap around.
Sinnet
A knot or a set of knots that worked repeatedly is called a sinnet.
The following are five of the common macrame knots and step-by-step instructions you can use to start your macrame project.
Lark's Head Knot
The Lark's Head Knot is a straightforward knot that you can use to attach your cord to a ring, dowel, rod, or other rope. You can tie it forward-facing or backward-facing. Here is a guide to securing a forward-facing Lark's Head Knot.
Measure and cut a specific length of the macrame cord. Fold your string in half, then bring the ends together.
Bring the folded loop up in front of a ring or dowel, then get it back down behind the dowel or ring.
Make sure that the loop points downwards. Pull both ends of the macrame cord through the loop you made.
Tighten your knot by pulling on the ends of the cord. Straighten the ends so that they look even.
Square Knot
A square knot is a standard knot widely used in macrame. You need at least four cords (2 working and two filler cords) to make a square knot. The two outer cords are the working cords, and the two inner cords are the filler cords.
You make a square knot from two half-square knots. Square and half-square knots can be left or right-facing, depending on which cord you start with.
Start the process by measuring and cutting two pieces of rope. Attach them to a dowel using Lark's Head Knots. You now have four strands of cords.
To make a half-square knot (left-facing), bring the left working cord over the two filler cords and under the right working cord.
Next, bring the right working cord under the two filler cords and up over the left working cord. Tighten the knot.
Make a mirror image of the left-facing half-square knot. Follow steps 1 to 3, but make a right-facing half-square knot this time. Tighten the knot.
Spiral Stitch
The Spiral Stitch, also called a Half Knot Spiral, is a system of half-square knots worked one after another to create a vertical column.
You can create a right or left-facing spiral by tying right or left-facing half-square knots. Just make sure that you tie your half-square knots in one direction consistently.
To start making a spiral stitch, begin with four cords. Two are working cords, while the other two are filler cords.
Tie a left-facing half-square knot using the two working cords.
Keep tying left-facing half-square knots. Your cords will start to spiral as you work.
Keep making left-facing half-square knots until you reach your desired length.
Overhand Knot
The overhand knot is one basic knot frequently to avoid unraveling the rope. You can also tie two or multiple cords together at the bottom of a macrame piece.
To tie an overhand knot, start by gathering the cords together.
Bring the ropes up and over themselves, creating a loop.
Bring the ends back and through the loop to produce a knot. Tighten the knot.
Wrapping Knot
A wrapping knot, or gathering knot, is one of the most common to finish a macrame piece. Two working cords are in a wrapping knot; the rest are filler cords. You can also use the wrapping knot at the beginning of a macrame project.
To make a wrapping knot, start by gathering a group of cords. Get a separate length of working rope.
Fold the end of the working cord, then lay it next to the area you want to wrap.
Wrap the long end of the working cord around all cords; the filler cords plus the working cord itself.
Wrap the working cord around the group of yarns until only a tiny part of the folded working cord is left unwrapped. Pass the long end of the active thread through the folded loop.
Then, pull the top end of the working cord up. This step will pull the looped end underneath the wraps. You can trim both ends of the working cord for a clean finish.