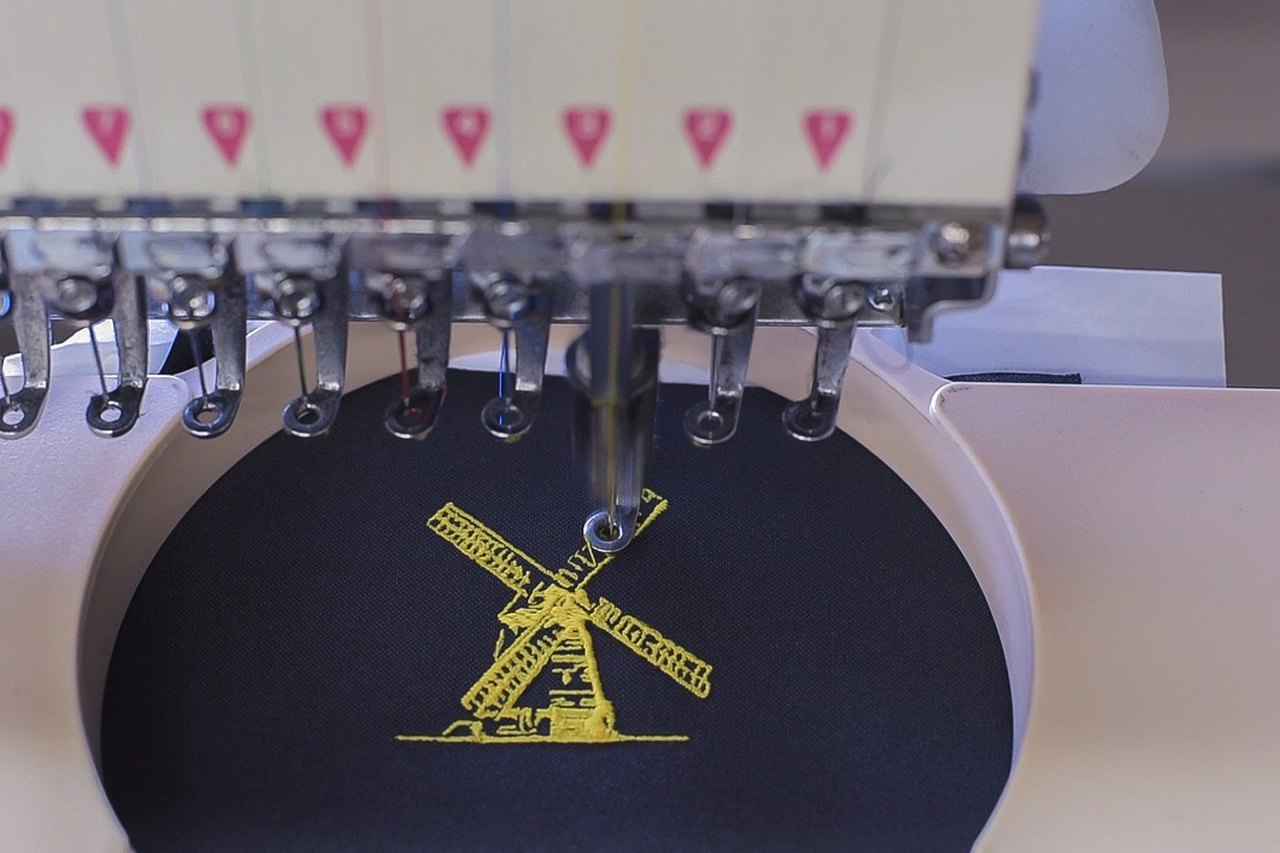 It would be hard to tell which of the best embroidery machine for beginners works best for you if you are just a newbie in the craft. With so many brands and models of embroidery machines available now in the market, choosing the best one that suits your taste can get overwhelming.
When looking for a starter embroidery machine, consider the size of the embroidery area, the stitches you want to use, and the fabric you want to embroider to help you decide which embroidery device to get.
Each person has a different skill level and experience in embroidering, so choices of the best embroidery machine can vary.
To give you an idea about what's available in the market, here is a comprehensive list of beginner embroidery machines on which you can set your eyes.
1. Brother PE535
As a newbie in embroidery, you are just developing your skills embroidery, so what you may need at first is a machine that you can efficiently operate and something that will not break the bank.
The Brother PE535 is one of the miniature embroidery-only machines that you can practice on as you grow your embroidery skills. It has a 4"x4" embroidery field and hoop that can allow you to decorate and personalize your clothes, blankets, and other items.
It has 80 built-in designs, ten frame patterns, and nine unique font styles for lettering and monogramming. The Brother PE535 does not function as a regular sewing machine, so you will need an additional sewing machine if you want to do more than embroider.
The machine has a large LCD color touchscreen where you can view and edit your designs before embroidering. It uses modern technology on the Embroidery Pattern Drag and Drops Feature that permits you to move and position your design on the screen with the touch of a finger. You can also access tutorial videos on the LCD to jumpstart your embroidery work.
The Brother PE535 has a USB port to import designs into the machine. You can find instructions printed on the device so that it would be easy to thread.
Buy it here: Brother PE535
2. Brother SE600
The Brother SE600 is a combination sewing and embroidery machine. It has similar embroidery functions to Brother PE535, so it comes with a 4" x 4" hoop and has the same number of built-in designs and fonts. Before you start embroidering, you can edit and position your pattern using the large LCD color touchscreen.
As for sewing features, the machine has 103 stitches, ten buttonhole styles, and seven presser feet.
It has practical features such as automatic thread cutting and an advanced needle threader, which can help a newbie with embroidery.
Buy it here: Brother SE600
3. Brother PE800
Many embroiderers consider the Brother brand easy to use among the popular embroidery machine brands. Brother embroidery machines are also relatively more affordable.
If you think you will take your embroidery long-term, the Brother PE800 will be a good match. It has a large hoop that can accommodate a 5" x 7" embroidery area. A large hoop like this can be helpful for many tasks such as embroidering jackets, blankets, and other large embroidery projects.
The Brother PE800 comes with 138 built-in embroidery designs, including scrollwork, quilt patterns, and florals to bring out your creativity more. It also has 11 built-in English, Japanese, and Cyrillic fonts that can be handy if you want to personalize your embroidery work. You can use embroidery designs, including ten frame shapes and 14 border styles.
The machine is also equipped with additional design editing features. The color LCD touchscreen is a handy tool to check if your design looks right before embroidering.
The Brother PE800 is exclusively used for embroidery, so it is a good fit for those who do more embroidery than sewing. This machine is a practical choice for embroidery enthusiasts who want to do embroidery long-term.
Buy it here: Brother PE800
4. Brother SE1900
The Brother SE1900 is a combo machine with the same embroidery specs as the Brother PE800. This sewing and embroidery equipment might be an excellent choice if you are interested in embroidery and putting together fabrics by sewing.
Two hundred forty built-in stitches, ten buttonhole styles, and seven presser feet can help you with your sewing tasks.
The sewing machine has convenient features in modern sewing machines, such as an easy bobbin winder, an advanced needle threader, and a quick-set top-drop bobbin. Additional features to make sewing and embroidering easier for beginners are automatic tension settings, automatic thread trimming, automatic reverse stitches, and a knee lifter to keep hands free for other tasks.
Buy it here: Brother SE1900
5. Janome Memory Craft 400E
The Janome Memory Craft 400E is one of the best entry-level embroidery-only machines. Many embroiderers attest that Janome lasts more than other brands, so even if it costs more, it gives more value for your money.
Another great advantage of the Janome Memory Craft 400E is its large hoop size measuring 7.9" x 7.9" and an extra-wide table for a larger workspace. A wide embroidery area using a large hoop will allow you to achieve various embroidery products.
This embroidery-only machine has 160 built-in embroidery designs and six fonts for monogramming that will help you ignite your creative spirit. You can import other embroidery designs through a USB port if you are looking for more designs beyond the 160 designs included in the machine.
The Janome Memory Craft can embroider faster than most embroidery machines, up to 860 stitches per minute. It has many embroidery features that embroiderers would find very valuable in making precise and accurate work with its programmable jump thread trimming, adjustable speed while embroidering, and flexible hoop positioning, to name a few.
This versatile embroidery-only machine has many time-saving features many embroiderers look for, such as an automatic thread cutter, automatic needle threader, bobbin winding plate with a blade, easy set bobbin, and a bobbin thread sensor.
The Janome Memory Craft 400E got what it takes for an excellent embroidery-only machine.
Buy it here: Janome Memory Craft 400E
6. Janome Memory Craft 9850
The Janome Memory Craft 9850 is one of the most popular combination sewing machines of Janome. You will find the best features you are looking for in sewing, embroidery, and fiber crafting in this versatile combination machine.
You can access the 175 built-in embroidery designs and the 200 built-in stitches using the LCD full-color touch screen. It also has two fonts with European characters, a two and 3-letter monogramming function, and six one-step buttonhole styles.
You can embellish and personalize your favorite pieces of clothing and customize your sewing projects with the wide variety of built-in embroidery designs on the Janome Memory Craft 9850.
The machine includes a 6.7" x 7.9" embroidery hoop, which is big enough for a broader range of embroidery projects. It can run at an embroidery speed starting from 60 stitches per minute to 800 stitches per minute which is beneficial for someone just starting with the craft. The machine is equipped with a USB design transfer feature if you need to import other embroidery designs.
You can also enjoy sewing machine convenient features of the Janome Memory Craft 9850, such as the top loading full rotary hook bobbin, a bobbin winder with a plate and cutting blade, and automatic thread tension.
Beginners will love the effortless convenience buttons built into the machine, such as the start/stop button, easy reverse button, and locking stitch button. The start/stop button allows you to sew without using the foot pedal.
The reverse button helps you to backstitch for locking seams. The locking stitch button allows secure seams by tying off the end of the thread, especially on delicate fabrics or when using decorative stitches.
Buy it here: Janome Memory Craft 9850
7. Singer Legacy SE300 Embroidery Machine
The Singer Legacy SE300 embroidery and sewing machine is one of the best you can find in the market today. It has a large embroidery hoop (10.25" x 6") and a smaller hoop (4" x 4") that can accommodate a broader range of design choices.
The SE300 embroidery machine has a USB Stick Embroidery Design Transfer feature that can help you store and save designs and quickly transfer them to the embroidery machine.
It has 250 built-in sewing stitches that can help you with different sewing projects such as garment making, home décor, quilts, etc. You can access 200 embroidery designs and six alphabet styles to give you more creative and monogramming options.
Suppose you need to finish your sewing and embroidery projects quickly. In that case, the Singer Legacy SE300 is the best way to go because it can make 700 embroidery stitches per minute and has a maximum sewing speed of 800 stitches per minute.
An automatic needle threader, a bobbin winder while embroidering, and an upper thread sensor are some of the convenient features this combo machine offers, among many others.
Aside from the necessary large and small embroidery hoops, various accessories are also included that will make your sewing and embroidery easier and more enjoyable, such as the ten snap-on presser feet for various sewing projects.
Buy it here: Singer Legacy SE300 Embroidery Machine
Best Embroidery Machine for Beginners: What are the different types of embroidery machines?
There are three different types of embroidery machines available for embroidery enthusiasts. These are the embroidery-only, sewing and embroidery, and multi-needle embroidery machines.
Embroiderers have different needs and skill levels. You must know that out there is an embroidery machine that would be suitable for you. Most embroidery machines available these days have several modern features you need and want to use.
Here are the three main types of embroidery machines that might fit your crafting needs.
1. Embroidery-only Machine
An embroidery-only machine is made explicitly with embroidery functions to embellish fabrics. It has more decorative stitches and patterns than an ordinary sewing machine to create more detailed designs on fabric.
Some embroidery-only machines have adjustable hoop sizes and built-in thread cutters. More advanced models have a USB design transfer feature to import more embroidery designs other than the ones built into the machine.
The embroidery-only machine would benefit a sewist who owns a regular sewing machine and wants to explore the world of machine embroidery, an upgrade to sewing fabrics together to embellish them.
2. Sewing and Embroidery Combo Machine
The sewing and embroidery combo functions both as an embroidery and sewing machine. Sewing/embroidery combination machines usually cost more than a regular sewing machine or an embroidery-only machine but offer more versatility to achieve a broader range of projects.
These combo machines usually have the convenient features of a regular sewing machine, such as the automatic needle threader, top-loading bobbin, and embroidery features such as an embroidery hoop and a variety of built-in designs.
A sewing and embroidery combo machine can be space-saving and budget-friendly for beginners and experienced embroiderers.
3. Multi-needle Embroidery Machine
A multi-needle embroidery machine is advanced embroidery equipment that can perform high-speed embroidery of designs or texts on fabric. This embroidery equipment is an obvious choice for home and professional embroiderers who want to do a small business out of an embroidery hobby.
The multi-needle embroidery machine can have two up to eight needles that can work simultaneously to create intricate and detailed designs with speed and accuracy.
Also check: