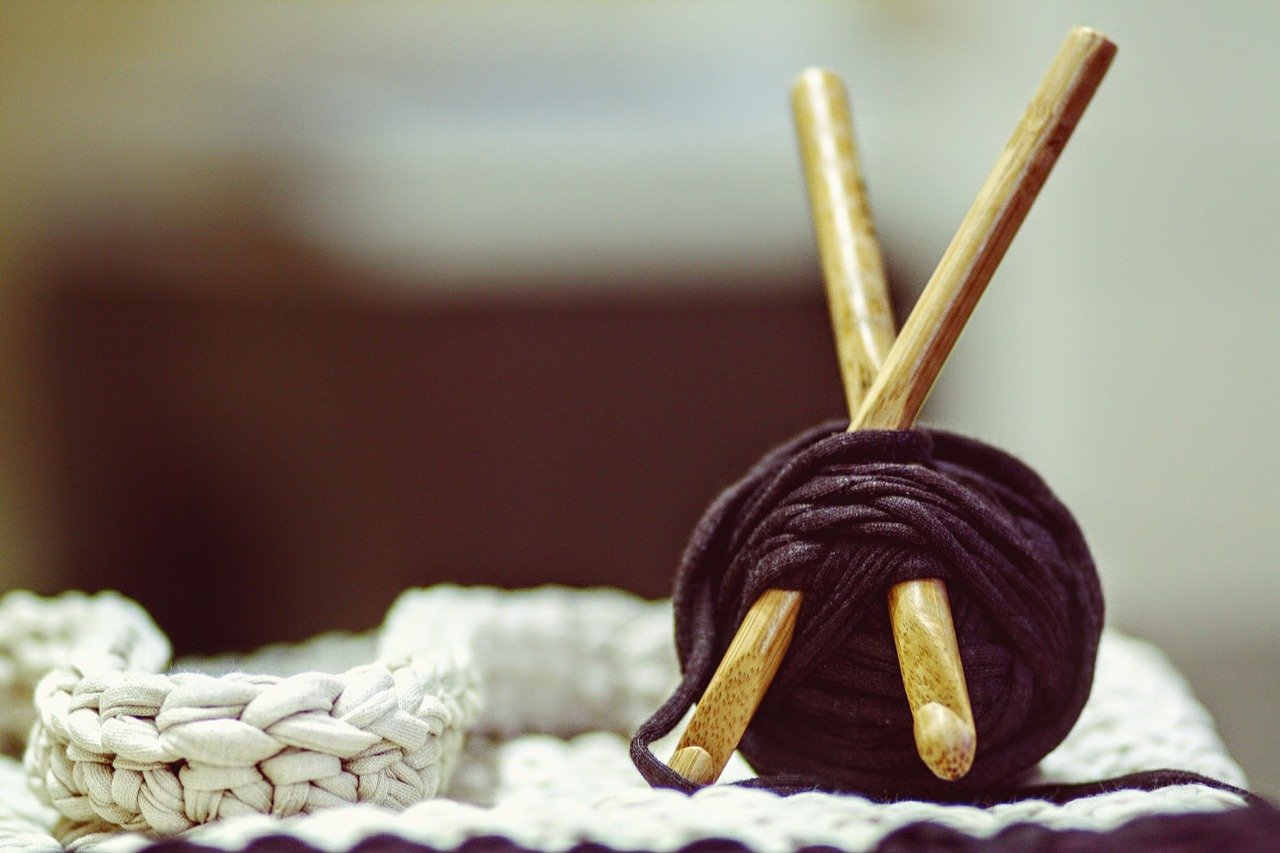 To wash or not to wash? Crocheters' reactions are divided when it deals with washing or not washing yarn before using it. Whatever reasons there may be for people to wash yarn (or not), here are tidbits of advice about washing your yarn (or not).
Should you wash yarn before crocheting?
Crocheters have different views regarding this question. Some crocheters choose to wash their yarn before crocheting, but others leave them be and crochet anyway. So, washing or not washing your yarn before crocheting is up to personal preference.
With that said, you must still note the valid reasons why crocheters prefer to wash yarns before working on them.
There is a great possibility that the second-hand yarn you bought has been in storage for a long time and can look moldy or smell musty.
Previous yarn owners may not have stored the yarns properly, and pet cats or dogs may have had access to them and soiled them.
The yarn came from recycled sweaters.
It is still a usual practice for crocheters and knitters to buy recycled sweaters and reuse the yarn. It is hygienic to wash them first before turning recycled yarn into new crochet pieces.
How do you prewash a skein of yarn?
Sometimes, the yarn you buy may not look like something you would want to crochet. The batch of yarn may have dust or stains and smell musty from their previous storage places. You can prewash your yarn before crocheting them in a few easy steps.
Gather your materials.

You will need water and soap or shampoo. As your soaking container, you can use a bucket, sink, or bathtub, whichever is convenient and available. You will also need a large bath towel and some clothes hangers to dry your yarn skeins.

Fill your container with water.

Fill your container with cool to lukewarm water. Some people prefer warm or hot water, which may be better to use if your yarn skeins are very dirty or stained. Cool water is safer to use as some yarns can felt with too much heat. If in doubt, read the washing instructions on the yarn label.

Add soap to your water.

Add about a tablespoon of shampoo or liquid dish soap. You can add more if you have a large batch of yarn to wash.

Soak your yarn skeins.

Soak your yarn for about an hour. If your yarns are dirty or stained, you can soak them overnight. But if your reason for washing is to straighten your yarns, soaking them for half an hour will do the trick.

Rinse yarn skeins one at a time.

Drain the water used for soaking, then rinse your yarn skeins one-by-one to remove all the soap residue. Squeeze the yarn to remove as much water as possible but gently avoid agitating the yarn fibers too much.

Remove water from your yarn skeins.

To remove more water from your yarn skeins, you can place them at the center of the large bath towel, roll it up and press as you go.

Hang your yarn skeins to dry.
You can fully dry your washed yarn skeins by hanging them on clothes hangers or a drying rack. Hanging the yarns to dry also helps straighten the yarn strands.
How do you machine-wash your yarn?
As a crochet fan, you always get excited by any yarns you set your eyes on. But sometimes, you get yarns that are not crochet-ready, meaning they either smell, look dirty, or just messy. If you want to get your hands on these yarns and get them ready as soon as possible, you can machine-wash them. Here are a few tips to get your yarns out of the washer spic and span.
Gather your materials for machine-washing. You will need a pair of knee-high pantyhose or mesh laundry bags, a washing machine and dryer and laundry detergent.
Get your pantyhose and yarns. Make sure to remove the yarn labels before placing them inside the pantyhose. You can also use the mesh laundry bag if that is available. Put your yarns inside the pantyhose or laundry nets without unraveling them.
Set your washing machine on a delicate or handwash cycle. Also, use cold water for washing your yarn. To make sure you have the right washing machine cycle and water temperature, check the instructions on the yarn label.
When using the dryer, please set it to an extra low or air-only dryer setting. But to be sure that you are drying at the right setting, best to check the label first.
Remove the yarns from the pantyhose or mesh laundry bag.
Enjoy crocheting!
How do you wash yarn before using?
If you think your yarns need washing before crocheting, you need to take note of things so they will still look their best. Read on for some tips on how to wash your yarn before crocheting them.
Read the yarn label.

The yarn label is full of information that crocheters need to know before and after finishing a crochet piece. The yarn label will give you the right washing and drying settings. It can also indicate the right temperature that your yarn can tolerate without changing its form. Always check the yarn label first because it will give you the right idea of whether you should or should not wash your yarn before crocheting them.

Know the laundry symbols.

Each crochet yarn label is unique. Some may or may not provide information that you think you need. A yarn label is usually only a small roll of paper with a few words written on it and some washing and drying symbols. Here is a quick run through five common symbols you will see on some yarn labels and the same ones you can see on your clothing.
A sketch of a basin represents washing information. Variations on the drawing represent specific instructions on washing your yarn. A hand on the wash bin means handwash only. Dots on the wash bin indicates the temperature you need to wash your yarn; the more dots, the higher the temperature.
A square indicates drying. A square with a circle inside means machine-drying. Dots on the drawing refers to heat intensity. Variations on the drawings inside the square can indicate line drying, drip drying, etc.
Bleaching your yarn is shown by a triangle symbol. An X through the symbol means do not use bleach. An X through the symbol means the procedure is not safe for your yarn.
A hand-held iron signifies ironing yarn. The number of dots on the symbol indicates the heat level that you should apply for ironing, and an X through the symbol means you cannot iron your yarn.
The dry-cleaning symbol is a circle. A capital letter inside the circle indicates which solvent you can use for dry cleaning, and an X indicates you cannot dry clean the yarn.
Know your yarn fibers.
The different fiber content of your yarns is an essential factor in knowing how to take care of them. Natural fibers have different properties from synthetic fibers. Animal fibers also have unique features from plant fibers, so they may need to be treated differently. Fiber blends are also available where properties of different fibers are combined.
Read on for some of the most common fibers used for crocheting and how you can care for them.
Wool is almost always associated with crochet. Wool is the most common type of yarn used for crocheting. Wool is animal fiber and can be washed gently with shampoo if needed. Use only regular shampoo to retain the natural oils in wool to keep its shape and softness.
Cotton, a plant-based yarn, is also a common material used for crocheting. This type of fiber can be machine-washed as our cotton shirts are easy to throw in the washer. When washing your cotton yarn, it is still a good idea to put your washer and dryer in a delicate setting to avoid shrinkage and deformation.
Linen and hemp yarn fibers come from plants but have different characteristics from cotton. These types of fibers become softer after multiple and hard washings. In contrast to caring for cotton yarns, more pressure and agitation make linen and hemp yarns better and softer to the touch. Despite much agitation, the yarn still retains its strength. Linen and hemp fibers should be laid out to dry after washing because they have a great inclination to wrinkling.
Acrylic is a synthetic yarn, meaning it is neither animal nor plant-based. It is not a natural fiber. Acrylic yarn is one of the most versatile yarn fibers and can take the most amount of agitation. The main weakness of acrylic fiber is heat, so you should never iron your acrylic yarns.
Wool yarn that is treated so that it can be easily machine-washed without felting is called Superwash yarn. Wool yarn undergoes a process that makes the yarn fibers felt-resistant even if you throw them directly into the washer. Although, it is still advised to wash your superwash yarns using the delicate cycle and lay them flat to dry.
Yarn blends are a bit complicated to describe. Yarn blends are characterized as true blend and mix blend. True blend yarns are made when different types of fibers are blended to create a unique type of fiber. It can be advised to follow washing instructions of the fiber component with a higher amount in the blended yarn fiber.
A mix blend, on the other hand, is made from different types of fibers plied together. Each ply is made of only one type of fiber. Washing this type of fiber is a bit tricky as there are different types of fiber involved. The safest and most sensible way is to go for the gentlest recommended washing style.
More pages: 
How do you get smells out of yarn?
Most of the time, unused yarn is not dirty but may only smell slightly different from what you expect. The unusual odor may be due to long periods of storage which may make your yarns smell moldy or musty. They may have been exposed to fumes or other elements that the smell can stick to your yarn.
There are simple ways you can do to get the smell out of yarn.
Sunlight

Expose your moldy or mothball-smelling yarns in the sun for two days. It would help to place it on the grass as both the sun's UV rays and the chlorophyll from the grass can help remove the unusual smell.

Sunlight and vinegar will also have the same effect. Mix equal parts of water and vinegar and soak your yarns until it has absorbed the solution. Dry under the sun for a day or two.

Baking Soda, Activated Carbon or Kitty Litter

It is amazing how common household supplies can do wonders. Baking soda can sure remove odors. First, get a zip lock or a container with a cover. Put your stinky yarn inside and pour a generous amount of baking soda on it. Leave it sealed for a week before checking the smell. If it still got a strong odor, cover it for a few more days. When the smell is removed, shake off the baking soda from your yarn.

Activated carbon and kitty litter work the same way. Put your yarn with activated carbon or kitty litter in a sealed container and wait for a week until the unusual smell is removed.

Washing
Another effective and proven way to remove odors stuck to yarn is by washing it. Use shampoo or liquid soap. You can add a little baking soda to help remove the odor. Remove excess water using a large towel, then hang to dry.
You can also use the dryer and add fabric softener dryer sheets to mask the odor or make the smell more appealing.