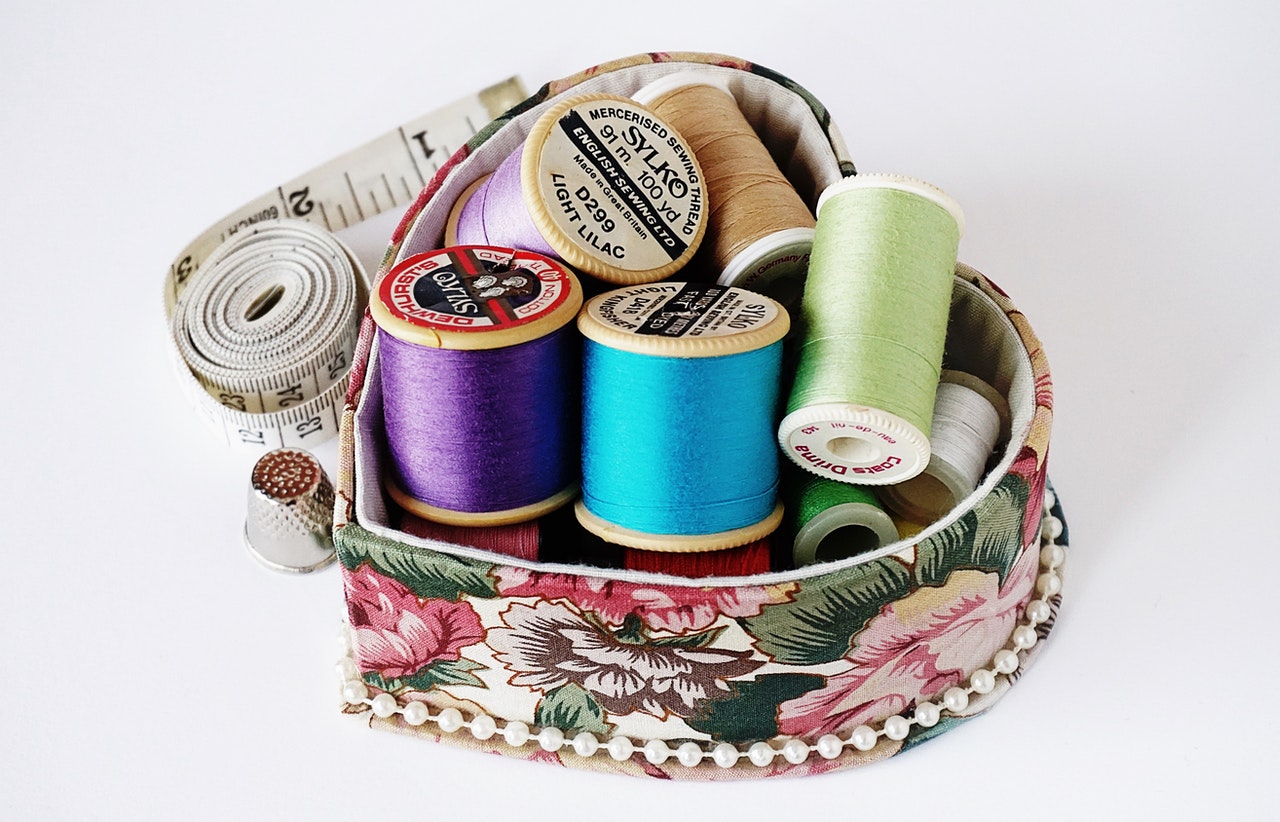 Did you ever experience running out of embroidery thread in a particular color you want for a project? Did you ever wish you could dye yarn on your own? Well, I have fantastic news for you! You can dye them because some embroidery threads dye well!
But, you need to note that not all types of embroidery thread can take dye and others. Polyester, acrylic, and polypropylene threads will not color like silk, cotton, and other thread types. Please continue reading to find out more about embroidery threads and dyes.
Can you dye white embroidery thread?
Many people who love embroidery also enjoy dyeing their threads. One of the most common threads you can dye is white wool or silk embroidery thread. Although you can dye threads in other colors, they will not look more natural like in white fibers.
How to dye embroidery thread?
Did you ever wonder how other embroiderers do such fantastic shading and color variety without buying too many skeins of floss? You do not need to be a floss hoarder!Follow this simple guide to dye embroidery thread and get incredible color variations too:
What you need:
Embroidery floss or pearl cotton
Fiber reactive dyes
Soda ash
Urea
Professional textile detergent
Dye fixative
Plastic wrap
Mixing cups and measuring spoons
Getting Started
Unroll a chunk of your embroidery floss with your niddy-noddy or around your forearm. Do not worry too much about the length because it depends on your preferences. But I suggest doubling an 8m small hank of floss to have enough for your project.
– You may also skein off the whole cone of embroidery floss. Doing this step is ideal if you wish to dye bulk colorways.
– Remember to tie your hank in figure eights in at least four places loosely with some extra floss or yarn. Doing so will help you in keeping it tidy while dyeing.
Soak your floss in some hot water with textile detergent to remove any fabric softener or oils. Removing these chemicals is essential because they can resist your dye's penetration. Do not skip this step if you want to get beautiful results!
Soak your embroidery floss in the traditional soda soak for at least five to ten minutes.
– Soda soak: ¼ cup soda ash to 1 quart of water (946.35ml)
Dyeing your embroidery thread
1. Mix your dyes depending on how much you think you need for your project. Follow the recipes below to determine how much you need:
1 CUP WATER = 2 tsp dye + 4 tsp dye + 8 tsp dye + 1 tbsp urea
1 PINT WATER = 4 tsp dye + 8 tsp dye + 5 tbsp dye + 2tbsp urea
1 QUART WATER = 8 tsp dye + 5 tbsp dye + ½ cup dye + ¼ cup urea
1 GALLON = ½ cup dye + 1 cup dye + 2 cups dye + 1 cup urea
2. Squeeze out your skein, so it does not drip with soda soak then, lay it out on the plastic wrap. Apply your chosen colors from lightest to darkest using foam brushes. Again, do not worry too much about the process. Have fun!
– Remember that you can control your color sections and blending to get unique and beautiful results.
3. Carefully flip the skein over after you cover one side, then repeat the same colors until you reach the end of your embroidery thread's length.
– Tip: Be careful not to oversaturate your thread. Avoid making puddles where the colors bleed together.
– You can prevent this mess by carefully dabbing the dye on the thread and going back if an area needs more.
Finishing off
Wrap your skein in the plastic wrap once you are happy with how you covered your embroidery thread. Do this step to batch overnight for 12-24 hours.
Open the plastic wrap the next day and rinse your skein in cool running water until the water looks clear. Then, wash it in hot water with textile detergent, rinsing as much as you can.
– Do the best you can, although it can be challenging because you need to do this step by hand.
Do a final soak with your dye fixative to prevent bleeding on your work. Use your fixative according to its instructions. Soak your embroidery thread in it for 15 minutes, then rinse it and dry.
– You can also do this step to commercially dyed threads to reverent bleeding before using them for projects.
Do not worry too much if you do not have the needed materials or cannot find them in shops near you. There is another way to get color variation without these materials.
This process can be simple and challenging if you do not have a guide to follow. Although it is not rocket science, there are many factors to consider. Follow this guide on how to dye embroidery threads using home items:
What you need:
A pot or small saucepan to boil your dyeing materials
Remember that some materials can impact your dye colors, such as cast iron or copper metal.
Knives, boards, anything to prep your dyeing materials
Cheesecloth to strain some dyeing materials
Jars to store your dyes
They do not need to be anything too special.
White embroidery thread
You can over-dye other colors too, but remember that some dyes will not color naturally in dark-colored threads.
Alum to help prep your embroidery thread
This compound acts as a mordant that will make your threads more adherent to your homemade dyes.
Kitchen items that make good dyes:
Avocado skins and pits – can make pale pink, orange, and gold dyes
Blueberries – can make periwinkle to violet dyes
Blackberries – can make blue-violet dyes
Tea and coffee – can make different colors depending on their type
Spinach – makes yellow, browns, and green dyes, depending on your methods
Black beans – can make blue with shades of grey or green
Turmeric – makes yellow dyes
Onion skins – can make brown, red, and yellow dyes
Cabbage – can make different colors depending on the different acids and base additives you use
Pomegranate husks – can make gold-reddish dyes
What you need to do:
The process for making home dyes is not much different from cooking. You need to prepare your materials, boil them, then let them simmer for around thirty minutes to an hour. Then, strain off the bits and use the concentrated liquid to dye your thread.
But you need to remember that there is no one process for all dyeing materials. Some things like berries need salt as fixatives. Some change colors when you add acid or base additives. Some materials need boiling, while others do not. Even rinsing can impact your dye's colors.
There are many different methods you can do when using home materials, so I recommend experimenting. Do not worry too much if you think you are not getting the results that you want. You can always remake your dyes with more accuracy and use the ones that you make.
You can also research more about different items that seem too unconventional. But do not be afraid to keep trying. You will get amazing results when you keep going!
Some useful tips:
Research about your dyeing materials. Researching is always the best option for dyeing materials and methods that you are not familiar with just yet.
You do not need to boil every dyeing material. You can soak other materials in a jar full of water and leave it for some time.
Your boiling time matters. You should remember that high heat for an extended time may not be ideal for some items. It is best to bring them to a boil, then let them simmer to get the most of their colors.
Take notes. Taking down notes will help you improve your dyes in the future or when you wish to remake them. They can also give you ideas of what to try, even if you do not remake the same dyes.
Is embroidery thread colorfast?
Working with colored threads on a white fabric justifies the concern over its colorfast properties. Although there is no guarantee, some embroidery threads are colorfast. This property depends on the thread's quality and material.
Bleeding colors from embroidery threads are relatively rare, but they do happen. So, if you wish to use colored threads on white fabric, it is best to take some precautions.
Other pages: 
How to keep embroidery thread from bleeding?
Embroidery thread will bleed, but you can always take precautions to prevent bleeding that can ruin your work. Follow these tips on how to keep embroidery thread from bleeding:
Wet your embroidery thread and fabric to see if it will bleed.
If you see that your thread is bleeding, you can set its color by pre-washing it.
Fill a bowl or pot with 4-5L of cold water, then add two tablespoons of salt and two tablespoons of white vinegar.
Soak your thread one color at a time, for at least ten minutes.
Then, remove your thread from the mixture and blot it with a clean towel. Finally, leave it and allow it to dry naturally.
Remember that hot water or using steam iron can reactivate the dyes and coils cause bleeding again.