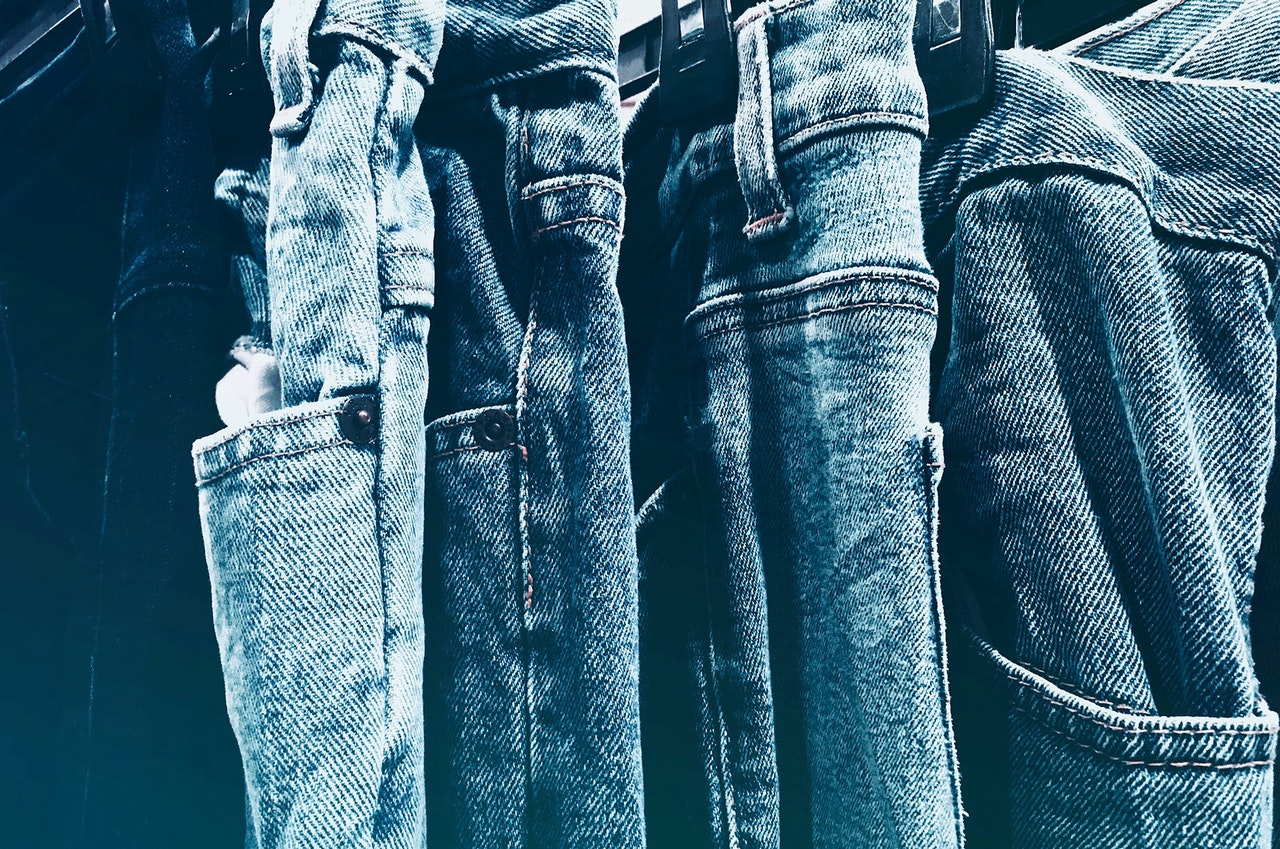 Embellished jeans are nothing new. There are many ways you can decorate your denim apparel these days. Cross stitching is one of them. Find out how you can transfer cross stitch designs on your favorite denim items.
Can you cross stitch on jeans?
While we know that Aida, even weave, and linen are the usual fabrics you can cross stitch on, you must know that you can stitch on any fabric, even jeans. Denim may be a stiff fabric, but there are many ways you can enhance your jeans with a cross stitch design.
Cross stitch designs on denim
The designs you usually see cross stitched on jeans and jackets are famous catchphrases or favorite characters. Some like to stitch floral patterns you can scatter in different areas of your jeans. You can also choose to concentrate the design on the pockets or the edges of the jacket.
It would be a great idea to cross stitch cute characters, emblems, or geometric designs. They are fast and easy designs to make on children's jeans and jackets.
Choose a placement for your cross stitch design
After choosing the design you want to cross stitch on your jeans, it is time to decide where you want to stitch them.
You can commonly see designs stitched along the sides of seams. Pockets and hems of jeans and jackets are also great places to stitch on.
The front pockets of jeans are also nice to embellish. You can stitch symmetrical designs under the front pockets of your jeans.
If you are decorating your denim jacket, there are a whole lot of possibilities you can do. You are not limited to cross stitch a small design. You can stitch a huge design at the back. You can opt to embellish the collar with cute characters or short phrases.
There are more ways than one to transfer your cross stitch pattern to your jeans. It can be challenging to transfer your pattern to jeans, especially if the fabric is too thick and dark. It would be hard to see your markings.
The simplest method is to use tracing paper. To use this method, trace your pattern on the tracing paper. Baste the tracing paper on the area of the jeans that you want to embroider. Start stitching on the paper and jeans.
After finishing all the stitches, you can carefully tear off the tracing paper. This technique would usually work on small and simple designs.
Another technique that is effective to use on dark jeans is the water-soluble stabilizer. You can print your pattern on the water-soluble stabilizer. When you are finished with your cross stitches, soak your jeans, and the stabilizer will wash off with water.
But the most suitable technique to use for a cross stitch pattern is the waste canvas. You can stitch on the waste canvas as you stitch on an Aida fabric. But after the stitches are finished, you can pull the waste canvas thread by thread.
Choosing the needle and thread
Your jeans have a thick and strong fabric, so naturally, you need a sturdy and sharp needle to stitch on them. Chenille needles or embroidery needles are the best to use on denim fabric. They are both sharp and strong. It is best to use needle sizes 18 to 22 to cross stitch jeans and embroidery floss.
The best embroidery threads to use on jeans would be those that are washable and hard-wearing. Remember that you wear your jeans frequently. So it would be wise to use embroidery floss that will be durable for frequent wearing and washings.
Cross stitching involves the frequent in and out motion of the needle from the denim fabric. This movement can wear out your thread easily. To avoid this problem, you can use shorter lengths of the floss or use a thread conditioner to coat them.
Cross stitching on jeans
Cross stitching on jeans would be easy or difficult depending on the size of the design you are going to embroider. It would not be hard to cross stitch small and simple designs on jeans. Since denim fabric is thick, you would not want to cross stitch a pattern that would fill the whole pocket space. The common cross stitch designs used are tiny shapes, figures, or texts. These are usually stitched near the borders or outlines.
When cross stitching on pockets, ensure that you do not stitch through the actual pockets you are adorning.
You may or may not need an embroidery hoop. If the jeans you are embroidering are stiff or the area is too small to attach a hoop, you can cross stitch your design onto the denim fabric.
There will be areas of your jeans where it isn't easy to push or pull the needle through. You can use a thimble or finger pads to make stitching easier. It will help protect your fingers from becoming sore so you can continue stitching the design on your jeans.
Related: Cross stitching on a perforated paper
How do you cross stitch pants?
You cross stitch on pants the same way you would cross stitch on fabrics other than the common cross stitch fabrics. You will need a waste canvas or other materials to stitch your design on.
Jeans or pants are garments that look plain. You can see designs mostly on shirts or blouses. One way to put accents on your jeans is to cross stitch on parts like the pockets, hems, leg openings, or outside seams.
Once you have decided where you want your cross stitch design to appear, you can now create your pattern. You can make your design. You can also use a ready-made pattern or use a portion of a pattern that you want.
If you make your design, the first thing to do is measure the area you plan on stitching. Then, on a piece of graph paper, mark an area of equal size and shape.
Draw the design on graph paper and indicate with different colors how the design will look like.
To stitch your cross stitch design on your pants using a waste canvas, here are a few simple steps you can follow.
Cut a piece of waste canvas according to the size that you need for your design. Add an inch of waste canvas on every side.
Place the waste canvas on the area of the jeans where you want to make the stitches. Designs are usually placed at the back pockets or front pockets of pants.
If you are stitching on the pocket, baste the waste canvas to secure it in place. It would be best to use a thread in a contrasting color for basting. Do not baste too tightly so you can remove it easily once you are done stitching the design.
Start cross stitching from the center of the project working towards the sides. Avoid stitching through more than one layer of the pants. If you are stitching on a pocket, make sure not to stitch it closed.
Make sure that your stitches are not too tight. It would help to remove the waste canvas easily when you are finished with the stitches.
Spray your finished cross stitch with water to wet the waste canvas.
Using a seam ripper, cut through the basting stitches. It should be easy to remove the waste canvas by picking the strands using a tweezer.
More pages: 
How do you cross stitch a denim jacket?
A denim jacket is a very basic piece of clothing you can wear casually. You can make a plain denim jacket look more interesting by cross stitching a design that you like.
There are many ways you can embellish your denim jacket. There are also a few tools you can use to make stitching on your denim jacket easier.
The basic supplies that you will need are:
Embroidery needles
Embroidery hoop
Embroidery floss
Water-soluble stabilizer for stencil or waste canvas
Rubber thimbles or finger pads
Denim jacket
Wash and dry your denim jacket before stitching your design. You need to do this step to ensure that your design will not shrink or warp after washing your denim jacket for the first time.
Print your design on the water-soluble stabilizer. The good thing about using this material is that it will eventually dissolve after washing. You can print your cross-stitch pattern in the right size on the regular printer. Make sure the print is bold enough to see the symbols you will use for stitching.
Cut out the design. Then, peel it away from its paper backing. Stick to the area of the denim jacket that you want to cross stitch.
If your denim jacket is stiff, you do not need an embroidery hoop. But if the fabric of your denim jacket is soft, you can use the embroidery hoop. It can help secure the area you need to stitch from getting distorted. Place the inner ring of the embroidery hoop under your jacket. Make sure that the design is at the center of the hoop.
Place the second ring on top of your denim. Make sure that it is screwed tight to the hoop underneath the denim. There should be no folds or creases across the hoop.
To start stitching your cross stitch design, cut your embroidery floss around one foot long. Check on your pattern for the number of strands you need to use. Some patterns need only three strands, while others need six strands.
It would be best to start stitching at the center of your design. Starting from the middle will make sure that you are not forming creases as you stitch outwards.
You can use a thimble to push the needle when your fingers start getting sore. Denim cloth is thick and stiff, so you might need the help of a thimble or finger pads to continue stitching.
If you need to change the color of your thread, make sure to tuck some thread under the stitches at the back of your denim. Then cut the thread to change into the next thread color that you need to stitch.
When you have finished stitching the design, knot your thread at the back to secure your stitches. You can now wash off the water-soluble stabilizer.
Now you can wear your cross stitched denim jacket with your unique handmade design.