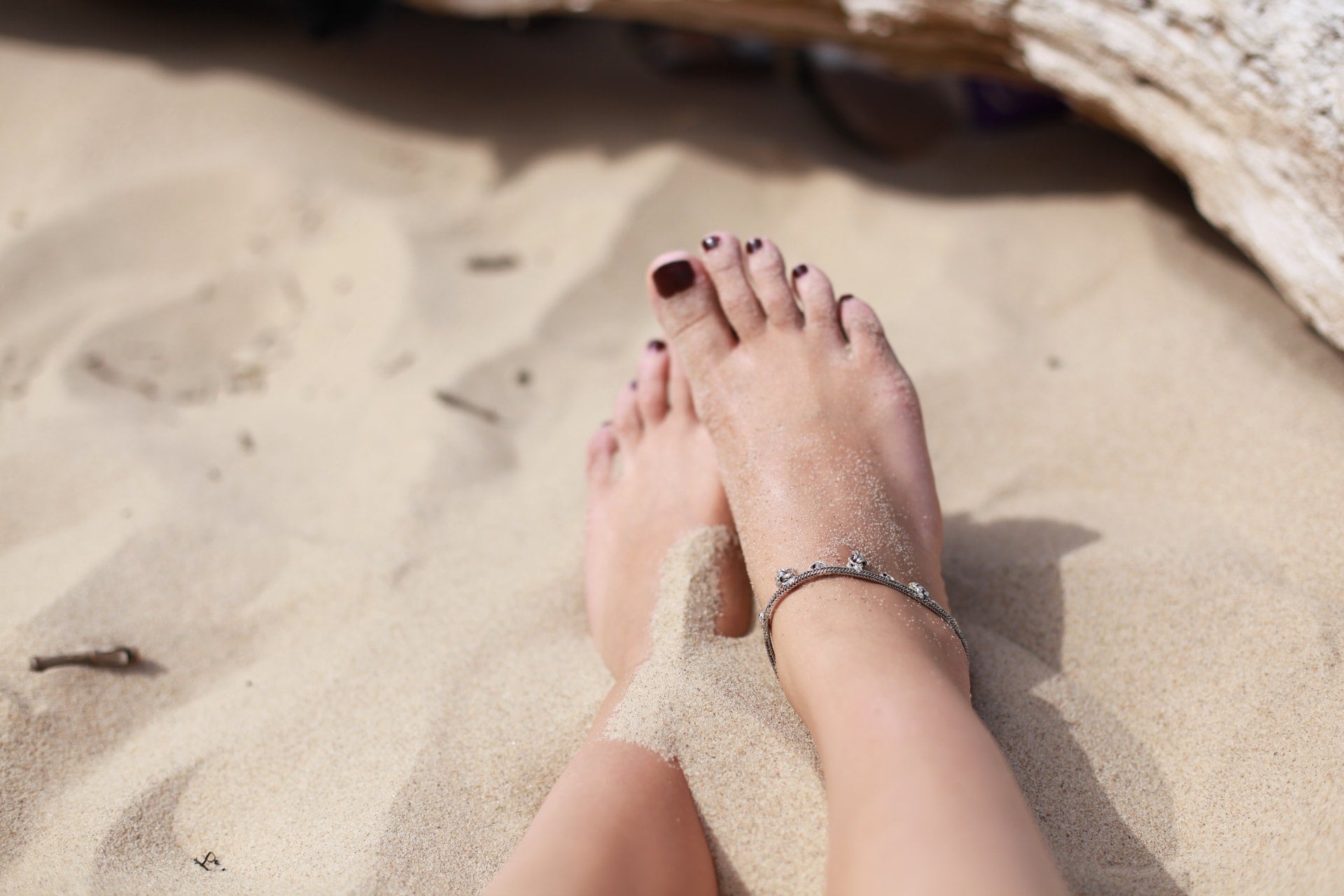 Yes, you can. It only comes with a compromise that your wrist size does not go far from your ankle size. These days, people get more creative and experimental when it comes to wearing their pieces of jewelry. As long as it looks good on you, fits you just right, and you can walk with confidence, you can wear your bracelets and anklets interchangeably.
What does wearing an anklet mean?
People wearing an anklet once symbolized marital status. In past traditions, especially with the Eastern cultures, the groom gives the bride an anklet as a gift to announce to the world that they are married and show that their marriage is official.
An ankle bracelet, just like any jewelry accessory, is rich in history. In fact, wearing anklets can be traced down to 6000BC – 3100BC. Babylonian women were found from excavated Sumerian tombs in Mesopotamia to be wearing anklets made of precious stones and metals. It can be said that early people wore their anklets to signify social status. Wealthy wives and brides wore anklets made of precious metals and gemstones, while slaves wore leather anklets.
Women from Ancient Egypt also wore their anklets made of precious metals and stones to symbolize their husbands' social rank and wealth. Women of lower social classes also wore anklets made of leather and string, which they believed can bring good luck and fortune.
Ancient Indian women have been wearing variations of anklets for 8000 years. Married Indian women wore ankle bracelets with charms to warn and alert men and family members to greet them with respect. New brides are gifted with anklets by their groom to symbolize a successful marriage.
Asian women, especially in Eastern Asia, wore a variation of the ankle bracelet called a Pattilu. It is an anklet which connects to a toe ring with a series of dangling chains.
These days, wearing an anklet is not as symbolic as it was during ancient times. Wearing an anklet has pretty much the same purpose as wearing any piece of jewelry like a bracelet or earrings, which are for adornment.
Can you wear anklets on both ankles?
Yes, of course. It is your own prerogative to wear as many anklets as you deem fit. Some people think the more, the merrier. But first, think of the effect that you are trying to achieve. If you aim for the edgy look, you can wear as many ankle bracelets on both ankles as you want. Just make sure that you don't look like you are overdoing your appearance. Remember the quote, too much of anything is bad. Too many anklets worn on both ankles may not at all look flattering anymore.
You can still look chic wearing anklets on both ankles by choosing delicate chains without so many embellishments if that is the appearance you want to accomplish.
Which leg should a woman wear an anklet?
It really should not matter which leg a woman should wear an anklet on, especially in this day and age, as long as you feel comfortable and confident about your fashion choices. There are many beliefs, rumors, or tales that explain the significance of the anklet's placement.
In some cultures, married women who wear their anklet on the right ankle mean that they are committed to their husbands but are still open to having relationships with other people and the husband's approval. In contrast, some believe that wearing your anklet on the right ankle shows exclusivity in a relationship. It is an indicator that you are quite happy with your relationship and have no interest in pursuing intimate relations with other people.
Wearing your ankle bracelet on the left side would mean that you are single and willing to mingle. For some people, it could also mean that despite being married, you are still interested in pursuing a relationship with another one. A woman wearing an ankle bracelet on the left ankle may also signify interest in having a relationship with another woman.
What does it mean to wear an anklet on your right ankle?
To some people, wearing an anklet on your right ankle could mean that you are in an exclusive relationship. It can tell those who can see your adorned right ankle that you are happy in your relationship and is not interested in entertaining another intimate relationship.
Although, in these modern times, wearing an anklet on the right or left ankle has no bearing anymore as this piece of jewelry is more often worn just to adorn the lower part of the body rather than being a status symbol.
What does an anklet on a man mean?
Men are not alien to wearing this piece of jewelry, although women typically wear an anklet. In Africa and the Middle East, men were known to wear anklets to signify their social status. Men who are members of a royal caste in India wear gold anklets to show that they hold the highest social position.
At present, you can find men who wear anklets with simple designs or more boldly with colorful and thick designs. Wearing an anklet for a man or woman does not hold any more meanings or symbolism these days other than aesthetics and personal jewelry preferences.
Is it good to wear gold anklets?
There is nothing wrong with wearing gold anklets.
Wearing jewelry is a big part of the Hindu tradition. Hindu practices include not wearing gold jewelry below the waist. The elders believe that gold represents the Goddess Lakshmi, the Hindu Goddess of wealth, fortune, and prosperity. Women wearing gold jewelry such as the anklet, which is worn near the feet, will disrespect the Goddess Lakshmi. Not wearing gold anklets has been passed on from generation to generation through the Hindu tradition. Different parts of India allow wearing gold anklets as do some other parts of the globe, especially in the Western regions where people wear anklets only as adornments.
At present, people of diverse cultures around the world wear anklets made of varied precious metals such as gold, silver, brass, etc., all in the essence of wearing jewelry that matches one's preference and comfort.
Also check: 
Can you use your Singer needle in a Janome machine?
Are ankle bracelets in style 2021?
Ankle bracelets are still totally in style in 2021. Anklets of late are not reminiscent of the beach-bumming and surfing attire ornaments that you will recall from your childhood. Modern ankle bracelets are designed to promote elegance and versatility. New anklets are chicer and can be worn with any outfit. The elevated versions of the ankle bracelets are more modern and refined forms of the 90's anklets fad.
The Spring/Summer 2021 brought the unassuming ankle bracelets into the fashion scene. Famous fashion brands and designers have shown their ankle-hugging jewelry versions looking more exciting and less underrated daily accessory. Present-day anklets can be worn every day and do not require a seaside setting to belong. You can wear your modern anklet every day and expect it to elevate whatever outfit you choose.
True enough, the fashion scene is stunned with the new generation ankle bracelets made of diamonds, beads, charms, and even heavy-duty chains, which are quite a fashion statement in itself. You can wear these modern anklets singly or in layers to achieve your desired look, be it classy or edgy.