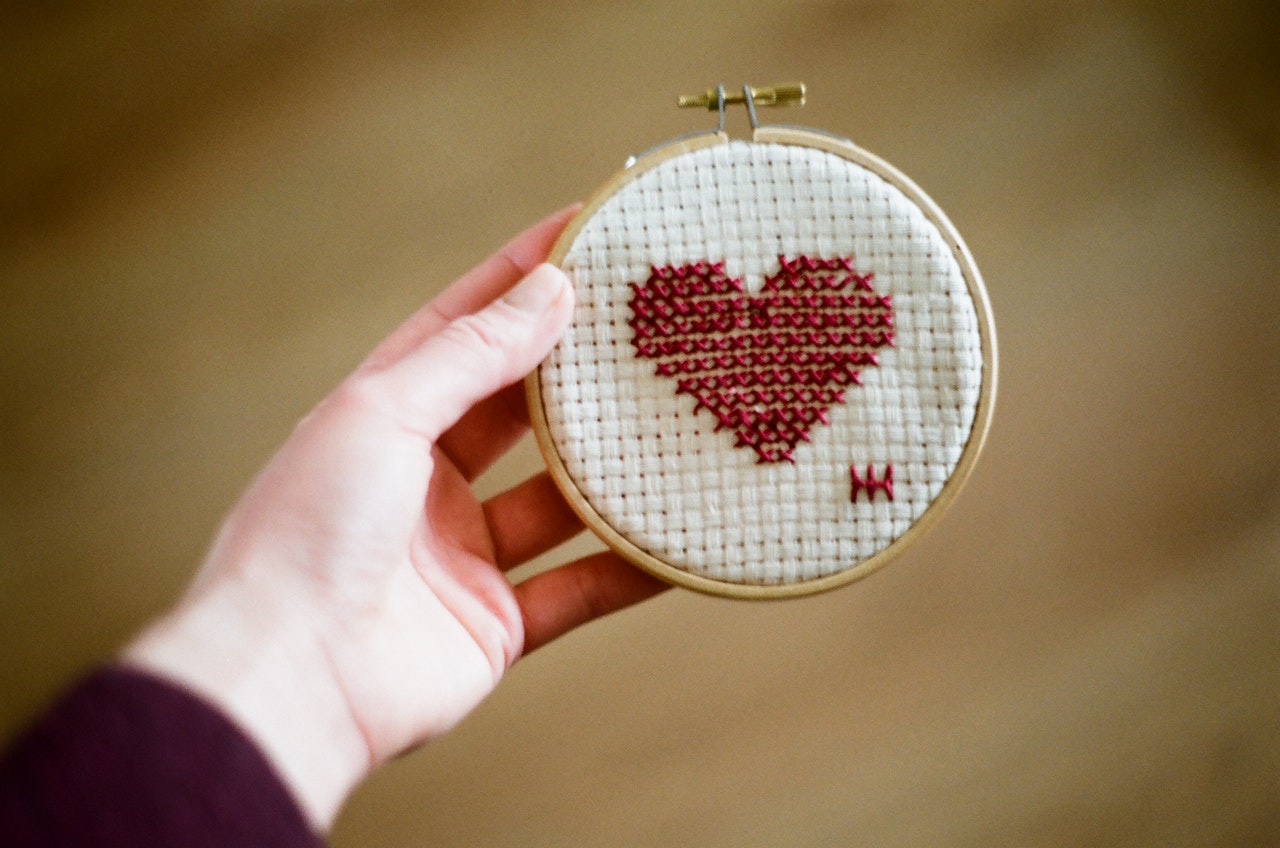 Many think that adapting cross stitch patterns to needlepoint is a simple and straightforward process. Yes, you can needlepoint a cross stitch pattern by replacing the cross stitches with tent stitches. But, it is best if you did more to make your piece look great.
If you ever tried to work a cross stitch pattern in needlepoint, then you probably ran into one of these problems:
Your cross stitch pattern has many color changes, making the basketweave stitch almost impossible to work.
Your canvas shows through the stitches.
You do not know how to work a basketweave stitch for some partial stitches.
There may also be other factors that make things more challenging. But do not worry because there are certain things you can do to make your piece look fantastic! Please continue reading to know what you can do to needlepoint a cross stitch pattern and have excellent results.
What is needlepoint?
Needlepoint is embroidery worked over a canvas, usually in diagonal stitches covering the fabric's surface. Many confuse cross-stitch with needlepoint. But, one main difference is the variety of stitches used for needlepoint.
Also known as canvas work, you can traditionally do needlepoint by stitching wool yarn through a stiff evenweave canvas. It is easy to learn and can be for creative and therapeutic purposes. Here is some basic information you need to know to get you started with needlepoint:
You will need a needlepoint canvas that serves as the ground fabric to work on your project. It comes in various types and sizes. Keep in mind that your canvas choice is essential. You would not want to end up with a project that shows your canvas underneath all the stitches.
Basics of Needlepoint Threads
Although there is a wide range of fibers you can choose from, not all yarn is suitable for needlepoint. Your threads should be long and durable enough to withstand continuous pulling through a stiff canvas mesh. Here are the most common needlepoint yarns you can use:
Wool yarn is 100% natural fiber that is long-lasting and colorfast, making it ideal for needlepoint. It is the most popular choice because it wears well, increasing your needlepoint piece's lifespan.
Persian wool is by far the most popular fiber used for needlepoint crafts. There is a wide range of colors, from delicate hues to bold shades. This type of wool comes from the factory spun as a single 3-ply thread.
As you make crafts using Persian wool, you will discover that its 3-ply feature makes it versatile. You can use it all together to work on a large mesh canvas. You can also separate it into individual strands for fine stitching.
Unlike Persian wool, you cannot separate tapestry wool yarn into individual strands. It is a single strand thread that is thick enough to cover a #10-mesh mono needlepoint canvas. You can usually buy it in 8.8-yard skeins, with some shops offering hanks for larger needlepoint projects.
Modern crewel wool is a fine, two-ply, or one-ply thread available in various colors. It is famous for its use in working crewel embroidery on fabric. You can use this ideally for blending and detailing, especially when stitching on #18 to #22-mesh single thread canvases.
Although it is ideal for fine stitching, you can also use crewel yarn for other larger projects. You can easily add one or more strands in your tapestry needle to get proper coverage.
You can also use other fibers like cotton and silk for your needlepoint projects. But, they may not be durable enough. Despite this disadvantage, you can still use them for decorative projects. I recommend using cotton because they are the cheapest option among the needlepoint yarns.
Cotton threads are usually the cheapest because you can buy them in groups of four to twelve. You can pull apart or put together each strand depending on your project needs for good canvas coverage.
Note that this stripping is essential if you want smooth and even stitches. Remember it when buying your needlepoint thread because not all cotton yarns are separable. You cannot strip pearl or shiny cotton threads apart, but you can look for a size that fits your canvas mesh.
Silk threads are naturally more expensive than cotton and wool yarns. It is more delicate and needs lots of care when working. Its strands either tend to cling to each other or stick out when during stitching.
If you want to use silk yarns, you may lay a tool or trolley needle to stroke the threads into place. Despite this disadvantage, you can still use silk threads for a rich, shiny accent on your needlepoint project.
Novelty and Metallics Threads
These thread types are much more challenging to use for needlepoint. Although they come in a wide range of sizes and colors, they are pretty much impossible to stitch. But, if you are lucky and patient, you can still find some variants that can work for #10 to #12-mesh canvases.
Are you wondering if you can use knitting yarns for needlepoint? Unfortunately, threads used for knitting and other embroidery crafts do not work well with needlepoint. They usually have short fluffy fibers that tend to break and fuzz with repetitive stitching.
Tips for Working with Needlepoint Threads
Naturally, there will be yarns that are unfamiliar to you. Working with them without practicing may cause dissatisfaction and may even ruin your project. It is best to try them out first before you begin working on your project.- Work a one-inch sample in the needlepoint stitch you want to use on a piece of scrap canvas.
You will usually see needlepoint yarns sold by cards or skeins. Some shops also sell threads like Persian and tapestry loosely by weight or length. It is best to buy more yarn than your project needs to ensure they come from the same dye lot.
How to Choose the Right Needle
Besides knowing the ideal yarn for your needlepoint project, you also need to know the right needle to use. Tapestry needles are suitable needles for most needlepoint projects. They have blunt tips and an elongated eye, making them perfect for holding thick fibers.
It is also essential that your needle has a blunt tip to make it easier for you to slip through holes in the canvas. It also ensures that you can work on your project without catching or splitting mesh threads. Follow these tips to help you choose the right needle for your project:
Always remember that the higher the needle number is, the more refined your needle will be.
More delicate needles will match needlepoint projects with more refined canvas mesh sizes.
Your tapestry needle size depends on your canvas mesh size.
Narrow needles are ideal for fine-mesh canvases, while thick needles are best for larger mesh canvases.
Test your needle on a small corner area of your canvas. Ensure that it passes through the holes smoothly without distorting the mesh threads.
Use this guide to know which needle size you need:
#8 to #10 mesh sizes = size 16 needle
#10 to #12 mesh sizes = size 18 needle
#12 to #14 mesh sizes = size 20 needle
#14 to #18 mesh sizes = size 22 needle
#22 to #24 mesh sizes = sizes 24 to 26 needle
Related: 
How to needlepoint a cross stitch pattern?
Many are not aware that it is possible to use cross stitch patterns for needlepoint. But how do you do it and come up with beautiful results? Follow this guide to learn how to needlepoint a cross stitch pattern:
You need to carefully check your cross stitch design if you want to adapt it to needlepoint. Some may demand extra time and patience, but others are easy to adapt to needlepoint. Make sure to check for the following before you start with your project:
What size is the fabric?
How many colors are there?
How many half or quarter stitches are there?
How complex are the color changes in the design?
Cross stitch designs charted on a fabric size like the most common canvas sizes are usually easy to adapt to needlepoint. These sizes are 12-, 14-, and 18-mesh canvas sizes, which have large blocks of color and depend mostly on full stitches.
Remember that your canvas choice is crucial if you do not want your canvas showing through all your stitches. You can choose depending on how complex the design is and how much you are willing to do.
Penelope, or double mesh canvas, is ideal if you adapt a pattern with many half and quarter stitches. It has the same mesh counts as mono needlepoint, but there are two threads instead of one.
You can separate its canvas thread pairs to use them individually, allowing you to create quart and half stitches. You can also cover this canvas type more quickly than the others. It means that there are fewer chances that your canvas will peek through all the stitches.
If you want to make an extra effort, you can also try tinting areas of your canvas with diluted acrylic paint. Blocking out some spots on your canvas will also help you with stitch choice. Your pattern will be much easier to follow.
Neutral-colored canvases are better than white canvases, whether you are using a double-mesh or mono canvas. They are not as glaringly obvious if ever they peek through your stitches.
Consider using half stitches if you are using a complex pattern or decide not to paint your canvas. It will make things easier for you, unlike when you use basketweave stitches. They are in horizontal rows, making them easier than the diagonal rows of basketweave.
But, unfortunately, it will not cover your canvas as well as the basketweave stitch. Still, there is no need to worry because there are ways to fix this problem. Follow these simple tips:
Tint at least the most prominent color areas. Doing so will make it less obvious when your canvas shows through the stitches.
Work on a higher-mesh canvas. Your half stitches will cover much better on a 14- or 18-mesh canvas.
Add an extra ply of fiber to get the best coverage from your stitches.