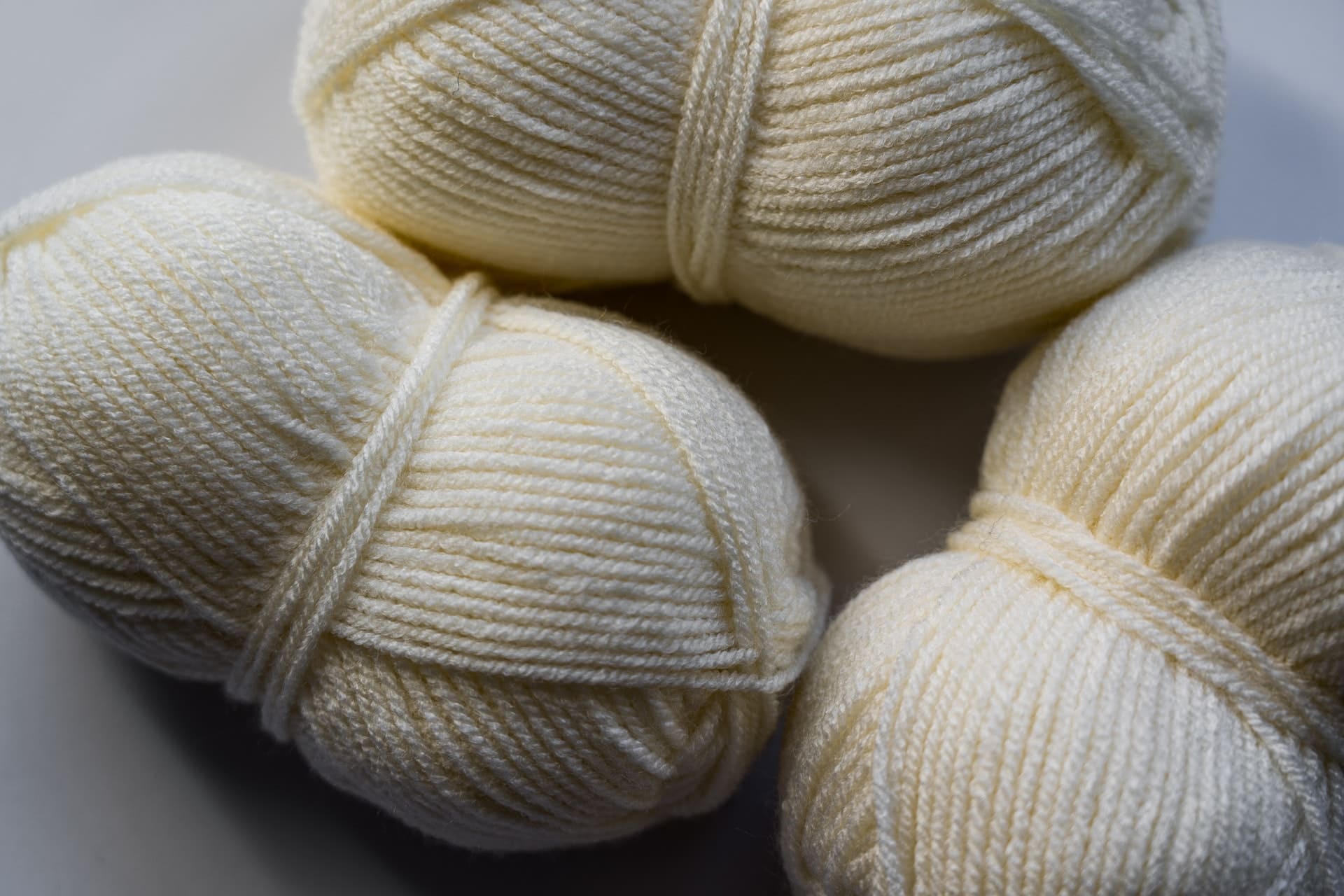 Cotton yarn is one of the most popular fibers used for many crochet projects. It is soft, absorbent and comes in a variety of vibrant colors, and it holds up well with washing and drying. These cotton yarn qualities make it ideal to crochet household items. Some examples are dishcloths, rugs, pillows, potholders, and market bags.
Cotton yarn is an easy choice to crochet baby booties, baby blankets, and clothes. Its softness, bright colors, and washability make it ideal to crochet baby items.
What can you make with cotton yarn in crochet?
As a crafter, you may often read that cotton yarn make the best dishcloths. There is a notion that cotton yarn is only for making dishcloths. Here are a few exciting crochet ideas to keep your hands and hook occupied.
Washcloth

Cotton yarn is washable and durable, making it a perfect material to crochet kitchen items. Crocheting washcloths from cotton yarn is environment-friendly because you can wash them repeatedly.

Hot pad

Cotton yarn is a more appropriate crochet material for hot pads or oven mitts than acrylic yarn. Acrylic yarn can melt due to high heat.

Placemats and coasters

Another essential property of cotton yarn is being inelastic and durable. Crocheted placemats and coasters made of cotton yarn can remain impeccably lovely even with frequent use.

Scarf

You can use a scarf as outfit accents during the warmer months. Scarves crocheted from cotton yarn make great accessories to wear during the summer.

Tank Top and Light Sweaters

Cotton yarn is not made for dishcloths only but also more special crochet pieces as clothing. Crocheted fabrics from cotton yarn may not be as stretchy as those made from other fibers. They are breathable and best to wear during the warmer months. Crocheted tops and light sweaters made of cotton yarn make perfect outfits in summer.

Baby Blanket

Blankets are usually made of acrylic because it is inexpensive and machine washable. Blankets made of cotton yarn are also comparable but may cost you a little more. Crocheting or knitting a baby blanket is a more practical and comfortable decision. Cotton blankets can get heavy when washed.
There are way too many crochet projects that you can do with cotton yarn. Like any other type of yarn or thread, it has its pros and cons when used for crochet. For a beginner at crochet, cotton yarn is one of the best go-to fibers. It is a great option that will make you feel more comfortable with this craft.
Why choose cotton yarn with crochet?
Cotton yarn is a versatile type of yarn that you can use for various kinds of crochet projects. The cotton yarn has different properties that make it appropriate for crocheting kitchen items. They are small useful items that you can give away as gifts or maybe sell online. It would help if you considered these different cotton yarn qualities when shopping for materials.
Cotton yarn is a heavy yarn.

In general, cotton yarn is a heavy yarn. Crochet projects such as winter blankets or big crochet baskets need thick and bulky yarn to achieve the crocheted item's purpose. You must also note that cotton yarn gets heavier when wet. You can use denser types of cotton yarn to crochet pieces that are not washed often. Cotton yarn is a perfect material for an extra thick hot pad to protect your kitchen counters and tables.

Cotton yarn is inelastic.

Cotton yarn does not stretch. This property of cotton has its pros and cons in crochet. The inelasticity of cotton yarn makes it an excellent choice to crochet sturdy and durable projects. Some samples are dishcloths, market bags, crochet baskets, and amigurumi. It is easier to form specific shapes with yarn that does not stretch. Keep in mind that being inelastic, it will not bounce back into its original shape once stretched.

When crocheting wearables like a tank top or a sweater, ensure that the fit is not too tight since the cotton yarn does not stretch.

Cotton yarn is environment-friendly.

Cotton yarn fibers come from plants. If you want to be eco-friendly with your crochet choices, natural fibers such as cotton yarn are good options. But if you want to go all out earth-friendly with your yarn choices, look for organic cotton yarn. Inorganic cotton yarn is usually treated with pesticides, which can destroy the environment.

The cotton yarn gets softer when washed.

Cotton yarn, as compared to wool, is a bit challenging to crochet because it is less stretchy. After finishing a crocheted project, it may feel rough and tough. But after a few washes, cotton yarn crochet also softens up.

The cotton yarn looks best in photographs.

Cotton yarn usually comes in light and vibrant colors. It has a fine texture but not too fancy. Using photos of your crocheted cotton yarn piece can give you the best stitch definition.

Cotton yarn is the best yarn to use if you are making video tutorials. The cotton yarn has bright colors making it easier to see your stitches.

Cotton yarn can have a bit of a sheen.

If you want your crochet piece to be a bit shiny, go for mercerized cotton. Mercerized cotton yarn is treated to make it appear shinier. Mercerized cotton takes dye well and creates a lovely and lustrous fabric. Mercerized and un-mercerized cotton yarn are both great fibers to use for crochet projects. Choose the one that would look best on your crochet piece.

Cotton yarn is better with textured stitches.

Cotton yarn can be inelastic. Using textured stitches lessens the tendency to look stretched. Using post stitches or those that lock around each other helps hold the shape of your crochet. Straight row stitches will typically show a bit of deformation when stretched.

Cotton yarn can be blocked.

Cotton yarn does not bounce back when stretched. But you can still crochet with it and not worry about having deformed finished projects. The answer to the dilemma of inelasticity is blocking. You can use blocking to stretch your crochet piece into its proper shape. Blocking will also help it to hold its shape up.
Is cotton yarn good for scarves?
Cotton yarn is an excellent choice for scarves, although there may be a few downsides. Cotton yarn is not stretchy, so it can be challenging to keep the tension consistent as you crochet. This situation may cause your scarf to get deformed. Cotton scarves may be a bit heavy when washed but can be manageable because of its size.
The advantage of using cotton to crochet your scarf is that it is relatively lightweight and can be worn during warm months. Cotton yarn is also soft, breathable, and is not irritable to the skin when worn.
Can you crochet a blanket with cotton yarn?
Blankets had been made using cotton yarn. But crocheters admit that cotton yarn is a bit hard to crochet because of its inelasticity. It is also hard to keep an even tension, especially when creating a large piece like a blanket. Crocheting an adult blanket can also be impractical since you need to use a lot of yarn to finish one.
Baby blankets are great for crochet projects to make. They are not quite as big and bulky when washed as an adult cotton yarn blanket. And cotton blankets feel softer after many washes, which would be perfect for wrapping a baby. Cotton yarn is also breathable and lightweight and can be used during the spring and summer months. The vibrant colors of cotton yarn are perfect for baby items such as a baby blanket.
What is the best cotton yarn for dishcloths?
Dishcloths are the most popular items made from cotton yarn. There is even such a term as "kitchen cotton," which means the sturdy, absorbent yarn specifically designed for use around the home. It also comes in bright shades of color, adding a pop of color to your kitchen.
When choosing the best cotton yarn for your dishcloths, look for something soft and comfortable on the hands. It must also be sturdy that you can wash it a million times.