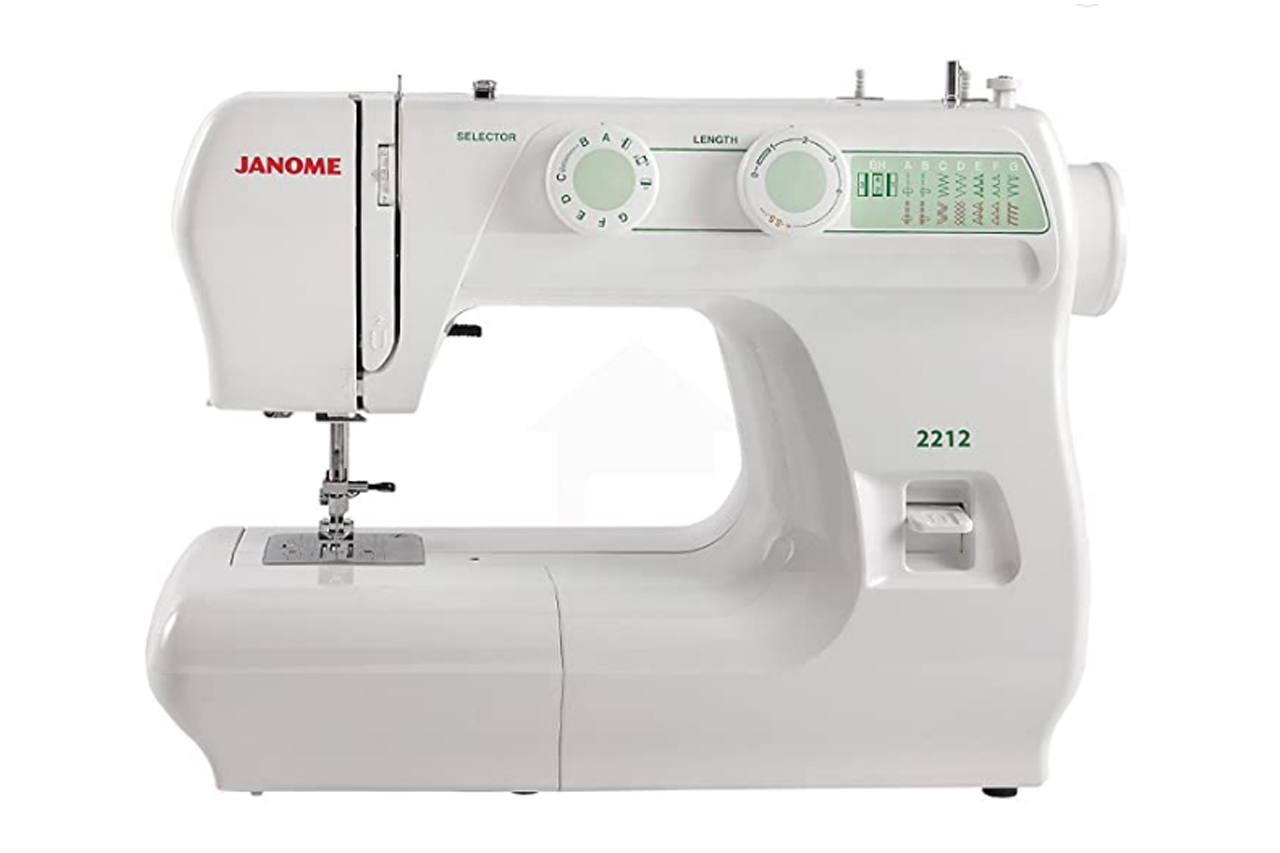 Sewing machines are vital equipment. We use them to create nearly every type of material that exists today, including the clothing you are wearing at this precise moment.
To produce, repair, or even decorate clothing, curtains, bedding, and other items around your home that you can stitch, it would be a good idea to learn how to operate such a machine. But before you develop into a pro, you need a sewing machine such as a Janome sewing machine that can support your novice abilities.
Janome sewing machines are comfortable, high-quality, and user-friendly. I adore how straightforward their equipment is. Janome sewing machines are ideal if you are a novice seamstress and want a high-quality machine that will endure for years because they are so simple to use yet powerful.
Janome is one of the most excellent manufacturers of beginner-friendly products. So, here's a short review of the best Janome sewing machine for beginners to help you choose the one that's right for you.
1. Janome 2212 Sewing Machine
The Janome 2212 is an excellent option if money is tight because it is extremely reasonably priced. It is quite advantageous for you as a novice because it will save you money to purchase a machine that you will primarily use for training.
Despite this, the product is not in poor shape. Due to its simplicity of operation, which again makes it perfect for novices, it is one of the best Janome sewing machines on the market.
For instance, it includes 12 built-in stitches, which are minimal by the standards of a skilled sewer but are sufficient for a beginner. Only the width of the zigzag stitch is adjustable, but these designs are simple to choose from using a turn dial, and their length is also.
A free arm for stitching around pant hems, collars, cuffs, and other difficult-to-reach areas, storage space to keep all the accessories nearby, and a drop feed for free-motion sewing are among the convenience features included in the design of this machine.
The machine's accessories include a bonus kit with ten extra bobbins, size 14 needles, numerous feet, and a screwdriver for maintenance.
Check the prices here: Janome 2212
2. Janome 8077 Computerized Sewing Machine
Some novice sewers are willing to pay more money to purchase a better sewing machine. If this describes you, Janome's 8077 computerized sewing machine offers 30 more built-in stitch patterns as an alternative.
You may add more ornamental stitches, buttonhole stitches, and other stitches. Every stitch type is available in various possibilities, giving you a wide range of materials to experiment with and practice.
Selection is more accessible because there are more patterns to choose from, and selector buttons are available instead of turning dials to display the results on an LCD screen. In addition, you can change the stitch width and length using the same buttons.
The 8077 has three degrees of speed adjustment for sewing: fast, faster, and quickest (indicated by 1, 2, and 3 swift forward arrows, respectively). Because they can start at the slowest and progressively increase it as their skills advance, this feature can significantly help novices.
An automatic bobbin winder, a top-load bobbin with a transparent cover, an automatic needle threader, a free arm, a storage tray, and a start/stop button that takes the place of the foot pedal are just a few of the features that are available for your convenience.
Check the prices here: Janome 8077
3. Janome HD3000 Heavy-Duty Sewing Machine
This machine is a bit pricey, but the Janome HD3000 is heavy-duty with a solid aluminum chassis, unlike the others. The unit's design makes it perfect for beginners who wish to get started by working with challenging materials like leather, denim, or even quilting projects.
The machine includes an extra high presser foot lift that raises the foot to help accept these thick fabrics, allowing the material to flow inside when fed effortlessly. Additionally, a drop feed option is available for quilting or free-motion sewing.
Because it is electronic, it has fewer built-in stitches than the computerized kind, but with its 18 designs, it is not ineligible. You have a few more possibilities with them because you can change the length and width.
Reverse stitching for stitch strengthening, an automatic needle threader to lessen eye strain, a storage tray to keep accessories nearby, and a free arm for sewing around difficult-to-reach areas like trouser hems, cuffs, and collars are just some of the convenience features available.
You receive a hardcover for storage in addition to several feet, bobbins, and needles as accessories.
Check the prices here: Janome HD3000
4. Janome Magnolia 7318 Sewing Machine
Despite being an electronic sewing machine, Janome Magnolia 7318 is rather sophisticated when it comes to sewing with precision. It is so that you may have excellent fabric control because it includes a 7-piece feed dog that makes sure the fabric draws in at a precise speed.
In addition, the machine incorporates a measurement ruler on the working surface that you may use to align the fabric before sewing accurately. By doing so, you can prevent making clumsy stitches that would otherwise detract from the quality of your work as a novice.
The 7318 has 18 stitch patterns, including a buttonhole stitch and several basic, zigzag, and decorative stitches. It is versatile and straightforward to use, with the selection made using a turn dial, and the length and width of these stitches are modifiable using separate dials.
Stitch reversal is available for stitch reinforcing out of convenience, and a free arm is built-in to allow access to trouser hems, cuffs, and other difficult-to-reach places. Additionally, the item has a storage tray for keeping accessories close at hand and a carrying handle for portability.
A top-load jam-proof bobbin mechanism, drop feed dogs, and an extra-high presser foot raise are other features that make this machine ideal for beginners.
Check the prices here: Janome Magnolia 7318
5. Janome MOD-50 Computerized Sewing Machine
This Janome MOD-50 should be your first choice if you want a novice sewing machine with the most stitch patterns available. This Janome sewing machine under 500 has 50 built-in stitches, including various ornamental ones and three 1-step buttonhole stitches.
All designs are on the unit's front panel for quick and easy reference, and you can use the navigation keys to choose according to your needs. These designs have changeable length and width, made using the same nav key buttons, with outcomes displayed on a backlit LCD screen.
This MOD-50 features three settings for sewing speed, including fast, faster, and quickest (indicated by 1, 2, and 3 swift forward arrows, respectively).
Because users can start at the slowest speed and increase it as their sewing abilities progress, I believe this machine can benefit beginners.
The built-in convenience features include an automatic needle threader, a start/stop button to replace the foot pedal, reverse stitching, lock stitching, needle up/down, a top load bobbin, an LED-lit work area, a free arm, a storage tray, and a drop feed.
Check the prices here: Janome MOD-50
Best Janome Sewing Machine for Beginners: How to Choose a Beginner Sewing Machine?
It would be best for beginners to get a sturdy yet simple-to-use sewing machine that can produce a straight stitch of excellent quality. So, it is advisable to avoid devices with an excessive number of settings, knobs, or buttons, which can complicate the user experience.
When looking for a new machine, the features and cost you choose will depend on your total sewing expertise. An experienced sewer or quilter will require a different device than someone just starting. So, it is best to consider these factors:
User-Friendliness
I think the most crucial things to seek in a sewing machine are simplicity and ease of use. Janome sewing machines are intended for quilting with every feature you can imagine and countless numbers of built-in stitches.
However, it is best for beginners to first concentrate on the fundamental functionalities. The funny thing is many machines come with many built-in stitches, and novice sewers can get carried away by this number when buying.
Although most sewers use a few stitches, and 90% of the time, you will use a short straight stitch, that isn't always the case because there are numerous other aspects to consider.
As a novice, you should look for sewing machines with a simple, uncluttered user interface. The device is simple and a fantastic starter if you can pull it out of the box and start stitching straight away.
Sewing machines can be mechanical or electronic/computerized, to put it simply. When using an automated device, there will be a turn dial with labels. With the stroke of a button, you may select your stitch and other characteristics on a computerized machine's LCD screen.
It comes down to personal preference; neither is better or worse. Some people prefer mechanical devices since they experience fewer issues over time because they lack a computer and electronic parts.
Automatic and Practical Features
Though not entirely necessary, automatic functions make sewing more enjoyable and accessible, especially for beginners. I didn't know what to look for when I got my first sewing machine, but fortunately, many Janome machines have many automatic features ideal for beginners.
Here are some automatic features and conveniences you might find helpful:
Automatic needle threader
Variable speed control or speed slider enables you to sew more slowly if necessary by lowering your sewing speed.
Presser foot replacement is quick and straightforward with snap-on models.
Drop-in bobbins and an easy bobbin winder
Affordability
As sewing machines have a wide range of features and specifications, so make their price points. You may spend over $15,000 on a sewing machine or less than $30 on a tiny
device.
You don't start as an expert when you learn to sew, but you may become one over time. When you do, you'll need a machine with sophisticated quilting choices. If you're starting, I believe a budget of about $200 will allow you to purchase all the features you'll need while still leaving room for expansion.
Size and Portability
Because many novice sewers lack a dedicated sewing area or table, size and weight are crucial factors. If you need to put your machine in a cabinet and pull it out when you need it, a lightweight machine is an excellent choice.
Many machines in the 10 to 15 lb bracket and many devices weigh over 25 lbs, which makes a significant difference if you constantly move your equipment or take it out and put it away. Additionally, you need a lightweight and portable machine if you plan to take sewing classes.
Janome produces a trolley, three types of totes, and a hardcover carrying bag. These are all excellent choices for safeguarding your money. A traveling cover is also essential since it protects your Janome sewing machine and makes it portable with a handle.
Stitch Number
A machine's stitch number is another crucial thing to consider, and the more stitch patterns a machine has, the better. Even though computerized machines have the most stitch patterns already built-in, not all of them have the same amount. It is crucial to think about which one has more as a result.
However, the likelihood of the goods becoming more expensive is always best to consider your demands. It wouldn't be prudent to spend much money on multiple stitches if you require the fundamental stitch patterns.
Stitching Pace
Since it is best for novices, the sewing machine should operate at a leisurely speed to prevent user error because rapid fabric feeding could throw the user off balance.
The most excellent option would be to get a machine with programmable speed settings so that the user could advance alongside the device. It would be best if you began sewing slowly and then progressively increased the speed as your skill improved.
Accessories
Since you receive things that would otherwise cost more money, accessories are always a benefit.
The most frequent accessories in this situation are extra needles, bobbins, sewing feet, screwdrivers, etc. Make sure the Janome sewing machine you purchase has these extras, if feasible, even more.