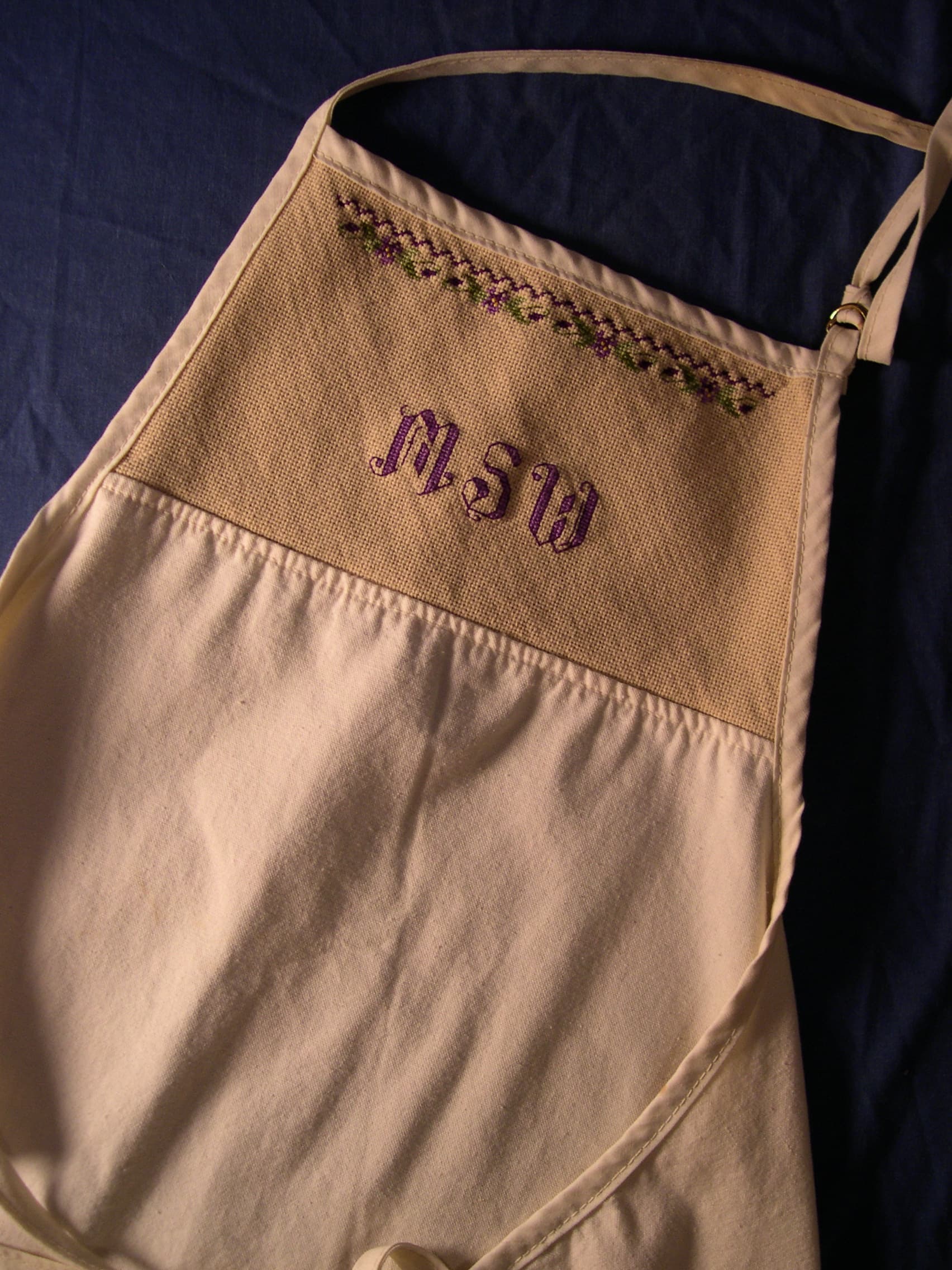 Embroidery and monogramming are two decorative techniques. At a glance, they may look the same, but each has its unique process.
Understanding the difference between these two is important. It will help determine which techniques and machines are right for your project. To understand these techniques better, here are some points to consider.
Embroidery is for decorating fabrics and other materials using threads. You can do this process either by hand or by a machine. The designs are limitless, from a small figure to large intricate designs.
A monogram combines two or more initials, numbers, or symbols. Monogramming is used for making company logos or a person's initials over the fabric.
You can only make limited patterns in monograms. Meanwhile, embroidery allows you to make large ones.
Embroidery is more versatile when it comes to fabric decoration. Monograms only allow you to embroider letters and symbols.
You can embroider monograms but you cannot monogram embroideries.
These key points will help you determine the best embroidery machine for monogramming. You may want to choose a machine that has several functions so you can do both techniques with ease.
When choosing the best embroidery kit for monogramming, consider the following guidelines.
Know the extent of your projectsIf you are going to buy a machine, determine if it is for personal use only or business. If it is for personal monogramming projects, do not want to spend so much on a high-end machine. But, if you plan to use it for business then get a machine with several functions.
Choose a machine with digitizing featuresWhether for monograms only or various embroidery projects, the digitizing feature is essential. This will help you make or customize designs. See to it that the machine has a variety of monogram fonts to choose from.
Get a machine with an easy-to-use interfaceMost embroidery machines these days have modern features. This is why you need to choose one that is easy to operate.
Choose the right hoop sizeMonograms need small hoop sizes because they have small designs. But, if you plan to make embroidery projects, you may need bigger hoop sizes. To get the best value for your money, choose a machine with a bigger hoop size.
Consider buying from a reputable companyWhen you buy your embroidery machine, choose a reputable brand. Also, consider the warranty and customer service they provide.
These guidelines will help you decide which embroidery kit is best for you. So, before you go and shop for your embroidery kit, list a few brands, and know their features. This will help you assess which machine fits your monogramming and embroidery needs.
How Do You Embroider A Monogram?
Monograms are letters or initials of a person. It can also be a logo of a company or organization. Monograms are embroidery works that represent a person's or organization's ownership.
You can do monogramming by hand or by an embroidery machine. Here are the steps to make a monogram on both processes.
Monogramming by Hand
First, you need to choose the monogram design that you want. Sketch that design on a bond or tracing paper. Make sure that the size of your sketch should be the same as your desired monogram.You can combine different fonts to ensure that your design flows well.
Determine where to put the monogram. You can mark the spot using a tailor's chalk. To ensure that the monogram is symmetrical, make a horizontal line on the fabric. This will be the bottom point of all your letters.
When you embroider, you will need enough space to attach your embroidery hoop. Make sure you allow at least two inches (6.4 cm.) of fabric around the edge of your design.
Transfer your monogram design on the fabric. Put a piece of carbon paper under your sketched monogram. Put both papers onto the fabric, then use a pencil to trace over the lines of the design.When you finish tracing, remove the carbon paper and the sketched paper.
Next, attach your embroidery hoop on the fabric and start embroidering the letters. Make sure that your threads have coordinating colors.
Use a backstitch or split stitch to embroider the outlines of the letters. Then, fill the letters using the satin stitch. Once done, trim the excess threads.
Monogramming by Machine
First, you need to set up your embroidery machine. Plugin the machine and program your machine. Put it on a setting according to the size and shape of your desired monogram.
Decide where to put your monogram. Using a tailor's chalk, mark the center of the fabric where you want to put the monogram. You can make a vertical line and a horizontal line on this spot to ensure that your monogram is in the center.
You will need enough space for the machine's embroidery hoop. Make sure you leave a few inches of fabric around the edge of your design.
Then, place the machine's embroidery hoop on your fabric. See to it that the center lines on your fabric are in line with the center marks on the machine's hoop.
Before you start the process, put a piece of stabilizer under the fabric inside the hoop. The stabilizer should be a bit bigger than the hoop. This is to make sure it covers the entire underside of your fabric.
Set the hoop in place and start your machine. Once your machine's embroidery hoop is in place, you can start the embroidery program. Watch the machine do all the embroidery works.
Once the monogram is complete, detach the hoop and take your fabric out. Trim the excess thread and stabilizer from the back of your fabric.
What Fabric Is Best For Embroidery?
There are five basic fabrics that you can use for embroidery. They differ in thread counts and types of fibers. The fabric that you will use depends on the kind of embroidery works and techniques that you will use.
Here are the common embroidery fabrics that you can use.
Evenweave Fabrics

This type of fabric has tight and even weaves. This is ideal for surface embroidery, counted, pulled, and drawn thread techniques.The evenweave fabric can be pure cotton, rayon, linen, and polyester blends. Some can be from hemp or bamboo.

This fabric is available in different colors, and the thread counts. You can buy thread counts from the fine 32-count linen to a rustic 18-count.

Aida cloth

This fabric is popular among cross-stitchers because of its easy-to-count square pattern. This is best for Assisi embroidery, counted thread, or surface embroidery techniques.Aida fabric can be 100 percent cotton, linen, or rayon. It has thread count ranging from 11-count to 22-count.

Hardanger fabric

This fabric is 100 percent cotton with 22-count evenweave fabric. It is best for Hardanger embroidery, cut-work, counted thread, and black-work techniques.

Toweling

This fabric is best for retro and contemporary embroidery projects. You can buy them ready-made fabrics. Most toweling fabrics are available by-the-yard.

Ready-Made Items

Different ready-made items are perfect for surface embroidery techniques. Your bed sheets, blankets, and pillowcases are some examples of these ready-made items.Your table runners, napkins, and placemats are also great for embroidery embellishment.
Where Does The Monogram Go On A Towel?
When you want to put a monogram on your towel, consider its proper placement. The bottom part of the monogram must be 4 inches (10 cm.) above the hem. Another option is to place it 1 to 2 inches (2.54 to 5.08 cm.) above the border.
Your monogram must be at least 4 inches (10 cm.) tall.
Here are some tips to consider when you embroider monograms your towels.
Always use 2 layers of quality tear away backing or stabilizer. Do not use the wash away type. It does not look good after several washes. The edges tear rough and do not give a clean edge.
If you are going to put your monogram on terry cloth, use a heavy zigzag underlay stitching. This holds down the terry loops and creates a good foundation for your top stitches.
When your monogram is complete, use a medium weight water-soluble topping. This will give your work a clean finish.
Put your towels into the embroidery machine in an upside-down position. This will prevent the towel to bunch up at the back of the machine head.
Let the towel rest on your machine table to hold the weight of the towel. This will prevent pulling at the hoop as the machine embroiders.
See to it that your machine table is clean and free from dust or moisture.
When you embroider your towel upside down, make sure that you rotate your design 180 degrees.
Once the monogram is complete, remove the backing and the topping. Use a steam iron to finish off the process.
Does Monogram Go On Right Or Left?
Monograms are initials or logos. Unlike other embroidery designs, they are not pure embellishments to the fabric. There are proper placements of your monograms depending on your garment or project.
These are the accepted monogram placements.
The monograms for these garments must not be more than ¼ to 1 inch in height. It should be between 7 to 9 inches below the left shoulder seam. You may also place it 4 to 6 inches down the neck seam.
If your shirt has a left chest pocket, place the monogram over the pocket area. Another placement is on top of the actual pocket fabric.
Monograms on these garments must be 7 to 9 inches below the left shoulder seam. They must be around 3 to 5 inches from the vertical center. These monograms must be no more than 2 inches in height.
Monograms must be on top of your wrist as you are wearing it. The bottom edge of the monogram is about 1/4 to ½ inch (0.64 to 1.27 cm.) above the edge of the shirt.
You get the measurement of your placement from the center of the cuff 1 to 1 ⅜ inch (2.54 to 3.5 cm.) toward its buttonhole.
Monograms in pillowcases are always in the center. The size of the monograms can be bigger, depending on the size of the case. Some pillowcases have 12 inches (30.5 cm.) monograms. It all boils down to proportion and balance.
Monograms on robes must be 4 to 6 inches (10.2 to 15.2 cm.) down from either left or the right shoulder seam. These can be up to 4 inches in height. You may have less than 4 inches (10.2 cm.) if you want because monograms on robes are more versatile.
Monograms on blankets must be at the bottom right or left corner. There must be 1 inch spacing on both sides. Monograms can also be at the center with 3 to 4 inches (7.6 to 10.21 cm.) space above the bottom edge.
You can also put these monograms at an angle from the center point.
Can You Take Monogram Off?
You can remove monograms as any other embroidery works. You need to be careful though to avoid damaging the garment or fabric.
Here are simple steps to remove monograms.
Prepare these materials.
Seam ripper
Scissors
Magnifying lens
Lint roller
Tweezers
Work on the inside or reverse side of the fabric.
Pull the shirt inside out. Put the monogrammed part on the palm of your inactive hand. Use a magnifying lens to look at the stitches.
Keep in mind that machine monograms have bobbin threads and stabilizers under. See to it that you first cut the bobbin threads bit by bit.
Insert the seam ripper under the threads. Then using light pressure, cut the stitches. You need to cut between 30 to 40 stitches at a time.
For the stabilizer, cut the stitches around it. Once you remove the stitches, you can take out the entire stabilizer.
Once you have cut all the stitches, use tweezers to pull out the threads. Observe the tension of the threads when you pull. If it has resistance, then the thread is not cut all the way through.If this happens, get the seam ripper and cut that thread.
Remove all the cut thread, then clean the spot using a lint roller.
Monograms may look simple because they only have letters and symbols. But these small embroidery works are more than mere initials. Companies spend huge amounts to create unique monograms.
From company uniforms to hotel robes down to wedding favors, monograms are inevitable. You cannot underestimate monograms because they have meanings and value. Monograms help establish companies' identity and brand to their market.
Newlyweds use them to add a personal touch to their wedding favors. Other people use them to show ownership. Monograms are everywhere because they represent a brand, identity, and proprietorship.