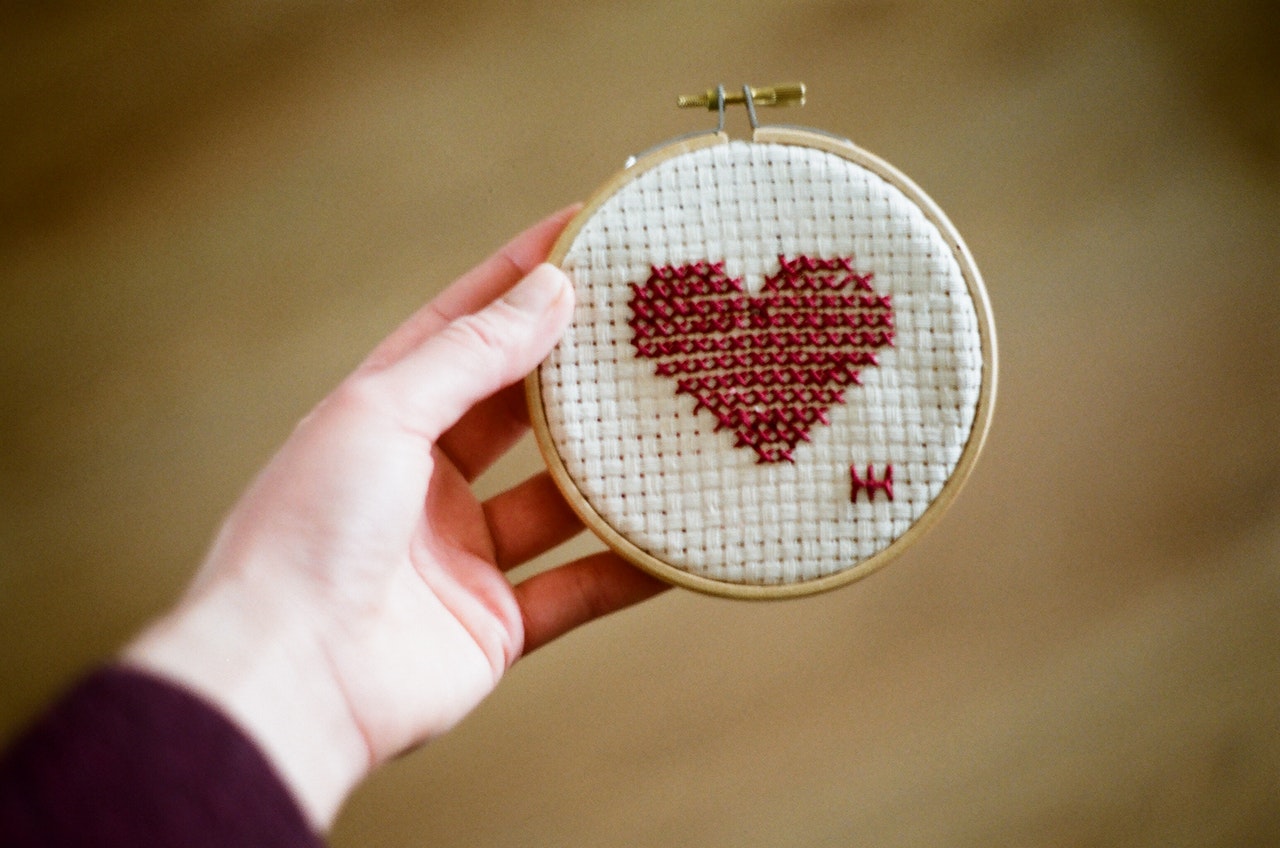 As a crafter, you would want to use and enjoy your masterpieces for the longest time possible. When you give away some of your cross stitch pieces as gifts to your friends and family, you want them to be relished as long as they can be. Cross stitchers have different ways of finishing and preserving their works of art. There are other ways than framing and displaying cross stitch  on walls. Another way you can enjoy your needle art is to laminate them. Here's how.
Can cross stitch be laminated?
Some cross stitchers finished cross stitch pieces by laminating them to make them durable and long-lasting. Laminating is one way of protecting and appreciating your finished cross stitch work. It is an uncommon method to preserve your needle art than framing and displaying it on the wall. Cross stitchers have used this method effectively but mostly on small cross stitch projects like bookmarks or cards.
There are different ways that you can laminate things. You usually laminate paper, cardstock, or even fabrics. But there must be some way to laminate a piece of fabric with stitches on it, like a cross stitch. We know that a cross stitch piece is most likely thicker than the common materials which are laminated.
You may find it strange to laminate your old cross stitch project, but you may also find many advantages of doing so. Here are some of the benefits you can get by laminating your cross stitch.
Your cross stitch work is protected and stays in better shape.
It makes your work durable and long-lasting.
Your cross stitch piece will look new for quite some time.
You can wipe your cross stitch clean. There is no need to laundry your cross stitch as the threads may bleed color. Laminating can make your cross stitch water and dustproof, also stain and scratch-resistant.
Laminating is a fast method of finishing your cross stitch and, at the same time, very cost-effective.
Materials for laminating vary based on what you are laminating. You have to consider the thickness of your cross stitch piece. Here are some of the best suggestions on how to laminate your cross stitch work.
You may have thought of laminating your cross stitch piece because you want to protect and preserve it as long as you can. But another reason may be because you have a laminator sitting around at home.
Your laminator may be useful in making learning materials for school, but there are a whole lot of things you can use it for. Laminate fabrics, even your cross stitch work.
Before inserting your cross stitch in the laminator, make sure to read the manual first. See if it can handle the thickness of your cross stitch item. Note that you will insert a fabric with stitches on it, so the thickness is not the same as the usual items that you laminate, like paper. Some laminators have heat or thickness settings on the machine that you can adjust.
Once you have confirmed the allowable thickness, you may try laminating a small Aida fabric with some cross stitches on it to see if it will work. A friendly tip; use the thinnest possible fabric you can cross stitch into so it can easily go through the laminator. Also, make sure to leave at least a half inch border of laminating sheet around your cross stitch work to make sure that it will be properly laminated.
If you do not have a laminator at home and it is not in the budget to buy one, you can laminate small cross stitch items using clear packing tape.
A clear packing tape is a nice option to laminate narrow cross stitch pieces like bookmarks. You can easily seal your cross stitch work with packing tape. Just make sure that it is narrower than the width of your packing tape. Place your finished cross stitch piece on top of a strip of rolled-out tape (on the sticky side). Then, carefully fold more tape on the cross-stitched item and press down to remove air bubbles. Finally, cut the extra portions of tape that you do not want to be part of your laminated work.
Clear packing tape is easy to find and most probably available in most homes. It can provide the protection that you need for small cross-stitch items that you make, such as bookmarks, cards, labels, or decors. It may be hard to position your cross stitch item initially, but with lots of practice, you will be able to do it seamlessly.
Use self-sealing pouches.
No worries if you do not have a laminator because there are still other options to protect your finished cross stitch work. There are so-called self-sealing pouches or self-adhesive laminating sheets. You can laminate your cross stitch pieces without using any heat. When using self-adhesive laminating sheets, you have to be careful and take your time in placing your cross stitch work on the sheet. After making sure it is properly aligned, you can press the top part over the cross stitch piece.
If you have no access to a laminator, this is the nearest to the quality a laminator produces. Some companies produce different sizes of self-sealing pouches, from as small as business cards to A4 size. The best thing about these self-sealing pouches is that they don't need heat or any machine to laminate your cross stitch items.
Use thermal laminating sheets.
You can also laminate your cross stitch work simply with a flat iron, some thermal laminating sheets, and a thin towel. Start by setting your iron to medium heat. Place your finished cross stitch piece inside the thermal laminating sheets. Then cover the top of the thermal laminating sheet with a thin towel and drag the iron over the surface. You may need to drag your iron over the towel a few times to make sure that the corners are heated evenly.
Among the DIY laminating methods, thermal laminating sheets may be the cheapest and best option. It produces a clean and smooth finish on your cross stitch work.
What can I use instead of laminating?
Although laminating is a great option to protect your cross stitch pieces, it may not be suitable for some of the projects you make.
If you are making small and narrow cross stitch pieces, you can slip them into ready-to-use bookmark pouches. These are usually available in craft stores both online or in actual shops. These bookmark pouches are also made of transparent plastic which is thicker than laminating sheets. They serve the same purpose as laminating.
You can also mount your cross stitch piece using cardboard or felt backing. You can use the right amount of glue to attach your cross stitch piece on the cardboard or felt to prevent overflowing to the design. If you are not comfortable using glue, you can sew around the edges of your cross stitch piece using simple stitches like blanket stitch. Attaching to cardboard will maintain its shape but will not be protected from stains or dirt.
What are possible products for laminated cross stitch pieces?
At present, you can only find small laminated cross stitch items made. Now that you know various ways of laminating a cross stitch piece, you may want to try making these few useful cross stitch projects.
Coasters

Coasters are small and easy to make. You can make square coasters with cross stitch designs of your choice. Laminated cross stitch coasters are convenient because you can wipe them off after use.

Placemats

If you can make cross stitch coasters, you can pair them off with cross stitched placemats. Placemats can be big, but you can find laminating sheets large enough to make them. A nice thing about making cross stitch placemats is that you can personalize the designs.

Bookmarks

Bookmarks are the usual cross stitch pieces that are laminated. Cross stitch bookmarks are the ideal size to be laminated and have the most probable earning potential. They also make great gifts and giveaways to friends and family.

Decors

If you are fond of cross stitching quotes and catchphrases, you can laminate them and display them as room decors or bag tags. It would be wise to laminate these cross stitch pieces to prevent them from getting wet, stained, or scratched.

More pages: 
How do you make a cross stitch bookmark?
A bookmark is the easiest and the quickest cross stitch project to make. It is the perfect item for newbie cross stitchers to make.
A cross stitch bookmark is a nice gift that you can give to your friends and family. It is easy and fast to do that you can make one in a few easy steps.
Look for a resized cross stitch design or pattern that would fit on a bookmark size Aida fabric. A good recommendation for a thin fabric is 28-counts even-weave linen fabric. You can stitch any theme you like or a design that is meaningful to someone you are giving the bookmark to.
Measure the fabric according to how narrow you want your bookmark to be using a pencil. Then, use a sharp pair of fabric scissors to cut the edges neatly.
You can choose to leave your cross stitch bookmark as it is, but there are better ways to finish it. You can place a piece of felt at the back of the bookmark to make it stiffer and hide the stitches at the back.
To secure the edges from fraying, you can do equally-spaced blanket stitches using three strands of embroidery floss. Choose a floss color that complements the color of your cross stitch design.Another great option to secure and finish your cross stitch bookmark is to laminate it.
Now you can give it as a gift to your friends and family as a surprise with a greeting card or inside a book you are giving away.