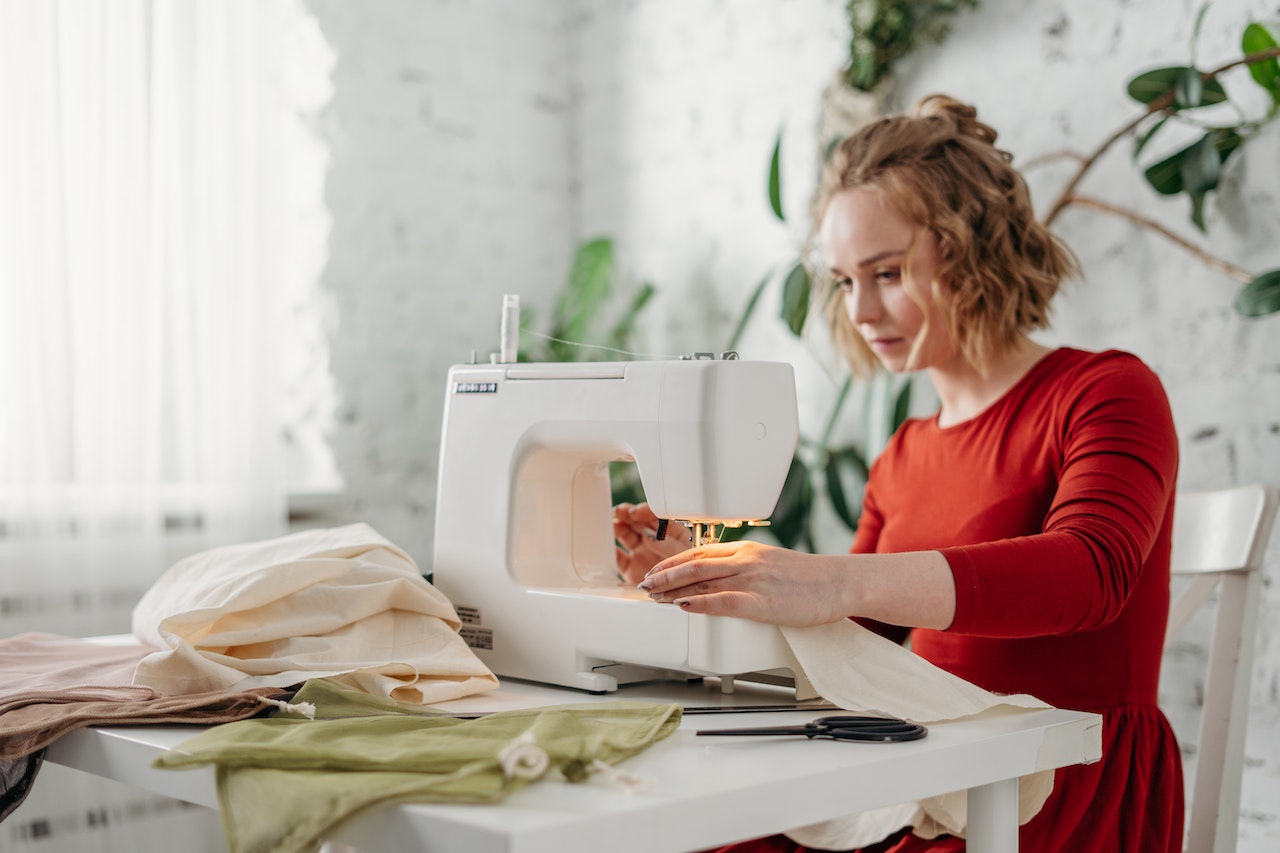 If you are a sewing enthusiast, you will agree that sewing is a gratifying hobby. Sewing skills will allow you to create various projects, from purses to dresses, home decor, and much more. Different fabric crafting hobbies like quilting and embroidery are rooted in sewing.
But, like any other hobby, you need the right tools and materials to create beautiful projects. Below is the list of sewing essentials, from the most basic to the modern tools you will need for this craft.
#1 Sewing Toolbox
Sounds ridiculous? It would help if you organized your needles and other sewing trinkets. Those little things are vital to your crafting days. A sewing box is your handy organizer for small items you use for sewing.
Imagine losing your needle threader. Or do you need straight pins straightaway for securing the seams? You can avoid these simple troubles if you have a trusty sewing box.
The sewing toolbox is often not recognized, and crafters only see what is inside the box. They only notice its value when they lose a needle or buttons for their projects.
You will find a lot of gorgeous sewing boxes on the market. Some have this easy-to-carry handle so that you can bring it anytime and anywhere. Now that you know your sewing toolbox's importance, keep them clean and organized.
#2 Tape Measure
SEWING Rules! It would be best to have a sturdy ruler and reliable tape measure to have accurate measurements. You can avoid creating a misaligned quilt or super tight dress. That is why good quality measuring tools are vital for sewing.
A measuring tape is a tried and tested tool for any sewist to achieve the right proportions for any sewing project, be it a simple pillowcase to an intricate lace gown.
#3 Clear-Gridded Ruler
Another essential measuring tool these days is a clear-gridded ruler. This tool is transparent, so you can easily see the fabric you are cutting below.
The clear ruler can help with lining up the edges easier. You can also hold the fabric down with the clear-gridded ruler since it is wider than the average yardstick or ruler and offers extra precision.
#4 Seam Ripper
Mistakes happen. The same applies to the sewing process. If you are a newbie, you will likely encounter project errors. Even seasoned sewists discover occasional mistakes, too.
The good thing about using a seam ripper is that you don't damage your fabric. A pair of scissors can tear or scratch the material, while a seam ripper allows you to remove the wrong stitches you made quickly. Don't fret because the seam ripper is here to the rescue.
The seam ripper must always be accessible when you sew. Mistakes can happen whether you are a starter or a pro, so always keep a seam ripper handy when you sew.
#5 Rotary Cutter
When all shears fail, use the cutter! Although shears are best for cutting fabrics, a rotary cutter works wonderfully. This rotary cutter allows you to cut long straight lines on your fabric easily.
With a rotary cutter, you can cut thick fabrics, which can be pretty challenging for ordinary shears. A rotary cutter also leaves clean edges on your fabric. Get crisp and no-fray material ends if you keep the blade chiseled and sharp.
#6 Cutting Mat
Cutting mats are essential tools for quilters, so you must have one. Sturdy and self-healing cutting mats are great when paired with the rotary cutter. The sturdy surface is excellent to operate with your rotary cutter. The pair is an excellent time-saver because you can cut multiple layers of fabric simultaneously.
Cutting mats have calibrations to help you check if your fabric is level or straight. The cutting mat can also assist you in creating straight and even cuts on your material.
#7 Threads
Sewing cannot happen without threads. Threads are inevitable to people who are into sewing and crafting. It will help if you have lots of them. Choose sturdy and colorfast threads to ensure that your stitches will not split that easily and bleed color.
Using colorfast threads is necessary to prevent the colors from bleeding. There are many quality brands– Brother, Anchor, and DMC, to name a few.
#8 Needle Threader
If you have shaky hands, this sewing essential is for you. You will always need to know the old way of sewing, which is sewing by hand. Threading a needle can be difficult for those with shaky hands. If you are guilty of this, this needle threader is a lifesaver.
#9 Bobbins
You will never realize the need for bobbins unless you come to the time when you cannot find at least one bobbin around. Sewing machines usually come with a few bobbins, but a few may not be enough, especially when you have colorful projects that need separate bobbins per thread color.
#10 Straight Pins and Safety Pins
As a sewing enthusiast, you know how valuable these pins are. These little wands work like magic. Pins help you hold the folds of your fabrics and keep materials in place as you stitch them by hand or a machine.
Straight and safety pins are inexpensive, so that you can have loads of them. It will be best to have them always within reach while you sew.
#11 Seam Gauge
A seam gauge is an essential tool that can help you measure hems and seam allowances more precisely and efficiently. The seam gauge has a handy point at one end that can help you when sewing around corners. Consider it an excellent tool that can help you place buttons and buttonholes.
#12 Scissors
A pair of scissors is undoubtedly one of the most vital sewing supplies. A pair of scissors is suitable for cutting straight lines, curves, notches, and extra threads on your fabrics. You might have a rotary cutter for cutting straight lines, but you will still need a regular pair of scissors for cutting many other things.
You can also find other types of scissors which can help you with other sewing tasks, such as the following:
Pinking Shears
These scissors are perfect for cutting a zigzag pattern on the edge of your fabric to prevent your material from unraveling or fraying. It is best to use on woven fabrics.
Detail Scissors
Detail scissors are usually small, sharp scissors that should be a part of your sewing kit. You can use it to cut the tiny details and trim the extra threads.
#13 Pincushions
Since you will need tons of pins, it will be good to have a pincushion. This spongy tool can keep all your straight pins in perfect shape. You will never lose a pin with a trusty pincushion.
This tiny soft cushion can help you organize your pins in a safe space in your sewing box. Say goodbye to occasional pricks with the cute pincushion.
#14 Emery Bags
An emery bag may look like a pincushion, but it is not. This unique tool is excellent for sharpening needles and pins. An emery bag is a little pouch with sharpening goodies inside. Stick your rusty pins and needles on the emery bag; they appear sharp and pointed like new.
Most sewing enthusiasts are not familiar with this emery bag. You can grab one for yourself now that you already know what it is for.
#15 Fabric Comb
It can be frustrating when your wool projects have messy and tangled fibers. You may remove them with scissors, but that can cause damage to fabrics. This fabric comb is a practical gadget if you work on materials with lots of loose fibers like wool.
Wool will always have fibers sticking out; know that you can keep the fibers neat and in place with a fabric comb.
#16 Button, Zipper, and Hooks
Buttons, zippers, and hooks help attach things when sewing. These little peripherals are almost always present when you sew.
Most sewing projects need a button, a hook, a zipper, or a combination of these attachments. You must always have them in your sewing kit.
#17 French Curve and Hip Curve
Curves make things look beautiful. French and hip curves help create smooth, curved lines on your design. You will need curvy tools if your sewing patterns require curves on your dresses, tops, and trousers.
These tools are essential when sewing the crotch area of the trousers pattern or the armholes on your shirt pattern.
#18 Marking Tools
This group of tools plays a vital role in sewing. You can use various materials to mark the specific measurements on your fabrics.
You will always need marking tools whenever you need to get the size of your subjects and record the measurements on paper or fabric.
Tailors' Chalk
Tailor's chalks are washable markers and non-toxic, so you need not worry about messing up your fabrics. They have vivid colors to show the lines of your pattern on the material. Tailors' chalks are especially helpful if your fabrics have many designs and patterns. Every sewist needs these colorful tailor's chalks.
Fabric Marking Pens
There is a wide variety of marking pens available in the market that you can use for fabrics. You can find ones that can write smooth, clear lines that you cannot easily wipe away.
#19 Beeswax or Paraffin
Beeswax or paraffin make your threads waterproof and neat. Using these waxes, you can keep your threads from having annoying tangles and knots.
Run your thread over any of these waxes that seal in the fibers of your thread, and you will never have problems getting them tangled.
#20 Textile Adhesive, Baste Spray, and Masking Tape
In sewing, you need to make fabrics adhere for easier stitching. These various types of materials are essential in these instances. Textile adhesives and masking tape are standard tools for finishing some common sewing projects.
You use these materials to attach fabric to fabric or secure seam folds. Meanwhile, baste a spray is a standard tool for quilting. These simple tools make sewing a little easier to do.
#21 Iron and Ironing Board
It would be best if you could iron your fabrics before sewing. It is vital to press your materials because they typically come in rolls and folds when you buy them at textile stores.
The iron and ironing board are essential to straighten your materials before sewing them. You may not consider this combo a sewing must-have, but they are.
Pressing your fabrics also helps in making accurate measurements and cuts. Ironing out the folds and creases before starting your sewing would be best.
#22 Thimble
A thimble is a valuable tool usually worn on the middle finger of your dominant hand for sewing. It helps to push the needle through the fabric. You may not use the thimble frequently, but you will be glad to have it in your sewing kit when needed.
#23 Point Turner
You can turn perfectly at every point using the point-turner. A point turner is a good tool for point turning, detail work, pressing seams, or marking fabric.
#24 Bodkins
Bodkins may be unfamiliar to many, but it can be considered sewing essential. It is a tool that can help you turn a fabric tube inside out and pull elastic or string through a casing. A classic example of using a bodkin is making drawstring shorts or bags.
#25 Fray Check
A fray check is an ideal solution to keep the stitches, cords, and ribbons from fraying and unraveling. The liquid seam sealant stops moving threads when applied to the fabric.
#26 Needles and Sewing Machine
Need we say more? Without needles, there will be no sewing.
Needles allow you to stitch fabrics, embroider, quilt, and more.
Besides, needles are sewing's best friend. Have a few sets of needles when you want to go full-on with your sewing. It would be wise to buy several needle sizes to suit every sewing need of your fabric sewing project.
If you want success in sewing, you need a reliable machine that will make sewing more convenient and faster. Sewing with a machine allows you to finish your projects more quickly than sewing by hand.
Any sewing machine is better than none, but if you can have one with more features, the better.
A walking foot is an excellent attachment that you must have for your sewing machine. It is a vital part, especially when you are making a quilt or a coverlet.
Now that you know the 26 essential items a sewing enthusiast must have, you will feel more confident with your sewing. Most of the things are common in the household, while some are new to the ears but are pretty essential to a budding sewist and an experienced one.
Have these 26 items as your standard sewing tools handy, and you will never go wrong.