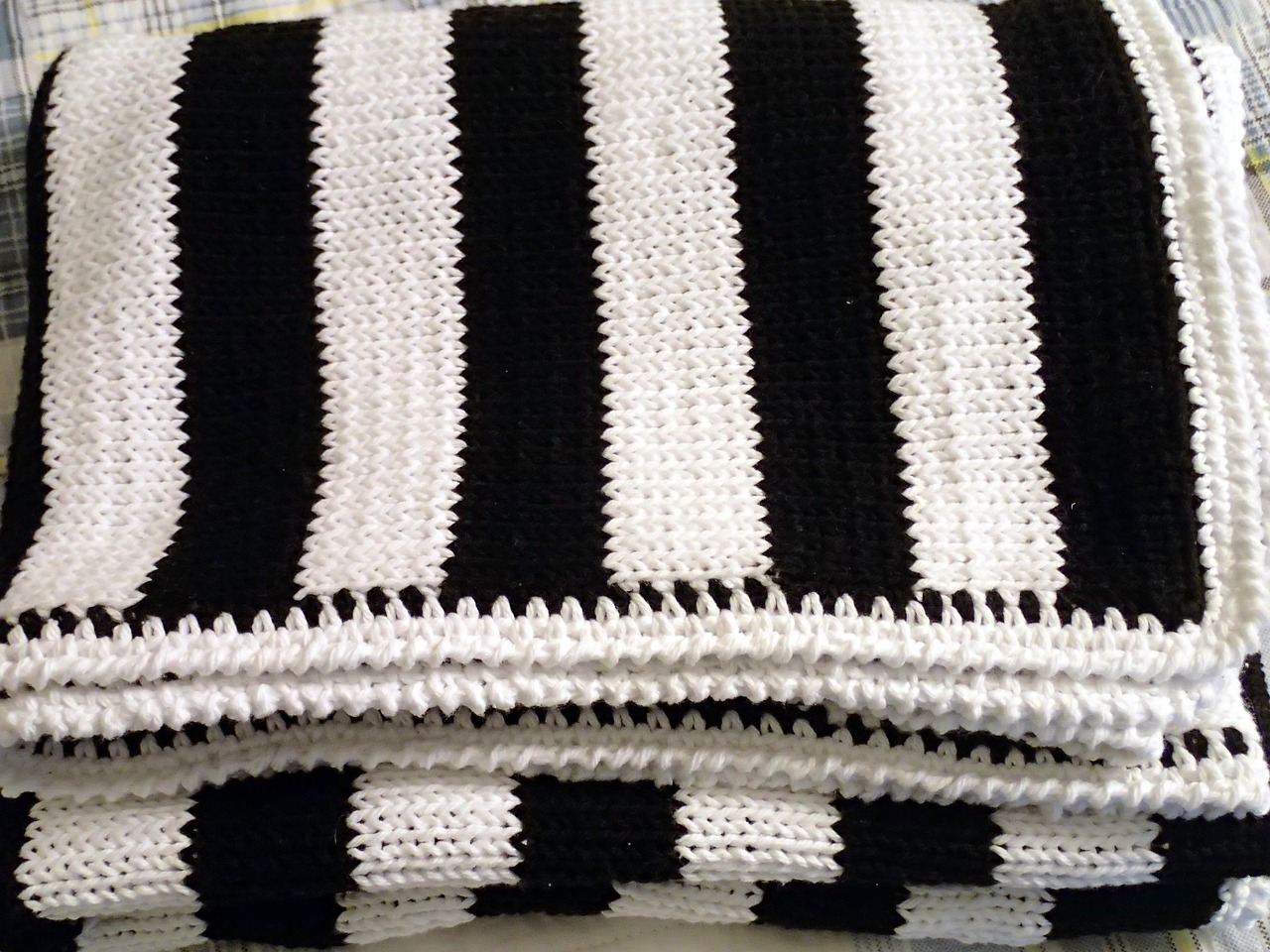 Although it is gratifying, hand knitting can take time. If you are busy, you only have limited time every day to work on your project. Knitting machines can solve this problem, especially for working on large pieces! And yes, knitting machines can also make blankets!
Do not worry if you feel intimated by a knitting machine's complex looks. Knitting machines are manageable if you take the time to choose the suitable machine for your needs. They are excellent devices, and many knitters swear by them, so there is no need to be too afraid to try them!
Hand knitting and machine knitting have their differences. So, it is best to familiarize yourself with the pros and cons before investing in one. But first, I will share some of the projects you can make and how to make them.
How to make a blanket with a knitting machine?
Knitting machines are perfect tools to make patchwork blankets because they make the process faster. You can knit panels and stitch them together to make knitted blankets with arms as small or as large as you like. Follow this guide to know how to make a blanket with a knitting machine:
The materials you need:
Any flat-bed knitting machine
Yarns
Cast-on comb
1×1 needle pusher
Knitting machine claw weight
Crochet hook, tapestry needle, or sewing machine
Ravel chord
*Tension swatch = 27.03 stitches and 45.45 rows = 10cm square
*14.80cm in width = 40 stitches and 13.20cm in rows = 60 rows
What you need to do:
Determine the number of squares to knit. To do this step, you will divide your bed's length by the size of the square. Do not forget to do the same method for the width.
Push 55 needles on the left to 55 needles on the right to the working position. Next, push every alternate needle using your 1×1 needle pusher to a non-working position.
Set the carriage to knit Stockinette stitch. Note that your tension should be at '3' by this point. Then, stitch dial on 7. Knit one row using the waste yarn and hang your cast-on comb. Knit a few more rows and end with the carriage on the left.
Knit 1 row from left to right using your ravel chord.
Set row counter to 000. Then, knit four rows with stitch dial on 7. It is also best to pick loops for a mock rib. This mock rib will form a tiny edge for your blanket after you remove the ravel cord.
Set row counter to 000. Then, knit 184 rows. After doing so, you will change the yarn feeder to another color of your choice. Next, knit another 184 rows using this thread color.
Continue knitting 184 rows of each color that you want. Do this step until you complete the panel with 1104 rows in total. Then, knit four more rows as the row counter shows 1108 before casting off.
Stitch the panels together using your sewing machine or tapestry needle and yarn.Make sure to steam or knit the edges to prevent them from curling.
How to machine knit a sweater?
Besides blankets, you can also use knitting machines to do more projects like sweaters. Sometimes, it is best to use basic geometric shapes as your guides! Follow this guide if you want to learn how to machine knit a sweater using square-style knitting:
1. Make a swatch, block it, then calculate your final stitches and rows.
Like in other knitting projects, it is best to make a swatch first. Ensure that your fabric is big enough for your project for more accurate calculation.
You can also steam-block your swatch or wash it with detergent before laying it flat to dry. Once it is dry, you will calculate the rows and stitches per 4 square inches or 10 square cm. Note that the bigger the area is, the more accurate your calculations will be.
Remember to divide your calculation by four to get the count per inch. And to calculate your final dimension, you will measure your body. It is best to leave one to three inches so your sweater will not be too tight.
*Sample computation: 23 inches long, 20 inches wide = cast-on 80 stitches (20 x 4 stitches), knit around 138 rows
2. Make your sweater's front square.
Cast on the number of stitches based on your calculations using any cast-on method you want. Using our example, you will cast on 80 stitches or 81 stitches to make a 1 x 1 ribbing. Then, you will knit twelve rows in Tension 6.
You can hand manipulate your work to reform them to 1 x 1 ribbing. Do this step by dropping down every other stitch and latch it up with knit stitches facing you. You can hand-knit or use a ribber to make the ribbing, depending on which one is more comfortable for you.
After making the ribbing, hang proper weights and start plan-knitting for around 128 rows in Tension 7. Then, bind off loosely. You can also try knitting a few rows of waste yarn and hand bind off your work after taking off the machine.
3. Make the sweater's back piece.
Next, you will repeat step 2 to make an identical piece that will serve as your sweater's backside.
4. Make the sleeves.
First, you will measure the sleeves. Make sure that your measurement of the length from the front piece's drop down to the wrist. Then, you will measure the circumference of your arm, adding one to two inches so it will not be too tight.
*Sample computation: 20 inches long, 15 inches wide = cast on 60 stitches (15 x 4 stitches), knit around 120 rows (including 12 rows of ribbing)
You can make the sleeve narrower near the wrist and broader on the top if you want a better fit. You can do this step by increasing or decreasing a few stitches at regular intervals near the end.
5. Seam your pieces with a sewing machine or a crochet hook.
Repeat step four to make another sleeve for your sweater. After doing so, you are now ready to assemble.
6. Finally, weave, then steam block.
You can assemble your pieces with a sewing machine or a crochet hook of a similar size. Here, I will guide you on how to use your crochet hook to attach the pieces.
First, attach your yarn by tying it to one of the loose ends. Next, face the right sides of the front and back pieces together, starting with the shoulders. Then, crochet bind-off about ¼ of the top.
Doing so will create an opening in the center with a rolled edge neck. You can adjust your sweater's opening size by binding off fewer or more stitches. But, it is best to make sure that your head can go through the opening comfortably.
Next, you will seam the sleeves to the front and back pieces. Face the right side of your fabric together. Fold the sleeve to find the center, then crochet hook from the center of the shoulder line to the front. Remember to seam from the center of the shoulder line to the back.
Do the same steps on the other sleeve. Then, sew the sleeve length and body length. Use clips to hold them in the right place and ensure that the right sides face each other.
Weave in the loose yarn ends now that you seamed all the pieces. Do not forget to steam-block your sweater to shape it.
Related: Best Yarn For Crochet Hats 
What is the best knitting machine for beginners?
After knowing some of the projects a knitting machine can create, it is best to know the best options. If you are a beginner in machine knitting, this is the right place for you! Please continue reading to learn what are the best knitting machines for beginners:
1. Best Knitting Machine For Beginners: Nkok Singer Knitting Machine
You probably already know that Singer machines are reliable and quality products. The Nkok Singer Knitting Machine comes with the tools that can help you start right away! It also features a simple design, lightweight material, and a hand crank operation.
These are some of the reasons why the Nkok Singer Knitting Machine is the best option for beginners. You also get product instructions on how to knit projects like hats and scarves! So do not worry if you are a beginner, because this knitting machine got your back!
Key Features:
Plastic needles
Hand crank operation
Lightweight, portable design
Tension arm
Pros:
Not battery-powered
Beginner-friendly
It comes with instruction manuals
Licensed by reliable brand Singer
Cons:
Can occasionally skip stitches
Made of cheaper plastic materials
2. Best Value For Your Money: Addi Express Professional
It is also ideal to buy a knitting machine that gives the best value for your money. The Addi Express Professional is the best option under that category! It serves both professionals and beginners well because you can see lots of instructions online.
You get the German quality that the Addi Express is famous for and other excellent tools! It has an electronic row counter and 22 needles, perfect for making various pieces.
The Addi Express Professional is a versatile machine that is suitable for patchworks or new projects. You get a durable, reliable, and efficient product for its price, making it the machine with excellent value for money.
Key Features:
Electric row counter
22 needles
Spare hooks
Table clamps
Pros:
Suitable for plain and circular knits
Works well for professionals and beginners
Versatile knitting machine
Cons:
Relatively small
Can sometimes have stitching problems
3. Best Knitting Machine For Home Use: Addi Express Kingsize Knitting Machine
Besides its stylish design, the Addi Express Kingsize Knitting Machine offers the quality tools to serve its purpose. You can use it for flat and circular knitting, making it one of the best knitting machines.
Key Features:
46 needles
Five replacement pins
Two screw hooks
Stylish design
Needle holder
Pros:
It comes with all the tools you need for machine knitting
Suitable for flat and circular needles
Quick knitting machine
Cons:
Can drop stitches randomly
It may not be the best for a professional knitter
Also check: