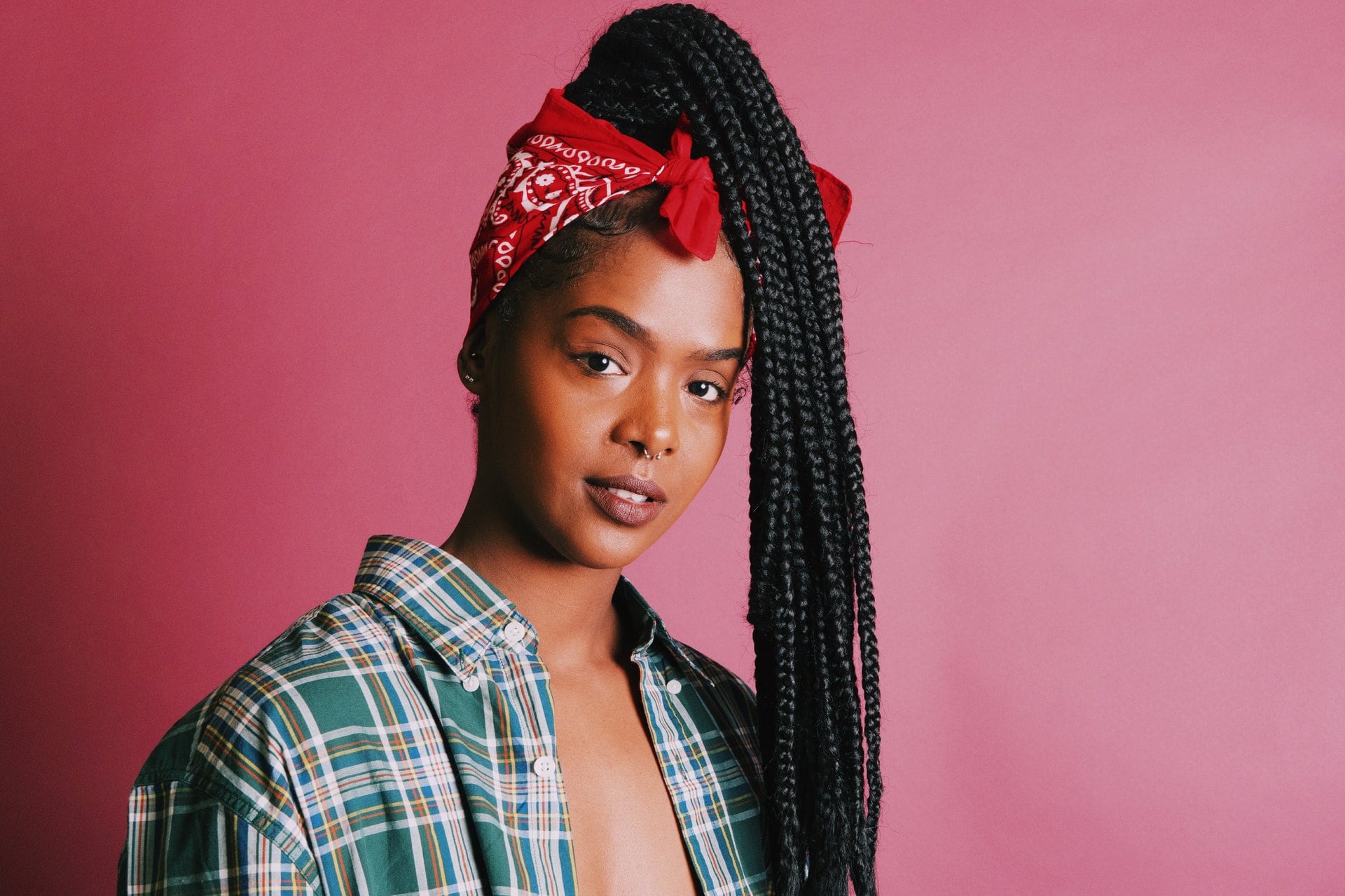 Crochet braids are easy and fast to install. They may look like a handful of work, but it's the opposite. Crochet braids involve braiding your natural hair with synthetic extensions. It is also known as latch hook braids. It usually takes at least two to three hours to make this hairstyle.
This is a variation from your traditional braids and is similar to that of braid weaves. Crochet braids are a kind of hairstyling technique common among African hairstyles. It can last for weeks with proper care. Crochet braids are a protective hairstyling technique. It helps improve hair growth and does not damage your natural hair.
Crochet braids give you lots of hairstyle patterns. It means you can change your style every so often without damaging your hair texture and curls. This hairstyle is versatile. You can have crochet braids in straight, curled, braided, or twisted.
Crochet braids have proper ways of protection and care. You need to follow them to keep your locks clean, healthy, and fresh. The great thing about this hair styling technique is it's hassle-free. You can swim, do sports, and more without worries of getting your hair all tangled up.
This hairstyle works great for textured and thick hairs. These kinds of natural hair can be unruly and difficult to style. It often leads to breakage and hair fall. But with crochet braids, you can have varying hairstyles minus the damage.
If you have thick hair, or you simply want a different style for your locks, crochet braids can do the trick. It's fast to install and easy to maintain. Trying it once in a while is great, besides hair is your crowning glory.
The following are some of the popular crochet braids:
Crochet Box Braids
Curly Crochet Braids
Long Crochet Braids
Short Crochet Braids
Crochet Braid Twists
Knotless Crochet Braids
Vixen Crochet Braids
Senegalese Twists or Marley Crochet Hair
Straight Crochet Braids
Havana Twist Crochet Braids
Jamaican Bounce Crochet Braids
Bohemian Crochet Braids
How Long Do Crochet Braids Last?
One of the reasons crochet braids are popular is its unique and long-lasting style. Through proper care and installation, your crochet braids can last up to four to eight weeks.
This technique is best for those with naturally curly and textured locks. These braids are available in straight, twisted, braided, and curly types. You install these crochet braids on hair cornrows or flat twists using latch hooks. These hooks are similar to your yarn crochet hooks.
Once you have these on your hair, you must wash and care for them well. This ensures that they stay beautiful for weeks as well as your natural hair. Proper washing and conditioning are important to keep your scalp clean and healthy. The following are easy steps to care for your crochet braids.
Before you install your crochet hair braids, make sure you wash your hair and scalp. Moisturize then and trim ends if necessary. Once you have them on your hair, always keep them clean and fresh.
Every three to four days, you will notice frizz coming out of your braids. Trim those tiny strands that stick out. It is typical for some weaves shed off after a few days. Keeping them frizz-free makes it look as if you just install them.
It's important to apply oil such as Argan oil onto your scalp. This keeps your scalp moisturized and healthy. Moisturizing your scalp also helps keep your natural hair from damage and breakage. It also promotes hair growth over time.
Tip. Try not to put oil on the crochet braids as they may get greasy and heavy.
Putting a little bit of gel on the tips of your braid makes it look polished. Before you go on with your daily activities, it's helpful to style your braids early on. This will keep them neat and frizz-free throughout the day.
Cover them with net or scarf
This is essential during night time. Before you sleep, make sure that you cover your braids with a satin scarf or hairnet. This protects them from getting tangled while you sleep.
Are Crochet Braids Damaging To The Hair?
Crochet braids are a protective hairstyle. It prevents breakage and hair fall off your natural hair. But like any other hairstyles, crochet braids can do good for your hair as long as you care for them well.
The first step to ensure that these braids won't damage your hair is to install them the right way. Make sure that you wash and moisturize your scalp and hair before installation. Once installed, follow the proper care procedure. This ensures that both your crochet braids and natural locks are clean and free from damage.
Once installed, follow the proper care procedure. This ensures that both your crochet braids and natural locks are clean and free from damage.
The following are some factors that damage your hair.
Physical manipulation from everyday styling, touching, and combing
Use of combs or brushes to detangle, stretch and tie hair
Use of chemicals such as color treatments, relaxant, or high heat
Pollutants in the air
Too much moisture from sweat or swimming
Environmental factors such as dry air, cold air, humidity, snow, etc
Crochet braids lessen the effects of these factors on your hair. Keep in mind not to install them too tight to avoid pulling your hair off. When you have these braids your natural hair stays underneath – safe.
How Many Packs Should You Use?
Wondering how many packs of crochet braids you need for your hair? There are factors to consider to determine the number of crochet braids you need. For locks or twists, you may need around four to five packs. While for the curly or straight types, you may need around five to six regular packs.
There are a few factors to consider to find out how many packs of crochet braids you need. Here are the following:
The size of your head will determine the number of bundles or packs you need. The average head measures 22.5 inches (57.15 cm.). If your head is a little bigger, you might need more packs of braids than usual.
When you want long crochet braids, the more bundles/packs you need. This is because long hair has thinner ends. And so, if you want a fuller look, you need to add more braids on the lower part of your head.
Hair texture whether straight or wavy affects the number of braids you need for your head. Curly hair may need fewer bundles of crochet braids while straight may need more.
For curly hairs, you may need around two to three packs of braids to get a full look. Meanwhile, straight hairs may need three to five packs.
Like hair texture, the volume of your hair is important to determine the number of braid packs you need. If you want more volume for your hair, you need more packs. While you need a few if you want regular volume locks.
Most hairstylists recommend good quality synthetic braids as they give a fuller look. Check these factors before you order yours to avoid insufficient braids. If you are first-timer to have crochet braids, it is best to consult a stylist. Besides this is not your typical hair accessory – it's a beauty investment.
Can You Wash Your Hair With Crochet Braids?
Proper care is necessary for your hair and your crochet braids. This includes washing your scalp and moisturizing it after. Regular or daily washing of your hair is not necessary when you have crochet braids. But keeping the braids and your scalp clean is important.
Washing your natural hair can be tricky as it stays underneath your braids. If it's your first time to install your crochet braids, read on the following tips:
1. Can crochet braids get wet?
Yes crochet braids can get wet but it's important to dry them well. You can wash your hair and scalp every few days to keep them clean. During washing you cannot prevent water from damping your braids – and that's fine!
Crochet braids can get wet. The important thing you must do is dry them to prevent the development of mildew. This is where potential problems can happen. So, if you want to maintain clean hair, scalp, and crochet braids, check out these tips.
2. Use Spray Bottle
A spray bottle can be your best friend when you wear crochet braids. It allows you to shampoo and condition your hair and scalp. But make sure to dilute the shampoo with water before you spray it onto your scalp. Massage your scalp and then rinse them right away. You do not want to soak your head so you can dry them fast and easy.
3. Moisturize
It's important to keep your hair and scalp healthy and moisturized. Again, use a spray bottle to apply some water-based moisturizer onto your scalp and hair. You can also apply your favorite oil such as the Argan oil and massage it onto your scalp.
3. Cleanse
Constant styling may cause product buildup on your hair, scalp, and braids. This is why it's important to keep them clean. Using diluted shampoo in a spray bottle or dry shampoo is a big help. Be reminded though dry shampoo does not need rinsing.
4. Take care of the edges
The edges of your braids need some caring too. You can trim the ends and frizz, and apply water-based moisturizer.
4. Cover with Satin Scarf
This is very important especially when sleeping. Cover your head with a satin scarf before sleeping. This will protect your natural hair and braids from rubbing onto your pillows. This also prevents them from getting all tangled up.
1. How do you keep crochet braids from frizzing?
You can prevent your crochet braids by trimming the loose strands and ends. Then, apply a water-based moisturizer. When you go out, you can style your braids using a thin coat of hair gel or mousse to make them look polished.
2. How do you wash crochet braids before installing?
Before installing the crochet braids, give your hair a thorough wash and conditioning. Then, apply a good amount of moisturizer or Argan oil onto your scalp. You may also trim your natural hair's ends or frizzes before you prep them up for the braid installation.
3. Can your hair grow with crochet braids?
Yes, crochet braids help promote hair growth of your natural hair. You can enhance the growth of your natural hair by applying natural oil onto your scalp at least once a week. You need to shampoo, condition, and moisturize your hair weekly to enhance growth.
4. How do you style crochet braids?
You can style your crochet braids depending on the hair type you install. There are many crochet braids styles to choose from – straight, wavy, or twisted. Choose which one best suits you, and wear them any way you want – all down or on the side.
Hooking the braids on your cornrows can give you the style you want. As long as they are not too tight, you can change styles every so often. Among the easy crochet braids to style are:
Box braids
Senegalese Twists
Rope Twists
You can have them in a bun, updo, ponytail, or wear fabric ribbons as an accent.
Related: 
How Much Should I Charge For Crochet Braids?
If you want to make crochet braids as part of your extra income, here are some basic guidelines you can consider:
The price you charge depends on the length and thickness of the natural hair.
You must as well consider the size of the crochet braids that you need to install.
The kind and style of crochet braids the customer wants to install on her hair.
The number of boxes or bundles needed for the customer's desired style.
Don't forget your hourly rate to finish the installation.
Crochet braids have been popular since the '90s and it hasn't lost its spark since then. A lot of women love this technique because it's unique and easy to do. What's crucial is finding the best styles for you. So, check different stores first before you buy yours.
Although you can install them yourself, it's still best to consult a hairstylist. The last thing you want is to pull and damage your natural hair.