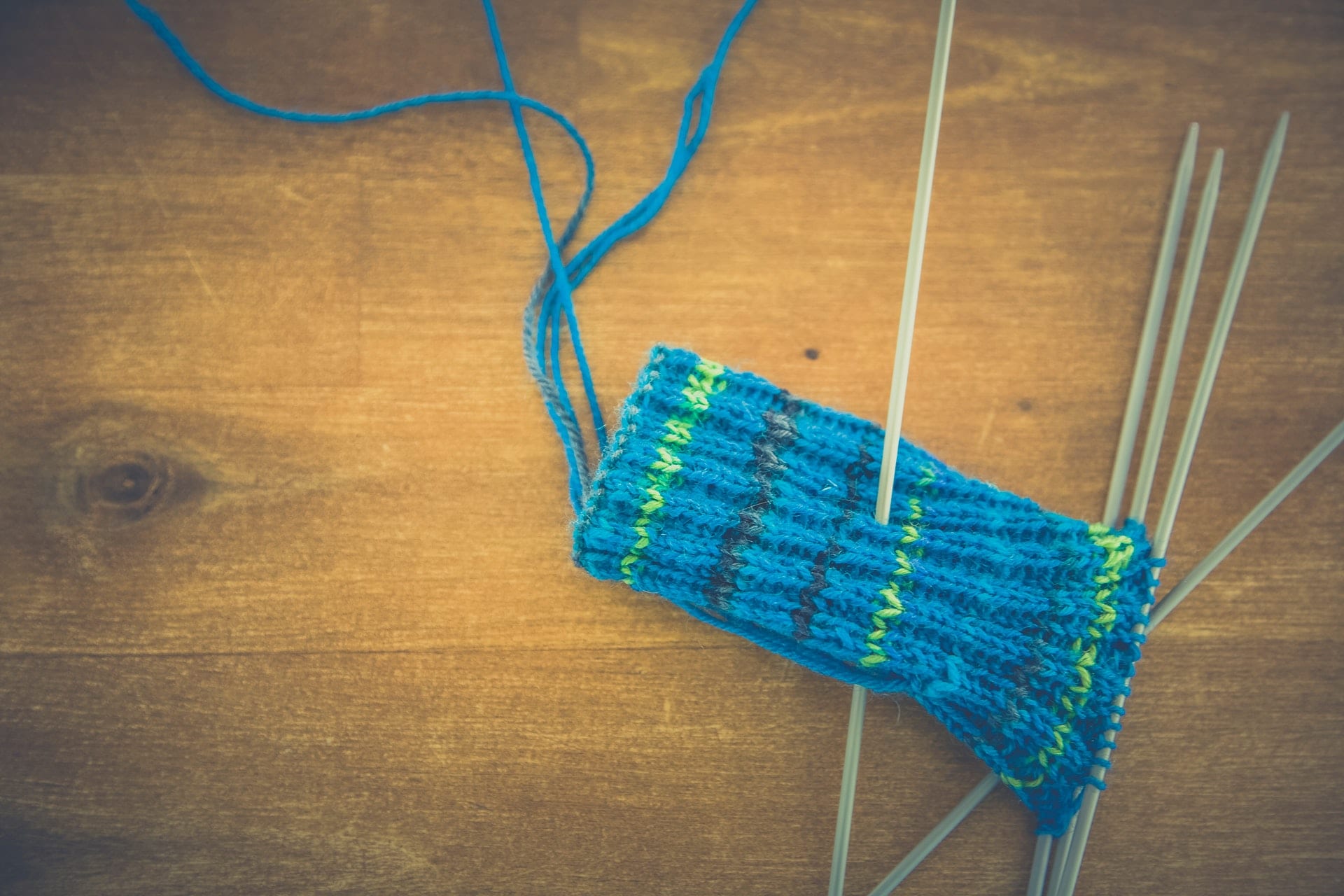 Knitting is one of the oldest yarn crafting hobbies that remain valuable to this day. This yarn crafting technique is not limited to manual knitting that you know. It is not only the knitting skill you see with your grandma.
Knitting has a lot of applications, one of which is fabric. Yes, a lot of fabrics you use are products of knitting and weaving. Some examples of knitted fabrics are Jersey, Rib Knit, French Terry, and more.
This is more than a hobby. It is both a science and art of producing textile or fabric. You can do this either by hand or by a machine. Both techniques use the same principle of making interlocking knots and loops.
To know more interesting facts about knitting, read the following chapters.
What Is The Process Of Knitting?
Knitting is a fabric or textile creation using interlocking loops and knots. These interlocking loops and knots are what you call "stitches". This process can either be by hand or by a machine. The interlocking stitches create either a flat or tubular rows of yarn.
There are two main stitches in knitting, the purl stitch, and the knit stitch. The other stitches are variations of these two, and these are the following.
Garter Stitch
Stockinette Stitch
Rib Stitch
Seed Stitch
Moss Stitch
These days, many are still doing this craft by hand. Not only does it allow them to make useful items, but it also gives them a sense of fulfillment. Knitting gives you more benefits than you think. This hobby is not limited to fabric creation and past-time.
What Is A Group Of Knitters Called?
During the 14th century, a group of knitters referred to as GUILD. The same term applies to this day.
In the 14th century, a group of knitters established their assembly and called it Guild. The guild was mostly men who had spent their lives learning and developing the technique. Their main goal was to improve the quality of knitted pieces. They also aimed to market these knitted pieces to wealthy customers.
The guild started the capitalization of knitting. They developed intricate knitting techniques. They used different marketing strategies to increase the price of knitted garments. Being a member of GUILD is a prestigious honor and it was a serious thing.
Who Invented Knitting?
The oldest known knitted objects are socks that came from Egypt. These socks were from the 11th century of the Common Era. These socks were intricate and had used the purl stitch.
Hand knitting started in Europe during the 13th century AD. The knitters were Muslims who were employed by the Spanish Christian Royal Families. Although the term was not yet "knitting" at that time, the technique spread all over Europe.
Then during the 14th century, more people across Europe started to use the technique. This was the time when knitting GUILD was established. The 14th century had been notable for knitting.
Archaeologists had discovered that during this era knitting had been widespread in Europe. They had discovered knitting evidence across London, Oslo, Amsterdam, and Newcastle. This proved that knitted pieces had been used for trading and business.
There was no name mentioned on who started knitting until 1589. This was when William Lee of Calverton invented the first mechanical knitting machine.
Knitting has been an interesting and valued craft for centuries. It is no doubt that this technique has helped mankind. Through this, people can make beautiful garments and fabrics. But knitting is not only limited to fabric production.
It is a craft that promotes good mental health, well-being, and creativity. These are the reasons why many, especially the elderly, are into knitting.
16 Ways To Use Knitting
If you are curious about the different uses and benefits of knitting, here are 16 of them.
Knitting for Entertainment
Yes, knitting is an enjoyable craft art. You get to work on different colors of yarn, gorgeous patterns, and knitting tools. You will not get bored doing this craft.
Knitting As A Hobby

A lot of people then and now, use knitting as a way to divert attention from the hustle and bustle of everyday life. This hobby allows you to do something worthwhile aside from your usual office work.

Knitting is a worthwhile pastime. You get to do a lot of useful projects while you get nothing to do after a day's work.

Knitting to Relax

Knitting is a great way to relax your mind and body. This hobby does not need strenuous efforts to complete a project. It helps your mind get the peace it needs because your focus goes to the knitting process.

As you knit, you get to sit in a relaxed and comfortable manner to keep your body rested. This is great for people who do strenuous physical work. Knitting lets you take a break from your usual on-the-go work.

Knitting to Socialize

As ironic as it sounds, but yes knitting lets you socialize. The growing online knitting communities allow you to interact with other knitters worldwide. You can also join group meetups and expos and meet other knitters like you.

This is well observed in elderly care homes. Knitting is one of their activities to interact with other patients or residents. This hobby gives the elderly chance to interact and socialize. This lessens the feeling of boredom and loneliness.

Knitting As Artistic Outlet

Knitting As Creativity Avenue

Through knitting, you can explore your creativity. You can make limitless designs and projects to suit your fancy. This craft art allows you to use your desired style and preferences in your projects. You can use yarns according to your desired colors and weight.

Even if you have patterns, you can explore your creativity by making your versions. You can make scarves, blankets, and more and use your desired yarns. You can knit rectangular or triangular shawls, you take your pick. You can make different styles of hats, socks, and more if you know how to knit.

From blankets to sweaters, there are limitless ways to express your artistic side.

Knitting Patterns Are Artworks

The actual knitting process is not the only way to express your creativity. Designing or making your knitting patterns is notable artistry. Not everyone can make a knitting pattern. It needs a thorough understanding of the process, tools, and yarns for a specific pattern.

To be able to make a pattern requires years of experience and expertise. Add to these is the creative mind to mix and match colors and the right stitches. Creating a knitting pattern is like a painter making his masterpiece.

Knitting to Learn

Knitting Is for All

There is no age limit to learn knitting. Anyone can learn and do this. Whether you are in high school or your prime years, knitting is a worthwhile skill to develop.

The tools like the needles are not difficult to use. The yarns are easy to understand. The stitches are straightforward. There is nothing about knitting that you cannot comprehend. If you have the drive and the willingness to start a new skill, then knitting is effortless.

Teach Knitting

If you are a seasoned knitter and you want to share your knowledge, teach the newbies. You can set up a blog or video channel and teach knitting. Your video tutorials will be helpful to those who want to learn this craft.

Knitting to Earn

Knitting As Business

Aside from being a worthwhile hobby, knitting can also be a good source of income. This crafting skill lets you sell your knitted projects. What makes it a great business is the fact that knitted garments, blankets, or scarves do not come cheap.

You can make high-end sweaters made of cashmere or Mohair and sell them at great prices. Knitted garments are always in style. It means you can make different projects and earn profits all year round.

Knitting is a business that you can start as a home business. You may sell your finished projects or offer your knitting services. If you want to produce more projects, you may invest in one or two knitting machines.

Offer Knitting Tutorials

Teaching others to knit is another way to monetize your skill. You may offer one-one-tutorials or group classes. You may also do online classes or sell knitting ebooks. There are lots of ways to make knitting a business venture.

Sell Knitting Patterns

If you are a seasoned knitter you are capable of making beautiful patterns. Do you know that knitting patterns sell like hotcakes? Yes, knitting patterns are a prized commodity among knitters. Go ahead and check Ravelry. You can see a lot of seasoned and popular knitters selling their patterns.

If you have the knack for making unique knitting patterns, you can sell them for profits.

Knitting for Good Health

Knitting Improves Hand and Arms Dexterity

Knitting is good exercise for your arms and hands. The stitching allows your hands and fingers to move and stretch. These subtle movements are helpful to those with hand agility problems.

As long as you do knitting in moderation, it will not cause carpal tunnel syndrome or tendonitis. The important thing to keep in mind is to take frequent breaks when you knit. Do not knit over extended periods without a break. Anything you overdo can take a toll on you in the future.

Knitting Improves Brain Function

There have been studies that knitting helps prevent dementia and Alzheimer's disease. This is why most senior care homes encourage the elderly to knit. This craft allows the brain to stay active.

How does this happen? When you knit, your mind is in constant action. You count stitches, follow patterns, and check on your stitches. All these keep your brain cells working.

Knitting Relieves Depression

When you knit your mind shifts its focus on your work. This means you forget your worries and anxieties. Knitting lets you be mindful of your stitches. This allows you to divert your attention from your problems.

Knitting gives you a sense of fulfillment whenever you complete a project. This is helpful to reduce the feeling of worthlessness.

Knitting Prevents Binge Eating

Binge eating is one of the causes of weight gain. Most of the time, when you are not busy you tend to eat even if you are not hungry. Say when you are watching the television or reading a book. Since you are not busy, you are likely to get bored and binge eat.

If you spend your spare time knitting, you get to focus on your work. Sometimes you even forget to eat because you are too focused on your project.

Knitting Works like Melatonin

If you have problems sleeping, then knitting is good for you. When you knit in a relaxed position your mind and body get into a meditative state. This state continues for a few minutes prompting you to fall asleep.

Knitting is like meditation. You become mindful of your project and so you forget about the outside nuisance and woes.

Knitting Lowers Blood Pressure

Knitting does not need much physical effort. It is a bit passive compared to other hobbies. This craft does not use a lot of bodily movements to finish a project. Knitting keeps you calm and so you don't elevate your heart rate.

This will result in low or maintained blood pressure. If you or someone you know has a heart condition or high blood pressure, do knitting. It will help keep your cardiovascular indicators at bay.
Knitting is no doubt one of the most valuable crafts ever discovered. It has been a part of mankind and its evolution. This crafting skill has been and will remain part of human culture.
It is more than your typical hobby. Knitting provides entertainment, wellness, and livelihood for a lot of people for centuries. So, next time you make your project, take pride in your work. Because knitting is a prestigious skill.