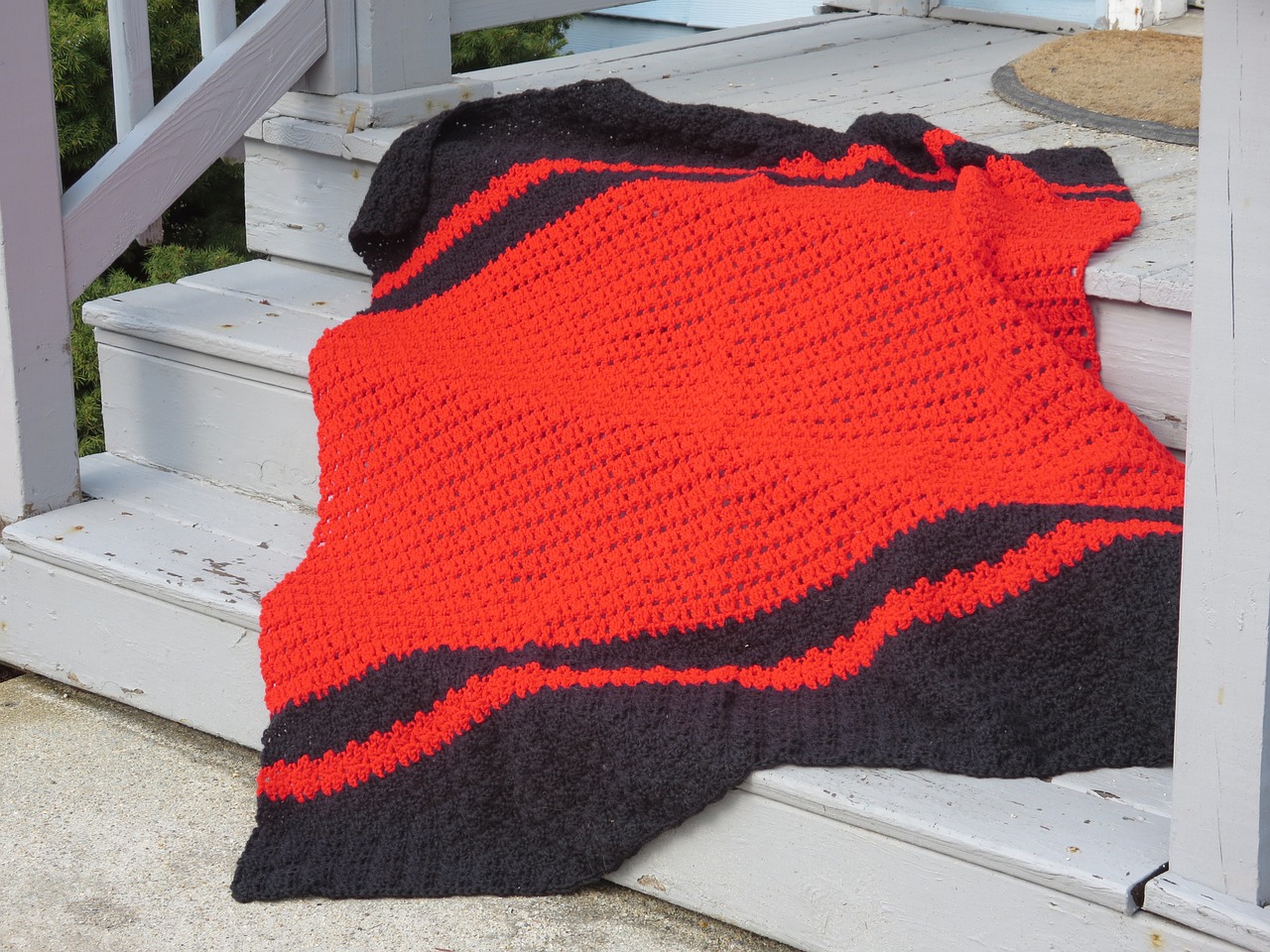 You can make a crochet blanket wider with a few techniques that crocheters have practiced through many years of crochet. Through your crochet journey, you will encounter a time when you need to know how to make your crochet wider. What can you do if you want to make a blanket wider than what you can find on the crochet pattern?
You can resize your crochet blanket using a few tips and tricks like using a larger hook or adding chains to the pattern. Whatever your reasons may be to want your crochet blanket to be wider, know that there are ways to make it happen. No worries, a crochet pattern is not carved in stone, so you can always adjust.
How do you make a crochet blanket bigger?
If you are aiming for a wider and bigger crochet blanket than what is on your pattern, choose among these techniques to see which one would work best for your project.
1. Use a larger hook
We know that using a small hook will make tiny stitches. So, using a larger hook will create larger stitches. If you have a crochet blanket pattern that you like, but the size is a tad bit smaller. You can make it bigger by using a hook that is a few sizes bigger than the recommended size in the pattern.
Using a larger hook will make larger stitches that will have more spaces between them. Larger stitches will make your crochet blanket broader and airier.
2. Add chains to the pattern.
The easiest and most straightforward way to make your crochet blanket bigger is by adding chains to the pattern. You can change it by adding more chains until you have reached your blanket's desired width. You can use a measuring tape to measure the width of the blanket that you want.
Crochet the foundation chain of your crochet pattern according to your desired width. Measure the width with your measuring tape until you reach the number of chains needed for your bigger blanket. Complete your blanket by crocheting rows with an equal number of stitches to your foundation chain.
3. Resize the stitches
You can also make your blanket bigger by resizing the stitches. If you want to make your crochet blanket bigger, use double stitches instead of single ones. It would be best to print out the pattern and make notes on the changes you made so you will not get confused as you crochet your bigger blanket.
If you are resizing your blanket pattern, you should write down your changes so you can still crochet the same blanket size in the future. Take note of the changes you made to the pattern to resize your blanket. It will also be easier to figure out if something goes wrong as you are completing your crochet blanket.
4. Use thicker yarn.
If you want your crochet blanket to be broader and bigger, use a thicker yarn. If the pattern says use worsted yarn, you can trade it in for something chunky like a bulky yarn or a super bulky yarn. Using a thicker yarn creates a bigger crochet blanket, but it is very easy to work up.
You should also note that you may need to change the amount of yarn needed and the hook size to use if you use this method.
6. Double strand the yarn.
Another workable solution to make your crochet blanket bigger is to use double strands of the yarn. You will create a bulkier, denser, and warmer blanket. You must also note that this technique is quite expensive because you need to double your crochet blanket's yarn requirement.
7. Add more granny squares.
When your crochet blanket pattern is made of granny squares, it is still easy to make it bigger based on your preferred dimensions. Change the blanket pattern by adding the number of granny squares needed to make the blanket size you want.
But the original design's look may change after adding a certain number of granny squares to finish your blanket. It would help if you lay out all your finished granny squares to see the right balance of colors and design before completing your blanket.
8. Create a border for your blanket
Sometimes, the crochet blanket pattern you have is smaller than the blanket you wish to make. Creating a nice border to increase your blanket's size is one great solution. By crocheting a border on your blanket, you can make your crochet blanket bigger. There is no need to tamper with the pattern. You can crochet an intricate lacy border to add a certain length to your blanket. Creating a border with a different color from the main blanket will not only add a few inches to your crochet blanket but make a lovely effect as well.
How do you adjust the width of a crochet blanket?
Here is a helpful and straightforward technique for changing a crochet blanket pattern to make a broader blanket. Follow these steps to adjust the crochet blanket's width to the size you want.
1. Make a gauge swatch.
It is important to make a gauge swatch first. It would help if you considered that each one of us crochets differently. Many factors come into play when you crochet, like the yarn's tension, unique crochet style, and many others. When adjusting the size of your crochet blanket, you must first make a gauge swatch.
2. Measure the number of stitches in your gauge swatch.
Measure your gauge swatch using a ruler to get more accurate results. Say you measured four inches of your gauge swatch and counted 16 stitches in that length. You need to convert your measurement to a certain number of stitches in one inch. In this example, there are four stitches in one inch.
3. Indicate how wide you want your blanket to be.
To know the number of stitches you need to make for your blanket's foundation chain, use the information you got from your gauge swatch. Take the number of stitches per inch you got, multiply it by the blanket's width in inches. You will get the number of stitches you need for the foundation chain.
The number of stitches per inch you get from your gauge swatch is handy to get the right number of stitches for the desired blanket width.
For example, you have a beautiful crochet blanket pattern that you want to make, but it is in baby size. You can convert this pattern into something that can keep you warm after you finish crocheting.
From a baby crochet blanket with a width of 30 inches, you can make a queen size blanket measuring 90 inches. You get the number of stitches for your foundation chain by multiplying the number of stitches per inch to your blanket's desired width.
As an example, multiply 4 inches per inch to 90 inches; you get 360 stitches for your foundation chain. Crochet the number of rows to complete your crochet blanket, counting your row stitches as you go.
Can I fix an uneven crochet blanket?
Sometimes the crochet blanket that you are working on in rows looks like it is growing smaller as you go. You would wonder if there is any way to make the edges even on your almost complete crochet blanket.
You can do a procedure to widen your rows and avoid ripping out stitches that you have worked on for long hours. But this fabric-recovering technique applies only to specific yarns. Fabric yarns that are randomly-colored or without high contrast patterns are the best ones to use. A particular example is recycled denim fabric yarn. Stitch inconsistencies will not be noticeable in these types of fabrics.
You can make the edges of your blanket straight without undoing your stitches. You can do this by creating a border using different stitches depending on the space that needs to be filled up. Make double crochet stitches on areas where tall stitches need to fill more space. Use slip stitch or single crochet stitch in places where only a little space needs to fill for the edges to even out.
Make as many rows as needed to even out the edges and reach your blanket's desired width.
Why does my crochet project get wider?
You may also find your crochet project is getting wider at some point in your crochet journey than it should be. If you find the edges of your crochet piece growing without your intention, you must have added some stitches somewhere. This situation is likely to happen when you have been continuously crocheting rows and rows of stitches for a blanket.
If you noticed that your work is getting wider, there is a way you could return to your project's original width. Count the first stitches of the last row you crocheted. You will know how many extra stitches you made from your foundation chain. Once you know how many extra stitches you have, carefully pull out the last row, then count the number of stitches in the next row.
Continue pulling rows out one by one until you return to the original number of stitches. Then you can crochet safely back knowing you have the exact number of stitches.
It will help if you count your stitches after every row to avoid ripping out stitches that you have spent your precious hours on. It would also be useful to note that the turning chain is counted as a first stitch when you use taller stitches to avoid miscounting stitches per row.
More pages: 
How do you make a crochet blanket smaller?
You may love the crochet blanket pattern you are holding, but it is way too big a size than what you want. Do not fret because it is also possible to modify the pattern to make a smaller blanket.
Reverse the enlarging techniques to crochet a broader blanket. Use a smaller hook and thinner yarn than what is recommended in the pattern to create tighter stitches and a less bulky blanket. You can use shorter stitches like single crochet or half double crochet stitch if the pattern calls for a double crochet stitch. Decreasing the stitches' height will create a smaller crochet blanket than what is shown in the original pattern.