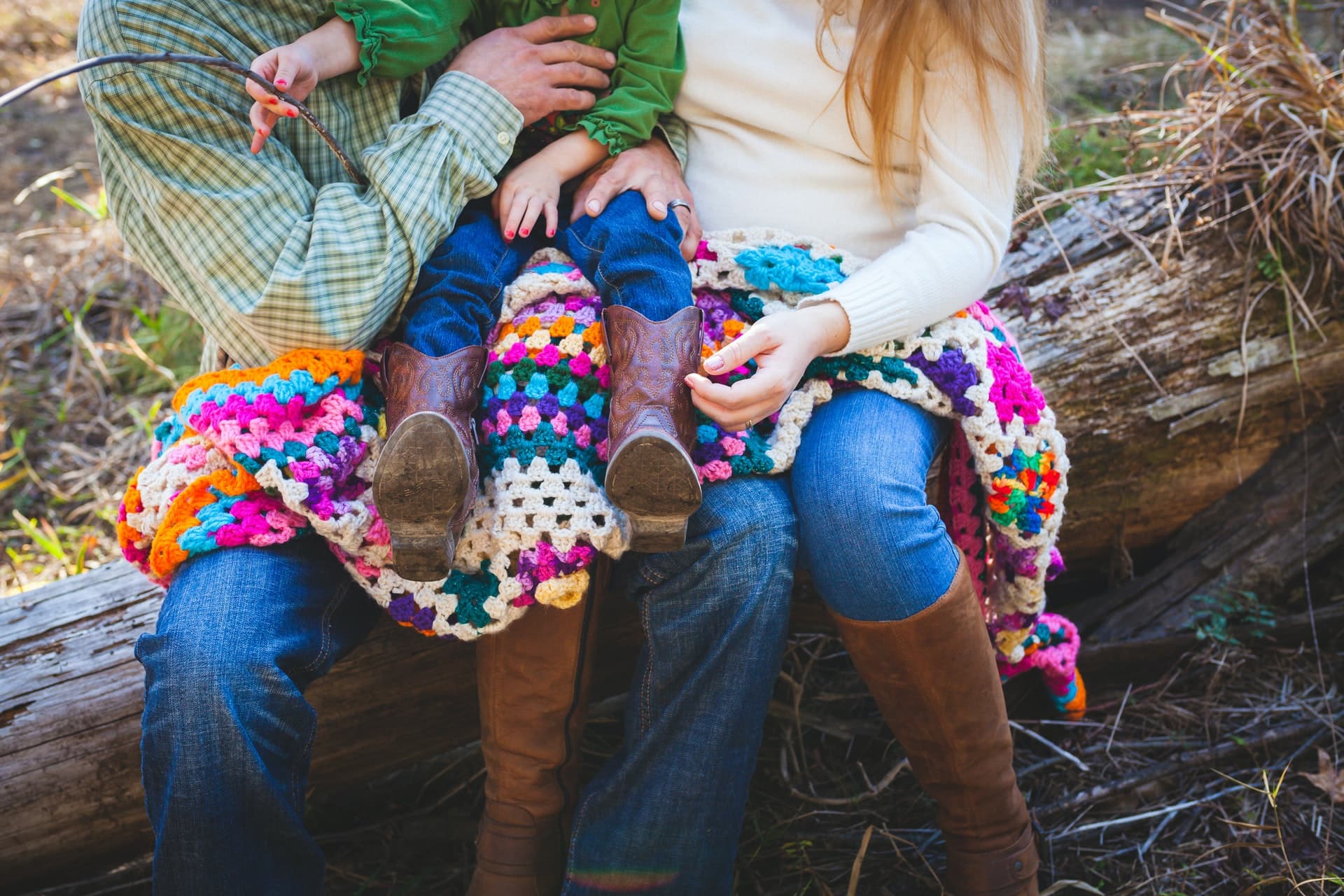 Your speed or the time-frame to crochet depends on several factors. You have to consider the size, the pattern, yarn, and the amount of time you want to spend on the project. All these factors affect the number of days or hours to crochet a blanket.
The following will explain how these factors matter to crochet a blanket.
Consider the size and thickness of the blankets
Are you going to crochet or knit a baby blanket or a granny blanket? The baby blanket may take a little less time to finish because its small and yarns are lighter and softer. A granny blanket may take more time to finish because of the size and the yarns are usually heavier.
Patterns and designs of the blankets
A simple blanket pattern is easier and faster to do. While a blanket that has a complex design and colorful yarns can take some time to finish. If you want to crochet a blanket fast, choose a simple pattern. For beginners, you may also consider a pattern that uses one or two colors of yarn.
The time you allot for crocheting
Will you crochet the blanket every day or for a straight four hours a day? The time you devote to the actual crocheting affects the time-frame to finish the blanket. If you crochet every day, sure you'll finish it soon. But if you crochet only in your spare time, then it may take time to crochet a blanket.
Setbacks and errors
Yes, your errors and the setbacks affect your time-frame to crochet a blanket. This is true for beginners. You may encounter mistakes along the way and you feel frustrated. Don't be because it's part of your learning. Once you learn from your mistakes, you can crochet better and faster.
It always takes time to do a craft project, especially for novice crafters. It may take you a while to crochet a blanket but it sure is fulfilling. The key to crochet a blanket faster is to keep going. Through constant practice, you will become better and more skilled in no time.
Which Is Faster: Knitting Or Crocheting A Blanket?
The speed of your craftwork is relative to you. You may crochet a blanket faster while others knit faster. You can do both techniques fast if you are a seasoned knitter or crochet maker. Your time-frame to finish a blanket depends on your skills, the size of the blanket, and a whole lot of factors.
But for most craft makers, crocheting a blanket is faster. Here are some points on why crocheting is a faster technique.
Crochet is a faster technique for making blankets, mittens, hats, afghans, and scarves.
Crocheting allows you to correct mistakes easier.
It uses one hook.
Easier and faster to learn the stitches.
Crochet uses one hook with one loop of yarn, so you can freely.
Crochet is great for projects that need bulky stitches.

Crochet and knitting are similar in many ways. But some projects are best done using crochet. Knitting can be delicate, and so it's perfect for sweaters, tops, and dresses. It's difficult to correct mistakes in knitting because of its live stitches. Once you get a mistake, then you are likely to repeat the entire row or worse the whole project.
For beginners who want to create a blanket, crochet can be your best choice. Use your knitting skills on fashionable tops and sweaters.
How Do You Crochet A Blanket Fast?
Now you know that crocheting a blanket is faster. Here are the steps you need to follow.
Know the size of your blanket
The smaller the blanket, the faster you can finish it. But, you need to consider as well the recipient of the blanket. Will it be for your baby? Is it for your mom? Is it a lap blanket for granny? Here are the different blanket sizes that you can consider:
Baby blanket: 36 inches X 36 inches (90 cm.X 90 cm.)
Children afghan: 36 inches X 42 inches (90 cm. X 105 cm.)
Teens afghan: 48 inches X 60 inches (120 cm. X 150 cm)
Adult afghan: 50 inches X 70 inches (125 cm. X 175 cm)
Lap blanket: 36 inches X 48 inches (90 cm. X 120 cm.)
Choose your yarn
Aside from your skills and the size of your blanket project, the kind of yarn also helps you crochet faster. The gauge and thickness of your yarn matter if you want to crochet a blanket faster. A smooth and light yarn is best for starters.
Use the right hook size
Crochet hooks size ranges from B (2.25mm.) to S (19mm.). Keep in mind that the bigger your hook, the bigger stitches you can make. This means using a bigger hook lets you finish your blanket faster. Big hooks are best for loose and light blankets.
For novice crochet makers, choose a hook that is size N or bigger.
Choose your stitch
There are many crochet stitches you can choose from. But keep in mind that your stitch will determine the look of your blanket.
When you do all these steps according to your skill level, you're on your way to crochet a blanket faster.
How Hard Is It To Crochet A Blanket?
Not at all. Crochet uses one hook, so it's easy to make a blanket. Although you may use more yarn in crochet, it makes great blankets. You can create a blanket easier and faster with crochet.
Crochet stitches are easy to learn. This technique also allows you to correct mistakes along the process. Beginner crafters prefer this method as they find it less intimidating. This does not need you to have a lot of needles, contrary to knitting. Crocheting a blanket is one of the easiest projects you can finish.
It does not take to be an expert to make a slip-knot and a loop. Crochet can pave the way to your textile creation journey. It can be a good start for more beautiful creations in the future.
Should I Knit Or Crochet A Blanket?
Crocheting a blanket is way easier and faster. If you are starting your yarn crafting adventure, crochet is a good starting point. This allows you to learn stitches and finish projects sooner. This gives you a boost and encourages you to work on more projects.
The following are a few reasons why you are better to crochet a blanket.
Stitches
Crochet has lots of stitches but learning a couple is enough to create gorgeous blankets. Knitting, however, is a little complex as you are working on two needles. Making the knit and purl stitches can be time-consuming.
Mistakes
Crochet is a little easy on mistakes. You can correct it if you make an error on your chains and loops. You don't need to repeat everything. You may have to redo the entire row or chain, but not the whole project. Knitting can be unforgiving to errors. Once you made a mistake, you may have to redo everything. That's the problem with live stitches. This is why you need patience when knitting.
Designs
Crochet lets you make more intricate designs for your blanket and other projects. It is easier to make flowers and laces. It also lets you connect separate crochet portions without sewing. Knitting follows straight rib or V lines, so creating intricate designs is a bit trickier. It also needs sewing to connect edges or sides of your fabric.
Which Is Warmer Knit Or Crochet?
The warmth of your project depends on the size of your hook or needle, and the thickness and type of yarn you use. If you are to make a blanket, crochet is a better technique. You can make warm crochet blankets by using a smaller hook and wool yarn.
Knitting can also make good and warm blankets, but it is more suited for making clothes. Crochet works well on chunky and heavy yarns which are perfect for warm blankets.
Which Is More Relaxing Knitting Or Crocheting?
Yarn crafting or textile making by hand is relaxing. It helps crafters to focus on the process and allows them to forget their worries and anxieties. It gives a feeling of fulfillment each time they finish a project.
But for many crafters, crochet is more relaxing. The process of making chains and loops is easier and faster. Here are some reasons why crochet is relaxing:
Crochet involves repetitive movement with beautiful and colorful yarn. This gives a soothing feeling.
Crochet offers freedom while you work on your project. You are using one hook, plus you are not working on live stitches. This means you can put it on hold if you need a break at any time.
You can crochet while you're chatting with friends or watching television.
You can crochet anywhere. It's a portable hobby. It lets you continue working on your project even while you travel.
It's an inexpensive hobby. You can make beautiful projects without spending a lot. All you need are yarns and hooks, and you're set.
The feeling of accomplishment every time you finish a project boosts your self-esteem.
Crocheting allows you to forget grief as you focus on your stitches.
Experts also found out that crocheting may prevent dementia and Alzheimer's. Being mindful of your craft stimulates your brain cells.
Crochet gives that feeling of purpose. This is great for the elderly and to those suffering from depression.
Crochet can be an inexpensive source of extra income. You can make projects and sell them to your friends.
Which Crochet Stitch Uses The Least Yarn?
Two crochet stitches use the least amount of yarn – the chain and the slip stitches. Your projects need different amounts of yarns. Some projects consume a lot of yarns while others don't. Below are a few guidelines on which stitches to use for projects.
Lacy stitches use less yarn than cable stitches.
For long rows, use a short single stitch to lessen your yarn usage.
But if height matters in your project, use taller or longer stitches. For instance, you want to create a scarf where length and width are important. It is better to use treble stitches than double treble stitches.
Similar resources: 
Why Is Crocheting Good For You?
There are lots of hobbies you can do, so why crochet? Yarn crafting or manual textile creation is a therapeutic hobby. Aside from being productive, crocheting offers lots of physical and mental benefits.
The repetitive stitches of crochet help you with fine motor skills.
This is most beneficial to the elderly. Crochet keeps their hands and fingers moving.
Crochet lets you forget worries, grief, and anxiety.
This is good for those who suffer from insomnia. The repetitive movements are soothing and relaxing to the eyes. This allows you to mindlessly fall asleep.
Crochet lets you explore your creativity.
This gives you a break from your usual activities like working at the office.
Crocheting relieves depression.
Being able to do what you like stimulates the production of dopamine. This gives you a happy feeling and acts as a natural antidepressant
Crochet delays the onset of dementia and Alzheimer's.
Crochet is good therapy for aging individuals. This allows them to focus. It also gives cognitive exercise as they learn new stitches and follow patterns. This becomes their cognitive exercise to keep their mind active. This also prevents the loss of memory.
Crocheting gives you control.
This is therapeutic for the elderly or those with mobility problems. Through crocheting, you choose your projects, patterns, and stitches. You don't need to rely on somebody else's help.
This art of yarn crafting is a good and therapeutic hobby. It lets you make beautiful blankets fast and easy. Crocheting a blanket should be part of your starter projects because it's less complex. This allows you to gain more confidence to continue with your craft.
The overall feeling of accomplishment each time you finish a project is uplifting. It gives you a sense of purpose in your creativity.