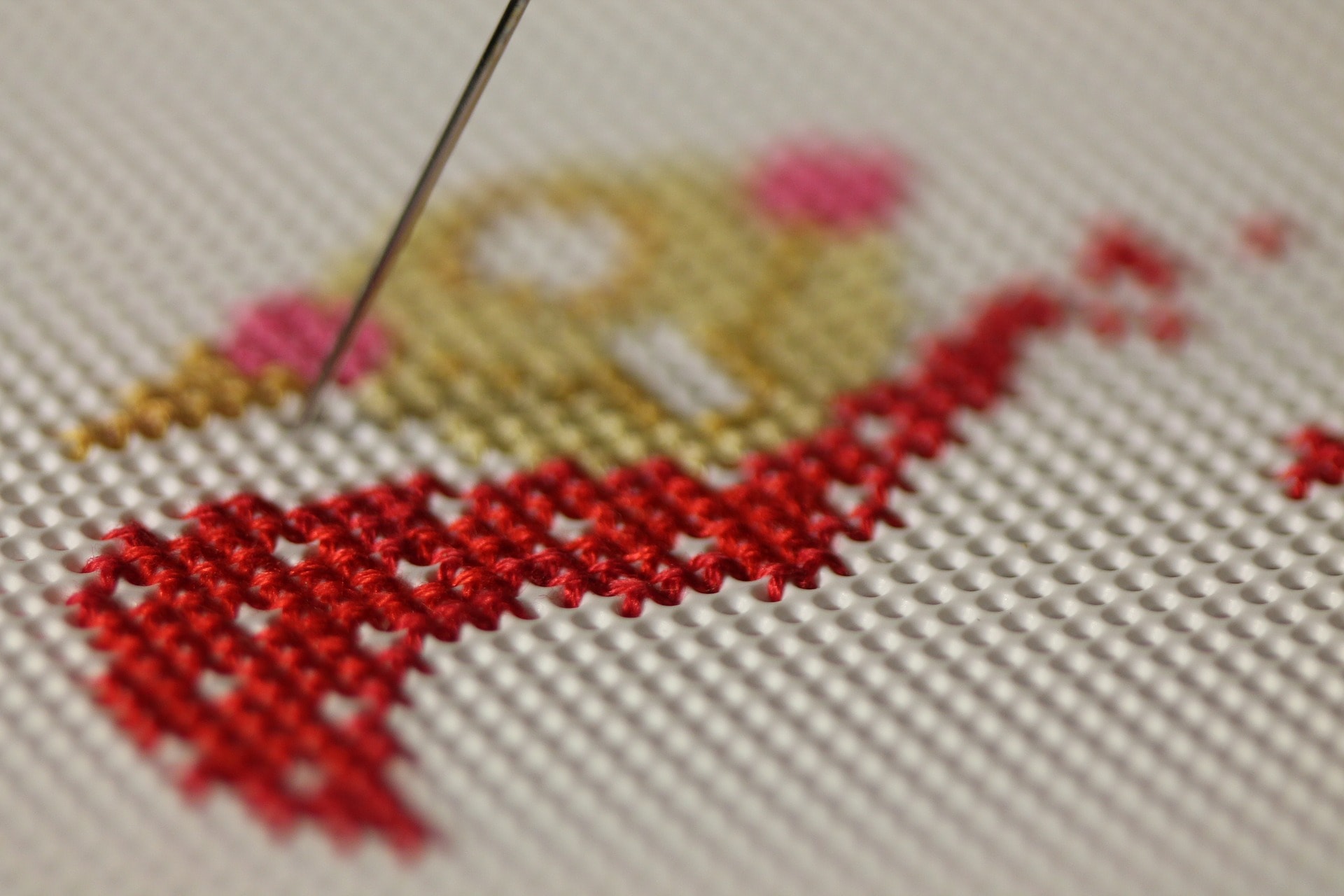 Cross-stitched stockings are, no doubt, a work of art. The details of its design are too intricate that you'll wonder how long it takes to finish one.
You can finish simple stockings in a month while stockings with complicated designs can take two to three months to complete.
The process of doing a cross-stitched stocking is not complicated. It takes a long time to finish only because of its detailed design. You have to be meticulous when doing the stitches to make sure that every detail is correct. The whole process is a bit complex, but you will have a lot of fun learning new techniques.
How long should a cross-stitch take?
There are a lot of factors that can affect the time to finish your cross stitch. One factor to consider is your design. If it is very detailed, then it will take longer than usual. Projects with intricate patterns usually take more than a month to finish.
Another factor to consider is the number of stitches that you can do in a day. If you run an approximate of 300 stitches a day, it will take you three months to finish one project.
The size of your design can also affect productivity time. More significant projects can even take more than three months to complete. Most especially if it has an intricate design.
How do you finish cross stitch stockings?
Finishing a cross-stitch stocking also follows a step-by-step process. It is not the same as the usual way of ending a cross-stitch. You will need extra materials to use and techniques to follow. Learn how to do it by following the process below:
1. You will need the following materials below to finish your cross stitch.
Sheer weight cloth
Iron
Sewing machine
Velveteen fabric
Ruler
Marker
2. Cut a sheer weight cloth big enough to cover your whole cross stitch stocking. Place it at the back of your cross stitch and iron it to attach. Doing so will add stability to your stitches. To prevent it from melting, put any fabric on top of it before ironing. Make sure that the bumpy side of the Sheerweight is inside.
3. After attaching the sheer weight, cut your Aida to the shape of the stocking. Make sure to place a ½ inch border when you cut. Use the ruler and marker to trace the path that you need to cut.
4. Trace the stocking into the Velveteen fabric then cut it as this will serve as the back part of your stocking. Attach the two pieces and sew their edges using a sewing machine. Go as slow as you can while sewing to avoid damaging the fabrics. You can set the sewing machine at a medium pace.
5. Once done, attaching the two fabric, cut any loose threads if there are any. Iron the stocking to flatten the threads more.
Those are the simple steps in finishing a cross-stitch stocking. It is easy, but you need to be careful when sewing the two pieces together. Make sure you align them well, so you do not have to sew it over and over again. You can also stitch a small hanger on the stocking so you can hang it anywhere after.
How long does it take to needlepoint a stocking?
It takes three to four months to finish a needlepoint stocking. If you plan to do this project, make sure you start doing it ahead of your deadline.
Take your time and do not hurry because it might sacrifice the quality of the stocking. It is always best to do it slowly but surely to have a satisfying outcome rather than doing it hastily.
Beginners usually get overwhelmed on how to start their cross-stitch projects. They are not sure what they should do first or if they are doing the right thing. That is normal, as you are not yet familiar with the process.
To help you with your first cross stitch project, here are the steps on how you start cross-stitching.
1. The first thing you need to do is to prepare your materials. Do in-depth research first to know which brand you prefer to buy and how much quantity you will need. These are the materials that you need to have.
Aida- the fabric used for cross stitch
Cross stitch thread/floss
Hoop
Scissor
Needle
2. Find the center of your Aida before you start stitching. To do this, fold it into half and mark the center. It will serve as your balancing point while cross-stitching.
3. Attach your Aida to the hoop after finding its center. Make sure to tighten it as much as possible to maintain stability while you stitch. Lock your hoop and tighten its grip. Do not tighten the hoop too much because it will leave marks on your Aida. Only enough to secure the fabric in place.
4. Get your needle and thread. You will notice that the thread has six strands. You do not have to use all those. Only pull out two or three strands. Thread it through the needle to start stitching.
5. Make your first stitch by threading it through the Aida using the needle. Make sure to leave an inch size of thread at the back. That will serve as your mark on where you start stitching. From there, you can follow your pattern and do more stitches until you finish your design.
Starting a cross-stitch is pretty straightforward. Learn the basic styles of stitching, so you will know which one to use for your project.
You can learn more methods as you progress. Do not worry about other techniques as you can learn them along the way. The important part is for you to know how to start and go from there.
You can start with cross stitch kits. It is helpful for beginners, as it includes simple patterns and specific instructions.
After that, you can make your pattern when you are more familiar with the process and other stitch styles.
Where do I start cross-stitching?
There is a reason why you need to find the center of your Aida first before putting it in the hoop. It will serve as your starting point for your cross stitch.
You need to start in the center to keep a balanced design. From the center of the Aida, you can begin stitching from right to left or vice versa. Remember to follow the X-shaped stitch throughout your cross stitch.
Do you need a hoop for cross stitch?
For beginners, using a hoop is very helpful. Even seasoned embroiderers use hoops to keep their fabric stable while stitching. You will need the hoop to tighten the stitches and to see the holes of the Aida.
Some will argue that using a hoop is not that necessary. That can also be possible, but it will be difficult. Without a hoop, your Aida will easily slip and will not be stable. It can cause the fabric to shrink while you stitch, and there will be a lot of loose threads.
Not putting the Aida properly in the hoop can also cause minor problems. Although these are minor, it can still affect your final project as a whole.
To make sure your Aida fabric is correctly placed in the hoop, follow these steps:
Loosen the screw of the hoop. After that, separate your outer ring and inner ring.
Take your inner ring and place it under your Aida fabric. Make sure the center of your Aida is correctly situated in the middle.
Get your outer ring and place it on top of your Aida. Push it slightly until it touches the inner ring. Tighten the screw after. Make sure to lock it properly.
After tightening the screw, apply a little bit of tension to your fabric and pull it downwards. It is to make sure that your Aida is tight enough while you stitch. Once you ensure the tightness of the Aida, tighten the screw once more, and you are all set to start stitching.
You can buy hoops in any craft stores near you. It is available in different sizes, so make sure to purchase the one that fits your project. Check the size of your Aida to make sure it fits your hoop.
How many threads do you use for cross stitch?
When you buy a cross-stitch thread in craft stores, you will notice that it has a 6-ply count. But that does not mean you have to use all those. When working on your cross-stitch, you only have to use two to three strands of thread.
If you are working on a 14-count and 16-count Aida, using two strands is the most ideal. You can also mix the number of threads to use in one project. It gives a unique texture to your design and makes it more attractive.
Remember that the number of threads that you can use also depends on your Aida count. But exceeding four strands is not recommended. It will be difficult for you to move from one stitch to another due to the small holes in Aida. Using two to three strands is the standard.
Also check: 
Should you wash Aida cloth before cross-stitching?
Aida is a kind of fabric that easily frays when washed. That is why I do not recommend washing it before cross-stitching.
You need the fabric to be sturdy enough to handle the stitches. If you wash the Aida fabric, it will shrink, and the holes will become too small to stitch.
You can use the Aida as it is when doing your cross stitch project. It is easier to control and use in its original form.
Do not worry if your Aida has stains around it. You can cover it with the stitches, and you can always clean it after you finish your cross stitch.
Related: H0w To Change Puff Sleeves To Normal Sleeves 
What do you do with finished cross stitch?
I do not recommend washing the Aida before cross stitching, but you can do it after. You can clean the fabric once done cross-stitching to remove marks and stains.
But make sure not to use a laundry machine. Wash it with your hands to control the pressure you put into it. Threads may come undone if you wash the Aida using a washing machine.
Here are the things you can use to wash your Aida:
Gentle washing liquid – Put only a couple of drops, enough to make a lather into the surface of the water.
Two clean hand towels – Use these as a protective sheet where you lay your Aida after washing.
Cotton swab – Dip the cotton swab into hydrogen peroxide and dab it to the remaining stains in the fabric. Do not include the threads. Only pat the Aida with stains as it can cause the colors to fade.
Hydrogen peroxide – Rinse this out in cold water after you remove all the stains.
After washing your cross-stitch, dry it using a blower or by putting it under the sun. Once it dries, iron it to flatten the threads and keep the design more stable. You can frame it after or put it on a flat surface to avoid folding it.
Doing a cross stitch stocking is a bit difficult for beginners. But it is fun because you will learn a lot of new techniques that you can use in your future projects.
It needs a lot of careful stitching and attention to detail. You should not be too overwhelmed when doing this kind of project.
Cross stitch stocking that comes with a kit is the best option for beginners. It will be easier for you to know what to stitch next. Having your design and pattern is also good.
But only use it when you are already familiar with the process of cross stitching a stocking. It will take you a long time to finish your project.
Take note of the process you did, so the next time you do it, you will already have a guide to follow.