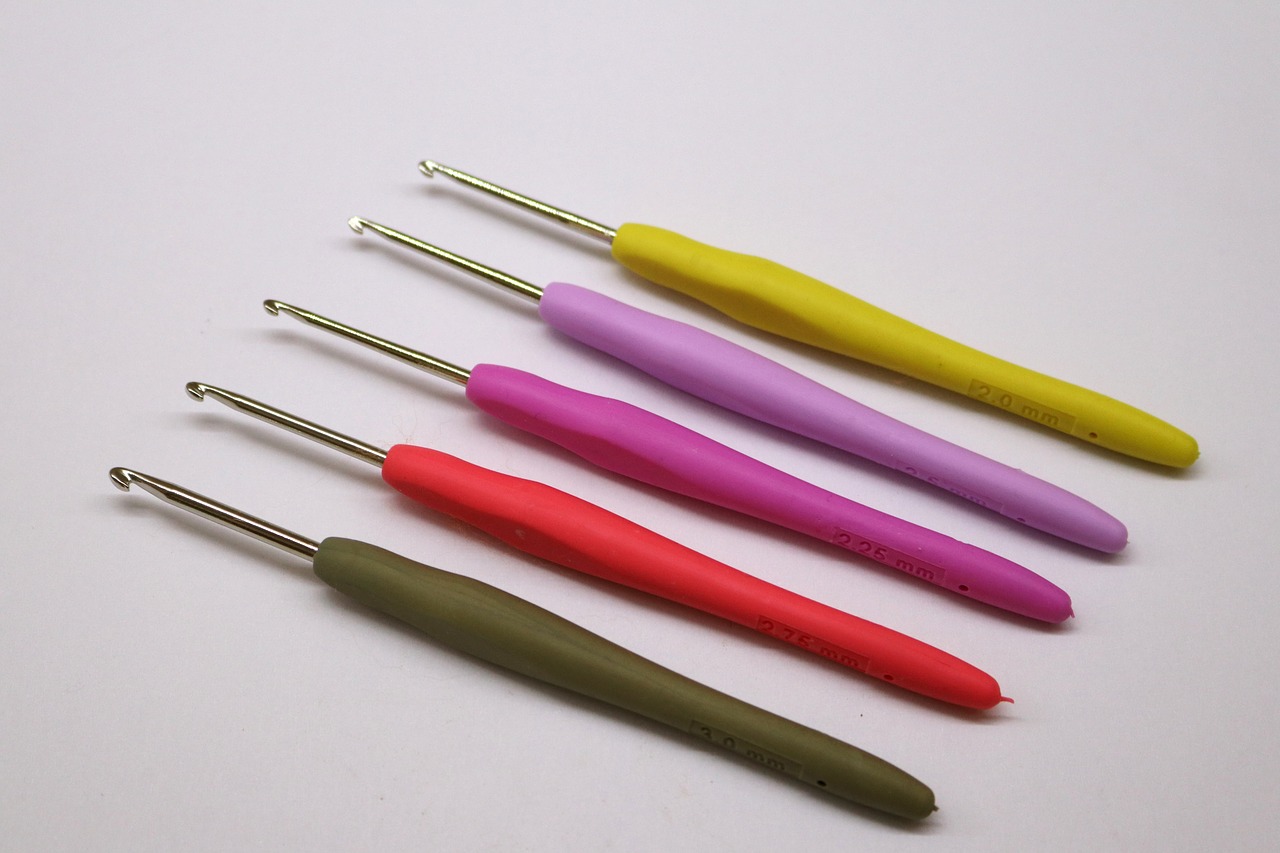 Depending on your crochet style and lifestyle, crocheting over long periods might cause wrist or hand pain. So, getting an ergonomic crochet hook is worth it because it will help relieve the pain.
You will get older and encounter concerns you did not have to face during your younger years. For example, your hands will get tired faster, and you will notice that they fatigue longer than before.
Many people give up crocheting when they get arthritis. But, if you wish to continue working on your craft, it is best to think about how you use your body. It would also help if you used tools that can help you do so.
So, if you have arthritis or want to use tools that help your body function well, consider ergonomic crochet hooks. As I mentioned, an ergonomic crochet hook can help you reduce pain and discomfort.
As it helps you relieve the pain, it will also allow you to enjoy crocheting for extended periods again! But please continue reading to know more about ergonomic hooks and why they are worth it.
What is an Ergonomic Crochet Hook?
An ergonomic crochet hook is a unique hook designed to help relieve the pain you feel when crocheting. They usually have a large handle that some crocheters say is more comfortable to hold.
Many crocheters say that ergonomic crochet hooks are much easier to use and safe for your hands. Also, their design is functional like other hooks. So, there should not be too many issues when you use them.
How to Choose the Best Ergonomic Crochet Hooks?
Choosing the best ergonomic crochet hooks will be better than assuming that everything suits you. So, you will have to consider factors like the handle size, the hook length, and the material.
Despite what you may think, there is no one hook for all crocheters. For example, some hooks may work well for you but not for other people.
As I mentioned, some factors may affect how the ergonomic hook will work for you. But, the handle and material are two of the vital factors to consider if you wish to buy one.
Handle
One of the best parts of a crochet hook is its handle. So, if you want one that you can use comfortably, it is best to get one that offers a comfortable grip.
Some of these handles can accommodate various hook sizes. But some also come with their own sets of handles. So, it all depends on trying them out for yourself or checking out the hooks' reviews from other buyers.
Material
Avoid crochet hooks that are metal. It is acceptable to have only the head made of metal. But the handle should not be metal because metal is chilly to the touch, which only barely reduces pain and agony.
The Pros and Cons of Ergonomic Crochet Hooks]
There is no sure way to know if ergonomic hooks are right for you. So, it is best to know some pros, like the comfort and functionality they provide. But, it would also help to learn about the cons, like short handles and materials that may be uncomfortable to use.
The pros and cons of ergonomic crochet hooks vary, depending on the model you get. So, I listed some of the best hooks with their pros and cons to help you choose the right one for you!
8 of the Best Ergonomic Crochet Hooks and their Pros and Cons:
1. Clover Amour Crochet Hook
The Clover Amour Crochet Hook is one of the best single ergonomic crochet hooks you can get. The easy-grip handle is comfortable to use. Also, it will provide you much-needed relief when crocheting for a lengthy amount of time.
The yarn slips with the smooth hook and eliminates any friction that could frustrate you when crocheting. There are various sizes of hooks available in the series, with color-coded handles for simple identification.
The Clover Purple Amour Crochet Hook will provide immediate comfort. So, you might want to buy all the different sizes to complete your collection!
PROS:
Bright-colored handles with engraved sizes
The head and the hook's tip will help you avoid yarn splitting.
CONS:
The handle's end is flexible because the shaft does not go down the handle's entire length.
Buy it here: Clover 1045/G Purple Amour Crochet Hook, Size G, 4.0mm.
2. Boye Ergonomic Crochet Hook
This Boye Ergonomic Crochet Hook Set comes with twelve pieces of hooks in various sizes. Each hook has an ergonomic handle with a soft rubber grip that feels warm and pleasant in hand.
The cushioned grip and smooth hooks make these an excellent alternative for folks with arthritis. Also, the handles will help you crochet with a more relaxed grasp. So, it helps to reduce weariness and pain when crocheting, making it a more pleasurable experience.
PROS:
Non-slip rubber handle
Color-coded handles in various sizes
More comfortable with people who experience wrist pain
CONS:
The tapered throat makes the working loop to be even closer and smaller than you want. As a result, your already tense gauge may become much tenser. So, if you have a tight gauge or tension, these may not be for you.
Buy it here: Boye 3396270001 Ergonomic Crochet Hook Set.
3. Lighted Crochet Hook
This 9-in-1 crochet hook includes one ergonomic has a handle that can help you ease muscle pain. But what makes it even better is the light-up handle! It can illuminate the head so you could work in a low-light setting.
The Lighted Crochet Hook also comes with nine replaceable hook heads ranging in size from 2.5mm to 6.5mm. Each head fits inside the handle, making it a space-saving set!
PROS:
Ergonomic silicone handle
It comes with nine interchangeable heads
Can light up for easier crocheting in low-light settings
CONS:
You will have to charge it to use the light on the hook's head
The silicone handle might not be the best material for you
Buy it here: Lighted Crochet Hooks Set- Rechargeable Crochet Hook with Latest Case, 9 in 1 Interchangeable Head, Light Crochet Hooks with Accessories.
4. BeCraftee Crochet Hook
The BeCraftee ergonomic crochet hook has a rubber handle that has a soft and more relaxed grip. So it is beneficial for people who have arthritis, carpal tunnel syndrome, and cramping.
PROS:
The extra length on the hook helps relieve pain
The hook's flat part makes it suitable for pencil grip holders
It has an excellent range of sizes for different yarn weights
Affordable
CONS:
There may be rough patches on the aluminum shafts.
Buy it here: BeCraftee Crochet Hooks Kit – Set of 12 Extra-Long Crocheting Needles with Soft, Ergonomic Rubber Grips and 12 Hook Sizes – Knitting & Crochet Supplies for Beginners.
5. Lion Brand Yarn 400-5-1907 Crochet Hook
This Lion Brand Yarn hook is lightweight because of its plastic material. So, it works well for beginners who prefer using bulky or chunky yarn.
Also, this Q-15mm ergonomic crochet hook has a rounded head. So, it can help you avoid the snagging of your yarn.
PROS:
Lightweight
It has a smooth surface that helps create stitches with ease.
Ideal for chunky or bulky projects
CONS:
Not suitable who find plastic handles uncomfortable
The handle can be too short for some people
Buy it here: Lion Brand Yarn 400-5-1907 Crochet Hook, Size Q-19, 15mm, White.
6. Susan Bates Silvalume Crochet Hook
This heat-treated and polished aluminum hook has an excellent finish that is smooth to the touch. So, it has fewer imperfections compared to other ergonomic hooks.
PROS:
Affordable
Lightweight
Durable
Perfect for knife hold crocheters
CONS:
It may not be ideal for people who find metal cold in their hands.
Buy it here: Susan Bates Silvalume Crochet Hook Set in Pouch Sizes F, G, H, I, J, K.
7. Addi Swing
The Addi Swing's handle is lightweight and very comfortable to use. Also, the hook grabs the yarn neatly and slips in and out of stitches with ease. So, you do not need to worry about some snagged or split thread.
PROS:
It offers a comfortable grip that is easy to use for long periods of crocheting.
Ideal for people with carpal tunnel syndrome or arthritis
It suits all crocheters, regardless of the grip style
CONS:
The sizes imprinted on the handle only comes in metric
The shaft may be shorter than some crocheters' preference, making it more challenging to so stitches with loading
Buy it here: Addi Crochet Hook Swing 6.25 inch (16cm) Size U.S. F (4.0mm)
8. Athena's Elements Crochet Hook
The handles on this Athena's Elements crochet hook set are soft thermoplastic rubber. Meaning they provide a flexible and soft grip. Also, the longer shaft lets you effortlessly crochet patterns with more loops.
PROS:
It offers a comfortable grip
Lightweight
Color-coded according to size
The shaft allows for loading stitches
CONS:
The imprinted sizes on the handle do not come in the U.S. measurements.
Buy it here: Athena's Elements Crochet Hooks Set 12 Ergonomic Sizes & Yarn Needles.
5 Tips to Crochet Ergonomically
If you wish to work on your projects for extended periods, it is best to learn how to crochet ergonomically. For example, you will have to observe proper posture and use tools to support you as you crochet. Here are five tips to crochet ergonomically:
Select a chair with a straight back that promotes excellent posture.

It is tempting to settle into a lovely couch when you crochet. But, it means that you will have to hunch over to continue working on your project. As a result, you might experience neck and back pains.

Choosing a chair that supports your back is better to avoid straining your neck and back muscles. Also, it would be helpful if you made sure that your legs are level with your feet on the floor.

Sit up straight in a comfy chair, with your back against it.

Even in a straight-backed seat, it is very tempting to lean forward. So, you have to try your best to sit back until your shoulder blades hit the back of the seat.

While crocheting, pay attention to your back and remind yourself to sit up straight. But, if you find yourself often leaning forward to get closer to the job, place a pillow or cushion beneath it to lift it and bring the work closer to you.

Regularly stretch and move your muscles.

Crocheting can sometimes make you concentrate too much, which might cause your muscles to tighten and feel sore. So, it is best to stretch and move your muscles every few minutes to prevent tension build-up.

Buy an ergonomic crochet hook.

Although standard crochet hooks are helpful on their own, they might not be as beneficial when you suffer from muscle pain. So, as I mentioned, it would help if you got an ergonomic hook that can help you reduce pain.

Place pillows under your elbows or use braces.
If you need extra support for your wrists, you can try placing pillows under your elbows. As a result, you may notice a difference in how much pressure you put on your wrists.
But, if you do not like having pillows under your elbows, you can also try using braces. You can slide one onto your hand and snug it around your arm. Doing so should keep your wrist from bending or twisting and keep it straight as you crochet.