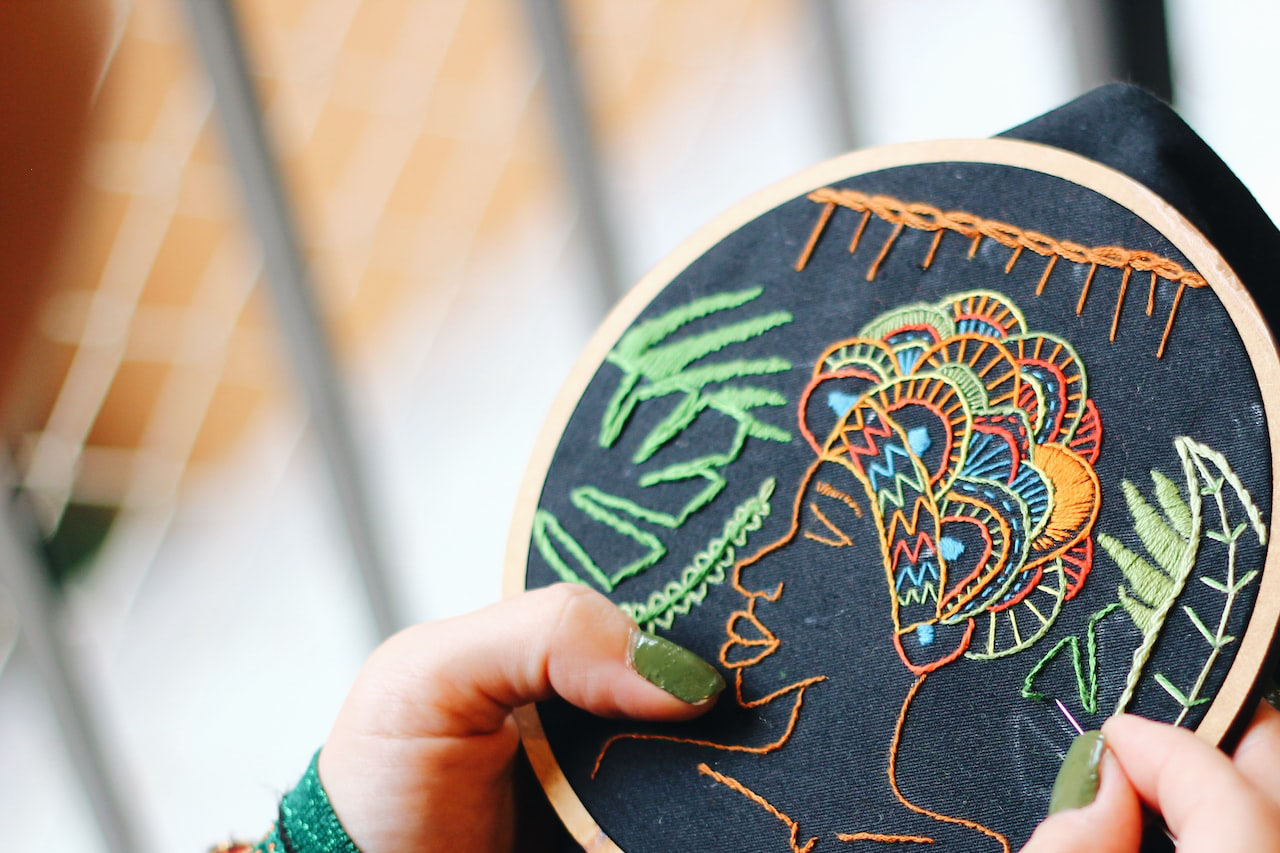 With the advancement of computer technology, embroidery has become more profitable and streamlined. Embroidery machines are increasingly automated and equipped with design software capable of producing nearly any pattern imaginable.
Is embroidery a profitable business?
It has become a more lucrative business enterprise that combines technology and creativity. Even though getting started in embroidery has never been easier, the following 13 key takeaways can give you a larger perspective on how profitable the embroidery business is today.
Is Embroidery a Profitable Business? Explore More!
#1 Can You Make Money Selling Embroidery?
You can start an embroidery business either as a home-based or commercial enterprise. You can begin selling your pre-made projects if you have limited capital.
Another option is to invest in a good embroidery machine to help you make more projects fast. Whether you start small or as a full-time business entity, embroidery is a significant business venture. You may need several devices if you want to offer other services like monogramming.
Low Initial Cost
This entity has a low capital outlay compared to other companies. You may start by selling your crafts where you only spent a few hundred on threads, fabrics, and labor. You can even embroider without using any complicated pattern.
If you want to invest in a commercial embroidery machine, you can buy one for under $12,000. This single-head machine comes with basic training supplies and software.
You can begin your small business with less than $15,000, including the merchandise.
Portable Equipment
Since your machines come with wheels and are foldable, you have the option to transport them at any time. You can bring both equipment and supplies anywhere you go.
Unlike other entities that require fixed facilities, embroidery is portable.
Low Overhead Cost
Supplies like fabrics, threads, and the usual embroidery supplies do not cost much, unlike other businesses that use high-cost materials and embroidery supplies.
Wide Target Market
Embroidery works have a broad scope. From uniform logos, curtain embellishments, and garment patterns, embroidery plays a crucial role. You can offer your embroidery services to local companies up to big-time corporations.
The scope of your market target dramatically depends on how much you can create or produce. The broader your market, the upscale your business production should be.
#2 How Do I Start an Embroidery Business?
Transforming your hobby into a profitable venture is not easy. Being an owner of a business needs thorough planning. Your small business can start as soon as you focus on its capitalization.
The following guidelines will help you elevate your craft business to a higher level.
Determine Your Market
You must determine your target market. Will you be providing services to local and small-sized businesses? Do you only desire to sell pre-made embroidery products?
If you understand the entire scope of your market, it will not be difficult for you to identify their needs. You might also have some ideas on what marketing strategies you must use.
Your market determines your business. If you plan to offer logo monogramming, you must invest in great embroidery machines.
To sell your embroidered items, you must be innovative and extra creative. Your designs or patterns must be unique enough to catch your target client's interests.
Have A Financial Capital
Even if you want to start small, you must secure capital. It is to ensure that you have enough supplies for your initial inventory for prototypes and sampling.
It would help if you had some samples of your designs that you could use for marketing and promotion. You will also need capital for the equipment and selling efforts.
Do not believe those concepts that you can begin your small home business with zero capital. There is always some capital outlay involved. That is delusional.
Maximize Your Marketing Strategies
There are several methods to market your business. You can depend on social media, crafting communities, or online listing sites. These sites allow you to demonstrate both your products and services.
Most of these online websites are free, so make the most of them.
Stay visible and relevant to your market. Another option is to join community exhibits and bazaars. Ensure that you update them and interact with them.
It will allow you to get fast responses from your target customers.
Keep Growing Your Market
Even if you think that your entity is becoming lucrative, don't simply settle. Keep developing your business market. Widen your potential network and do business with more and more prominent clients. Increasing your market can lead to business and profit growth.
#3 How do I start my own hand embroidery business from home?
The second key point states that you can start your embroidery business from home in two options. First, you can begin selling your embroidery products to your relatives and friends.
You can also offer your embroidery patterns to commercial and mid-scale embroidery companies. If your products are unique and eye-catching, businesses will gladly pay for them.
You may also sell modified or customized design garments to your relatives, friends, and neighbors.
Another option is to offer a per-project embroidery service.
You can also create trendy products and add embroidery designs to them.
Then, you can post images of your finished projects on your social media accounts. It will allow your relatives, friends, and coworkers to see your creations. You may also post your for-sale items on free listing sites to get more customers.
#4 Which Machine Is Excellent for Home Business?
When you purchase your embroidery machine, always consider the following:
User interface
Multiple functions
Compatible with various embroidery software
Wifi capability
Warranty and customer service support
Take your time to check various embroidery brands and models. Ensure these features are present to get the best value for your money.
You might spend a few thousand bucks on a heavy-duty and high-quality machine. But this is better than investing more in several machines or add-ons.
#5 Should I Buy an Embroidery Machine?
If you desire to make embroidery as a serious business, investing in a quality embroidery machine is very important. You can sell hand embroidery products, but it tends to be time-consuming. It can also result in less production or lesser profit.
To maximize business earning potential, you need to get a reliable machine. The more you produce, the more orders you can deliver and receive. Even if you intend to make it a small business, you must consider its investment return or ROI.
Here are the advantages of having embroidery machines for your entity.
Embroidery machines allow you to make various works simpler and faster.
Machines can give you complex designs without making any mistakes.
You can confidently accept bulk orders using reliable embroidery machines.
Embroidery machines have various functions, such as sewing or monogramming.
Having embroidery machines can save you time, money, and labor costs.
#6 How Much Does an Excellent Embroidery Machine Cost?
The price of your machine or equipment heavily depends on various factors.
Usage
A single-head machine will work fine if you want an embroidery machine for a mere hobby. But if you plan to use it for your commercial business, it might require buying a multifunctional machine.
The more features and specifications your machine has, the costlier the price.
Embroidery field size
Embroidery can range from simple monogramming to intricate and sophisticated designs. You don't need a big embroidery field size if you intend to focus on monogramming. There are available embroidery kits great for monogramming.
It is because monograms only have letters or symbols in their designs.
For intricate embroidery designs, you need a more extensive field size. The more comprehensive the field size of your machine, the higher its price.
Brand
Your brand choice affects the price tag of the equipment. The more popular the brand is, the more expensive its price goes. Although, in some cases, great brands offer high-quality and reliable machines.
#7 Why Do I Need Embroidery Software?
If you are serious about your embroidery business, you need excellent embroidery software. Here are the top five reasons why it is necessary to have embroidery software.
Safekeeping your designs
Embroidery software permits you to see and save the designs and changes on both systems. This will assist you in checking the designs in case you need to reuse or recycle them. It is better than re-download them for future use.
Using software helps fix the pattern before stitching.
Embroidery software can easily help you change your computer's designs or patterns before starting to stitch. You may change the colors or size and preview it before the activity.
Personalize embroidery designs
Embroidery software lets personalize and customize your existing designs. You can easily add text to your pattern or design if you want.
Editing designs
Installing embroidery software permits you to change elements and patterns in the designs. You can resize them. Or you can rotate, flip, or delete parts in the pattern.
Adjust designs based on the machine's sewing area
Using software lets, you modify the design based on your sewing area. The software will enable you to shrink or expand the design to fit the sewing area. If your design or pattern is too large or too small for the sewing area, the machine cannot recognize it.
#8 Where Can I Sell My Embroidery Designs?
You can earn from embroidery in different methods. The first one is by selling your products.
The second option is to give personal embroidery services.
The last one is by selling your embroidery patterns and designs.
Since you are already familiar with the first two options, let's pay attention to the third one.
Yes, you can take money from your embroidery designs and generate profits from your passion or creativity. However, keep these guidelines always in check.
Make sure your designs are all-original
Before you plan to digitize your design, make sure it does not resemble any patented design out there. It would help if you conceptualized it without getting inspiration from other existing designs on the market.
Any copied patterns and ideas have legal impediments, so be cautious.
Approach designers
If you have excellent and unique designs, you can sell them to clothing and fabric designers in your area. They are willing to pay for cool and novelty designs. They will pay you to gain ownership and exclusivity of the designs.
Sell online
There are plenty of embroidery sites that can accept digitized designs. The price heavily varies depending on the side and uniqueness of the design you submit.
#9 Where Can I Find Embroidery Clients?
You can find long-lasting clients for your embroidery business by leveraging your contacts and websites like Etsy, which allows you to list your products online.
After establishing your niche, it is best to learn how to acquire clients and build long-lasting relationships for your business. Here are some ways:
Leverage your connection
Make sure you make your embroidery business known within your inner circle. Your family, relatives, friends, and even colleagues, should be your basis for clientele search. They could be your advertisers, promoters, or even your first customers.
Next to your inner circle, you can also try moving onto a bigger market. Consider making a list of the potential clients in your area, like the businesses you think might want their logo embroidered on particular items.
Leverage social media platforms
Some of the finest locations for embroiderers to market your business are Facebook support groups and other communities on social media. So, don't underestimate the power of social networking.
With thousands of enthusiastic apparel decorators continually assisting one another, these groups are an excellent way to pick up business that other embroiderers must outsource.
When creating content for social media, it all comes down to good images, sharing value, and consistency. So, ensure you're regularly adding relevant material for your consumers and flattering photographs of your work to create an easy-to-access online portfolio.
Watch out for crafts fairs
Artisans can exhibit and sell their handmade wares at craft shows. You can find customers in various craft exhibits, including farmers' markets, food and art festivals, county fairs, and church bazaars.
If you do not have a physical store, you can also develop your client base and earn notoriety in your town by attending a few craft fairs.
Leverage online selling platforms
One of the most popular methods for acquiring new clients is using platforms such as Etsy and Artfire, which allow you to list your services without simply needing a business website.
With the rise in popularity of social media sites and online search engines, advertising your products online is one of the most convenient and efficient ways to find new consumers. It will also help you develop critical virtual relationships with existing ones.
#10 How Do You Price Embroidery Work?
There are two strategies to price your embroidery works. You can use Per Stitch or Fixed Unit.
Per Stitch
It is common among small-scale embroidery shops. It allows you to scale your work and impose prices based on the number of stitches made per design. In this method, you set a price per 1000 stitches.
But when you use this method, you must consider the other works involved in developing the pattern. If you have to make customized patterns that require additional charges—this applies to digitizing your design.
Fixed Unit Pricing
This method allows you to determine the price per "tape" basis regardless of the number of stitches in the pattern. "Tape" refers to the completed design.
In this method, you will check the tape file of the pattern in your embroidery equipment. The file will showcase the number of times the needle hits the fabric to complete the design.
#11 How Do I Market My Embroidery Business?
You can market your embroidery business through your connections, social media, and online platforms, but there are other ways to promote it.
For example, you could remarket to existing customers, build partnerships with other businesses, share samples with your marketing network, and host giveaways and contests.
Remarket to Existing Customers
Remarketing is a practical marketing approach for all companies. Remarketing can help your company's brand awareness while nurturing conversions through your sales funnel.
You can use this strategy with prospective customers who visit your website or call your company and those who have previously bought items from you.
Although word-of-mouth recommendations are embroiderers' most exemplary marketing approach, customer retention has a far greater ROI than customer acquisition.
Build Partnerships with Other Businesses
Contact custom fabrication firms and wholesale retailers about offering mass embroidery services at a discount. By forming alliances, you may generate cash flow for your company while increasing word-of-mouth referrals from other large corporations.
Share Samples with Your Marketing Network
Displaying your most stunning pendants and custom designs is a great tactic that resonates with prospects. Most individuals are visual learners, and images help to contextualize your marketing messages.
Use high-quality photographs and customer testimonials to demonstrate the quality of your work. Use these photos as featured images on your website and social media postings, as well as in remarketing adverts.
Host Giveaways and Contests
Did you know that small firms sometimes have better marketing opportunities than large corporations? It is because small firms with shops can interact with their clients in person.
So, hosting and promoting a contest or giveaway on your social media and email marketing platforms is an excellent method to accomplish this. Offer unique discounts or specialty products to motivate customers to enter and interact with your business.
Check: Do you have a market for an embroidery business?
#12 How Do I Succeed in Embroidery Business?
There are various business aspects you can focus on to build your growth. But, I recommend concentrating on building a customer base, getting digitization done correctly, and joining a trade organization to ensure you succeed in your embroidery business.
There isn't a more satisfactory feeling than generating a profit from something you enjoy doing. You get to accomplish whatever you want, and others enjoy the results of your labor and ingenuity.
You can follow these few recommendations to help you maximize your profits, better use your supplies, and grow your business. These ideas are for you if you're starting your embroidery business or have already turned your passion into a commercial opportunity.
Purchase in Bulk
Once you've decided on a thread brand, it's time to stock up on all the colors. As a professional, you should have access to all colors. Purchasing thread and stabilizers as needed takes time and money. So, it is preferable to have what you require on hand rather than waiting and probably losing an order.
Embroidery Designs of High Quality
High-quality designs may be the most crucial factor in increasing your profit. It's an obvious choice. You risk breaking needles, creating bird's nests, and wasting time using low-quality ones.
The best goods in any market share their creator's attention to detail. It is one of the most valuable expenditures you can make to amaze your customers and have sought-after products. Customers will notice something is off; they will not want to return for more if you do not produce high-quality designs that satisfy them.
Consider Using a High-End Machine
A quality embroidery machine is a wise investment. Profit maximization is more than just marketing and sales methods. Yes, marketing and sales methods are essential but not the only vital aspects of your business. ROI, or return on investment, is critical.
#13 What is the future of embroidery?
The future of embroidery appears bright for multi-needle machines but less for single-needle devices. The limitations of single-needle machines in business have become apparent over time, and more and more small business owners realize it.
Multi-needle machines provide a significant advantage when embroidering, particularly for profit. You may decorate different colors on these machines without manually changing the thread, saving you time during embroidery.
You can also program alternative needles and threads on unused ones. So, when you need to embroider precise details on specialty materials, you can assign those details to others without having to stop your machine.
The more needles you have, the more tasks you can plan and save time, which significantly helps with your business.