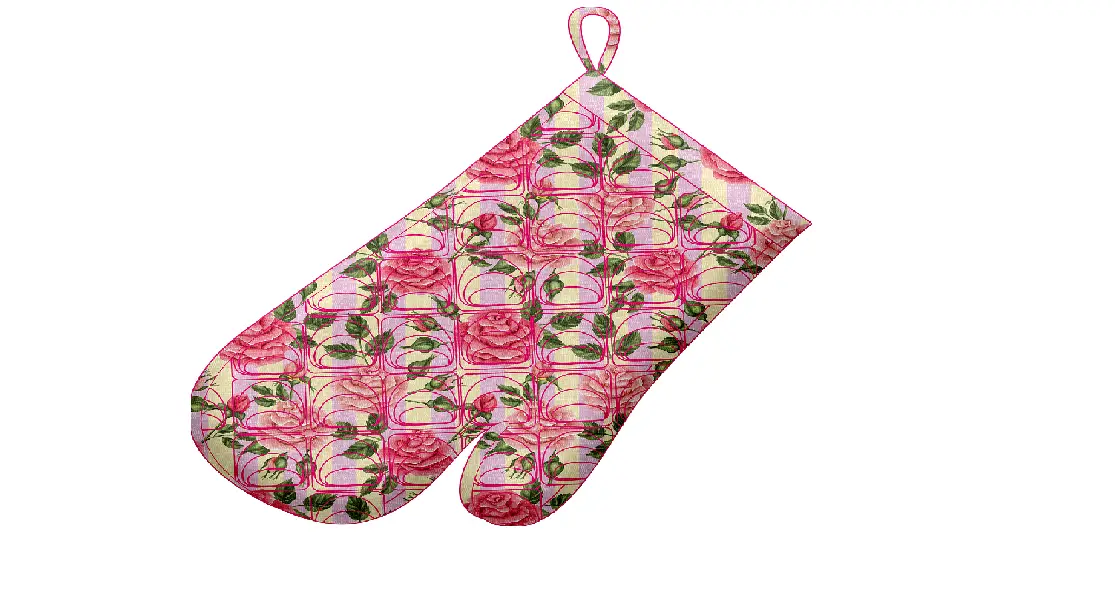 Insul-Bright is a very versatile material that you can use for quilting. Unlike Sunbrella fabric, it is also an easy fabric to work on, having no right or wrong sides.
You can use Insul-Bright for many different quilting projects. The common uses for Insul-Bright are quilted oven mitts, potholders, and lunch sacks. The great insulation properties of Insul-Bright make it an excellent choice for quilting projects which need some insulation.
What is Insul-Bright?
Insul-Bright is a needle-punched insulated lining, a perfect material that crafters and sewing enthusiasts can use for various quilting applications. With Insul-Bright, you can make a variety of heat-resistant sewing projects.
Insul-Bright is made of polyester fibers, needle-punched through a reflective metalized polyester film. The polyester fibers resist conduction. The reflective metalized polyester reflects radiant energy, either hot or cold, back to its source. That is why Insul-Bright can be used for insulating hot food as well as cold ones.
Insul-Bright has Mylar woven into the batting. Mylar in this lining material helps to keep things in contact hotter or cooler for a longer time.
Ideal projects made from Insul-Bright are simple and practical home projects like oven mitts, casserole covers, and potholders, which are made safer with this added lining. But you must also note that Insul-Bright is an insulated batting that is heat resistant but not heat-proof. But it would be best if you did not use this specific insulated batting in the microwave because it is a metalized fiber.
Insul-Bright is also used for clothing but can be a little noisy as the film crinkles when moved. The noise that Insul-Bright produces attracts babies and pets; that is why soft books and toys are usually layered with this material.
Insul-Bright is a brand name of the insulated batting by The Warm Company located in the US. You can also find other brands of insulated batting, but Insul-Bright is one of the leading brands for reliable, insulated lining available in the market. Click on this Amazon link to purchase your Insul-Bright insulated batting.
What can you make with Insul-Bright?
You can make so many different items with Insul-Bright, which are mostly quilting projects. Insul-Bright makes great batting, so it is an excellent material to use if your quilting ideas need good insulation.
Insul-Bright can be used for simple kitchen and household items that need insulated batting like quilted potholders, oven mitts, casserole dish covers, lunch bags, shopping bags for freezer foods, coffee cup sleeves, table mats, and ironing board pads.
You can use Insul-Bright as an excellent interlining for warm apparel. It is a perfect lining for warm clothing as it reflects warmth to the body but is also breathable in that it can let moisture escape.
You can also use it to keep the cold winter chill out and keep the heat inside. Insul-Bright is an excellent lining material when making shades, draperies, fireplace covers, draft stoppers, and water heater covers.
How do you make potholders with Insul-Bright?
Making a potholder with Insul-Bright is the same as making a common quilted potholder. You only add a layer or two of Insul-Bright to the batting of your potholder.
You can use a wide variety of materials for your potholder, such as old heavy-duty jeans, old dish rags, or drop cloths. You can use quilt batting for your lining, but the best batting for potholders in the market today is Insul-Bright, specifically because it is heat resistant.
Potholders are small, easy, and fast quilt projects to do and will make great gifts to friends and family. It is also a great way to turn small scrap fabrics into useful and practical household items.
To make a square quilted potholder, these are the things that you will need.
16 pieces of 2.5 inches fabric squares of your scrap fabrics
9 inches square backing fabric (plain-colored fabric)
9-inch square of Insul-Bright
9-inch square of cotton batting
2.25 inches width of fabric strip (for binding)
Sewing machine
Fabric scissors
Pins
Instructions:
1. Make your square quilt blocks.
Measure and cut your 16 pieces of fabric squares from your chosen scrap fabrics.
Lay down your squares on a flat surface and arrange them according to color that would complement each other. Lay the first pair of four patches together. Then, stitch down one side with a quarter-inch seam allowance. Join the first four blocks in a row. Make sure to press the seam allowance to one side.
Repeat the first step with the next rows of four-patch blocks. Sew the rows together with a quarter of an inch seam allowance and press the seam open.
2. Straighten edges of squares
Trim your fabric squares according to the measurement of the potholder you want. Straighten the edges of your squares and match the corners.
3. Layer your quilt
Put together the parts of your quilt potholder according to this order:
Back fabric (wrong side up)
Insul-Bright insulating fabric
Cotton batting
Quilted top fabric (right side up)
4. Secure the Layers
Pin through all the layers to secure the layers for quilting.
5. Quilt your potholder
Attach a walking foot to your home sewing machine and quilt your potholder. You can either use straight line quilting or stitch in the ditch to sew your project.
Cut off your potholder's excess batting and backing layers and trim the edges to make them even.
To make the binding of your potholder easier, you can baste around the edges to keep the layers together.
6. Bind your potholder
First, make the binding for your potholder by folding your fabric strip in half lengthwise from end to end (wrong sides together).
Bind your potholder using the prepared binding. Bind the potholder the same way you would bind a quilt. You can also purchase ready-made binding from craft shops.
Quilted potholders are easy to make, but then again, here are several of the best tips you can apply from experienced potholder makers.
It would be best to use a walking foot for quilting a potholder. A potholder is a small item but has so many layers of fabrics that can shift while stitching. A walking foot will prevent the shifting of the multiple layers of fabric and batting.
If you want your potholder to be extra heat-resistant, you can use two layers of Insul-Bright along with the cotton batting.
Make zigzag stitches along all the edges before binding so it will be easier to bind the whole potholder.
You can sew a few lines of stitching down the center to secure the fabric and insulation together. It is also a foolproof way to make sure your fabric layers do not bunch up.
Insul-Bright directions specify that it does not matter which side faces out. But users recommend placing the Insul-bright batting on the side that takes the heat of the pot. The other side should have 100% cotton fabric batting.
Insul-Bright is a special fabric that reflects hot and cold energy to its source.
It would be best to designate a "hand" side and a "pot" side to your potholder in making a potholder. The quilted side can be the hand side, and the plain fabric side can be the pot side.
If you are using a binding for your potholder, you can leave an extra length of the binding strip to make a loop that you can use to hang your potholder.
Potholders may be modest household items and very easy to make, but the addition of Insul-Bright will make them more useful and efficient.
Now that you know how to make a nifty, quilted potholder from fabric scraps and Insul-Bright lining, you can start making these colorful and practical items as gifts for your friends and family for upcoming occasions.
Related article: 
Do you need to use batting with Insul-Bright?
At least one layer of cotton batting is recommended when using Insul-Bright as lining for potholders and other quilted items.
Cotton is suitable to use as batting alongside an insulating fabric like Insul-Bright because it does not catch fire easily. For items you need to use with heat or flames, such as potholders or oven mitts, it would be best to use 100% cotton. Avoid using fabrics with synthetic fibers which could melt and blaze.
Insul-Bright packaging comes with instructions on how to use the insulated batting material. But some experienced users of this excellent lining material have brilliant suggestions on how to use it for more efficient insulation from heat.
For an oven mitt, you can use one layer of Insul-Bright with one layer of cotton batting. Place the layer of cotton batting on the side where you will hold the oven mitt to protect your hand from heat.The Insul-bright must be placed on the side that will encounter hot surfaces. It is also advised to use thick fabrics to cover the insulation material and cotton batting to add more protection from heat.
When making a hot pad, you will need to put a layer of cotton batting on the side that would touch the table's surface. The part that will catch the hot pot should have the Insul-Bright to help keep the pot hotter for a longer time.
You can use two layers of Insul-Bright to make your potholders, oven mitts, and casserole carriers more heat resistant.
Can you machine-wash Insul-Bright?
Insul-Bright can be machine-washed and dried. You do not need to pre-wash the Insul-Bright insulation batting before using it for your sewing projects.
Insul-Bright will not shrink or shift when washed. The material is breathable and will not break down with washing. Washing may soften it up a bit but will not break it down. Insul-Bright can keep its insulation properties even after multiple times of washing.
Although it is advised to wash Insul-Bright in a cool setting, you can still wash it up to 40 degrees and tumble-dry using medium heat.
If you need to iron your completed project with Insul-Bright, ensure it is placed between cotton battings and use a low heat setting.