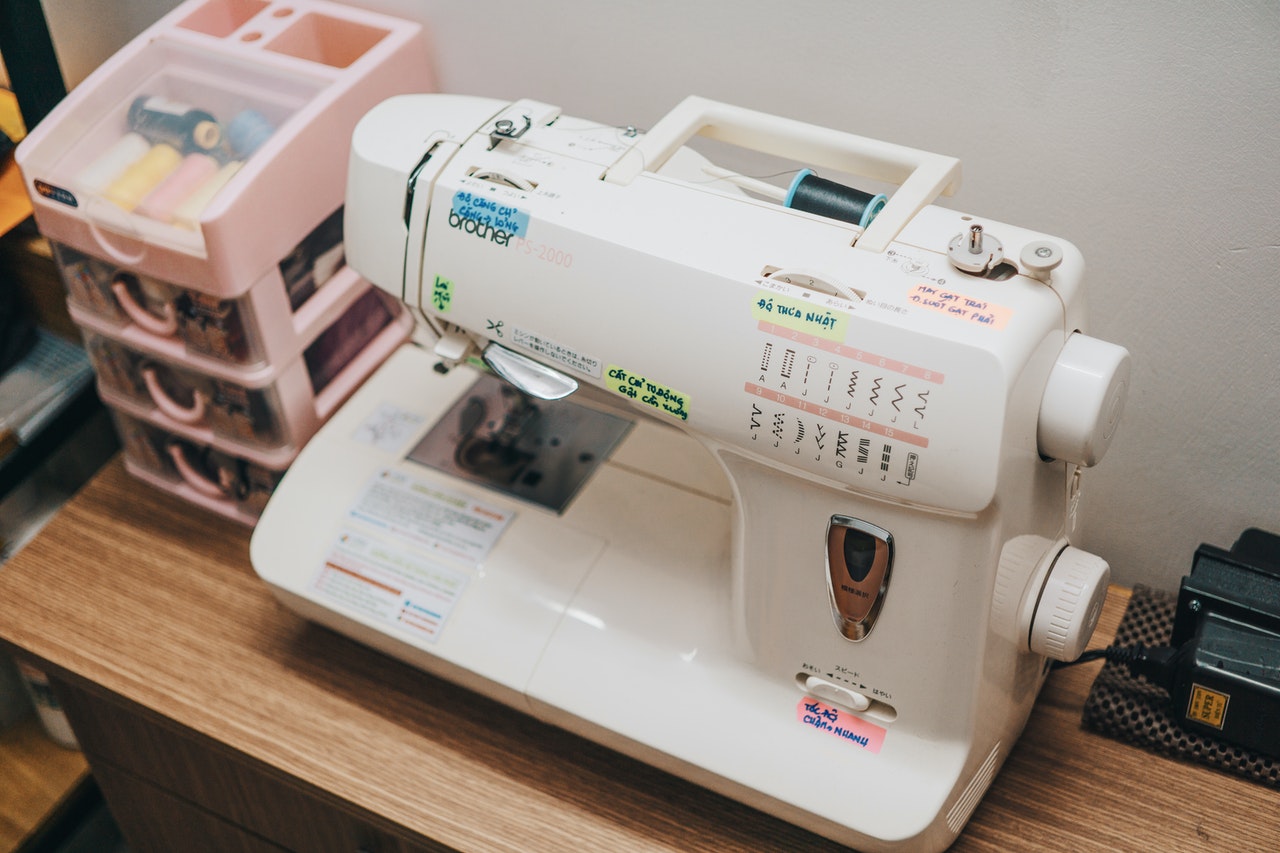 Sunbrella fabric can be sewn using a regular sewing machine. You only need the proper needles and the right machine settings.
Sunbrella fabric is heavier than most normal fabrics. It must be able to sew multiple layers of these fabrics to create useful sewing projects with this special kind of fabric. You can use a home sewing machine, but it should be sturdy enough to handle thick and heavy fabrics like Sunbrella.
What is Sunbrella fabric?
Sunbrella fabric is an outdoor décor fabric made of 100% solution-dyed acrylic, making it water, mold, fade, mildew, and stain-resistant.
It is known for its durability and resistance to various environmental elements, makes good upholstery covers and shade structures.
Sunbrella fabric has different varieties that you can choose from based on your commercial or personal needs.
Sunbrella Canvas

Sunbrella canvas is the most dominant among the variants. You can choose from dozens of solid colors. Canvas has a medium weight of 7.9 oz per square yard.

Canvas is made of acrylic, making it UV resistant, mildew repellent, bleach cleanable, and fade resistant. Other benefits of the canvas are minimal shrinking and stretching and its breathability.

Awning and Marine Sunbrella

The Awning and Marine Sunbrella are stiffer fabrics than canvas; that is why it is used mostly for boat covers, awnings, and shade structures.

The fabric has a fluorocarbon top finish that helps it become UV, water, and stain-resistant. It also heats sealable using seam seal tape.

Sunbrella Spectrum

If you are looking for a lighter-weight outdoor fabric, Sunbrella Spectrum might be your best option. It weighs 6.3 oz per square yard. It has the same finish as Sunbrella canvas. It is also fade-resistant, bleach cleanable, and mildew repellant.

Sunbrella Heritage

If you are someone who wants good quality outdoor fabric but is also concerned about its impact on the environment, check out the Sunbrella Heritage. It is made from 50% Sunbrella acrylic and 50% recycled Sunbrella fabric. It has a heavier weight at 10.5 oz and is very durable.

Dupione, Mainstreet, and Sailcloth
These types of outdoor fabrics are relatively heavy fabrics weighing 8 to 12oz per square yard. They come in various designs such as florals, geometrics, and stripes, to name a few.
The fabrics are very sturdy and are excellent materials to use for indoor or outdoor upholstery and marine environments.
Sunbrella fabric has been around for more than half a century, and many people have been enjoying the strength and serviceability of this fabric material for many applications and many generations.
What are the uses of Sunbrella fabric?
Sunbrella fabric has various uses because of its durability and resistance to stains, molds, mildew, water, and fading.
Here are some of the typical uses of the Sunbrella fabric you can see around the globe.
Awnings

Sunbrella revolutionized the use of awning in the 1960s by being a better alternative to traditional cotton. Sunbrella fabric makes eye-catching and durable commercial awnings.

After it was introduced, many commercial establishments like restaurants, auto repair shops, cafes, and art galleries shifted to Sunbrella fabric for their awnings. Awnings made from this material are sturdier, water-proof, fade-proof and stain-resistant.

Boat Covers

Sunbrella's Marine Grade Fabrics are known as the standard cloth for boating covers. Your highly-valued properties like your boat need utmost protection from natural elements.

Sunbrella will give you a wide range of colors for your boat covers to choose from. It also offers greater resistance to water and mildew.

Bimini and boat dodgers made from Sunbrella fabrics will give you and your family the highest protection from UV rays during your boating trips.

Sunbrella fabrics will make great seat cushion covers and keep their colors vibrant even on a sun-soaked boat.

Sunbrella will be able to keep your boat in a spic and span condition for many years.

Outdoor and Indoor Upholstery

If you are looking for low-maintenance fabric for your upholstery, whether inside or outside of your home, Sunbrella is your perfect choice. Sunbrella's upholstery fabrics are dyed and water-proofed, just like the fabrics used outdoors.
Sunbrella upholstery fabric is easy to maintain, making it great for patio furniture, cushions, pillows, and gazebos.

Curtains
Sunbrella also has sheer fabrics with an open weave. These fabrics are airy and light, which are perfect for curtains both indoor and outdoor. Sunbrella sheer fabrics are light and beautiful, yet they still have stain and fade resistance that Sunbrella fabrics are known for.
How do you sew Sunbrella?
Sewing Sunbrella fabric is the same as sewing a regular fabric. Since it is a thick and heavy fabric, you will need sturdy needles and threads and a sewing machine that can handle dense fabrics.
To get the most out of your Sunbrella fabric, let this list guide you on how a thick and heavy fabric is sewn.
Heavy-Duty Needles

The common needle size to use on thick fabrics like canvas is 19/120. Other typically used needles for dense fabrics are 18/110, 20/125, and 21/130 depending on the model of your sewing machine.

It would still be best to read the sewing machine manual to know the right needle to use. Some needles may not be suitable for a specific sewing machine, especially those with a walking foot.

You may find heavy-duty needles from specialty machine stores, sewing machine manufacturers, upholstery and marine canvas suppliers, and online.

Heavy-Duty Thread

In sewing thick and heavy fabric, the thread to use must effectively hold your fabrics together. So, you will need a sturdy thread that can handle the purpose of your sewing project.

A more durable thread is needed for sewing boat covers or other marine uses than sewing upholstery on a gazebo. The strongest thread must be used when your sewing project is often exposed to the sun, water, and salty water.

You will need a thread that is more shrink resistant. Some threads like cotton tend to shrink when they are used right away without being preshrunk. Threads that shrink can cause your sewing project to change shape and bunch after sewing.

Polyester threads are more shrink resistant and are more suitable for outdoor use. A great thread to use for sewing projects outdoors should have high tensile strength and low stretch.

If your thread has these properties, you will have less worry about your thread breaking during sewing and less risk of creating loose stitches.

Polyester has superior resistance to moisture and ultraviolet rays as compared to nylon. Although, when exposed to the sun for a long time, it eventually loses much of its strength.

Thread sizes recommended for thick sewing projects like canvas are V69, V92, and V138.

Sewing Machine with Walking Foot
A sewing machine with a walking foot will be able to handle thick and multiple layers of fabrics. Walking on a regular sewing machine can help feed the fabric as though it walks the fabric as it feeds through the machine. It provides good control that an ordinary presser foot cannot give.
A walking foot prevents needle breakage when thick sewing fabrics like Sunbrella or multiple layers on a regular sewing machine.
Do you need a special sewing machine for Sunbrella fabric?
A home sewing machine can sew a thick and heavy fabric like Sunbrella. But it should go together with the heavy-duty thread and needle, the right tension setting, and the right presser foot.
You can assess if the sewing machine you have at home can sew Sunbrella and other thick fabrics by changing the threads and needles to the right size and type, adjusting the top thread tension and attaching a walking foot.
If your domestic sewing machine can be adjusted to these proper settings and materials, you do not need a special sewing machine to sew Sunbrella fabric.
Here is a list of a few domestic sewing machines that can sew thick fabrics like Sunbrella fabrics.
Singer 4423

The Singer 4423 is one of the most common but trusted home sewing machines around. This machine is made with dense fabric materials in mind. It has a heavy-duty metal frame, a steel bed frame, a powerful motor, and extra-high sewing speed. The Singer 4423 can sew Sunbrella fabrics using size 16 or size 18 Singer needles.

If you want to check out other properties of this sewing machine, check it out on this Amazon link.

Janome 1600P- QC

This sewing machine's best advantage is its fast speed. It can run at 1600 stitches per minute. Janome 1600 sewing machines are also known for their sleek designs with extra-wide work areas, which is very useful when sewing large pieces of heavy fabrics.

The Janome 1600P-QC works almost like an industrial machine. It is an excellent home sewing machine that functions more than you would expect from a regular machine.

Janome 1600P-QC is available on Amazon.

Juki HZL-G220

The Juki HZL-G220 is capable of sewing light to heavy fabrics. It uses a box feed system that can prevent the fabric from shrinking and shifting.

It can sew from light to heavy materials. It can handle thick fabrics and multiple layers of fabric effectively because of the improved presser foot construction.

It also offers a large working space because of the wide space under the arm so that you can work more comfortably with large sewing projects.

You can purchase this wonderful machine on Amazon.

Consew CP206RL
The Consew Portable Walking Foot Machine can sew light to heavy-weight fabrics like upholstery, synthetics, vinyl, leather, etc., so it can easily sew Sunbrella fabrics. The machine was designed to stitch various products like awnings, furniture upholstery, boat covers, sails, tents, and many more.
You can check out this excellent, heavy-weight sewing machine on this Amazon link.
You can adjust many domestic sewing machines to sew dense fabrics like Sunbrella. Even a regular sewing machine mostly made with metal parts will most likely do the job best.
It would be best to find the machine settings to make it work than to keep its original settings and break them. It would also help keep the thickness or the number of layers of the fabric to a minimum.
Related: 
How do you know if your machine can sew canvas?
There is an easy way to test if your home sewing machine can sew thick fabric as a canvas. You can try using a heavy-duty thread, and you can also try sewing a few layers of denim.
Use a heavy thread
Try replacing your regular thread with a thicker thread if you are sewing canvas or any thick fabric like Sunbrella. It would be best to try the V-69, the recommended thread weight for a home machine. You can also try increasing the top thread tension on your sewing machine to handle the thicker thread.
It would be best if you also used a needle that matches your heavy thread. For the size V-69 thread, the recommended needle to use are sizes #16 and #18.
Sew on a few layers of denim
Get an old pair of jeans and fold them up, creating layers of denim that you can try stitching on. Fold your jeans to copy four layers of thick fabric like Sunbrella and see how your machine reacts to your fabric load.
If you can easily sew the four layers of denim fabric, you can sew canvas and many other dense fabrics.
But if you see your sewing machine recoiling at a few layers of denim, it is a clear indication that your machine is not capable of handling thick fabrics and multiple layers of fabrics. Your machine may break beyond repair if you force thick fabrics that are not compatible with it.
You can always upgrade your domestic Brother sewing equipment if you intend to make more sewing projects involving canvas, Sunbrella, denim, and other dense fabrics. Mechanical and industrial sewing machines can let heavy, and multiple layers of fabrics feed through the machine effortlessly.