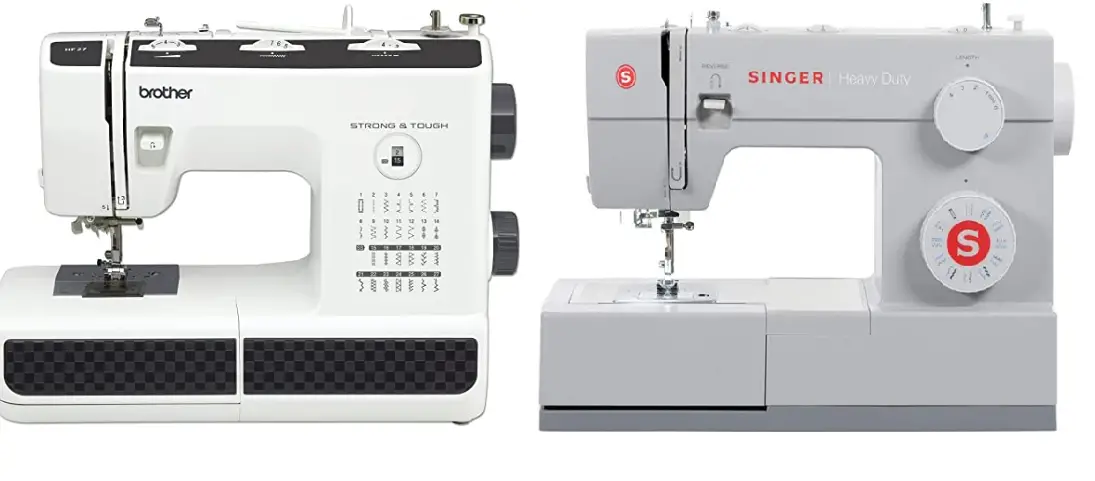 The Brother HF27 Strong and Tough is an electronic sewing machine that is ideal for beginners. The compact sewing machine can also handle a wide range of fabric materials, including stretch, denim and leather.
The Singer 4423 is a full-size mechanical machine with a powerful motor and high speed which can handle thick fabrics, reasonably priced for its purpose. The heavy-duty sewing machine was designed with thick fabrics such as denim and canvas in mind.
For a beginner looking for long-lasting durability in a user-friendly sewing machine without breaking the bank, the Singer 4423 is the more appropriate choice. The Brother HF27, though more advanced in features and a wider variety of stitches, is quite pricey if you are only starting in your sewing journey.
Brother HF27 Main Features
27 Built-in Stitches
The Jog Dial easily selects the 27 stitches of the HF27 Strong & Tough. Including Straight and Zigzag stitches, a 1 step buttonhole and 12 Satin Stitches. The variety of stitches on this machine are perfect for clothing repairs, dressmaking and making home decorations.
Non-stick Foot and J-foot
The Brother HF27 is equipped with a non-stick foot that can assist with leather or PVC items. It also has the J-foot with leveling buttons that can assist with sewing very thick layers of fabric.
Accessories
The Brother HF27 comes with some interesting and essential accessories for the sewist who brews many creative projects in mind. The sewing machine comes with a zigzag foot, a buttonhole foot, zipper foot, button sewing foot, blind stitch foot and a special non-stick foot to work on thicker and sticky fabrics like Nylon, PVC, or leather. The package also includes spool caps, three extra bobbins, an extra spool pin, a needle set including a heavyweight needle, disc-shaped screwdriver, seam ripper, cleaning brush, and a foot controller. It also has a soft cover to keep it dust and scratch-free.
Singer 4423 Main Features
23 Built-In Stitches
The Singer 4423 has a variety of 23 built-in stitches that you can use for basic sewing, decorative sewing, and a lot more. Stitches included are six essential stitches for construction and mending, 12 decorative stitches that can help create details on your chosen projects, four stretch stitches designed to move with your material, and one automatic one-step buttonhole stitch.
High-Performance Motor and High-Speed Stitching
The heavy-duty Singer 4423 has a machine motor 60% stronger than a standard sewing machine, making it possible to sew at high speeds of up to 1100 stitches per minute. The high-speed way of stitching allows efficient stitching on heavy fabrics and finishing your projects faster.
Adjustable Presser Foot Pressure
The heavy-duty Singer 4423 has the huge advantage of having an adjustable pressure foot pressure to sew a wide range of fabric thicknesses. You can increase or decrease the presser foot pressure to feed any fabric type through the machine.
Extra-High Presser Foot Lifter
With the Singer 4423, the presser foot has an extra-high position accessible to handle thick fabrics.
Accessories
Various accessories are included in the Singer 4423 package, such as an all-purpose foot, zipper foot, buttonhole foot, button sewing foot, seam ripper/lint brush, quilting guide, needles, bobbins, screwdriver, extra spool pin, spool pin felt are all conveniently located and stored in the accessory tray.
Similarities and Differences
Similar Features
One-Step Buttonhole
Both Singer 4423 and Brother HF27 have the one-step buttonhole feature where buttonholes are sewn in one easy step. You only need to place the button in the buttonhole foot, and the machine sews a buttonhole perfectly sized for that button. The one-step buttonhole feature allows you to make consistent buttonholes every time.
Automatic Needle Threader
Both sewing machines have an automatic needle threader that can effortlessly thread the needle's eye, which can save you precious time and avoid eye strain.
Top Drop-in Bobbin
The Brother HF27 and Singer 4423 have the top drop-in bobbin making it easier to set your bobbin in place. With a transparent bobbin and cover, you will be able to monitor your thread supply to avoid unnecessary stops while sewing.
Strong Metal Frame and Metal Needle Plate
Both machines have an interior metal frame which can provide long-lasting durability. The metal needle plate of both machines allows increased stability and lets your fabric glide smoothly on the surface of the bedplate.
Drop Feed
You can use the drop feed feature of both sewing machines by lowering the feed teeth for free-motion sewing or button sewing. You can slide a lever or switch a button to lower the feed teeth or raise them again when needed.
Adjustable Stitch Length and Width
Both machines have a stitch length and width control feature to adjust the appearance of a stitch. Increasing or decreasing the distance between the stitches is useful for sewing techniques like basting or applique. You can also adjust the size of the stitch from left to right to make your stitch look narrower or wider as required on your sewing project.
Free Arm
The Brother HF27 and Singer 4423 have a removable storage compartment gaining access to a free arm feature that can be quite useful when sewing trouser hems, sleeves and other small projects.
Machine Soft Cover
Both machines have a soft cover to keep them free from dust when not in use.
Multiple Needle Positions
You can adjust the needle position as required by your various sewing techniques such as topstitching, edge stitching, piping insertion, zipper application, etc.
Reverse Stitch Feature
The reverse stitch function is a great feature that both machines are armed with to secure the start and end of a seam to avoid unraveling.
Different Features
Number of Built-in Stitches
The Brother HF27 is leading in the number of built-in stitches with 27 varied stitches to choose from as opposed to the 23 built-in stitches of the Singer 4423.
Warranty
The Singer 4423 is backed by a 25-year limited warranty, a sign of machine-life longevity. For the Brother HF27 sewing machine, only three years Manufacturer's guarantee is offered.
Price and Availability
The price ranges of the Singer 4423 and Brother HF27 have a huge difference that may be mainly due to their dissimilar machine types. The electronic Brother HF27 with more modern features is priced at around $344, while you can purchase the mechanical heavy-duty Singer 4423 at a more affordable price of $180.
You can check out the availability of both machines in online sewing machine dealers, craft shops, and on Amazon.
Conclusion
Since both machines can handle thick and heavyweight fabrics, the option lies in the amount you are willing to shell out for a versatile and reliable sewing machine. If you are looking for a user-friendly, budget-friendly and durable sewing machine, the Singer 4423 is the best choice for you.
Customer Reviews and Recommendations
Brother HF27
– Threading it is a dream; you don't even have to bring up the bottom thread, piece of cake, threading the needle, really good once you get the hang of the needle threader. The true beauty of this machine is the stitch length and stitch width are both adjustable, even better, easy-peasy buttonholes, yep, that's sorted with one-step buttonholes. I can recommend this machine to any beginner; it's better than some of the brother's cheaper machines.
– Was quite excited to receive the machine. Set up was easy, but it just would not pick up a thread consistently; I would start a straight stitch line and the halfway; it just wouldn't sew it, skipping large chunks to sew again further down. I would suggest, though, that a written manual that gives tension and stitch length setting instructions for the different options is always something to provide. I couldn't get one anywhere. Watched all the tutorial videos online. Nothing resolved my problem. Very frustrating to have to return it.
– Money well spent. It's is a decent sewing machine and excellent for beginners. Even without the instructions, there are mini diagrams on the machine telling you how to put the thread in. I particularly like the self-threading needle attachment as my mother finds it hard to thread the needle. The DVD that comes with it shows you the basics, and it explains the process clearly. I only got this machine because I was able to buy it with monthly installments, but it turned out to be the best decision as it works a dream.
– I bought this as a machine to sew and fix jeans on, it does not handle more than two layers without causing the cotton to loop badly. I've adjusted the tensions, changed the needle and all sorts! Brother's online help system isn't much better; my standard brother handles thick fabrics way better.
– Used all the features as listed. This machine can do minute sewing to heavy-duty. I used for a lot of Velcro, and it worked just fine. Did not try jeans cloth but guess it works. The design is also super cool. The cover is also provided, and that's quite handy; all things are built into it, so you don't have to worry.
Singer 4423
– Absolutely love my new singer sewing machine. Goes through multiple layers of canvas and bias tape like butter. I was able to sew an entire canvas hanging bag for my laundry in a couple of hours. Love love love the fast-stitching speed. It was worth every penny and the best price on the web.
– We ordered this machine for my daughter as a gift on her 11th birthday. It was our first choice and arrived mid-April, right on time without the delay and confusion that we were prepared for mid-pandemic. She has wanted a sewing machine for years, and the fact that we were able to get this exact model to her in time for her birthday was huge. She is a novice seamstress but has improved easily on this well-built, user-friendly machine. Because it is so well made, she will be using it for years to come. I picked it out partly because it resembles the Singer my mom has sewed on since the 1960s. Many thanks, Singer–you are a wonderful company!
– We read a bunch of reviews, articles, and personal testimony. Hard as heck to even find an available machine during this pandemic. We wanted a Singer, and one finally came available and was not price hiked like everywhere else. Anyway, we got it, set it up, downloaded all of the directions, did a few test runs…..then all of our troubles started. Basically, the thread (we tried eight different threads and a few materials, and it would constantly bind and stop threading correctly. We could not reach anyone for days for support. When we finally got a callback, we asked to return and full refund. Still awaiting the refund.
– Love this machine! Hadn't sewed in over 17 years, and even then, I wasn't advanced at all. So, this machine is great for beginners and very sturdy. I like the variety of stitches and it is incredibly easy to switch and change the width and length. Highly recommend!
Related: 
People Also Ask
Q: Can you drop the feed dogs on the Brother HF27 sewing machine?
A: Yes, the feed mechanism can be lowered to allow free-motion sewing. If you pull out the tray that holds the spare accessories, you will find the switch there.
Q: Can the Brother HF27 be used on denim/jeans?
A: Yes, this machine is perfect for use with denim, but also with PVC and leather – as a non-stick foot is included in the box.
Q: Does the Brother HF27 sewing machine have the zigzag stitch that is most commonly used in dresses bought from a shop?
A: Ordinarily, a cover stitch machine is used for this type of stitching. However, the HF27 does have a number of different zigzag stitches to use.
Q: Has anyone used the Brother HF27 sewing machine with leather? How did it do?
A: The HF27 comes with a non-stick foot to sew over leather. Also, think about purchasing some leather/denim needles for extra strength.
Q: Would you recommend the Brother HF27 for "normal" sewing as well as heavy-duty?
A: I already had a lightweight Brother. I bought the heavy-duty as I was making furniture covers in heavy material. Can't see why you couldn't use the heavy-duty for normal sewing.
Q: Can the Singer 4423 sewing machine sew through heavy-duty canvas or leather?
A: It does for me. We sew patches on leather jackets, vests, and chaps without a problem. You would have to experiment with thicknesses, but it's a great machine.
Q: Has anyone worked with fleece with the Singer4423, and does it include a walking foot?
A: The Singer 4423 Heavy Duty will work well on fleece. When sewing multiple layers, you will need to adjust the stitch length and change to a ballpoint needle. The 4423 also has adjustable presser foot pressure but does not include a walking foot. Amazon does sell a Singer walking foot that is compatible with this machine.
Q: How do you oil the Singer 4423 sewing machine?
A: If your Singer model 4423 machine manual does not include instructions on oiling, your machine has been pre-lubricated at the factory and will not need additional lubricating. You can, however, put 2 to 3 small drops of sewing machine oil in the bobbin case area, as well as on the needle bar; this will not harm the machine. You may also put a few drops (2 to 3) on the handwheel where it meets the side of the machine.
Q: Can the Singer 4423 sew knit and jersey fabrics?
A: Yes, the Singer model 4423 can sew knit and jersey fabrics with the proper needle and machine settings. There is a Needle/Fabric/thread chart in the instruction manual. This machine also has the Adjustable Presser Foot Pressure Control feature, which allows you to sew lightweight to heavy fabric with ease by adjusting the presser foot pressure.