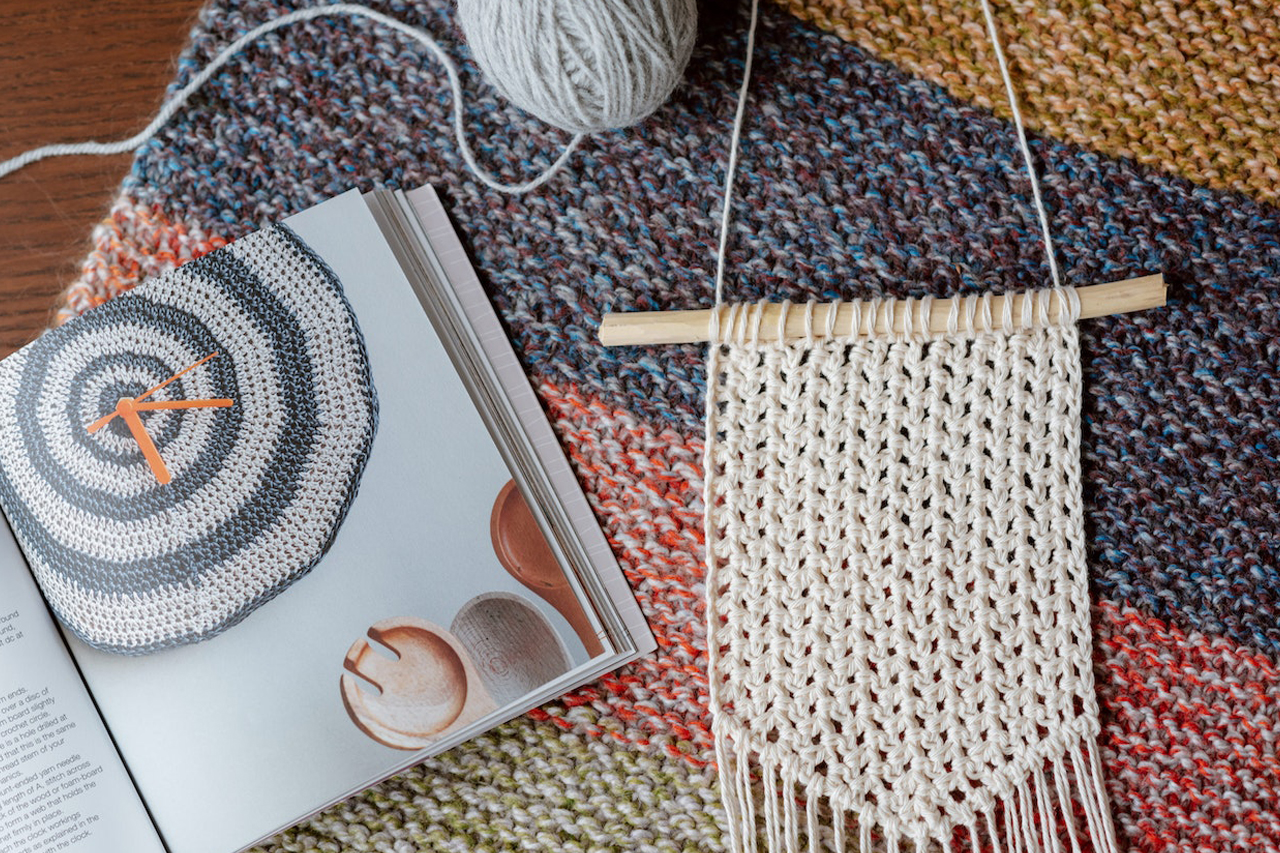 Macrame is different from crochet. Macrame is a handcraft that relies mainly on your two hands, while in crochet, you need two essential supplies; a crochet hook and yarn.
You can complete a macramé project using only your hands and macramé rope. Unlike crochet, which uses a hook, you do not need any tool to finish a macramé piece.
A finished macramé piece can look like a completed crochet piece, which is why many people would mistake one for the other.
Macrame and crochet have much in common, especially in appearance, but they are two distinct art forms.
Below are some things about macramé so you will never think it is a crochet.
Macrame uses rope or cord, while crochet uses yarn.

Macrame cord is usually thicker, which is favorable for making sturdier knots. It comes in twisted strands that you can twist together to form a thicker thread or pull apart to make a thinner cord.

Crochet uses a softer and thinner yarn, excellent for creating smaller stitches. Even if crochet yarn comes in different thicknesses, it is generally lighter and more delicate than macramé cord.

Macrame cord or rope also comes in various thicknesses but is sturdier and thicker than crochet yarn.

You make crochet pieces using your hands, a hook, and some yarn. In macramé, your hands primarily make the decorative knots utilizing a cord or rope. You do not need any tool to create a macramé piece. What you need are your hands and the skills to make creative knots.

Some macramé designs require a few accessories like rings or dowels.

You will need a dowel if you are making a macramé wall hanging. The dowel will be the base of your piece, where you can attach the first knots of your macramé art.

If you are making macramé plant hangers, you need rings. Wooden rings are most famous for macramé plant hangers. They are sturdy and give the Boho chic style.

For bare-bones macramé, you only need a cord or rope.

You do not need any accessories for crochet. The fabric you make can stand by itself.

The operative word with macramé is knotting.

You create designs in macramé basically by combining different types of knots. With crochet, you develop a piece of fabric by looping thread using various techniques.

If you make an error while doing your work, it is easier to undo a macramé project than a crochet piece. Untying a wrong knot in your macramé is easier because the rope is thicker and more manageable to remove by hand.

With crochet, if you make a mistake on the part of a crochet piece, you have to untie the stitches until you get to the part where you made an error.

Crochet can be frustrating if you make a mistake and must take your work apart. But once you complete one, it can be very fulfilling.

A considerable similarity between macramé and crochet is that you can use either method to create different functional and decorative products.

You can make jewelry like earrings, bracelets, or necklaces with crochet or macramé. You can also make fabric using either of these techniques, but you will see that the finished products are very distinct.

Crochet is a technique to create fabric using a crochet hook to connect yarn, thread, or string loops.

Crochet came from the French word "crochet," meaning hook.

Macrame is a technique that produces textiles using knotting rather than weaving or knitting methods. The word macramé may have come from the Andalusian-Arabic version of "macrame," which could mean "striped towel," "ornamental fringe," or "embroidered veil."

You can use a macramé cord as a whole or divide it into individual strands.

This way, you can use a spool of cord differently, giving you more options in one spool of rope.

Crochet yarn, on the other hand, is used as is. You use a specific number of spools of thread as recommended on the pattern of your crochet project.

Macrame is a craft that is easy to learn.

You need to be familiar with only three or four basic knots, and you can make any of the macramé patterns.

But the choice of which craft is easier still depends on personal preference. Some find crochet easy, while others find macramé more straightforward and practical.

With crochet, you have to learn the basic stitches; then, you can combine these stitches to create different designs on your crochet piece.

When you explore a long-term commitment to a hobby like macramé, you will need a few tools to help you become more creative like a good pair of scissors to cut your cords accurately.

You may also need specific tools like a metal brush or comb to create beautiful fringes that you will find on some macramé designs and patterns.

A simple item such as tape can help secure your cord to create an even layout. You can also add some beads to your macramé piece as decorative elements.

Similarly, crochet has a few materials you might need, but it is optional every time you crochet. Sharp scissors are your best bet to cut your yarn from the yarn spool before weaving in the ends.

As you advance with your crochet hobby, you can add more to your crochet accessories, like yarn needles, stitch markers, a stitch counter, and various sizes of crochet hooks.

Macrame and crochet differ in the length of string to finish a project.

Macrame uses several different sizes of cord that you can knot together. With crochet, you use one length of yarn to complete your project.

Macrame and crochet are similar in that they produce something functional and pleasing to the eye from yarn or rope.

People who like working with fabrics sometimes borrow techniques or methods from other disciplines, which is why you can see intermixing in some craftworks these days.

You will mostly find macrame as decorative and functional products such as hammocks, nets, wall hangings, key chains, and plant hangers.

The finished product of macramé is usually sturdy, so you will not commonly see macramé in clothing.

Aside from using a thicker string, macramé uses knots to create a fabric, which can be hard to use on garments.

Crochet, which uses softer and thinners strings, is more apt for making wearable items like cardigans, hats, tops, and scarves.

As with any craftwork, you need time, patience, and practice to be confident with your macramé or crochet projects.

Your first trials may not be as good as expected but do not get discouraged. Use your mistakes as your learning curve.

Start with easy macramé or crochet patterns so you will not tire of the craft quickly. Make small projects first so your efforts will get rewarded more quickly, or if otherwise you make a mistake, you will only have to undo/untie a small object.

Macrame and crochet are handmade crafts, and both techniques produce beautiful works of art that are unique and distinct in many ways.
What Kind of Style is Macramé?
Macrame is a textile art form of knotting. It is believed to have started in the 13th Century and was quite popular during the Victorian Era.
But macramé was most famous during the Bohemian Era of the 60s and 70s, during the age of grunge and hippie culture. The timing could not be more appropriate as it was a time of conflicting ideologies.
The craft made a comeback lately due to Pinterest posts of bohemian-style and fashionable home décor. The macramé styles we see today reflect the choices of the people opting for a minimalist and boho chic lifestyle.
What is the Difference Between Macramé and Crochet?
The main difference between macramé and crochet is how these crafts are made. Macrame is done entirely by hand, while you need a tool for crochet.
While the completed project may look similar, you can still find a distinction between these two handicrafts. Macramé usually produces sturdier items, while crochet creates softer and more delicate pieces.
These final products look exactly the way they are because macramé and crochet use different materials; rope or cord for macramé and yarn for crochet. Although these days, you may find craftspeople interchangeably utilizing various materials for specific crafts.
Can you Macrame with Crochet Yarn?
You can use crochet yarn for macramé but do not expect it will have the same texture and appearance as when using macramé cord.
Crochet yarn for macramé is best to use if you are aiming for a finished product that you can wear, such as a tank top, or a lightweight item that you can carry around, like a key chain.
For best results, use a sturdy macramé cord for items that need to hold some weight, like a plant hanger or a hammock.
Can you Crochet the Macramé Cord?
You can crochet with a macramé cord. Crocheting is possible with anything that can pass off as yarn. You only need a hook big enough for looping the macramé cord.
Crocheting with macramé cord even has the edge over using traditional yarn. It can produce more durable and sturdier items.
You can crochet with a macramé cord and produce different functional and practical items such as placemats, dishcloths, rugs, baskets, and floor mats.
Another good thing about using a macramé cord to crochet is that you can distinctly see the parts of the stitches. Also, putting your hook through the cord is not possible with macrame. It is a common problem when crocheting with traditional plied yarns.
Crocheting with macramé cord works up more quickly than traditional crochet yarns. With its smooth texture, the macramé cord is an ideal material for crochet newbies to start a hobby.
Using natural fibers for crochet, such as hemp, jute, and cotton, can be tough on the hands. A few downsides of using macramé cord for crochet, however, is the friction. Pulling the hook and looping the sturdy cord can be a tough job.
Macrame cord may not be a good material for some crochet stitches, such as three-dimensional stitches that look bulky. Macrame cord will be ideal for simple flat crochet stitches.