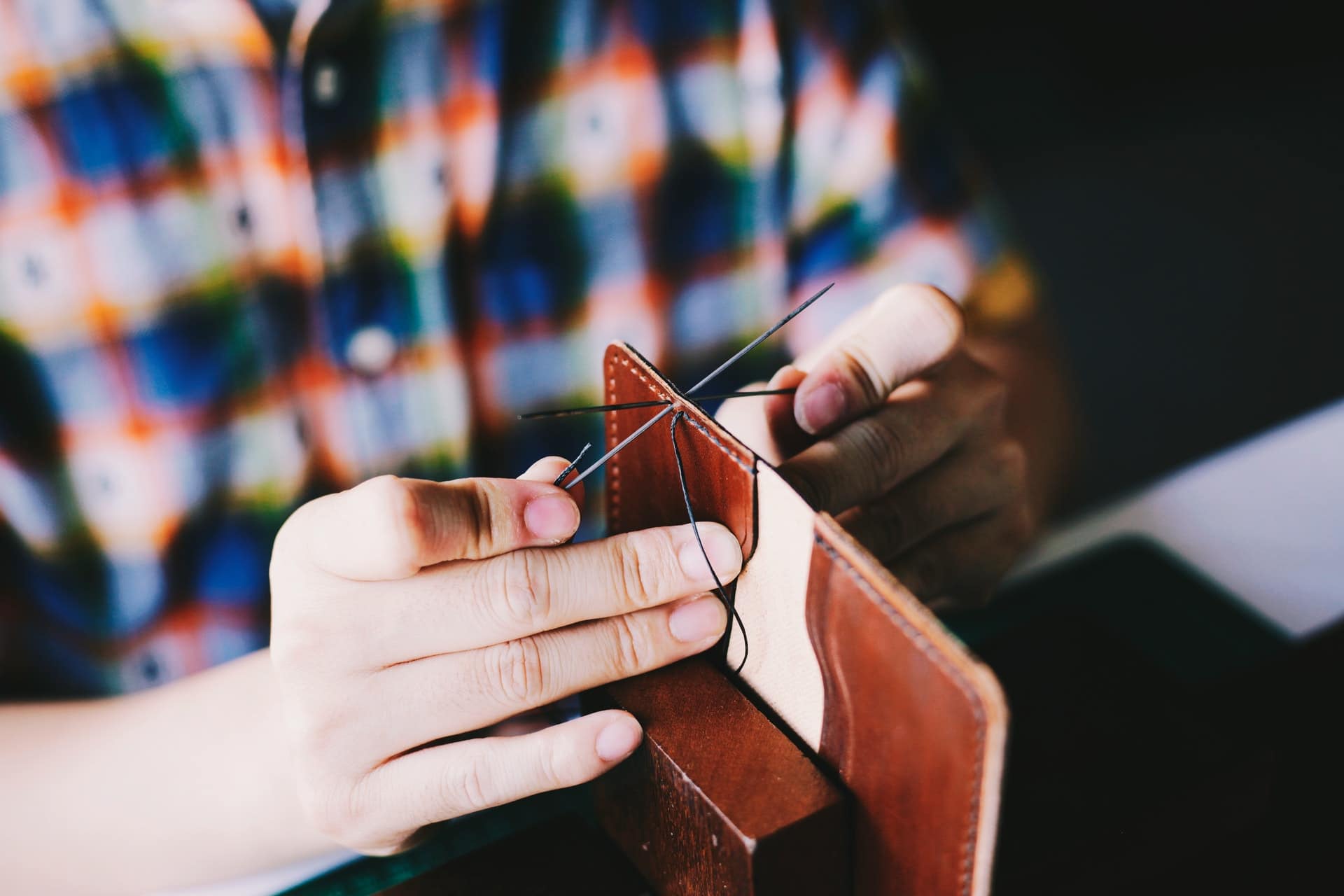 A leather awl is a handy sewing tool to use when you work with leather. It has a variety of uses and has a few types. So deciding which one will work best for you is essential. Which one is perfect for you? Here are a few of the best sewing awls:
C.S. Osborne #144-43 Stitching Awl
The Speedy Stitcher Sewing Awl
BIGTEDDY Sewing Awl Hand Stitcher Kit
Dritz Awl with Wooden Handle
Clover Straight Tailors Awl
Awl for All Stitching Awl Tool Kit & Supplies
What is a sewing awl?
A sewing awl is a tool that you can use to puncture or enlarge existing holes in various materials. You can also use a sewing awl to sew heavy materials like leather or canvas.
This handy tool has an eye-piercing at its pointed end to help draw your thread through holes for manual lockstitch sewing. It comes as a larger-scale needle type that can be straight or bent. An awl will also have a handle and a metal-graduated needle with a sharp tip.
A sewing awl can have many application uses. Besides using it for canvas, leather, and other heavy fabrics, you can also use it for scrapbooking and bookmaking. Leatherworkers and shoe repairers are usually the ones who primarily use this tool.
Some also use sewing awls for furniture and car upholstery, and other leather goods such as bags, shoes, and sports equipment. You can also use it to make handmade books by sewing their binding by hand.
You can use a leather awl to mark leather, transfer patterns onto leather, and pierce holes to run thread stitches through.
What is the best sewing awl for leather?
There are different factors to consider when deciding which sewing awl for your leatherwork is the best. These essential factors include:
Types of a leather awl:
Scratch awl – best for piercing thick and thin leather
Diamond awl – creates an x-shaped hole without leaving any large openings.
Curved awl – creates holes for stitching on rounded or curved leather.
Saddlers harness awl – creates holes on much thicker leather.
Sewing awl – pierces and allows thread through your leather.
Lacing awl – best for pulling leather thong or lace through the holes
Collar awl – creates larger slit holes.
Handle
Leather awls have different handle materials. But you would want to get the ones with wooden handles. It is also best if you get awls that have abrasion protection on the top of its handle. This protective material will keep your awl's wooden handle intact.But some of these extra details can remarkably markup the price of the leather awl. So you need to decide if you want a basic yet functional awl or a premium grade awl.
Needles
Leather awls may come with either fixed or interchangeable needles. If you are a beginner, you might want to get an awl with interchangeable needles. It is less costly and will help you save space.
How it fits in your hand
You would want to be comfortable as you work with your leather and leather awl. So you would want to ensure that you choose an awl that is the right fit for your hand. You should be able to wrap your fingers around the handle as easily as possible.
Here are a few of the best sewing awls:
1. C. S. Osborne #144-43 Stitching Awl
This tool comes very sharp and has a diamond-shaped blade. It is perfect for poking through stitching holes on leather. Many believe that the C.S. Osborne #144-43 Stitching Awl is the best leather awl.
It is a versatile leather awl and comfortable to use. Its handle has a wide groove and two thin grooves for a more colid comfortable grip. This stitching awl also slides through holes smoothly, and it needs minimal effort.
The C.S. Osborne stitching awl can punch through up to 9-ounce vegetable tanned leather with ease. It can also make hole sizes approximately 3/32 inches by 1/16 inches big. This stitching awl also doubles as a scratch awl that you can use for your pattern transfers.
But it has a securely-fixed blade attached to its wooden body with a supporting ferrule. And it also may need a little bit of polishing or sharpening now and then.
2. The Speedy Stitcher Sewing Awl
The Speedy Stitcher Sewing Awl is an American-made tool. It comes with the company's signature tensile waxed thread and custom-made diamond point needles. With a comfortable wooden grip, you can use this awl to sew heavy-duty material for extensive hours.
You can use this sewing awl for working with various things such as:
Leather goods
Canvas tarps
Climbing and camping gear
Bookbinding
Saddlery and tack items
Athletic equipment
Shoes and belts
3. BIGTEDDY Sewing Awl Hand Stitcher Kit
Unlike the other two, this sewing awl has a sleek gold finish. Instead of wood, it also has a copper handle with four interchangeable needles. You can use this tool to achieve a variety of different puncture marks and stitches with ease.
The BIGTEDDY Sewing Awl Hand Stitcher Kit comes packaged in a clear plastic box for storage convenience. You can quickly change and replace the needles by turning the handle's top. With a little practice, this awl sews a perfect lockstitch just like using a sewing machine.
You can use this for many things, such as:
Sewing or repairing leather
Tents
Backpacks
Sleeping bags
Upholstery
Saddles
Harnesses, and more
4. Dritz Awl with Wooden Handle
Dritz awl is a dependable and affordable tool. It has a thick, super-sharp needle and an ergonomic egg-shaped wooden handle. You can use this handy tool to punch, mark, or start holes for many things, such as:
Start holes for small wood screws, tieback hooks, or screw eyes
Punch holes in leather and plastics
Mark hole positions for hanging window treatments
5. Clover Straight Tailors Awl
The Clover straight tailors awl is another well-made and well-priced product. It is a slimmer model than the other options, and it is lightweight. A handy plastic cover keeps its needle sharpened and protected.
You can use this awl for detailed work such as:
Shaping edges
Feeding heavy-duty fabric into machines
Marking and opening holes
Piercing small holes or craftworks
7. Awl for All Stitching Awl Tool Kit & Supplies
The Awl for All is an all-in-one pack that includes:
A wooden-handled awl</0li>
Five replacement needles
Three spools of thread
A double-headed changing tool with a wrench and screwdriver on its ends
It has a handle that unscrews to hold the needle and changing tool when not in use. The tip also unscrews for convenient needle swapping when the tool is in use. The three included spools have extra strength because of their braids.
How to use a leather sewing awl?
A sewing awl can help you not only on your leatherwork but also on other thick fabrics like canvas and duck cloth. This tool can be handy, especially if you like working with heavy-duty materials, but how do you use a sewing awl?
First, you need to set-up your sewing awl:
Pull the thread out of the hole. Do this step while the bobbin is securely in the handle and the needle is in its post.
Loop the thread around the tension post. Then, through a slot, hole-in your awl's handle leading it to the threaded post.
Continue up the post into a recession carved into it. Finally, continue into the needle through a channel for the thread.
Secure the chuck lock and make sure that you properly place it in the recession. You should be able to pull your thread out of the needle with little effort once you secure the lock.
Next, start your stitching:
Plunge your awl into the area where you like to begin your stitch. Then, pull out as much thread as the length of what you want to stitch. Add around three inches through the needle.
Hold the thread, then pull your awl and needle out of the hole, leaving the thread behind.
Push your awl into your material to create a second hole. Then, pull it back until the thread on your awl forms a loop.
Thread the entire length of the other end of the end through the loop. Then, pull your awl out of this hole. As you do this step, you should be pulling on both ends with equal tension to form your first stitch.
Continue this process in the following stitches. Do this while releasing the thread from the awl with the end cap as needed.
Finally, finish off your work:
You can tie a knot instead of looping the last stitch. Push the awl in as in a normal stitch. Then, pull out around three inches of thread through the needle. Cut the awl loop thread and tie this to the loose end with a square knot.
Another method is to stitch like normal on your last stitch. Then, stitch backward with your awl. Do this while placing the needle into the second-to-last stitch and looping the third-to-last hole. Pull the awl out and tighten. Finally, cut each end off.
Can I sew leather on a sewing machine?
Leather is more challenging to sew compared to other fabrics. It is why many are wondering if they can sew their leather on a sewing machine. But any good-quality home sewing machine should be able to handle leather. You just need a few adjustments to make it work.
Here is a simple guide so you can sew leather on your sewing machine at home:
Change your presser foot. Change your regular presser foot into a roller or a teflon foot. These feet will easily glide over leather and make things easier for you.
Change your needle. You need to get a leather needle and get extras on hand.
Change your stitch length. Use any stitch length that is longer than a normal stitch but shorter than a basting stitch.
Use the right thread. You need to use heavy-duty thread like polyester or nylon. Doing so will help you have a more professional look and prevent thread erosion over time.
Hold pieces together with tape. Never pin your leather as they will leave a permanent hole on it. Instead, you need to use double-sided tape.
Use scrap leather first. Any stitches you sew on your leather will leave a permanent mark. So, you need to test your stitching on scrap leather first.