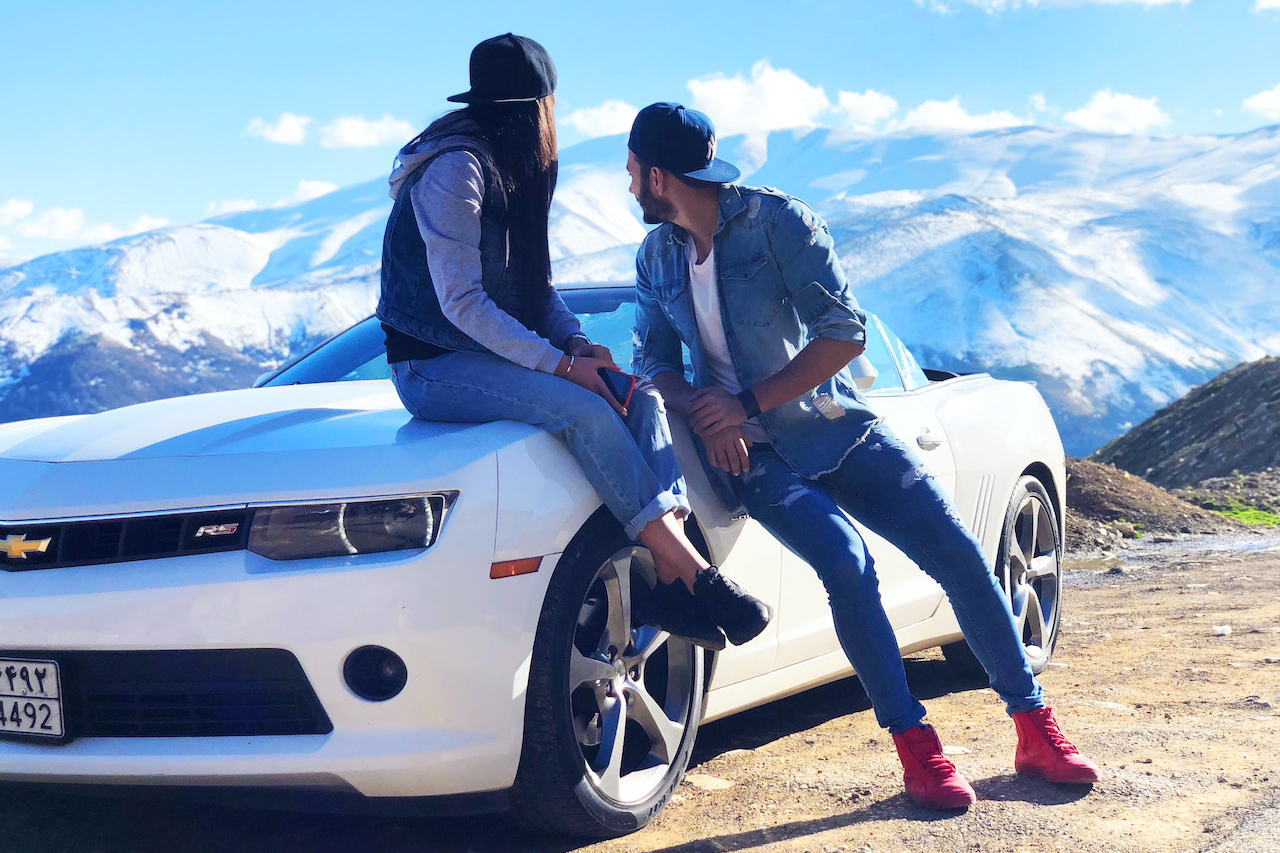 Car rides are sometimes the best times to knit. If you develop motion sickness while traveling, reading through the pattern thoroughly beforehand is a good idea to sit back, relax, and knit.
Being a passenger in a car can sometimes be tedious, especially when traveling long distances. While you may be aware that it is better to do nothing sometimes, you know that when you knit in the car can occupy your free time and allow you to enjoy extra minutes more.
However, carrying your knitting around will not always be an easy activity. So, it is best to prepare beforehand and follow these guidelines:
Tips When Knitting in the Car
Your Needle of Choice
Metal needles frequently tend to be slick, so they may disappear while you're knitting in the car. If you are starting with knitting while traveling, it would be best to use stickier needles like wood.
Additionally, it is best to choose patterns with no more than one or two modifications in needle size. Compared to your home, an automobile has significantly less space, so it is wise to use tools that will accommodate your needs.
Make Something Familiar
If it is your first time knitting in a car, I suggest avoiding experimenting with your projects. Additionally, it probably is not a good time to knit something complex, even if you are an experienced knitter.
Instead, I recommend knitting something you are familiar with or a garment you always make. For example, you can incorporate socks if you make them frequently.
Pick a Basic Pattern
It is common to experience car sickness when your full attention is on anything nearby and inside the vehicle. So, it is best to choose a basic pattern if you plan to knit in the car.
You won't be knitting for very long if you have to keep looking at your project because you have chosen something complex, like lace. It would be best to work on projects using garter stitch, stocking stitch, or stripes instead of complicated patterns.
Pre-driving Read Through
Thoroughly reading the instructions for your chosen project is vital if you plan to knit in the car. By doing so, you would greatly understand the form and construction of your intended creation.
When to Knit and When Not to
When traveling by car, it is inevitable to go through uneven and bumpy roads, which is not the best setting for knitting. Numerous turns, significant bumps, and abrupt breaks are all excellent for mistakes to sneak into your project.
So, it is best to learn when and when not to knit. For example, I do not recommend knitting when there are roadworks or as you approach your destination. In these situations, your driver may rely on you to assist in looking out for signs, so you must not solely focus on your knit.
On the other hand, motorways and multiple carriageways are your best options for knitting when in the car. They are boring, which means smooth driving for your driver. So, it's unlikely that there will be disturbances when you knit.
Can you knit on a train?
You'll probably have plenty of free time if you're taking the train, so it is an excellent chance to work on your knitting projects. However, it is best to reserve your seats in advance to avoid unfortunate circumstances.
Although you can use public transportation time for knitting, you need a knitting project appropriate for the atmosphere when you knit on a train. So, I recommend finding something that meets the following requirements:
One skein of yarn will do.
The thread is relatively thin.
Extra knitting supplies, such as cable needles or stitch holders, are not vital to work on the project.
The pattern is not overly complex; even better, you don't need it because it's so simple.
How do you travel when knitting?
You make the most of those endless hours spent traveling when you're a knitter. However, it would be best if you were smart about preparing to knit. For example, it is better to use circular needles, choose a basic pattern, and learn the instructions by heart.
Whether you're traveling from near and far to spend time with your loved ones or taking a selfish break for that much-needed vacation, it would be best to know a few tips if you plan to knit while traveling. So, here's a quick guide to knitting when traveling:
What to Consider when Choosing a Pattern:
Opt for something simple
When traveling, it is best to bring out those tried-and-true routines you can perform while not looking. Your chances of pausing while knitting are substantially higher when you're inside a moving vehicle.
For instance, if the passenger sitting next to you on the plane needs to use the restroom or your bus arrives early at the stop, you need to pause and pay attention to your surroundings. The objective is to use simple routines you can quickly resume after the interruption.
Cut it down
Even if it would be lovely, knitting when traveling is not the time to design an enormous pattern. So, working on projects that sit comfortably on your lap and don't use a ton of yarn would be best.
Consider using fine or lace weight yarn for your crafts for knitting when traveling since they may still compress to a smaller size. For example, you can knit caps or tiny socks.
Be realistic with the tasks you'll complete while traveling
The number of patterns you bring will depend on the length of your trip, the time you have for knitting, and the duration of each project. But it would be best to concentrate on a small number of activities that will keep you busy.
Learn it by heart
Your elaborate knitting pattern has no place on a moving vehicle. There is no certainty that the lighting will be good enough to work with something sophisticated. Additionally, you might get motion sickness if you focus too much on your knitting and read instructions.
So, I recommend working on straightforward knitwear that you've already completed. You'll have a far more pleasurable experience if you don't have to juggle a pattern on top of the knitting itself.
How to Prepare for the Trip
Prepare your patterns and learn them beforehand
It would be best to print or download your patterns before going on your trip. Doing so will make it possible to continue working on it, even when knitting in a car. In addition, it is best to review your patterns to ensure you know how to finish each step.
Ensure you have all the necessary supplies
Make an inventory of your patterns and look for any supplies you need to complete them, such as stitch markers and cable knit needles. It's generally ideal to select designs that require the fewest extra items to pack, but you can't completely prevent it.
Place your knitting supplies in a separate case
When knitting while traveling, it would be best to use an accessory bag to keep your supplies organized and to help protect your yarn. Numerous bags are available, or you could use an old makeup bag as a toolbox.
You can also create a separate travel kit containing your most often used tools, advises Marie from undergroundcrafter.com, so you can "slip into your project bag when you pack without having to pick up notions each time."
Organize all your materials and supplies
It would be best to keep your knitting supplies in distinct bags if feasible. Note that if you do not adequately care for the yarn and put all your projects and materials in one bag, your thread has a propensity to tangle, which is a recipe for disaster.
So, it would be best to keep your bags organized by dividing your knitting stuff into several cases to avoid ruining them. It will also prevent constantly unpacking and repacking your knitting backpack because you can quickly grab a specific project.
Is knitting a skill or hobby?
Many believe that knitting is a hobby that concurrently utilizes many skills. For example, you must be able to count stitches, understand and follow a pattern, and work with both hands at once.
The popularity of knitting is still rising, making learning to knit even more tempting. Some even knit during jury duty. You not only exercise your creativity and create beautiful completed goods, but you also become a part of a dynamic community of like-minded crafters who get together to share ideas and joy.
Knitting is an excellent way to relieve stress and improve mental health since it is repetitive, therapeutic, and encourages awareness. According to studies, those who regularly knit are less stressed, which helps with relaxation and overall well-being.
Knitting helps lessen the signs and symptoms of anxiety and despair. In addition, knitting the skills needed for this activity helps keep your mind engaged, which, according to a study, may help delay the onset of dementia.
Depending on how many supplies you buy, knitting can cost you as little as a few dollars or as big as a few hundred. It might be challenging to decide where and how to begin when there are so many different possibilities.
What is the most ergonomic way to knit?
People who knit as a living utilize a technique called "Lever Knitting." It's the most ergonomic way, enabling individuals to do so comfortably for 8 to 10 hours daily. It makes knitting faster and less painful on the hands and joints than in other styles.
Lever knitting, pivot knitting, or Irish cottage knitting is a technique preferred by the majority of the fastest knitters in the world. Although anyone can learn it, this technique is terrific for knitters who make their living from the craft.
It provides advantages for your health in addition to quickness. For example, you don't have to set down your knitting while using lever knitting to wrap yarn around the needle tip. As a result, you can knit more quickly because you won't have to stop and start to add thread.
The technique also lessens the damage caused by knitting. It can be more ergonomic and result in speedier motions if you gently hold your hands with the palms pointing up rather than angled downward. Doing so may be ideal for those who experience carpal tunnel syndrome or other wrist and joint pain.
How to Do It
In that the yarn is handled in the right hand, lever knitting is somewhat of an adaptation of English knitting. The difference is that one needle does all the work while you keep the other while you use it as a pivot or lever.
To make the stitches, the hand often moves back and forth while you tense the yarn around the lower fingers. It is a flowing motion that lessens fatigue from repetitive motion.
If you want to master lever knitting, I recommend using long, straight needles—one of which you may tuck under your right arm as you knit to keep it steady. Only the left-hand needle moves in this scenario.
You can also use a knitting sheath or belt to keep a straight needle stationary, which is what you'd do if you were knitting while moving about or standing. Additionally, I suggest using circular needles for the same tasks once you become accustomed to using straight ones.