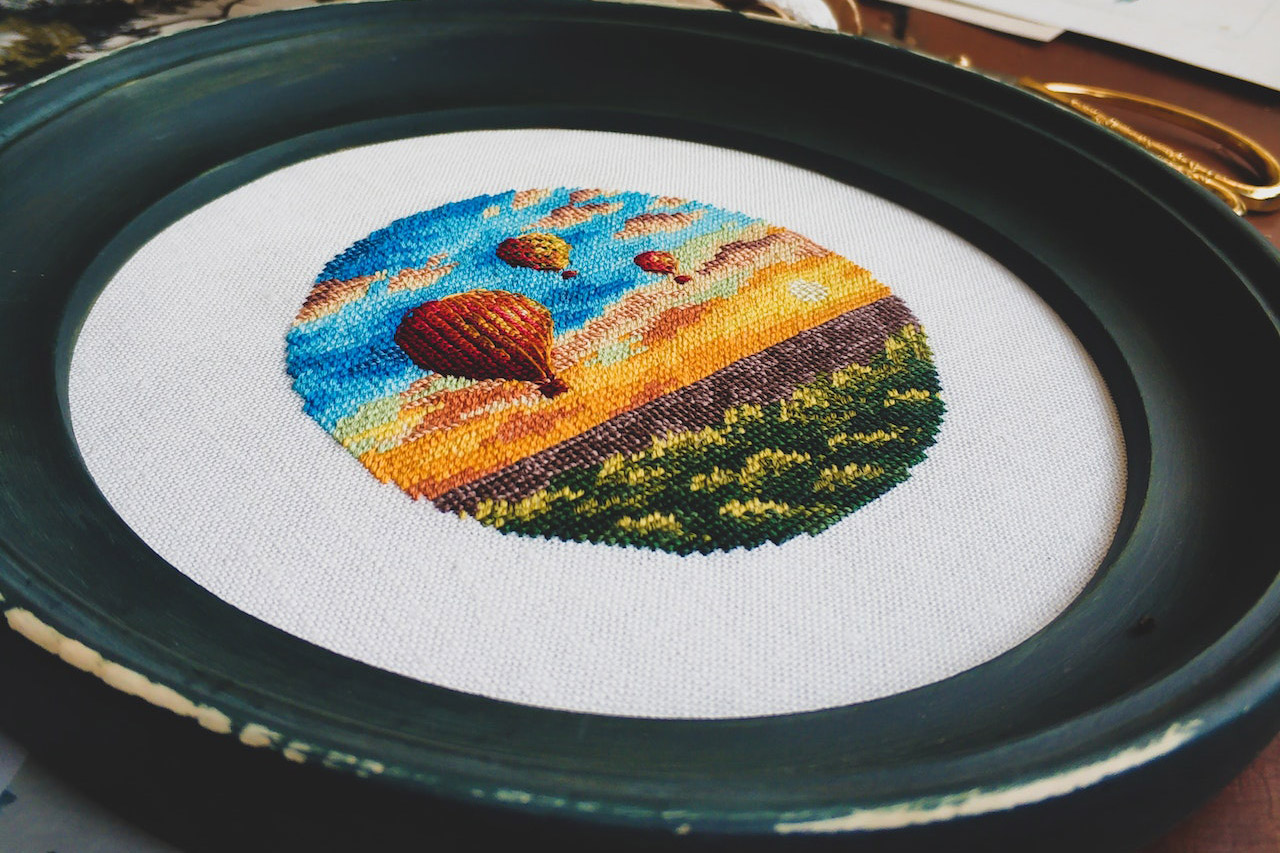 Your cross stitch can sell. If, aside from being relaxed doing this hobby, you can earn a bit from it too, then you are right.
You can earn from your cross stitches, but you must know that you might make only enough to maintain your hobby.
Did you know you can make money doing one of your favorite crafts? After finishing a cross stitch piece, the usual options to mind are hanging it on the wall or finding a place to store it.
Good thing, there are more ways than these two that you can do with your cross stitch.
Is selling cross-stitch profitable?
Cross stitch is one of the creative hobbies that you can earn from. This craft has become popular again in recent years, and there is more demand for cross-stitch kits and patterns.
The age range for cross-stitch hobbyists has become broader and more varied. Cross stitch is not a past-time activity for grandmas anymore but is also an exciting activity for all ages.
Cross stitch is a relatively easy craft for kids and adults alike. If you like this type of needlework and have the time to spare, you can turn your cross-stitch crafts into cash.
Below are some tips and guides on how you can go about earning from your favorite craftworks.
Post pictures of your work.
One of the most practical and easiest ways to advertise your cross-stitch works is to post pictures of them. Choose from any social media platform to promote your finished cross-stitch products.
If your work interests other people of the same mind, you can easily discuss how they can get a hold of your finished piece.
Make small cards or bookmarks.
Cross-stitched cards or bookmarks are the easiest and quickest pieces to make. They may also be the fastest to sell if you decide to make a profit out of your cross-stitch works.
Think about the number of occasions there are in a year. It is more than enough to inspire you to make more. Many people will celebrate birthdays and people who will get married each year. Cross-stitched cards or bookmarks are ideal gifts or giveaways.
Create an Etsy account.
Setting up an Etsy account is the perfect way to know if your cross-stitch works will sell. Etsy is a popular and trusted website that posts and sells different handcrafted items and is the ideal platform for your work.
If you have many different cross-stitch items to sell, name each so people can find them easily. Make sure to post attractive photos of your cross-stitch items for sale.
Take Custom Orders
With custom orders, you may need help to stitch the pieces you want, but you will surely get bucks from your work.
You can get 1-2 cents per stitch or even 5 cents per stitch if you get a lucky client.
Teach to earn
As a cross stitch enthusiast, you will want to keep doing cross stitch as much as you can. You can do that by teaching others how to do the craft. This way, you rouse the interest of others in this craft, and at the same time, you earn by imparting your knowledge.
Create your pattern
Creating your patterns may allow you to stitch less than you want, but it is the best way to earn a profit apt for your finished work; you can search for similar pieces or ask experts on cross-stitch to know their worth.
Start a blog
To others, selling finished cross stitch pieces may be enough motivation to earn a little something from a hobby you love. Why not bring your interest up by writing a blog about your work?
You will attract like-minded people, and you might get a substantial following writing about your favorite pastime. Writing a blog these days can rake in a profit, but even if it does not, having a blog for your cross-stitch hobby is still a plus.
Sell wedding and birth samplers.
You cannot cross-stitch all the patterns you want and expect everything to sell. As someone looking to sell cross-stitch pieces, know which ones sell and make them.
Someone is always getting married or having a baby, so by having cross-stitch projects associated with these special occasions and milestones, you can be confident that you will have enough clients to sell your masterpieces.
Cross-stitch is a type of handiwork you can turn into a lucrative income stream. Know what you can do among the various options or think of more creative things with this type of embroidery.
Do people still buy cross stitch?
People still buy cross-stitch patterns and kits.
Cross-stitch is a method of embroidery that uses X-shaped stitches sewn onto fabric to create a design or pattern.
Cross-stitching is a relaxing hobby that offers various uses, like personalizing clothing, creating gifts for friends or family, or making home décor.
Cross-stitch continues to be one of the most popular hobbies of crafters of varying ages. These days, many websites, blogs, and other social media forms cater to this craft. You can find more designs and patterns online and in brick-and-mortar craft shops.
Is cross stitch worth anything?
The value of a cross-stitch piece depends on many factors, some of which are the quality of materials used, the difficulty of the design, and the state of the finished work.
You can expect the value of your finished piece to rise if it has the following properties:
Original Design
If a famous artist designs your cross-stitch piece, or maybe there is only one of its kind, you can ask for a higher price.
Historical Significance
A cross-stitch piece with historical significance or associated with a specific time and place can be precious to collectors.
High-quality Materials and Stitches
If your finished cross-stitch piece shows clean and precisely-made stitches, you can ask for a more considerable price for your work.
Many people will pay more for the best quality and craftsmanship.
Antique or Vintage
Most of the time, antique or vintage cross-stitches in good condition are the ones you can sell at a more considerable value than contemporary cross-stitch pieces.
Cross-stitch pieces are not highly valuable because they are commonly made for personal enjoyment or usually given as gifts. To ensure the price is right for your work, search for similar pieces or ask experts on cross-stitch to know their worth.
There may be better ways to calculate the cost of a finished cross-stitch piece than an hourly rate. Experts suggest assigning 1 to 5 cents per stitch and computing the price based on how many stitches there are in the pattern.
There may be better ways to calculate the cost of a finished cross-stitch piece than an hourly rate. Experts suggest assigning 1 to 5 cents per stitch and computing the price based on how many stitches there are in the pattern.
Where can I sell my cross-stitch art?
You can sell your cross-stitch art on different online platforms like Etsy, Amazon, and Facebook Marketplace, to name a few. If you are not into selling your craftworks online, you can sell them at the local craft fairs.
Look around for monthly or yearly posts for craft fairs around your town or city. You can get a free stand for your cross-stitch wares or pay a minimal fee. Having a physical store to sell your cross-stitch pieces will incur costs like transportation, booth decorations, booth fee, and food for the day.
So, be ready for the monetary and physical challenges in selling your masterpieces.
If craft fairs differ from your style, you can choose from the many online marketplaces available to sell your completed cross-stitch pieces.
Etsy
Etsy is the biggest and most popular online marketplace for vintage goods, craft supplies, and handcrafted items, including cross-stitch pieces. Not only can you sell your completed cross-stitch items, but you can also offer cross-stitch patterns on Etsy.
It is quick and easy to set up your very own Etsy shop by signing up, listing your cross-stitch pieces, and setting the prices for your items.
eBay
The next on the list is eBay, another popular online marketplace for handcrafted and vintage items. It has a more extensive selection of completed cross-stitch for sale.
The advantage of eBay as a selling platform is that it does not charge to list your item for sale, meaning you can keep your listing up for as long as it takes to sell the item.
Amazon Handmade
Amazon Handmade is an online marketplace listing vintage goods and handmade items like cross stitch. Like Etsy and eBay, you can sign up on Amazon Handmade and sell your completed cross-stitch pieces. It is a breeze to set up shop on Amazon Handmade but be ready for listing and transaction fees.
Facebook Marketplace
Facebook Marketplace is one of the excellent online platforms where you can also sell different products, including handmade items like cross stitches. The best thing about selling on Facebook Marketplace is the lack of fees you must pay.
There is no need to be anxious about paying more fees to list your items to sell. There is also no transaction fee cut for this selling platform once you can sell your item.
List your cross-stitch pieces for sale, set up a payment option for your customers, and arrange shipping or pickup.
Cross-stitch Forums and Facebook Groups
You can benefit from joining a Facebook Group of Cross-stitch enthusiasts or forums. Since the people who frequent these platforms have similar interests as yours, they can be potential buyers for your cross-stitch pieces.
Make your website
Setting up your website is another way to put your cross-stitch pieces for more people. You can customize your online store for your finished cross-stitch pieces or patterns according to your liking.
You can design your online shop according to your personality, attract more people who can relate to you, and purchase your cross-stitch items.
Before you sell your completed cross-stitch pieces, take clear, high-quality photos of your items. Describe them accurately in your listing, and make sure that you post competitive prices for your articles by looking at similar pieces and their corresponding prices.
Selling your cross-stitch pieces will take time and effort, but turning your hobby into a potential business can be great and rewarding.