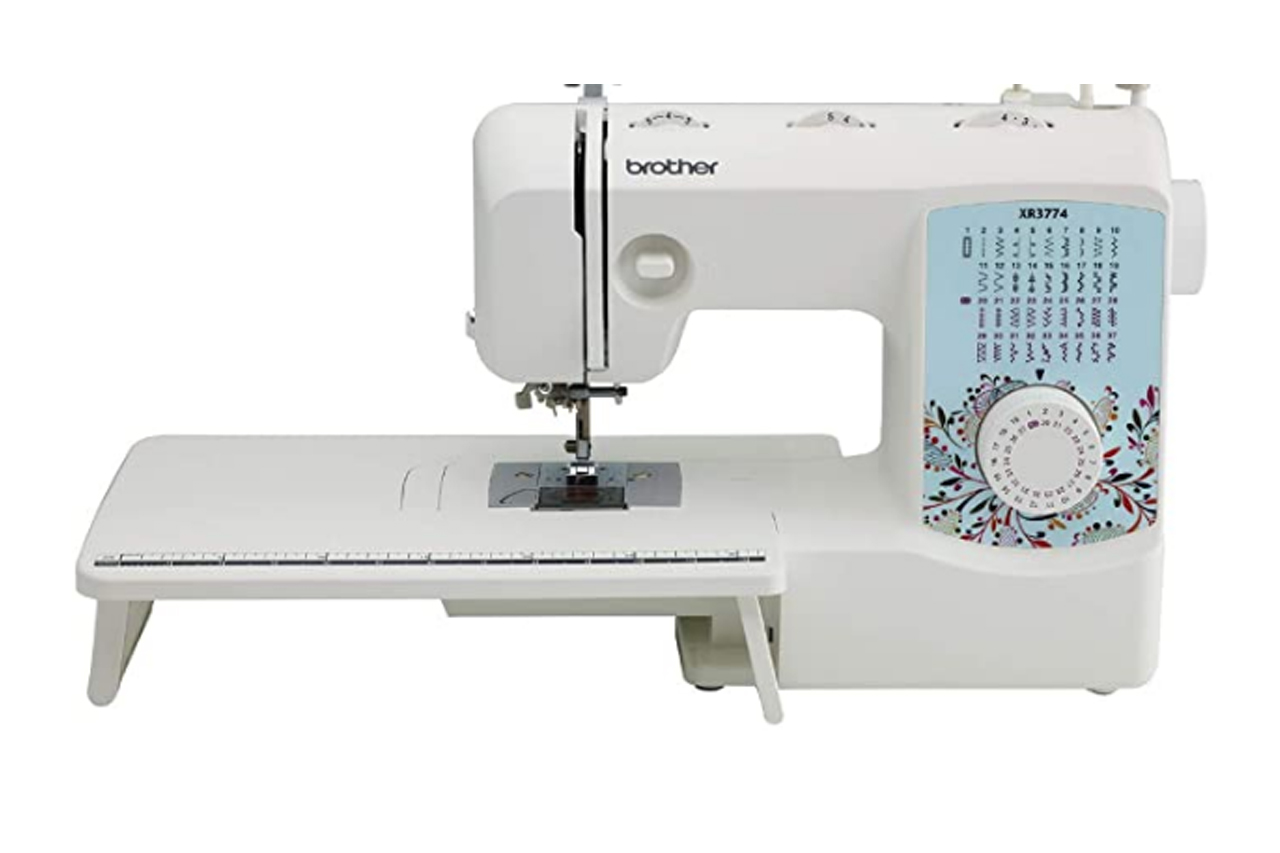 Having a sewing machine in the comfort of your home is always an advantage. An ordinary household sewing machine is a good investment for a sewing hobbyist or someone who needs a proper tool for mending simple tears on garments and hemming pants or skirts.
You can look at many brands of sewing machines in the market, but you need not delve deep as popular brands like Brother are tried and tested by experienced sewists to be reliable sewing equipment in the home.
Brother sewing machines are famously reliable sewing machines that last a long time. They are sturdy, durable, and have simple yet necessary features like an automatic needle threader and a drop-in bobbin.
If you have no idea which Brother sewing machine you can get for your household, please read on to know more.
1. Brother XR3774
The XR3774 is considered the best Brother sewing machine for home use. Despite being an older model, it is still in demand these days.
The Brother XR3774 is a non-computerized machine capable of quilting because of the long extension table that comes with it.
This primary sewing machine has 37 stitch patterns. It comes with eight different presser feet and a walking foot that can help you quickly feed a massive piece of fabric like a blanket or quilt.
You can get your money's worth if you get yourself a Brother XR3774. It is an affordable option if you are a newbie at sewing who prefers to work on mechanical sewing machines than the modern computerized ones.
Buy it here: Brother XR3774
2. Brother XM1010
If you want a primary sewing machine, you can try the Brother XM1010. It is the perfect sewing machine for everyday sewing tasks such as mending clothing.
The XM1010 has ten stitches you can choose from and four presser feet included for your various sewing needs. It may not be up to par with the more advanced models you can use daily, but it is sufficient for garment mending or hemming pants or skirts to their proper length.
The sewing machine is compact and lightweight and can be easily stored when not needed. This sewing equipment is relatively affordable, so you can consider it a good investment for minor sewing tasks at home. It is also the ideal model if you want to teach your child the sewing basics.
Buy it here: Brother XM1010
3. Brother HC1850
The Brother HC1850 is a simple computerized sewing machine model that does not need a foot pedal to run. It uses a start/stop button feature, advantageous to newbie sewists or quilters.
It is a user-friendly modern sewing machine with an LCD screen that can show you specific stitch settings and error codes if anything goes wrong with the machine as you sew.
The computerized sewing machine comes with 185 built-in stitches with a removable free-arm extension table fit for quilting projects. There is also a monogramming stitch option that you can try.
The HC1850 is an ideal domestic sewing machine because it is easy to use with its automatic needle threader and drop-in bobbin. You can get the HC1850 at an affordable price for a computerized model.
Buy it here: Brother HC1850
4. Brother GX37
The GX37 is a primary computerized Brother sewing machine. It has 37 unique built-in stitches and an auto-size buttonhole. The number of stitches in this electric household sewing machine is more than enough for mending tasks and simple hemming.
The machine's automatic needle threader and the drop-in top bobbin make this sewing machine very convenient and user-friendly. Accessories included with the package are six sewing feet, some bobbins, a needle set, and an instructional DVD. Many people find the DVD helpful in understanding how the sewing machine works.
The Brother GX37 also has a versatile free-arm, an ideal feature for daily sewing and quilting projects. This simple computerized machine is an excellent sewing machine to use in the home for either a newbie or an experienced sewist.
Buy it here: BROTHER GX37
5. Brother CS5055
The Brother CS5055 is a computerized sewing machine with 60 built-in decorative stitches and seven styles of auto-size buttonholes. The CS5055 is a perfect model if you consider sewing garments seriously at home.
This machine can sew thick fabrics like denim or tweed with an excellent feeding system. You would also be glad to know that it has an automatic needle threader and a jam-resistant drop-in top bobbin to start sewing as efficiently as possible.
The sewing machine is easy to operate, yet it offers many features that you never thought you would use until you realize you have them. It is perfect for the home as many sewists praise how quiet the machine works.
Buy it here: BROTHER CS5055
6. Brother XR9550
The XR9550 is a computerized sewing machine but is a very user-friendly one that can suit a newbie to an experienced sewist.
The machine is quite a valuable tool for a sewing enthusiast because of its versatility and durability. The 110 unique decorative, utility, and heirloom stitches and eight styles of one-step, auto-size buttonholes allow you to be as creative as you can get in all your sewing projects, from clothing to quilts.
The XR9550 has a large LCD screen that allows you to choose from various stitches using push-button stitch selectors. It also has a free-arm option for sewing sleeves and cuffs and a vital drop-feed capability for free-motion quilting.
Accessories included with the XR9550 are eight quick-change presser feet: zigzag, buttonhole, zipper, button sewing, overcasting, blind stitch, monogramming, and quilting feet. These various sewing feet will allow you to accomplish your different sewing projects.
The machine comes with a hard protective case so that you can store it safely when not needed. It is also a great option if you are into quilting at home because of the wide table and the foot-free feature of the machine.
Last but not least, the automatic needle threader and easy bobbin loading make it a brilliant machine for new and old sewists, even young children who are learning to sew.
Buy it here: Brother XR9550
7. Brother CS6000i
The CS6000i is one of the most popular models of Brother and is still a favorite. This machine is an excellent choice for newbies, intermediate sewists, and the more experienced ones.
It is also perfect and relatively inexpensive for a sewing and quilting sewing machine. The machine has 60 stitch patterns you can choose from and seven different automatic buttonhole styles to fit your project. You can also benefit from the option of sewing without a foot pedal.
The CS6000i comes with an LCD screen where you can change your stitches as you desire with the touch of a button; at the same time, you can view your selection on the screen. The machine also provides a brightly lit area where you can work clearly and correctly, even on dark fabrics.
As with any reliable and user-friendly computer sewing machine, the CS6000i has an automatic needle threader, a drop-in top bobbin, and an adjustable sewing speed control.
The sewing machine is geared for someone who wants ease in sewing and quilting. The wide table is handy to make space for large sewing projects or quilts that you can do in the comforts of your home.
Buy it here: Brother CS6000i
8. Brother CS7000X
The Brother CS7000X is an updated version of the Brother CS6000i model. It is a modern sewing machine that is friendly to newbie sewists with convenient features such as an automatic bobbin winder, a needle threader, and a jam-resistant top drop-in bobbin.
The machine has 70 unique built-in stitches, including utility, decorative, heirloom, and quilting stitch functions with seven one-step auto-size buttonholes.
This computerized Brother sewing machine has a wide table, ten presser feet, a quilt guide, and a hard protective case.
The Brother CS7000X has multiple features an experienced sewist would want and is easy enough to understand for a newbie.
Buy it here: Brother CS7000X]
Best Brother Sewing Machine for Home Use: Which type of sewing machine is best for home use?
The best type of sewing machine for home use should be the one that matches your sewing needs. To choose the best sewing machine to use in your home, you have to consider a few things, like the type of machine, number, variety of stitches, or special features.
Build or Type
The build or type of machine is essential in choosing your domestic sewing machine, but it really depends on what type of projects you intend to make.
If you are interested in sewing home decors such as curtains or wall hangers, you would probably need a mechanical sewing machine to handle various fabric thicknesses.
A computerized household sewing machine would suit you for sewing dresses and garments. They usually come with various stitches and accessories to allow more creativity for your sewing projects.
Variety of Stitches
Different types of sewing machines vary in number and kinds of stitches included. A primary sewing machine may only have ten stitch types, enough to do basic sewing and mending tasks.
Features
All sewing machines have a fundamental purpose, but different sewing machines vary in features to suit various sewing projects.
Many sewists would look for the automatic needle threader, the drop-in bobbin, and the buttonhole maker as the vital features in choosing a user-friendly sewing machine for the home.
Accessories
Sewing machines also differ in terms of the accessories included. Accessories such as the different presser feet may prove useful for your projects, so make sure to weigh the importance of these accessories to your sewing goals.
Size and Weight
You also need to consider the size and weight of your sewing machine before you purchase. If you have a designated area for your sewing machine in your home, you can get a standard-sized sewing machine and enjoy its multiple features. But if space is limited, a mini sewing machine that can handle basic sewing and can be stored easily will suffice.
What is the easiest sewing machine to use?
The easiest sewing machine to use is the one with an easy threading system and is also easy on the budget. Having a primary sewing machine makes your life easier, so you must choose the one that would work for you.
Most sewing experts recommend the mechanical sewing machine when starting your sewing journey. Whether you are just sewing to mend occasional clothing booboos or pursue your interest in quilting, you will need sewing equipment that is easy to use and suits the kind of sewing you want.
Having a sewing machine will make your work faster and easier than doing it by hand.