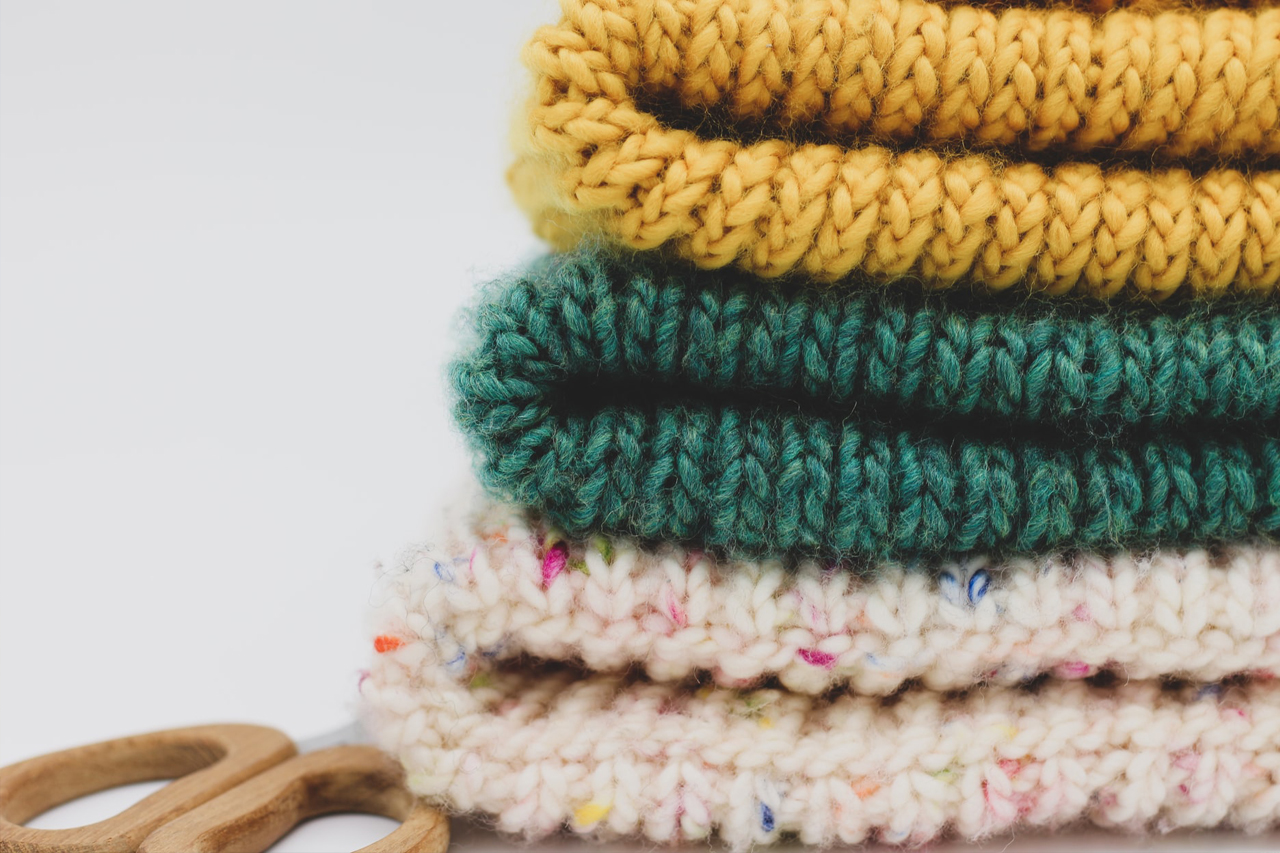 Have you ever wondered if you are using the best-fit yarn for knitting or crocheting a hat? Hats are tiny accessories that you can craft and wear in different seasons.
There are different types of hats that you can create with varied fiber materials to crochet or knit the hat of your choice.
Below is a list of the best yarns for making hats and where you can find them.
1. Bernat Softee Chunky Yarn
As its name explicitly suggests, the Bernat Softee Chunky Yarn is one of the softest yarns to knit or crochet a hat. It is not just smooth but also very lightweight at 100 grams per yarn skein, so there is no extra weight on your head.
Bernat Softee Chunky Yarn from 100% acrylic is not a fine yarn but is super bulky. It is ideal for making hats and perfect for knitting or crocheting scarves, clothing, or accessories. You can find it in 25 different colors and shades with 99 meters long per skein.
Buy it here: Bernat Softee Chunky Ombre Yarn
2. Lion Brand Wool Yarn
The Lion Brand Wool Yarn is made from 80% acrylic and 20% natural wool. It is soft, lightweight, and comfortable, perfect for crocheting a stylish hat. A skein of Lion Brand Wool yarn has 261 yards and weighs only five ounces.
If you are not so much into brightly colored hats, Lion Brand Wool Yarn has dark and rich colors with seven patterns to choose from.
It is a super bulky yarn that is excellent for sweaters and blankets and ideal for making small craft pieces like socks, hats, and mittens.
Buy it here: Lion Brand Wool Yarn
3. Elegant Yarns Kaleidoscope Yarn
As the brand suggests, all yarn from this brand is attractive and elegant. Yarn colors are unique, with brilliant combinations of bright colors. The thread is 100% wool, perfect for making hats, mittens, scarves, and sweaters for the fall and winter seasons.
The Elegant yarns are lightweight, weighing only 3.5 ounces per skein, making them a perfect material for hats.
These colorful yarns, available at 174 yards long, can crochet and knit gorgeous hats and other projects.
Buy it here: Elegant Yarns 147-58 Kaleidoscope Yarn
4. Red Heart Super Saver Yarn
If you want your hats crocheted or knitted hats to come out unique, Red Heart Super Saver Yarn can offer you a wide range of colors. The Red Heart Super Saver Yarn is 100% acrylic. It comes in 40 different solid, primary, and unusual colors.
Hats are clothing accessories that you wear often. It is an advantage that these yarns are very versatile in that they can be washed by hand or in a machine. Avoid bleaching, tumble drying, and ironing your finished hat made of acrylic, as it can get damaged by too much heat.
Buy it here: Red Heart Super Saver Yarn
5. Berroco Comfort
The Berocco Comfort is true to its name, offering superior warmth and comfort. It is 50% superfine nylon and 50% superfine acrylic. It is a new and improved type of classic worsted weight yarn.
Aside from being a perfect material for knitting or crocheting a hat, it is also an excellent option for making gloves, scarves, afghans, sweaters, jackets, and bags. A ball of Berocco Comfort worsted weight yarn has 210 yards of yarn at 100 grams.
Buy it here: Berroco Comfort
6. Patons Classic Wool Roving
Patons Classic Wool Roving yarn is 100% Merino wool. This type of wool roving yarn is an excellent option for warm clothing and accessories like hats and scarves. You can choose from an assortment of classic colors that would suit any project in mind.
The roving yarn is a bulky weight yarn that can create soft and warm projects with outstanding stitch definitions. Since it is from pure wool, articles should only be hand washed and laid flat to dry to ensure your crafted pieces last long.
Buy it here: Patons Classic Wool Roving
7. Patons Alpaca Blend Yarn
Patons Alpaca Blend Yarn combines 60% Acrylic, 22% Wool, 10% Nylon, and 8% Alpaca. The blend of synthetic fibers, acrylic, and nylon with natural fibers makes this yarn inexpensive but durable. It also has the softness and warmth of alpaca and wool.
Because it is a mix of artificial and natural fibers, the Patons Alpaca Blend Yarn is easy to care for, as well. It comes in a wide range of beautiful shades to make stylish and colorful hats, clothing, and accessories. You can handwash your finished piece and lay it on a flat surface to dry.
Buy it here: Patons Alpaca Blend Yarn
What yarn is best for hats?
The best yarn to use for making your hat is the one that your pattern suggests. You can crochet your hat from different yarns that will best suit the season.
Each yarn fiber has its benefits and drawbacks. Many yarns are usually blended to take advantage of the benefit each yarn type can give.
Wool and silk can be combined with synthetic fibers like acrylic to make the yarn easy to care for and become more versatile for different projects.
Get to know the types of fibers perfect for crocheting or knitting hats below.
Wool

Wool is a popular option for crocheting or knitting hats. This fiber type is warm and has a great stitch definition. When deciding to use wool yarn to make a hat, make sure it is compatible with your skin, as some people find this fiber itchy.

Wool is a perfect option for making clothing and accessories for the winter. Wool has many benefits when used as material for making a hat. It can still keep your head warm even if it gets wet with snow. It is available in a wide variety of colors and weights so that you can pick the suitable wool yarn for your specific project.

You can choose superwash wool if you make a hat that you will often use.

Wool Blends

More often than not, fiber blends have more benefits than pure fibers. In the case of wool blends, where you combine another type of thread with wool, the best qualities of each fiber are present in the blended fabric.

The wool blend is usually softer on the skin, and the fiber's itchiness is less than pure wool fiber.

Wool is commonly blended with synthetic fibers such as acrylic and nylon, making the wool blend more versatile and safer to wash repeatedly.

Acrylic

Acrylic is an excellent hat material because of its many benefits and versatility. It is very sturdy, yet it is not too rough on the hands as you knit or crochet. It is inexpensive and is available in a wide variety of colors.

Acrylic hats do not need special care. These days, most acrylic yarns are not the scratchy yarns of long ago and can be as soft and pretty as their more expensive yarn counterparts.

Acrylic yarn is a great fiber material to crochet or knit hats that you can give away as gifts to your friends and family.

Silk

Silk may not be one of the most popular fibers to knit or crochet hats because it is expensive, but it is unexpectedly warm and comfy. Silk yarn has excellent insulating properties but is moderately breathable, making it a versatile material to use for all seasons.

Alpaca
Alpaca is a type of wool fiber from the alpacas of South America. Alpaca yarn is more expensive and more luxurious than ordinary wool.
Alpaca fibers are warmer than wool fibers because they are hollow, allowing them to hold more heat. It is also luxuriously soft, a perfect winter hat material.
Which yarn is best for a crochet hat?
The type of yarn is probably the most critical element in knitting and crocheting a hat or any project. But there are other yarn properties such as the yarn weight and texture that you need to consider to crochet the perfect hat.
Fiber Content

The right fiber content of yarn that you must use for your project is determined by how you will use it. If your project requires warmth like hats, scarves, and sweaters, the best options are wool and silk.

You can use cotton or acrylic yarns if you aim for a gorgeous and durable crochet hat.

Weight

The thickness of the yarn describes yarn weight. Yarn weights range from zero to seven, zero being on the lighter side of the spectrum and seven as the highest weight. Some are considered medium weight, such as the Aran weight yarn good for most knitting por

Since you wear a hat on the head, you should consider the weight of the yarn you choose. Some fibers like acrylic and wool blends almost do not add weight to your head and are excellent options for knitting or crocheting hats.

Texture

A good rule of thumb in considering yarn texture is to choose a simple pattern or shape for a more elaborate yarn. Plain or solid varieties are excellent choices if you want to try more stitching techniques.

Availability

The availability of your yarn is also essential in looking for the best yarn for knitting your hat. Some threads are easy to find and have various shades you can choose from, such as acrylic and cotton yarns.

Check out yarns you may need for crocheting a hat on Amazon. Some yarns made of special fibers like cashmere can be hard to find in craft stores. It is easier nowadays to find any item, even threads, online.

Cost
The cost of yarn may not be such a vital factor when choosing yarn for a hat. It usually takes only a ball of yarn to finish a single hat. Even if it takes only a small amount of yarn to make a hat, you should still consider the cost, as some patterns require colorwork or luxury yarn.
Is alpaca yarn good for hats?
Alpaca yarn is an excellent material for hats. It is one of the most sought-after wool types because it is warm and economical, a perfect material to crochet or knit hats.
The best winter hats are made from wool because this material is warm, comfortable, durable, breathable, and absorbs moisture.
Alpaca is comparable to acrylic because it has all the advantages of acrylic yarn but is softer. Knitted and crocheted alpaca hats are less stiff than hats made with wool.
If you are looking for an efficient choice when making hats, remember to put alpaca on top of your list. It is reasonably priced, provides more warmth than synthetic fibers, and is luxuriously soft.
Is 100% acrylic yarn good for hats?
Pure acrylic yarn is a good material for hats. Among the many kinds of fibers you can choose to make hats, acrylic is one of the most popular because of its availability and durability.
The best advantage of a knitted or crocheted acrylic hat is that you can wash it as often as possible without deteriorating quality.
Another good thing about acrylic, it softens with every wash, so your knitted or crocheted hat will get softer and smoother over time. Acrylic is an ideal material for knitting or crochet projects like a hat which is an item that you are going to use repeatedly.
Acrylic yarn is best for knitting or crocheting baby hats and other items that must always be cleaned and washed.
 What size of yarn is best for beanies?
Your best option is to go with worsted weight, 10-ply or aran weight yarn for beanies. Assuming you want to make the best crochet hat for babies, this the best yarn found to work in that regard. Depending on how you are committed to the craft, you may want to try out different types of yarn for knitting hats and other related products. Check Amazon.com and you'll find some of the best yarns for knitting different types of hats. 
What is the best yarn for round loom hats?
Do you want to knit loom hats for adults? Perhaps, that's why you are keenly interested in the best yarn for round loom hats. Some of the best options for such specific use case include – 
Brava bulky

Lion brand yarn hue

Red heart soft essentials 

Bernat softee chunky 
Using these materials, you can make different round loom hat patterns for babies and adults alike. To get the best outcome, it is recommended that you should have a perfect size of yarn to fit the loom hat knitting project. 
What is the best yarn for crochet winter hats?
Knitting crochet hats demands that you choose the most comfortable and suitable materials for the job. From the yarn size to type of material and breathability, your choice in this regard will determine the ultimate outcome. Below are the  best yarns for crochet winter hats. 
Caron One Pound acrylic yarn 

Berocoo Comfort yarns

Shine worsted cotton blend

Baby bee crochet yarn 

Loops and threads charisma 

The woobles easy peasy yarn 

Lion brand mandala ombre yarn