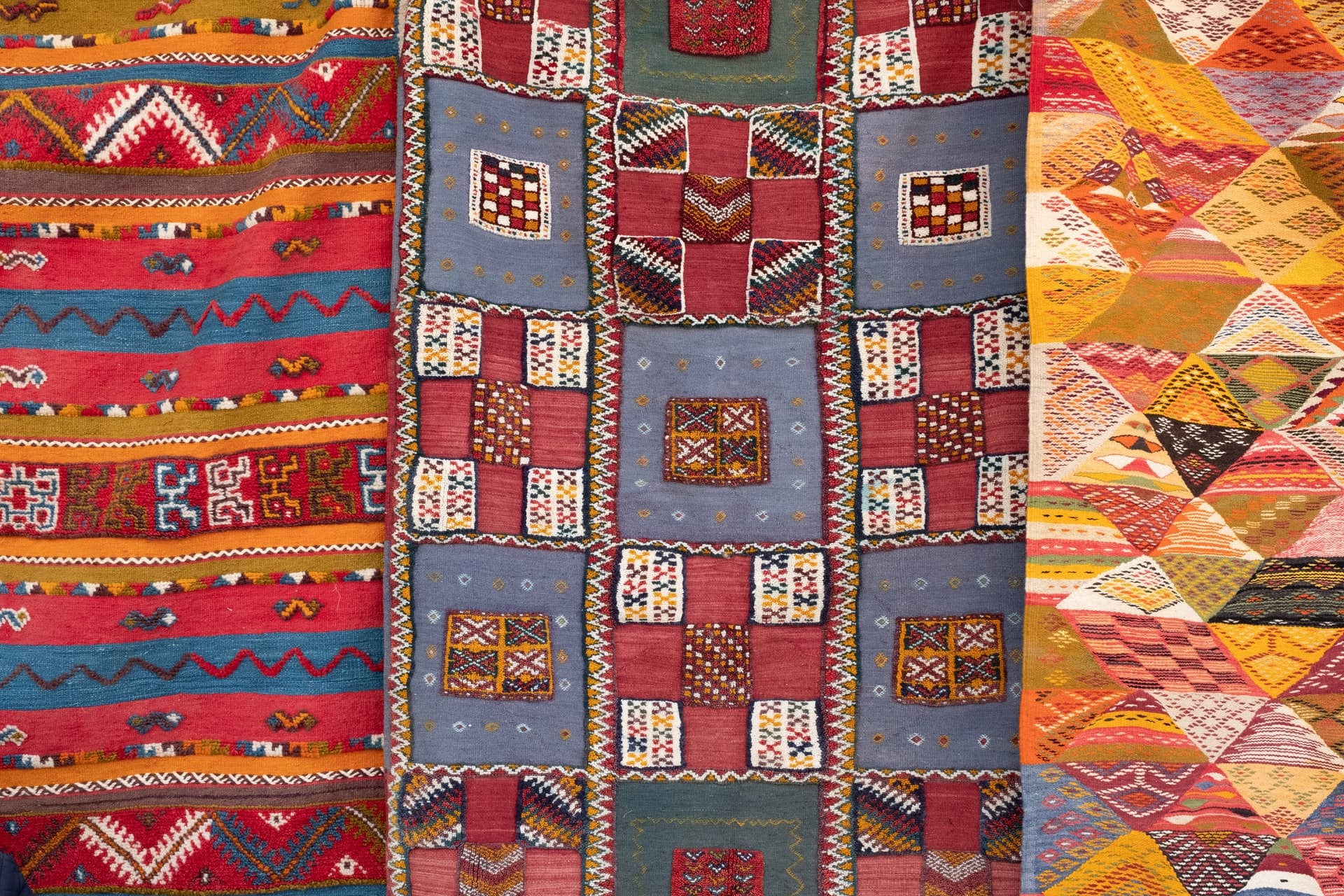 In quilting, you are most likely to hear or read about jelly rolls. So, what are jelly rolls quilting?
Jelly rolls are pre-cut fabrics that measure 2.5 inches (6.35 cm.) in width. These pre-cut fabrics feature coordinating sets of fabrics. These jelly rolls are convenient for quiltmakers. They only need to sew these fabrics together to make beautiful top layers for their quilts.
If you are planning to make a queen size quilt, you need to get its measurement in square-inch and divide that by 3200. Where did you get the 3200? Keep in mind that a jelly roll has 40 strips that measure 40 inches (101.6 cm.) X 2.5 inches (6.35 cm.) each.
Assume that the 0.5 inch (1.37 cm.) is the seam allowance. So, 40 strips X 40 X 2.5 is 4000, then subtract the (800) seam allowance. You get the seam allowance by multiplying the three figures (40X40X0.5), the answer is 800. The result will be the number of jelly rolls you need. Note that you have to round the answer to the nearest whole number.
For instance, a queen-size measure 84 inches (213.4 cm.) X 92 inches (233.9 cm.), then you will need 2 jelly rolls. You get this answer by multiplying 90 by 100, divide the answer by 3200 (84 X 92 ÷ 3200 = 2.4, round it off and you get 2.
If you want to use the same fabric for binding or to decorate the edges, you may add another jelly roll. Having an extra jelly roll is better than to finish short.
How Do You Make A Queen Size Jelly Roll Quilt?
Making a quilt using jelly rolls is simple. You first have to make sure you have enough jelly rolls for your project. You can use the computation process given early on in this article.
1. Get the materials
Prepare your materials such as the following:
jelly rolls (depending on the amount you need)
sewing machine with walking foot
threads
a pair of scissors
tape measure
backing material
batting for the insulation
safety pins
straight pins
iron to straighten the stitched roll
2. Separate and arrange the jelly rolls
Unroll the fabric strips and lay them flat on a table. Since they are pre-cut from different fabrics, you need to arrange them in the style or pattern you want.
3. Sew the ends of the strips
Connect the ends of the strips. One jelly roll makes one long connected strip. So, if you are using two rolls, you should have two long connected strips.Once done, get the measurement of your bed. Keep in mind that not all queen-size beds have the same dimensions. Some are bigger or smaller by a few centimeters.After getting the dimension, cut your connected strips based on that measurement. Don't forget to have a seam allowance.Attach the cut strips by sewing the side of each strip vertically to another. Make sure that you are connecting or sewing them according to your desired pattern. This makes the top layer of your quilt.Once you have connected all the strips, iron it to flatten the fabric.
4. Prepare your quilt sandwich
Cut your bottom layer fabric and the batting material.Lay flat the bottom layer on the table then place the batting material. Flatten them with your palm in a swiping motion.Once flat, put your top layer fabric. This is the stitched jelly roll you made.When all these layers are in place, iron it to ensure that the layers adhere to each other.You may put the edges with pins to make sure each layer won't move away or shift.
5. Finishing the quilt
After you have prepared the quilt sandwich, you can proceed with quilting.Once you finish all the stitches for your quilt, you may add borders for neat and secured edges.
Quilting Tips For Beginners
For novice quilters, you can first make a mock board for your quilt design.
This will give you an overview of what your finished quilt will look like. It may take some time, but it will help you lessen the chances of wasting your jelly rolls.
Start with a small quilt project first. Then, lay out the fabric strips according to your desired pattern. Once you are happy with your design. You may secure them with straight pins. If you want to skip this part, you can proceed with strip stitching.
Connect all the fabrics according to your pattern. After each part, set it aside in the position where you first put them. This will make your pattern organized.
After strip stitching the fabrics, you can now do the quilting process.
Iron the stitched fabrics for easier quilting.
Make it a habit to iron your quilt sandwich before you proceed with quilting. This makes the layers adhere well.
Baste your quilt sandwich or pin the middle and the sides to ensure the fabrics will not shift.
Always recheck your stitches. Make sure they are even and aligned.
Don't be too hard on yourself. If you have a few errors, let them pass. Learn from those mistakes so you can avoid them on your next project.
Practice whenever possible. You can always start with small quilts. This will help you get familiar with quilt scaling such as using inch-blocks and fat quarters.
How to Determine the Number of Jelly Rolls You Need
The following are some common questions on how to determine or scale your jelly roll.
What size quilt will a jelly roll make?
A standard jelly roll has 40 strips. Each strip is 2.5 inches (6.35 cm.) wide. When you connect or sew these strips together, you will have an approximate 50 X 60 inches (127 cm. X 152.4 cm.) quilt.
What size quilt will a 20 strip Jelly Roll make?
A 20-strip jelly roll makes an 800 inches (20.32 m.) mega strip. You multiply 20 (strips) by 40 inches (101.6 cm.) length. The four folds of that will make a quilt with more or less 16 inches (40.6 cm.) rows or 32 inches by 50 inches (81.3 cm. X 127 cm.) quilt. You may cut this in half giving you 40 smaller strips.
How many jelly rolls do I need for a king size quilt?
If you are going to use the American size for a king-size quilt, it measures 96 inches (243.8 cm.) X 108 inches (274.3 cm.). After getting this dimension is square-inch, multiply these numbers. Then divide the answer by 3200.
The computation goes like this, 96 X 108 = 10,368 divided by 3200 is 3.24. Round it to the nearest whole number and you get 3. You need 3 jelly rolls for your king-size quilt.
You may choose to add an extra roll for binding and decorating the edges.
How many jelly rolls does it take to make a twin quilt?
Using the American quilt sizing, a twin-size quilt is 63 X 87 inches (160 cm. X 221 cm.). You get the number of rolls by multiplying these numbers, then divide it by 3200. Here it goes, 63 X 87 is 5,481 ÷ 3200 and you get 1.7 jelly rolls. Round it to the nearest whole number, so you get 2 jelly rolls.
How many fat quarters make a queen size quilt?
Aside from jelly rolls, a fat quarter is another term you will likely read about when quilting. When you say a fat quarter, it is a ¼ yard (22.86 cm.) cut of fabric. This is about 18 inches X 22 inches (45.7 cm. X 55.9 cm.) of fabric cut.
A queen-size quilt will need about 30 to 35 fat quarters. While a king-size quilt may need 42 to 56 fat quarters.
You may also encounter inch blocks as you go on with your quilting. Do not get intimidated because it's easy. You need to get the dimensions of your quilt and divide it by the number of inch blocks you will use.
For instance a king size-quilt measures 96 inches (243.8 cm.) X 108 inches (274.3 cm.). You divide each measurement by 12 since you are using 12-inch blocks. You need to multiply the answers to get the total number of blocks.
Here it goes. 96 ÷ 12 is 8 then 108 ÷ 12 is 9. Then, you need to multiply these answers 8 X 9 is 72. You will need 72 of 12-inch blocks for your quilt.
You may always want to add a few more blocks or fat quarters to your computed value. Same with the number of your jelly rolls. This is to make sure you have some for the binding or borders. It's a precaution to prevent finishing short with your projects.
More pages: 
What Are Jelly Rolls Used For?
Jelly rolls are staples in quilting. But these days, a lot of craft makers are also using jelly rolls for their projects. Here are some uses of jelly rolls aside from quilting:
Jelly roll placemat
Oven mitts
Scarf
Table runner
Tote bag
Pillow or cushion covers
Floor mats
Fabric lampshade
These fabrics often come from different fabrics. This is why they make great patterns and designs. These are perfect for most craftworks that use fabric. These rolls are useful for seamstresses and quiltmakers. These jelly rolls allow them to make limitless designs.
Jelly rolls have varying textures, colors, and patterns. Hence, they make beautiful and unique quilts and fabric craftworks.
Jelly rolls or pre-cut fabric packs make quilting easier. The colorful fabric patterns are versatile and useful in many quilting projects.
You can create a Patchwork quilt easy with jelly rolls. You do strip quilting, that is sewing the strips together. You can cut them up and rearrange according to your liking. You can make Patchwork patterns like a log cabin, chevron, or herringbone easy and fast.
Many quiltmakers love to alternate jelly roll fabric with a neutral or plain shade. The most common is white as it gives the quilts a modern touch.
Using jelly rolls is simple. You don't even need advice on how to use them. But there are some factors to consider before you use them in your Patchwork quilt. Here are some of the following tips and tricks:
A jelly roll consists of 40 strips of pre-cut 2.5 X 40 inches (6.35 cm. X 101.6 cm.) fabric. But, keep in mind that each roll size may vary from one manufacturer to another. You may notice two jelly rolls from the same fabric line can have variations. Do not assume that each roll is the same as the rest.
Never pre-wash the strips. This will give you a handful of work removing the loose threads and the creases. After you unroll the fabrics, it is best to steam iron them before stitching. This makes the fabrics flatter and aligning them becomes easier.
Before unrolling the fabrics, you may use a lint roller on each cut side. This will help remove as many loose fibers as possible. There can be a lot of loose fiber due to the cutting of the fabrics.
Always check the width of the fabric from the pinked edge. This will help you determine where your ¼ inch (0.64 cm.) seam allowance will hit.
Do not throw unused jelly rows. You can always use them for your next projects.
Have separate containers for your used and unused jelly rolls. Mixing them up will give you a hard time figuring out which fabrics go well with which.
You can cut stitched jelly rolls to create more patterns. They are not exclusive to plain strip quilting.
Quilting is fun and exciting. But it does need some serious work. You have to understand scaling to make sure you are using the right amount of materials for your quilts. Although there are jelly rolls that make quilting easier, you still need to measure them.
Jelly rolls are not cheap, so buying more than your needed amount can be costly. Albeit, buying the exact amount may leave you finishing short with your projects. This could happen if you decided to use jelly rolls on the binding or the border of your quilt.
Quilting, unlike other hobbies, can be a bit tricky at first. But with constant practice and dedication, it sure is rewarding.