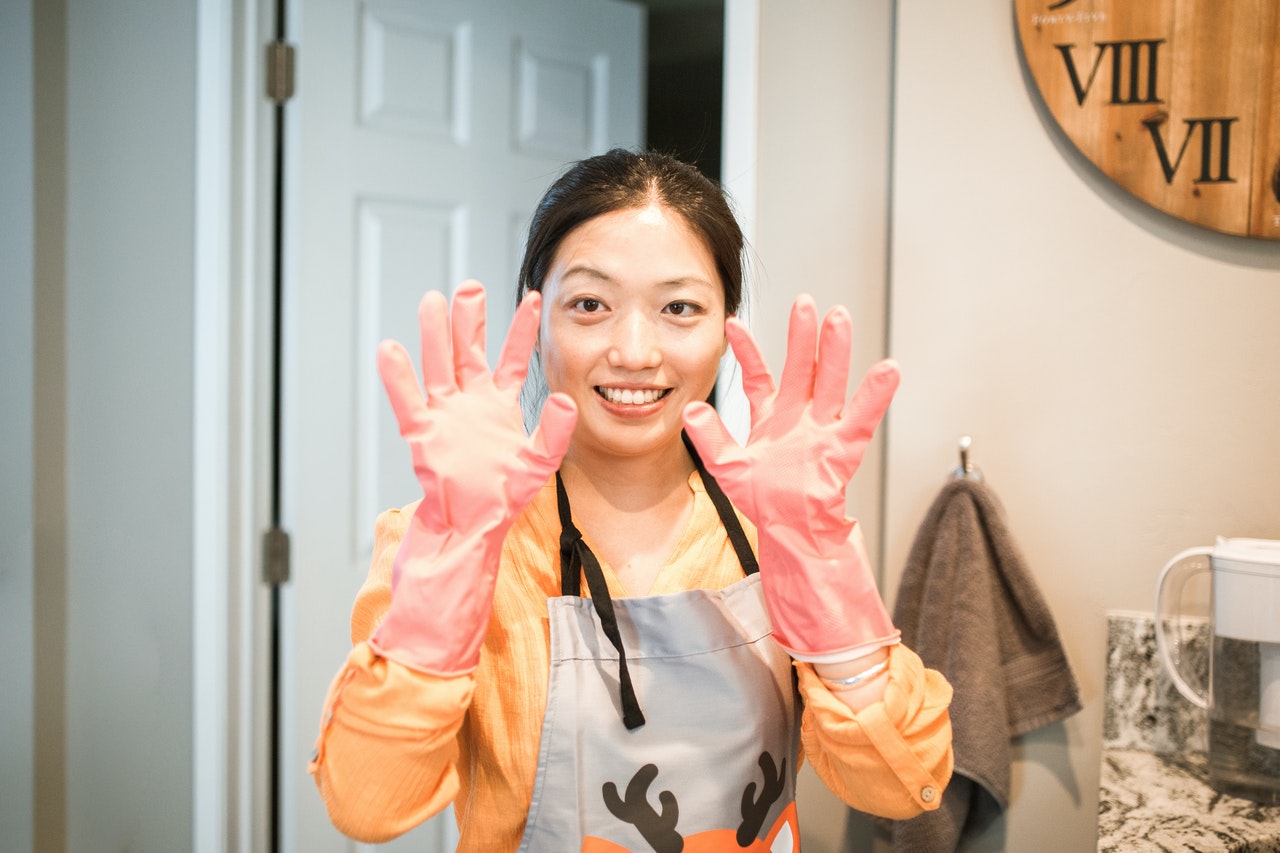 You cannot sew latex fabric. With latex, you cannot join fabrics together by stitching, so you have to set aside the idea of normal sewing.
You can hold latex fabrics together to create garments using glue because needle stitches will only damage the material.
Using latex to make clothing also involves different steps aside from gluing latex fabrics. Making garments with latex fabrics has come a long way. Latex clothing is not only used for theater and film productions anymore, but it is already a material popular in mainstream fashion.
It is high time that many people discover this interesting fabric material called latex.
Is latex fabric stretchy?
Latex fabric is very stretchy because it is basically made of rubber which is a very elastic material. The stretchy quality makes it a desirable and essential material for certain types of clothing.
Latex is commonly associated with fetish fashion but is lately considered an alternative and sustainable material to leather and plastic materials usually used for garments. When latex is used for clothing, it tends to be skin-tight and acts like a "second skin."
The elasticity of latex is its key feature. It is the ideal fabric to use when you need to create a garment that would need to mold on all the body's contours.
Though latex is quite stretchy, it can still be quite a struggle to wear a latex garment. Putting powder on the inside of the garment is a good technique to help you wiggle inside latex clothing. The powder will act as a lubricant that will aid you as you dress up.
How do you seam latex?
You can seam latex using glue, not by sewing. Sewing is ineffective for latex because the stitches will ruin the fabric, and the thread used will not be stretchy enough.
Making a seam on latex is not similar to creating a seam on ordinary fabrics where you sew the same side of the fabric together. With latex, your fabrics must overlap when you glue them together.
It is important that you have to glue the seams on top of each other because it results in a stronger bond. If you glue the seams in the same way you sew clothing, you have a higher risk of breaking the seam.
Here are a few tips you should keep in mind to seam latex successfully.
The seam area has to be cleaned first with acetone or mineral spirit using a piece of cloth.
It would be best to work in an area where there is good ventilation as you will encounter fumes from the solvents you are going to use to clean the seam area.
If you notice curling on the seam area after cleaning it, do not panic. It is an essential part of the process. Your latex will flatten once the cleaning agent dries.
With latex, seams are overlapped and not sewn with the right sides together. So, you need to apply a coat of glue on top of the wrong side of the fabric and another coat of glue underneath the right side of the latex fabric. Your adhesive must be around 1cm wide on each piece. Wait for the glue to dry up.
Carefully stick the two pieces together. Then, use a roller to apply more pressure to secure the bond.
A great hack to remove the extra glue bits is to sprinkle the seams with talcum powder. Clear off the powder with the hardened glue bits. You can also try if the rubber cement eraser can help remove glue residue from your latex fabric.
Pull both sides to make sure that your latex fabrics are excellently bonded.
For gluing curved latex seams, place the pieces together slowly first. Push your finger down in the center then, slowly push along the curve. Once you reach the end, press down on the latex some more. Let it sit for a couple of hours or a day. Then, pull on the latex pieces to make sure both sides are securely bonded.
Related: 
What kind of glue can you use on latex?
A solvent-based adhesive such as rubber cement is an ideal gluing agent for latex. Rubber cement is much better to use than latex milk or liquid latex.
Latex milk does not curl as much as rubber cement, but it does not hold as tight. It also tends to have uneven texture and become bubbly.
Rubber cement, on the other hand, makes latex curl up, but it dries fast. When rubber cement dries, the latex uncurls on its own. Another benefit of rubber cement is it dries clear. Your work will look nice and neat sans traces of glue.
Latex is a challenging fabric to wear, so the adhesive joining the seams must be strong enough not to snap any moment. You can use these adhesives recommended by latex garment makers to secure your seams.
Solvent-based Rubber Cement
Rubber cement is made from a solution of natural latex and an organic solvent which is usually heptane. The latex seams adhere to each other through contact welding. The solvent in the rubber cement has an important role in making the latex pieces fuse when they come into contact after applying the adhesive.
The rubber cement adhesive is more effective when you allow it to sit for 12 to 24 hours after fusing the latex pieces.
Most brands of rubber cement need to be mixed with solvent at a certain ratio, usually one part rubber cement to 1 part solvent (heptane). Apply rubber cement to the seams that need to fuse and let the solvent evaporate. This step will take around 5 to 10 minutes.
Then, press the joined pieces firmly together using a roller. Let it sit for a while for the rubber cement to reach its optimal strength.
Elmer's, Best-Test and other solvent-based contact cement for latex are available on Amazon.
Rubber Cement Water-based
The water-based rubber cement practically works like the solvent-based one. It also uses the principle of contact welding but uses water instead of the solvent. Ammonia is added to the solution as a dispersing agent to keep it from clumping.
Similar to the solvent-based rubber cement, the water-based glue also needs to be thinned for proper application. But this time, water is used. It also follows the same procedure in applying the adhesive to your latex seams.
Check out Copydex and other water-based rubber cement adhesive on this Amazon link.
It is important that you use the right glue in joining latex fabrics. Latex glue works only based on physical glue reaction. Adhesion of the latex pieces works differently from chemical adhesives where the bonding takes place due to chemical reaction, the process used with two-component glue.
When you apply glue to natural latex with 0.25 to 0.6 mm thicknesses, you will notice the curling of the latex fabric. The solvent in the latex glue increases the surface area of the latex, making it expand, displayed by the curling. Thicker latex fabrics will not show curling because they are thick enough not to deform.
The best thing about latex glue is that it is transparent and flexible and remains flexible after curing, which is a good quality for an adhesive when making latex clothing.
How thick is latex fabric?
The thickness of latex clothing ranges from 0.25mm to 1.05mm. The right thickness for making clothes is 0.40 and 0.5mm.
Latex fabrics, which are 0.25 and 0.33mm, are too thin to make skin-tight clothing but ideal for loose-fitting dresses, sleeves, collars, etc. You should also note that the thinner the latex, the more sensitive it is against damage. You can accidentally scratch and break it while wearing it.
If you are just starting to work on latex fabrics, 0.40 or 0.5mm is the best thickness to practice on. The thicker the latex fabric, the easier it is to join the seams. Latex with a thickness of 0.40mm is the standard thickness that is used to make most clothing.
The perfect thickness to make a latex catsuit is 0.40 mm. You can wear it as often as you like without worrying of handling it with extreme care. But if you are using a catsuit only for a photo shoot, latex with a thickness of 0.25 mm will do the job.
For latex clothing that is a bit firmer and stiffer, a latex thickness of 0.60mm is an excellent option. This thickness is the best to use when making clothing that needs some strength like latex jeans, a latex apron, or a vest. A thicker material of 0.6mm is good for making these types of clothing because it does not crumple much.
Latex fabric with a thickness of 0.80mm is the best option to make latex belts, bracelets, and collars. Latex with a thickness of 1.05mm is very thick latex. The thicker the latex, the less stretch it can provide.
Extra-thick latex is perfect for making latex corsets and latex bras. The advantage of thick latex is the ease of joining them together and the lack of curling.
How do you fix latex clothing?
You can fix latex clothing the same way you attach the seams on latex fabrics.
If you encounter a rip on your latex garment, do not despair. You are lucky if you discover it early on because a small tear on latex can become a large one if you do not repair it as soon as possible.
Before you can repair the tear on your latex clothing, you must wash the garment thoroughly. You can use hot soapy water to degrease your latex clothing. Rinse well to make sure that your garment is not oily. Dry the garment thoroughly before you apply anything on the rip.
Before applying the glue on the tear, rub with alcohol or thinner. Make sure that the solvent used has evaporated before applying the latex glue.
Apply latex glue with a brush or a spatula on the sides that you want to stick together. You will notice curling or bulging due to the solvent in the glue.
Wait until all the solvent has evaporated, shown by the latex that has returned to its original form.
When the latex has dried, you can press the parts you want to stick together to seal the tear on the latex fabric. Pressing with a roller can help the pieces to be bonded securely.
Let your latex dry for a couple of hours, or better if you can let it sit for 24 hours before you test by pulling if you succeeded in repairing the tear.