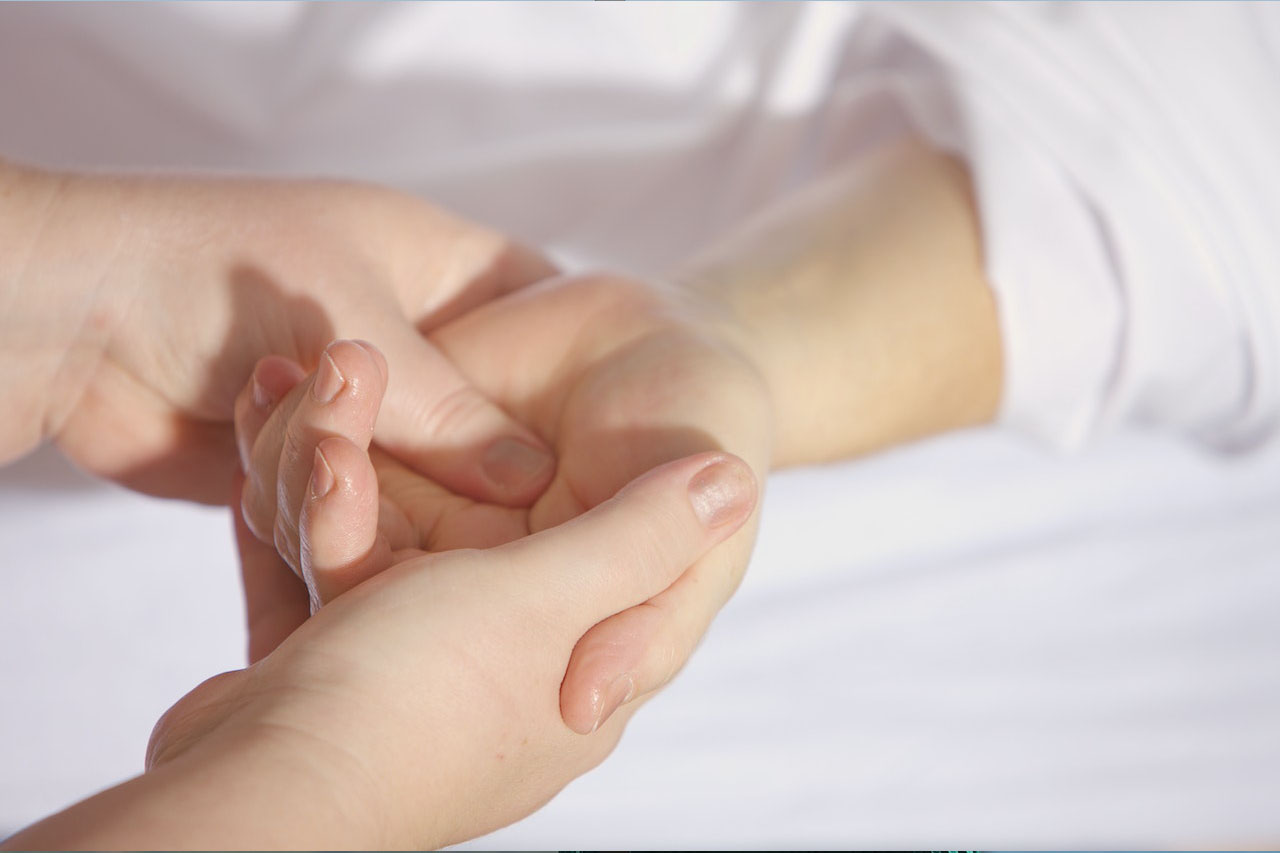 You can still knit with a broken wrist. However, before starting your knitting project, you must secure your doctor's approval. Some bone injuries require you to keep it steady and avoid unnecessary movement.
If your doctor disapproves of knitting with a broken wrist, it is best to wait for it to heal and do other activities. If your physician approves the idea of knitting with a fractured wrist, it will help you get through the entire healing process.
Knitting while waiting for your wrist to recover is a great way to avoid boredom. It can help speed up your recovery. Knitting can entertain you and is an excellent benefit to your mental health.
Once you get your doctor's approval to knit with your broken wrist, you can work on small projects that do not require too much stress from your hands first.
Doing so would help ensure that your wrist completely heals and avoid too much pain. For example, you could create potholders, coasters, cup cozies, washcloths, or baby items like blankets and socks.
Knit with a Broken Wrist – What is the easiest knitting stitch?
The garter stitch, one of the simplest and most popular stitch patterns used in knitting projects, is often the entry point into the knitting world for most people. It is one of the simplest knitting stitches a beginner can quickly learn.
Everyone should be familiar with this knitting fundamental. Knitters frequently use this stitch to produce a border or edge with a striped pattern that doesn't curl. It is also great for creating knit fabrics that are robust, thick, and just a little bit stretchy.
A garter stitch is the most straightforward pattern you can do while recovering from a broken wrist. You can work a garter stitch by simply knitting each stitch and row.
The only skills you will need are how to cast on and knit a stitch, both of which you can learn quickly.
If the healing process is taking longer and you were able to master the fundamentals of knitting, you can make a baby sweater virtually entirely garter stitched. You can start knitting a garter stitch scarf, then move on to a blanket or a pair of mitts.
You can also combine garter stitch with other knitting patterns and stitches once you have mastered working rows in the stitch. Knitters frequently use garter stitch at the start and end of rows because it is ideal for creating borders.
Garter stitch edges do not curl like stockinette patterns, making it ideal for knitting items without edging or other finishing. The borders, though, aren't remarkably smooth.
However, you can give it a lovely finish by adding an extra step as you work. You will start the row of the garter stitch with a slip stitch, transferring the stitch purl wise to create an even edge. It would be best if you then knitted the remainder of the row.
What Is the Easiest Knitting Pattern?
The easiest knitting projects for beginners include scarves, baby blankets, and washcloths. You can work on these patterns quickly with only a basic understanding of one or two back-and-forth stitches.
Washcloth, Potholder, or Coaster
Among basic knitting patterns, I recommend making washcloths if you want to knit while waiting for your broken wrist to heal. It is small and will not require too much stress from your hands and wrist, which could help you avoid pain.
In essence, potholders are simple squares. Thus, they are the perfect knitting project if you have a broken wrist.
Fingerless Gloves
Many everyday winter clothing items and accessories require several intricate knitting skills, which may not be ideal if you have a broken wrist. Picking up stitches, difficult increases, and other challenges are all bad news.
However, fingerless gloves or wrist warmers are essentially just simple tubes. The most excellent aspect is that you may knit them flat and combine them into a circle using the straight mattress stitch.
Mug Cozies
Mug cozies are small tasks that take little time and make lovely gifts. Like washcloths, they do not require much from your hands, so they could help you avoid wrist pain. Making your own might only take an hour or two, depending on the yarn weight you choose.
Baby Blanket
Although most knit blankets are rather large and include several stitches, you don't have to undertake a project that will take months to complete and cause you pain. I recommend knitting a smaller item, like a baby blanket.
What is the most ergonomic way to knit?
For ergonomic knitting, good posture is a must. So, it would be best to ensure your knitting chair is comfortable. In addition, you should avoid slouching or straining your neck too far forward and sit straight or pleasantly lean onto the back of your chair.
Despite how much you enjoy the activity, you should be more mindful when you knit, mainly because of your broken wrist. So, if you wish to work even with your condition, it would be best to follow these tips for ergonomic knitting and avoid straining it.
Good Posture
As mentioned, good posture is vital for ergonomic knitting. It would be best to sit straight and sit on a comfortable seat. Your elbows should also be relaxed and at your sides.
In addition, you should ensure that your chair's armrests are not too high or wide. It is preferable to avoid using the armrests if doing so forces you to elevate your shoulders or move your elbows too far away from your sides.
Take Your Time
Even though it could seem tempting, knitting nonstop for several hours might not be ideal for your hands, especially your broken wrist.
Instead, I recommend doing tiny amounts of knitting throughout the day. Additionally, it would be best to gently stretch your hands and wrists to warm them up before starting.
Then, take breaks if you need to knit for several hours at once. It's crucial to occasionally rest your hands, even if it's just for a few minutes.
Lighting
It would be best to ensure adequate light to read your pattern. Doing this won't have to lean forward to read intricate knitting patterns. And prevent eye strain.
Stretch and Warm-Up
You should lightly stretch your fingers, hands, and wrists before you begin knitting and frequently during the intervals between your sessions. Doing so will help you warm your joints up and improve your circulation.
Work on Circular Needles When Knitting Back and Forth
Your fabric will inevitably become heavier as it gets longer, which may strain your hands and wrists. So, it is better to work on smaller projects if you have a broken wrist. However, if you wish to work on slightly bigger patterns, using circular needles would help.
Most of the project will be suspended from a flexible cable when you use circular knitting needles, allowing you to rest the work in your lap without straining your hands.
Be Mindful of Your Grasp
It's crucial to avoid tightening your grip on your knitting needles too much when holding them. Use a gentle grip, and make your stitches with small, delicate strokes. Your hands become tenser when you have a firm grip, increasing hand fatigue and pain.
Use Ergonomic Knitting Tools
Ergonomic Seat Cushions

An ergonomic seat cushion could help increase your knitting chair's comfort and help you achieve good posture while knitting since they make it simpler to sit upright. Additionally, you are less likely to experience chronic discomfort and have more energy and attention.

Compression Gloves
A good pair of compression gloves can support your hands and help with circulation. I would recommend fingerless compression gloves for knitting since they can help you feel the yarn in your fingers.
Other alternative while healing with a broken wrist:
Binge on Movies and TV Shows
Settle in for a season or two of a show or a lengthy film if you are trying to elevate and rest your arm. It will not only just make you feel better; it will also pass the time and serve as a terrific diversion.
Invest in an E-Reader or Kindle
You could try reading e-books if you don't want to spend your days in front of the television. It's much simpler to hold a Kindle or an iPad with one hand than to keep an actual book.
Learn Something New
Learning new stuff is an ideal way to pass the time if you have to sit on the couch most of the time. There are several online resources and mobile applications dedicated to education.
You could try Memrise and Duolingo for language learning and Khan Academy for subjects like math, history, or the fine arts. You can also find various TED Talks or college lectures on YouTube.
Visit Museums, Libraries, or Parks
If you like learning new things and exploring, or just being outdoors, visiting museums, libraries, and parks is a fantastic technique to exercise without overusing your arm. These places can be enjoyable because they frequently have brand-new, specialized exhibits.
Spend Quality Time with Your Family and Friends
If you prefer being indoors, inviting your family or friends over to hang out is excellent, especially if you start to feel very lonely or bored. Whatever you choose to do, simply being together will be a fantastic diversion.
But, if you're sick of staying at home and want company, you can also request that they take you out. It won't matter where you go because they will probably be willing to assist you if you need it.
Try dining at one of your preferred restaurants! Going to a familiar place will make you feel more at ease despite your cast. Another excellent way to pass the time that won't break the bank is to go to dinner with friends.
Also read: