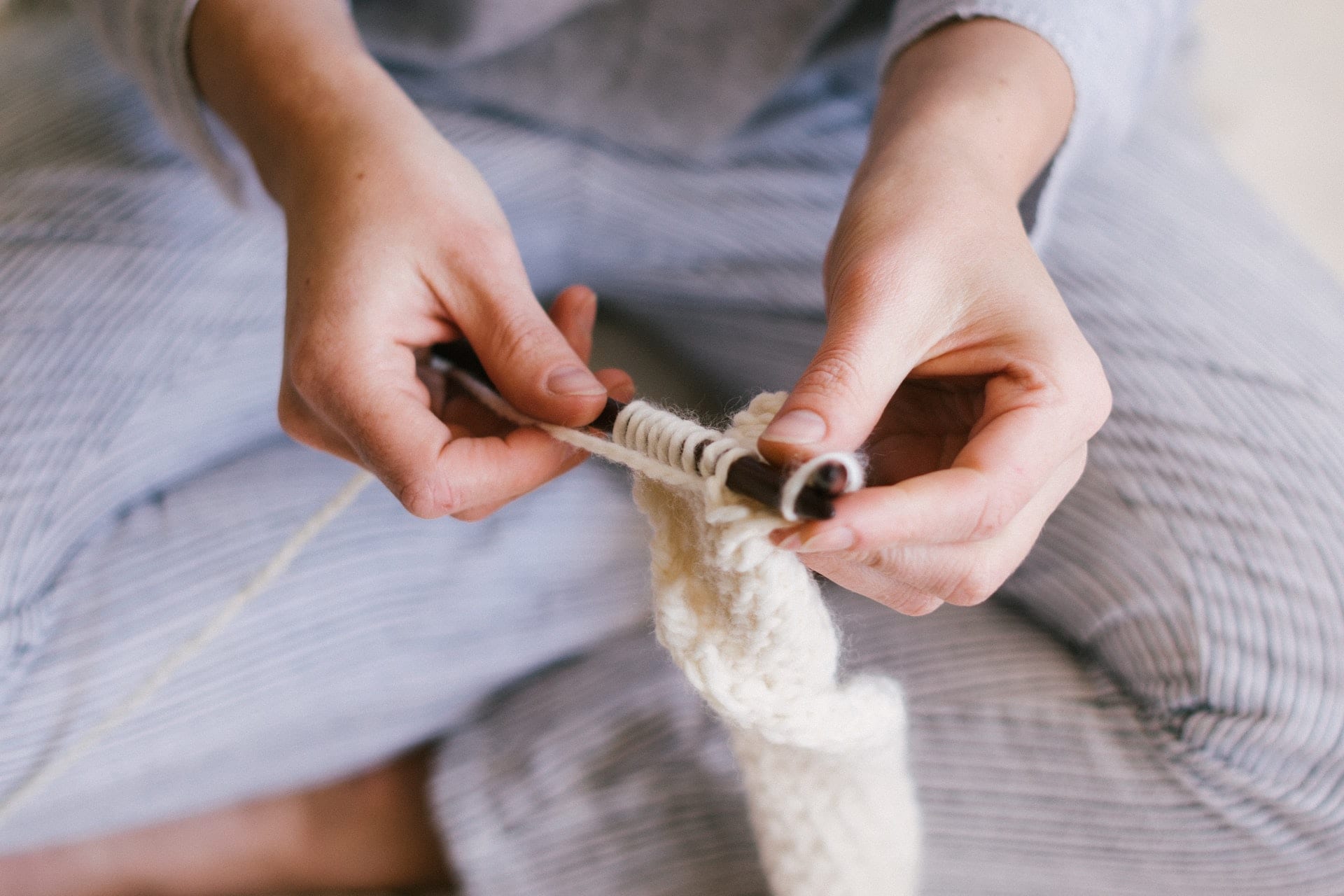 Knitting is a relaxing way to spend your spare time. It is a sensible option to calm yourself after a day's work. But doing this can be challenging if you feel pain or discomfort on your hands and fingers.
The best way to stop the pain on your fingers or hands is to take breaks. Give your fingers some stretching every after row. This will prevent your hands and fingers from prolonged repetitive movement.
These prolonged repetitive movements of your hands and fingers cause the strain. And the only way to avoid it is to stop doing the movements for a while. If the pain continues, it means you have not taken enough break.
If the pain has been consistent even after long breaks, you need to understand the root cause. One possible reason is you are knitting the wrong way. You are knitting with a bad body posture and you make knitting motion the wrong way.
When you knit and keep putting your fingers on the tip of your knitting needle, that causes the pain. This happens because you keep sticking yourself time and again.
This may not be a problem if you use large needles. But when you use smaller needles with sharper tips, the pain will be evident. You can avoid this if you do not use your fingers to control your knitting stitches.
The following are simple steps to help you knit without the pain. It may be a little awkward to follow at first, but it sure is effective to prevent pain.
Hold your needle with your thumb and pointer finger. The needle must be resting on your thumb while the index and pointer fingers keep it in place. Do not hold it as if you are holding a ballpoint pen.
Push the left needle up between your thumb and pointer fingers until its tip hits the tip of your other needle.
Use your fingers to stabilize your 2 needles. At this point, the tip of your left needle is resting over the shaft of your right needle. You may now slide the stitches upward the tip of your left needle.
This can help you control the stitches without placing your finger on the sharp needle tip. This trick needs a bit of practice, but it will get easier with time. Soon you will not use your fingertips to control your knitting stitches.
Is Knitting Bad For Your Hands?
No scientific or medical research tells knitting to be bad for your hands. It is good for the fine motor skills of your hands. It all boils down to how you do knitting.
If you knit over long periods and you seldom take breaks, then it could be bad for your hands. Although knitting makes you forget how time flies, you must be conscious of how long you have been doing it to avoid having broken wrists when knitting.
Taking breaks from time to time makes a big difference. It is best to stop every one or two rows and stretch your fingers. Swirl your wrists and make a few close-open exercises of your hands.
You may also apply gentle messages on your fingers to loosen the stress and tension. Knitting is not bad for your hands. It is your bad habits and posture that bring about the negative effects on your hands.
Why Do My Hands Hurt After Knitting?
It is true that knitting is enjoyable and can make you forget the time. This is why many avid knitters experience pain and discomfort on their hands. These discomforts could be the tingling sensation, numbness, or cramps.
The reason for such is the constant repetition of your movement over several periods. Some develop conditions like tendonitis, tennis elbow, and carpal tunnel. The latter is the most common cause of pain.
Carpal tunnel syndrome can make your hands feel swollen and numb. It also causes tingling sensation and cramps on your hands. All these happen because the nerves around the area get inflamed.
Once inflammation occurs, there will be poor blood circulation in your arms and hands. This results in pain, numbness, and other discomforts. When you start feeling any of these discomforts, stop knitting for a while. Then, massage or flex your fingers and hands.
Tendonitis and tennis elbow are more severe than carpal tunnel syndrome. You may have to wear an arms brace and strap to immobilize your arms and elbow. These conditions may also force you to stop knitting for quite some time.
Some have to stop knitting for weeks and months. These are the possible causes of your pain when you knit. These are preventable. All you need is to understand your body posture and movements when you knit.
It is also advisable to stretch your arms and body every once in a while. This will ensure that other parts of your body will have proper blood circulation. Applying hot compress on your hands and fingers also helps lessen the stiffness and pain.
How Do You Knit Without Pain?
You can knit without feeling discomfort or pain. The first thing you need to do is be aware of your knitting position, body posture, and environment. The following tips will help you knit without the pain.
These pains and stiffness you feel on your arms and shoulder are common to knitters. Those who knit over prolonged periods even develop tennis elbow over time. You can avoid these discomforts by doing the following.
Keep your body posture in a natural position.
Do not overextend your wrists when you knit.
Try not to hold too close to the tips of your knitting needles. This will cause too much stress or tension on your fingers.
Avoid slouching when you knit. This will hurt your back, shoulders, and arms. Sit in your most comfortable position. Add pillows or cushions if necessary.
Always take a short break to stretch your body. Flex your fingers and arms. Twist your wrists and turn your heads in all directions.
Sit in a relaxed position. Any unnatural body posture can cause stiffness and pain.
If you lose track of time when you knit, set an alarm. This will allow you to take a break at your set time.
Do not carry your knitted fabric on your lap. This adds stress and weight to your legs. Get a chair or a small coffee table and place it near you. Put your knitted fabric on it as you continue your work.
Place your arms near your body. This adds support to your arms as you knit. You may also put pillows under your arms for added support.
Wear a thimble on your fingers to avoid hurting the tips of your fingers.
Use bigger needles to avoid putting stress on your fingers and hands.
Make sure you knit in a well-ventilated place. A good and cozy space adds relaxation to your mind and body. Observe proper lighting as well. You do not want to strain your eyes over time.
Even if you make complicated projects like knitted chainmail, you can knit without pain or discomfort as long as you observe proper body posture. For instance, avoid knitting in a car or when in motion where it can compromise your posture.
Having breaks and rests also play important roles in making this hobby more pleasant. Keep in mind that overdoing things puts a lot of stress on your body. Avoid stressing yourself to finish your projects too soon. Take your time and enjoy the process.
Does Knitting Cause Arthritis?
Knitting does not cause arthritis. Sure it can cause pain on your hands and fingers, but this pain does not mean arthritis.
No medical or scientific research suggests that knitting causes arthritis. This condition is the wear and tear of your joints. Knitting done in moderation, does not cause severe damage to your joint cartilage.
The pain and discomfort you feel when you knit are more of the repetitive motion. It does not induce severe damage to your cartilage. Your tendons may feel stressed when you knit over time. That is why frequent breaks and stretches are necessary.
What Is A Thimble Used For In Sewing?
One way to prevent pain on your fingers when you knit is to use sewing thimbles. These little cup-like devices are pushing tools used by seamstresses, quilters, and knitters. Thimbles come in different materials from metal to leather and plastic.
These pushing tools have tiny dimples that catch the needle eye and prevent it from sliding. Thimbles come in different sizes to make sure they give a comfortable fit to your finger.
In the early years, tailors and quilters wear thimbles on their middle fingers. Now, you can find thimbles that also fit your index fingers and thumb.
Many believe that the oldest thimble was over 30,000 years old and made out of bones. Then, during the 19th century Charles Horner made the popular Dorcas thimbles. These thimbles use layers of strong steel and silver with beautiful artistic nudges.
Dorcas thimbles are among the highly prized thimbles among antique and thimble collectors.
Why Is A Thimble Called A Thimble?
During the early years, a thimble is a protective tool worn on the thumb. It has the shape of a small bell, so it was first named as "thumb-bell". As years passed, the term softened and became "thimble".
The fast manner of saying thumb-bell sounded thimble, and so the new term came. Up to this day, the term thimble remains.
What Can I Use Instead Of A Thimble?
If you are a starter and you still do not understand the benefits of thimbles, you may use an alternative. You can use some common household materials such as duct tapes and leftover fabrics.
You may use masking or duct tape as an alternative to a thimble. You only have to wrap a few layers of these tapes around your fingers. Make sure not to wrap it too tight as it will make your fingers stiff and difficult to move.
You may also use heavy or thick leftover fabric from your kit. You take some pieces and sew them like tiny tubes. Make sure that they give a snug fit on your fingers. Leather or faux leather fabrics are also good alternatives.
What Is A Thimble Collector Called?
You call thimble collectors as "digitabulists". Some digitabulists collect thimbles from the same company such as the Dorcas. Meanwhile, others collect thimbles from different countries.
Some thimble collectors only focus on antique or vintage thimbles. Others collect thimbles made from different precious metals like gold and silver. The more unique and rare the thimbles are, the more valuable they are to digitabulists.
Avid thimble collectors spend thousands of dollars to get unique thimbles. Some even join auction bids to buy historic and popular thimbles.
Also check: 
Why Do Thimbles Have Dimples?
The dimples you see on thimbles are not mere designs. These tiny nudges have important roles in your thimble. These dimples help push the needle into the fabric without hurting your fingers.
These dimples prevent the needle from sliding off as you push the needle into the fabric. These dimples help you push needles on heavy and thick fabrics with ease.
Knitters also enjoy using thimbles. They protect their fingers from the stress of holding needles over time. The dimples on the thimbles prevent their needles from slipping off their grip.
Knitting should be a source of relaxation and calmness after a hectic day. You must enjoy the process and free your mind from worries and anxiety. But the pain and discomfort lessen these benefits of knitting. This is why you must not overdo it.
Make a schedule for knitting. Even if you have a whole day to spend knitting a sweater or blanket, do not finish it in one sitting. Breaks and occasional stops are important. They break the monotony of the task and prevent your hands from repetitive motion.
Stretching and flexing your arms, hands, and fingers make a huge difference. You allow proper blood flow and ease the tension on your body. Learn to hold your needles the right way and wear thimbles when necessary.
Keep in mind that knitting should be a pleasant and enjoyable venture. It should not cause you pain and discomfort.