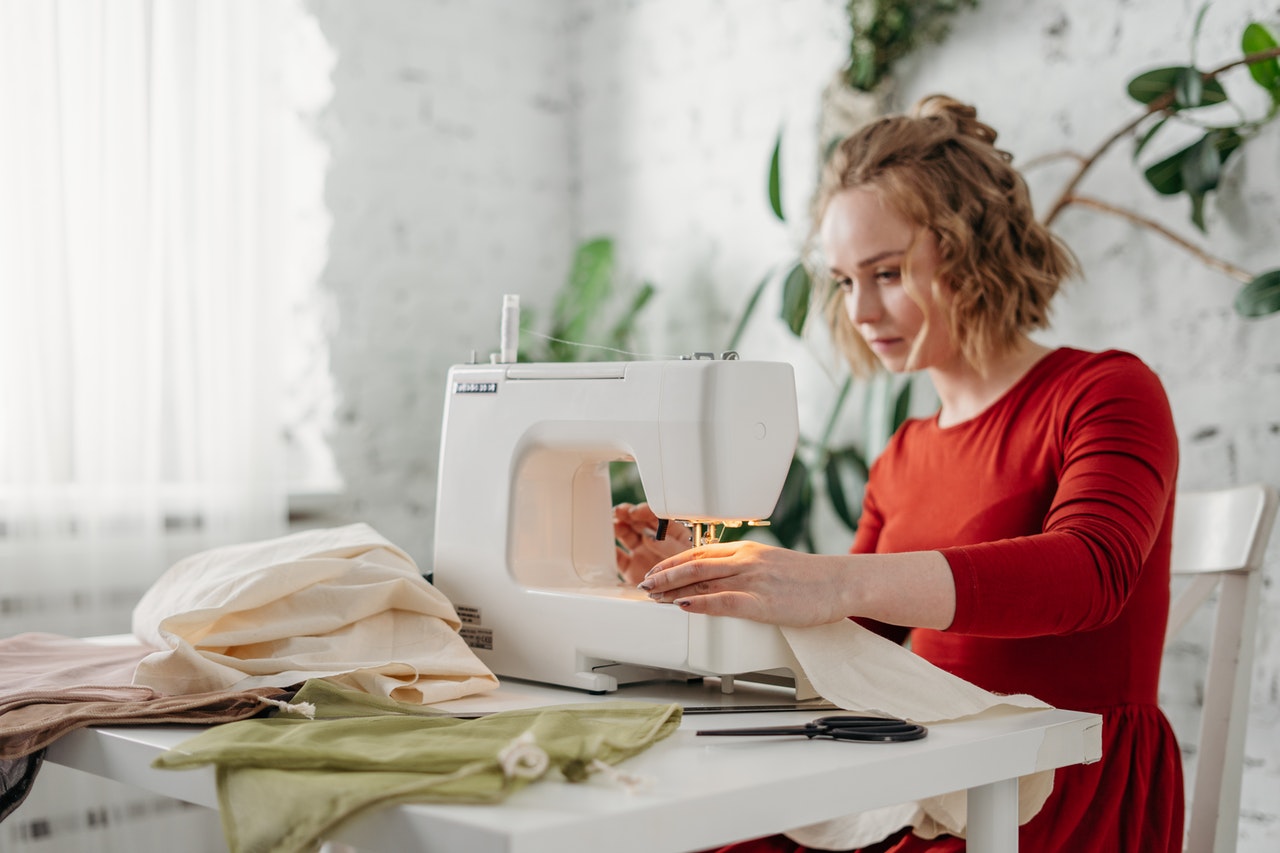 When you plan on getting a sewing machine, one of the major factors to decide is the cost. You have to think twice before shelling out a huge amount for something you may not want to do for a long time. If you go for the cheap ones, will they be worth your money?
Are cheap sewing machines any good?
Just because you have a small budget for your sewing machine does not mean you will not get a dependable sewing unit. You will find many low-cost sewing machines in the market these days, some even made by popular brands. When buying a cheap sewing machine, you must still be critical because not all of them are worth buying.
Before picking out a cheap sewing machine, here are a few things you must think over. You can choose from among these factors your non-negotiables on buying an inexpensive sewing machine.
Price

It is usually the price that first comes to mind when looking for a sewing machine. A cheap sewing machine would cost around $75 to $150, an affordable price for a starter machine. Cheap sewing machines are also capable of the basic functions of expensive sewing machines but have limited options.

Function

When deciding on what kind of sewing machine you are getting, ask yourself the main reason why you are getting a machine in the first place. If you are buying a sewing machine for an occasional sewing hobby, it would be practical to look at the cheaper models before considering the heavy-duty ones.

If you use the machine only for occasionally repairing clothing or doing simple projects, an inexpensive one will do the job. Choose a more affordable sewing machine if you are not planning to sew regularly or do it for a living.

Personal Preferences

A good thing about being interested in sewing these days is that you get many options, from varied shades, the number of stitches included, and the various accessories in the package. If the sewing machine you can afford at the moment is the inexpensive one, you must still consider your personal preferences.

Even if the functions or accessories offered by inexpensive sewing machines are limited, you are sure to find one which can fulfil your personal choices.

Experience

If you are new to sewing, it would be a practical choice to buy a cheap sewing machine to learn sewing. An inexpensive one with the basic functions is enough to gain enough experience. A cheap basic sewing machine is the ideal tool to practice sewing skills.

A cheap sewing machine is also easier to use as it has fewer features, so learning how to sew is not as complicated as using a more expensive and advanced sewing machine.

Durability

There are sewing machines that are quite durable despite being inexpensive. It is hard to say whether an expensive sewing machine will outlast a cheap one because it still depends on many factors, such as how frequent the sewing machine is used or the thickness of the materials sewn.

Portability
The portability of the sewing machine is one of the main things to consider if you need to take your sewing machine to class or other places. Usually, the cheap sewing machines are the ones that are light and easy to carry.
What is a good cheap sewing machine to buy?
When buying a sewing machine, a cheap one does not mean you get lesser quality. You can find durable sewing machines for which you do not need to pay a fortune. Most trusted sewing machine brands, like Brother or Singer, sell low-cost yet sturdy sewing machines.
You need not look far because listed below are five of the best cheap sewing machines that you can find in Amazon today.
The Brother XM2701 is a lightweight, full-featured sewing machine. It has 27 built-in sewing stitches, six presser feet included, and a dial for stitch selection are just some of the useful features of this low-cost but high-quality Brother sewing machine.

The cheap Singer 4411 is a heavy-duty sewing machine that runs at 1100 stitches per minute and can handle thick fabrics. It comes with 69 stitch applications perfect for crafting, mending, and repairing clothing.

The Janome 2212 is a mechanical machine that has 12 built-in stitches and a 4-step buttonhole. This beginner-friendly, very affordable sewing machine speaks of comfort and ease of operation, perfect for just newbies in the sewing craft.

This Janome Fastlane Fuschia Basic is an excellent option for experienced sewists or young newbies looking for inexpensive yet good quality sewing machines. It is a nice compact machine that can tackle many types of sewing projects, such as mending to scrapbooking. It is also perfectly portable to bring to classes or sewing club meetings.
The Varmax Sewing Machine is a mini-size and compact sewing machine. It comes with a large extension table which makes it possible to work on large projects. It is a cheap but excellent option for beginners to make crafts and home sewing.
With the many brands and types of sewing machines available these days, choosing a cheap sewing machine that best offers your sewing needs can be quite overwhelming. Here are a few tips to help you find a good cheap sewing machine worth your money.
You can find different brands of cheap sewing machines in the market these days. But which of those are reliable and will serve you the longest time possible? Reading real reviews from legitimate websites can help you decide which affordable sewing machine you should get.
Reading reviews from people who have the same interests as yours can help you decide which type and brand of sewing machine will provide your sewing needs. Different cheap sewing machines have their capabilities, so look for those that will answer your needs.
A certain sewing machine may be ideal for someone, but it may not have the feature you are looking for, so it will be useless for you.
Choose your color and style.
When looking for an affordable sewing machine, you do not have to settle for the cheapest one that you find. Make sure that the design, color, and look appeals to you because you might be using it frequently for your hobby or creating home projects. It would help if you got inspired by the tools of your trade to help you be more creative, even in the most economical ways.
One good thing about learning how to sew these days is that many affordable sewing machines are already available in the market. If you are a beginner, you can get enticed to buy a sewing machine because you can already get a branded one at a very reasonable cost.
Examples of trusted brands like Singer, Brother, and Janome have low-cost models which are still of impeccable quality. These basic machines may not have the countless number of features that the expensive versions may have, but you can expect the same tiptop quality.
Whats the difference between a cheap and expensive sewing machine?
One of the main differences between a cheap and an expensive sewing machine is the number of settings. It is but natural to expect more settings or features that you can enjoy from more expensive sewing machines.
You would want to know the differences between a cheap and an expensive sewing machine to know if a cheap sewing machine will be enough to complete your sewing projects.
Features
Cheap sewing machines do not offer many special features and may only have basic stitches built into the machine. To newbie sewists, fewer features on a sewing machine is an advantage. It will be easier to learn how to sew with a machine that does not have many options to choose from that you can usually find in an expensive sewing machine. It would be best to learn the basics using a cheap and simple sewing machine.
Accessories
A sewing machine that has more settings or features would most likely have more accessories included in the package. Expensive sewing machines usually have more sewing feet included so that you can work on different sewing projects. Cheap sewing machines include around four sewing feet, which is more than enough if you are only starting to sew.
Stitches per Minute
Cheap and expensive sewing machines also differ in sewing speed. Most starter sewing machines have a speed range of 650 to 1000 stitches per minute. Expensive sewing machines would usually run at 1600 stitches per minute. A high sewing speed will help you finish more projects which an expensive sewing machine can provide. But if you are sewing as a hobby, a cheap sewing machine can just give you a leisurely sewing speed.
Repairs
There is also a big difference when a cheap sewing machine and an expensive one that needs repair. When a cheap sewing machine breaks down, it can usually be solved by simply rethreading or a little oil. But the repairs that an expensive sewing machine needs usually involves more technology, so you may need the help of tech support.
How long does a cheap sewing machine last?
A cheap sewing machine that is well-cared for and maintained properly can last until five years or more. The price of the sewing machine does not usually determine its life span.
It also depends on how these sewing machines are used. Inexpensive sewing machines may not be tough enough to handle thick or many layers of fabrics like heavy-duty machines would. Some cheap sewing machines may even outdo the more expensive sewing machines in terms of length of service.
It is not usually the price of the sewing machine that will dictate how long it will last. No matter how cheap or expensive your machine may be, give it proper care and maintenance if you want to keep it working efficiently for many years to come.
Keep a regular cleaning schedule.

One thing to keep a sewing machine running is to keep it always clean. Ideally, it would be best if you clean your sewing machine every time after using it. But if it is too much work to clean every time, set a schedule, maybe once a week, to remove the lint, dust, and dirt that would accumulate on your machine. Having a regular cleaning schedule will keep a cheap sewing machine running for a long time.

Use the right needle.

Using the wrong needle on your sewing machine can do more harm than good. Make sure to attach the right needle so your sewing machine will work all the time properly.

Use the correct bobbin size.

Another mistake you would rather avoid is using the wrong bobbin size. Always use the right size and type of bobbin as directed in the manual. Using the wrong bobbin size can ruin any sewing machine, whether cheap or expensive.

Use original parts to replace broken parts.

When a part of your machine breaks down, it would be best to replace them with original parts. Using genuine parts will ensure that your sewing machine will last longer and provide the same quality and efficiency as before.

Oil your sewing machine.

Oil your sewing machine once in a while. Any cheap or expensive sewing machine has mechanical parts that will need to be lubricated once in a while to function smoothly.

Schedule an annual service maintenance
If you are using your sewing machine regularly, some parts may need adjusting or repair. You may also need it to be checked for wear and tear. It would be the best idea to bring your sewing machine to a service maintenance specialist once or twice a year for a good cleaning, a tune-up, or just a routine check. Your benefit from annual service maintenance is to prolong the use of your sewing unit.
Your sewing machine will last longer, even a cheap one, if you keep these proper usage and maintenance tips in mind. You will be able to extend the life of your starter sewing machine and possibly invest in more advanced sewing machines when the need arises.