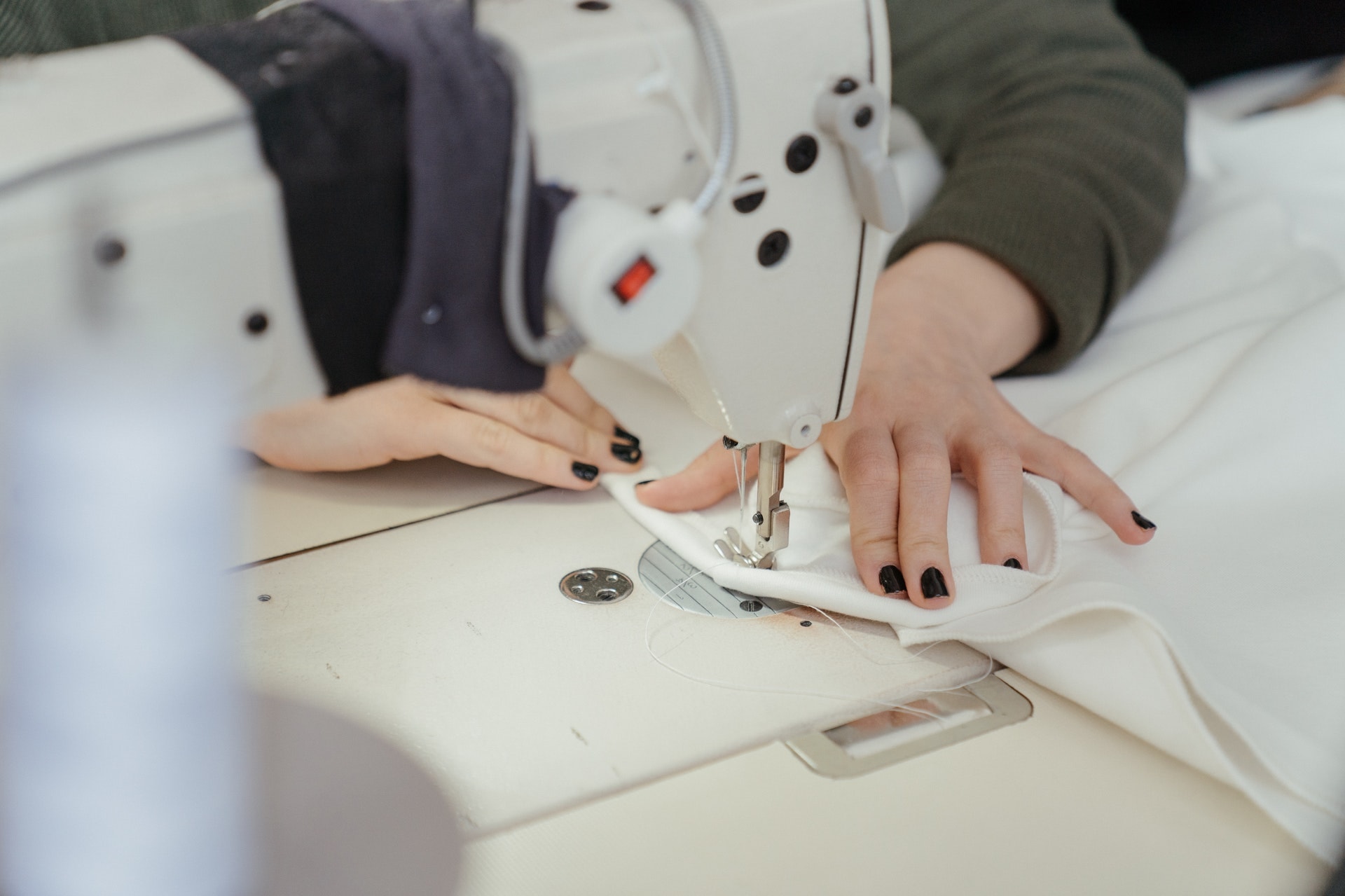 With so many sewing machine brands and models, it is challenging to find the best. Almost all sewing machines these days are multi-purpose and computerized. So, what else should you look for in a machine?
Many quilters and seamstresses prefer quiet sewing machines. If you are sewing your projects at home, then a quiet machine makes a lot of sense. Working with a noisy sewing machine is irritating and stressful.
Not only that noise can be annoying but it can also cause hearing problems in the long run. To avoid this problem, here are some of the quietest sewing machines in the market.
1. Janome 9000
Most seasoned quilters and embroiderers swear by the quiet performance of Janome 9000. This machine is lightweight and multi-purpose. You can sew, quilt, and embroider with this machine.
Janome is popular for making durable and quiet sewing machines. Aside from the sturdy and quiet performance, Janome also offers other great features. It has an adjustable needle position and presser foot to allow you to work on a cinch for different fabrics.
This machine also helps you change seam sizes with ease. It also has an integrated instant threader for easy color change. Janome has an advanced setting control interface.
This helps you make consistent stitches no matter what size you are using. You can select different embroidery and sewing stitches fast and easy.
This machine also has a drop-in bobbin. This means that it does not need much oiling compared to oscillating hook machines. It also allows you to work on any kind of project on a free arm motion.
2. Elna ef1
This machine is perfect for sewing and quilting. It boasts with it its 1,600 stitches per minute speed. Its speed and smart design allow you to finish your work fast. The Elna brand is also popular when it comes to durable and quiet machines.
The Elna ef1 model has eight enclosed ball bearings in its main shaft. This makes sewing quiet and smooth. It also features a side-loading jumbo bobbin for convenient access. Its bobbin is capable of holding 1.4X more thread than your regular bobbin.
This machine also features LED navigation keys, adjustable thread tension, and more. Its built-in threader, auto bobbin winder, and reverse button are convenient for beginners.
3. Brother cs6000i
This machine takes sewing to the next level. It makes sewing convenient and easy for beginners. It features 60 stitch selections and an error alert message. These features help you make perfect stitches every time.
This machine is lightweight and easy to use. It has an LCD touch screen for convenient navigation. A lot of stitchers commend on the quiet performance of this machine even if it runs at high speed. It also has an auto-sizing feature and 7 different buttonhole options.
Brother cs6000i is one of the most beginner-friendly machines on the market. Its quick stop-and-go feature is sure to be a hit among novice quilters and stitchers.
4. SINGER 9960
This is one of the most advanced sewing machines on the market. It features 600 types of stitches, an easy-threading system, and an LCD screen. This machine also gives an error alert to ensure flawless stitching.
This machine is so advanced that it can run itself. You do not have to set the length and width of your stitches because it does it automatically. It does not have a foot pedal, so it is convenient for people with medical concerns.
Its advanced features let you change its setting with ease. It runs quiet as a mouse allowing you to work on your projects anytime without disturbing anyone.
5. Brother XM2701 Lightweight
This machine is suitable for beginners. It features 27 built-in stitches, different setting options, and an automatic button-hole maker. It also includes an instructional DVD to help novice stitchers use the machine with ease.
It weighs around 15 pounds and runs in extreme silence regardless of your speed. Many beginners enjoy this machine because of its advanced features and low price.
Which Sewing Machine Is The Quietest?
As mentioned earlier, Janome 9000 is the quietest multi-purpose sewing machine. Unlike your ordinary oscillating hook models, Janome does not need much oiling. It runs well with minimal sound, regardless of the speed.
It has an adjustable needle position and presser foot to allow you to work on a cinch for different fabrics. Its easy setting interface and stitch options make free arm sewing more convenient.
This machine also helps you change seam sizes with ease. It also has an integrated instant threader for easy color change. Janome has advanced control settings to help you make consistent stitches.
You can select different embroidery and sewing stitches fast and easy.
How Do I Stop My Sewing Machine From Making Noise?
There are times that your machine creates a weird sound even if it seems to work fine. You may start well, but after a while you begin hearing an unusual noise. What makes it even weirder is its working well, and there seems no problem at all.
In case your machine starts making noise, here are some possible reasons.
1. Unbalance Position
It sounds like a no brainer but you know a lot of stitchers often forget this. Sometimes, you do not pay attention to the floor where you put your machine. Any slight imbalance in its position can cause noise as you stitch.
To prevent this, always put your machine on a flat sturdy flooring. Any bump can lead to irregularities on its mechanism causing the annoying sound.
Find a smooth but not slippery surface. Balance is the key. Make sure that you put your machine on a flat and stable floor. The surface must be free from bumps but rough enough to give its feet a good grip.
2. Relocate Your Sewing Machine
This is quite related to the first discussion. If your machine continues to create noise despite repositioning, then move it elsewhere.
There are instances when the problem is not on the floor but the surrounding. Some furnishings intensify even the littlest sound. If the current location of your machine has a lot of glass, plastic, or metal, then the sound gets amplified.
If this is the case, put it somewhere where wood is dominant. Natural materials like wood help absorb sound and vibrations.
3. Find the Source of the Noise
If you have done the first two options and the machine still has the weird sound, then locate the noise. If it is not in position or location, then there is an irregularity in the machine itself.
The first thing you can do is turn it off. Then, turn it on again and start its gear slow. Observe if it makes that noise. Increase your gear and see what happens. If the machine starts quietly then creates noise as you increase the gear, then it could be the problem.
It does not always mean replacing a part of your machine. Most of the time, your gear needs some oil to smooth out its function. Put some oil on it and do a re-test. If the machine stops making the weird sound, then you are good to continue sewing.
4. Control Your Speed
Many stitchers often overlook this. A lot of times you tend to speed your sewing as you work on your project. You get carried away.
The foot pedal of your machine is sensitive. If you press on it hard and fast, it can cause trouble and noise. When you work, make sure you do not press on it for too long. Give it a rest. Find the right rhythm.
Ease up and enjoy the process. Do not treat the foot pedal as an accelerator in a race car.
5. Regular Maintenance
Some quilters and stitchers overlook this process, especially if they sew as a hobby. Whether you use your machine every day or occasionally, it needs regular maintenance.
For regular users, your machines tend to incur wear and tear because of their constant use. This is why you need to check and tune-up your machine. The same is true for those who seldom use the machine.
Your machine can get rusty and clogged with dust if you don't use or check it often. The cranky machine can cause annoying noise. To ensure the smooth performance of your machine, ensure regular check-up, and maintenance.
6. Use a Specialized Mat
One way to reduce the sound of your machine is to use a specialized mat. This mat helps absorb sound and vibrations from the sewing machine. It also keeps your machine in place.
Why Is My Sewing Machine So Noisy?
Aside from the causes given earlier, here are some possible reasons why your machine is noisy.
The bobbin case is full of lint
As you use your machine, lint builds up in the bobbin area. This can cause a knocking noise. This happens because the lint blocks the bobbin hook or needle from working well.
This happens with older sewing machines and it involves the inner wheel.
Even if your needle is new, it does not always come straight. Before you start sewing, check your needle. Is it straight? Is it rusty or broken? Doing an early check prevents possible glitch and noise.
Needle plate screw is loose
When the needle plate screw is loose, it will produce a knocking sound. To resolve this, tighten the screw.
Your machine will produce noise when threads tangle up. Remove your fabric and the tangled threads. Cut these tangled fibers and check the bobbin thread. Make sure there are no knots on your spool and bobbin threads.
Another cause of annoying noise is the dirty motor area. Make sure to check your machine's motor and take out the lint accumulation in it. Regular cleaning should resolve this problem.
As mentioned earlier, the unbalanced position of your machine can cause noise. You can place it elsewhere or place a specialized mat under your machine. This will not only balance the machine but will also absorb the sound and vibrations.
How Many Decibels Is A Sewing Machine?
A standard sewing machine produces a sound of 60 decibels. Noise or sound that is below 85 decibels is safe. But if the machine runs along with other machines, it can produce higher decibel levels.
This could be harmful to your auditory nerves. If your sewing machine is noisy, make sure to resolve this. Use a sound-absorbing mat to lessen the impact of its sounds to your ears.
The length of your exposure to loud noise can lead to permanent hearing damage. This is why you must place your machine to an area where there is no other noise blending on its sound.
The auditory nerve is very sensitive so it can sense a 0 decibel sound. Your breathing is at 10 decibels and rainfall is at 50 decibels. Imagine your machine is producing 60 decibels and you hear it often. This can have a huge impact on your hearing.
Whenever possible, resolve the noise that your machine produces. You may also use earplugs or earmuffs to reduce the level of sound that enters your ears.
If your machine remains to produce a loud noise, replace it with a more advanced and quiet machine. It is advisable to use quiet sewing machines if you are into the sewing business. It is the best investment for your business and your health.
How Much Does It Cost To Service A Sewing Machine?
The price of a maintenance service for a sewing machine differs from one company to another. Some can charge between $75 to $100 without any part replacements. A typical computerized embroidery machine can cost as much as $100 for its usual check-up.
For regular cleaning, oiling, and tension adjustment, prepare to pay around $90. For brands like Elna, Pfaff, Bernina, and Viking can charge between $60 to $150 for the same services.
The SINGER technicians often charge around $85 to $90 for regular tune-up services. Some multi-needle machines can have a base rate of $240.
There are so many sewing machine brands in the market. Most of them have advanced features for your convenience. When you buy your sewing machine, make sure that you also pay attention to the sound it produces while it runs.
It is not enough that you have a multi-function machine. Consider your health. Prolonged exposure to loud noise can damage your auditory nerves. Worse, it can lead to permanent hearing loss.
When you buy your machine, keep in mind its features, quietness, and maintenance cost. Take your time to weigh these factors to make sure you are getting the best value for your money.